In the realm of higher education, Gayle D. Beebe's legacy at Westmont College inspires respect. With a career spanning more than three decades, Beebe has emerged as a true leader in higher education. At the helm of Westmont College in picturesque Santa Barbara, California, since 2007, Beebe has achieved this prestigious position through a rich tapestry of experiences and achievements.
Before his presidency at Westmont College, Beebe honed his leadership prowess at Spring Arbor University in Michigan, where he served as president from 2000 to 2007. During his tenure, Spring Arbor University garnered recognition from U.S. News & World Report as a top-tier institution. Reflecting on this transformative period, Beebe says, "We were not content with the status quo. We strove for excellence in every facet of education, and it paid off."
Beebe's dedication to diversity and racial harmony earned the university the 2003 Racial Harmony Award from the Council of Christian Colleges and Universities. "Diversity is not just about numbers; it's about fostering an environment that values every voice," Beebe says.
His influence extended far beyond accolades, as he spearheaded transformative improvements across Spring Arbor's campus, including the construction of a major academic building and the successful completion of a $45 million capital campaign. His academic roots run deep, as he previously served as a professor and dean at Azusa Pacific University's School of Theology.
Since taking the reins at Westmont College, Beebe has presided over an era of unprecedented growth and innovation. His effective and multifaceted leadership approach involves fostering a strong financial foundation for the college, implementing an ambitious campus master plan, launching innovative academic programs, and raising more than $400 million to propel Westmont into a momentous future.
Beebe's journey has come full circle, as he fondly recalls his time as a consortium student at Westmont in the 1980s. His own transformative experience at the institution, studying under a celebrated scholar, left an indelible mark on his leadership philosophy. Returning decades later as president, Beebe saw a remarkable opportunity to contribute to a distinctive mission that melds rigorous academics with a deep spiritual foundation, all underpinned by a stellar national reputation. "My student experience made a profound impact on my undergraduate education because I was able to learn from a renowned biblical scholar who shaped my thinking and leadership to this day," he says.
Beyond campus boundaries, Beebe has curated an impressive roster of speakers for Westmont's President's Breakfast and the Lead Where You Stand conference, featuring Nobel laureates, Pulitzer Prize-winning authors, and influential political leaders. "Bringing these thought leaders to campus inspires our students to engage with the world's most pressing issues," Beebe says.
Devising Excellence with Visionary Leadership
During his presidency at Westmont College, Beebe has produced remarkable achievements and transformative initiatives. Reflecting on this journey, he says, "Westmont has a very loyal alumni base and generous donors and friends who have joined us in achieving unprecedented growth at Westmont. Because of an effective strategic planning process, we've been able to establish a strong financial base for the college and have consistently identified the right priorities to move the college forward."
Efforts to realize the objectives outlined in this strategic roadmap have involved a collective effort from faculty, staff and administrators across all facets of the college. Notably, in the aftermath of the destructive Tea Fire in 2008, which destroyed several buildings and about one-third of the campus's landscaping and grounds, the focus shifted towards executing the campus master plan. Beebe emphasizes, "In adversity, we found resilience and determination. We transformed challenges into opportunities for growth."
Westmont College's location in the scenic setting of Santa Barbara has provided a unique backdrop for navigating historic challenges. This environment has helped the college create a truly exceptional and cutting-edge learning environment, making Westmont's campus one of the most stunning in the entire country.
"As a college dependent on income from tuition, we've sought ways to increase revenue streams to Westmont, such as greatly expanding fundraising and building the endowment," Beebe says. "We have especially focused on gifts for scholarships to help all qualified students afford Westmont." He highlights his commitment to accessibility and inclusivity in education.
Furthermore, Westmont has embarked on new academic programs designed to attract a broader student demographic. This includes implementing majors in data analytics and engineering, as well as adding an Accelerated Bachelor of Science in Nursing (ABSN) program. The college has strategically designed these academic offerings to meet the evolving needs and interests of prospective students.
Beebe is leaving a legacy of innovation and visionary thinking at Westmont. "One of my key presidential priorities has been expanding the institution's reach and influence," he says. "We've realized this by establishing various institutes and centers, each serving as a hub of knowledge and innovation." These centers, including the Mosher Center for Moral and Ethical Leadership, the Hughes Center for Neuroscience and Leadership, the Goble Center for Diversity and Global Learning, the Eaton Center for Entrepreneurship and Innovation, and the Montecito Institute for Executive Education, collectively contribute to Westmont's academic excellence and impact.
Furthermore, Westmont's acquisition of two downtown Santa Barbara buildings has opened the door to pioneering new and innovative programs in the heart of the city's downtown area, thereby extending the college's commitment to serving the local community.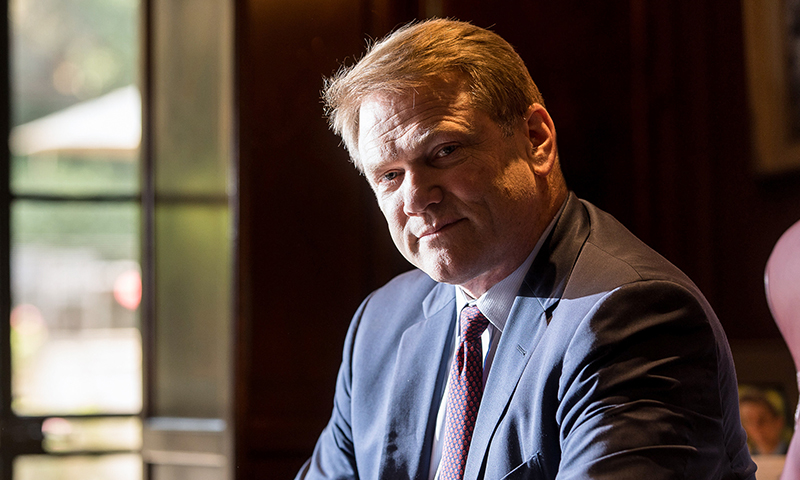 Balancing Tradition and Progress: The Campus Master Plan
Westmont College has not only established visionary goals but has executed them meticulously. The college operates under the guidance of a comprehensive Conditional Use Permit (CUP) that sets specific regulations governing its campus operations, including restrictions on residential student population and timelines for construction.
Reflecting on this significant phase in Westmont's history, Beebe says, "Gaining approval from the county for its thoughtfully developed Campus Master Plan marked a significant achievement in Westmont College's history. The product of years of dedicated work, this plan encompasses all the necessary facilities to accommodate both the existing and planned academic programs, student body, and faculty."
Crucially, this plan represents more than just an exercise in expansion; it has created a harmonious collaboration with the local community. Westmont College regularly engages neighbors and community members. This essential involvement ensures that while the college continues to evolve and grow, it remains deeply integrated into the local landscape, preserving its unique character.
"The construction of Winter Hall for Science and Mathematics and Adams Center for the Visual Arts has been a significant boon to our academic programs in these disciplines," Beebe says. These state-of-the-art facilities not only elevate the educational experience for students but also enrich the broader community with valuable cultural and educational assets.
In the realm of athletics, the investment in new athletic fields has yielded remarkable results, with Westmont's athletes clinching several national championships. This remarkable success has paved the way for Westmont College's transition to NCAA Division II (DII) status, a momentous step beginning this fall.
Moreover, the establishment of the Global Leadership Center in 2017 stands as a testament to Westmont College's commitment to fostering a holistic residential campus experience. Comprising two modern residence halls, this center ensures that all students can live on campus while also serving as a hub for leadership programs that benefit both students and the local community. Beebe says, "It's more than just a place to live; it's a vibrant center of growth and community engagement."
Strategic Academic Expansion and Community Engagement
Westmont College's commitment to excellence extends beyond infrastructure and encompasses the evolution of its academic offerings. Beebe explains the college's intentional approach, saying, "We have been keenly attentive to the evolving needs and preferences of our student body, as well as the demands of the modern job market. Education must align with career prospects to empower our graduates."
The college's response to these dynamics has led to notable additions to its academic repertoire, including programs in data analytics, engineering and nursing strategically designed to meet industry demands and provide students with a competitive edge in their careers. They have garnered significant interest while underscoring Westmont's commitment to relevance and innovation.
"We are committed to staying at the forefront of education so we can prepare students for an ever-changing world," Beebe says. Additionally, the introduction of new minors in environmental studies, coaching, ethnic studies, film studies, gender studies, global studies, and movement science ensures that students receive a comprehensive and relevant education that combines both breadth and depth of knowledge.
"We are fortunate to have a supportive external community that shares a deep belief in the institution's mission and the transformative power of its education," Beebe says. This synergy between the college and its partners in the local community has been instrumental in advancing various priorities. Notably, it has played a pivotal role in funding initiatives such as the nursing program and developing offerings in downtown Santa Barbara.
These programs not only serve the community but also create direct pathways to careers within the city, reinforcing Westmont College's role as a catalyst for local economic and social development. Through these collaborative efforts, Westmont College continues to thrive and fulfill its mission, nurturing the leaders of tomorrow who will make a lasting impact on society.
Challenges and Resilience: Fortifying Westmont College's Spirit
Amidst the idyllic landscapes of California, Westmont College has faced its share of persistent challenges, particularly those posed by droughts and wildfires. The Tea Fire of 2008 stands as a stark testament to the college's resilience. This devastating event wreaked havoc, demolishing several residential and academic buildings on campus, as well as 15 faculty homes nearby. Under the steadfast leadership of President Beebe, Westmont College did more than rebuild; it reinvented.
The institution undertook the monumental task of restoring what was lost, adopting innovative designs to enhance both learning and living spaces. Meticulously repairing the grounds, the college invested in fire equipment and training to fortify the campus against future wildfires. "In the face of adversity, we chose to rebuild stronger and more resilient," Beebe says.
Subsequently, the Thomas Fire in December 2017 perilously approached the campus, yet inflicted no damage. However, a severe rainstorm in January 2018 triggered a devastating, historic mudflow in the Montecito community, claiming 23 lives and destroying hundreds of homes. While Westmont College remained physically unscathed, the ensuing road closures and compromised water supply presented formidable logistical challenges. Beebe recalls, "These dual disasters tested our resolve, but they also revealed the strength of our community."
The college faced a series of five evacuations, commencing during finals week in December and persisting throughout the spring semester, as both the fire and mudslides etched themselves into the history of California's natural disasters. Beebe explains, "The titles 'Stronger Together' and 'Courage and Kindness' encapsulate the resilience and compassion displayed by our faculty, staff, and students during these trying times. From loss and pain emerged stories of hope and unity."
Westmont College also demonstrated remarkable adaptability when the COVID-19 pandemic disrupted education in 2020. In September of that year, the institution welcomed students back to campus, offering classes outdoors and online while ensuring that students could live in the residence halls, fostering a sense of belonging within the academic community. "In adversity, we discovered innovative ways to continue the pursuit of knowledge and personal growth," Beebe says.
Looking ahead to May 2024, President Beebe anticipates the release of his new book, "The Crucibles that Shape Us: Navigating the Defining Challenges of Leadership," published by InterVarsity Press. In this volume, he identifies seven defining crucibles, including natural disasters, which have personally shaped his journey. He shares, "Each chapter of this book delves into one of these crucibles, offering insights into how colossal setbacks can become the foundation for a stronger, more profound faith."
Leadership, Legacy, and the Westmont Vision
As Westmont College continues to stand at the intersection of tradition and innovation, its dedication to its mission and traditions remains steadfast. At the heart of this commitment is a curriculum meticulously crafted to foster a comprehensive understanding of the liberal arts, prepare students for meaningful engagement in the professional world, lay a firm moral foundation, and deepen their love and knowledge of God. These pillars form the bedrock of a Christian perspective on education and life. "Our curriculum embodies our commitment to faith, knowledge, and moral values," Beebe says.
Throughout its storied history, Westmont College has benefitted from the presence of people driven by their faith, propelled by their intellect, and unwavering in their dedication to enduring principles that ignite a lifelong journey of learning, leadership, and service. This commitment has flourished through the harmonious synergy of academic programs and extracurricular activities, giving Westmont a distinctive role in shaping leaders who now occupy diverse spheres of society. Beebe emphasizes, "Our mission involves upholding our heritage as a Christian liberal arts college, cherishing our unwavering faith and fostering a strong sense of community as we navigate the challenges that higher education faces in the coming decades."
With a forward-thinking perspective, Westmont College continually seeks new horizons while preserving the ethos that has propelled its success since its founding in 1937. The institution stands resolute in its dedication to retaining its position as the premier Christian liberal arts college in California and the western United States, a recognition reflected in its consistently high rankings and program evaluations by publications such as US News & World Report.
President Beebe urges leaders to prioritize the development of both character and competence. He encourages them to invest in endeavors greater than themselves that will endure and leave a lasting impact on their institutions and society. Reflecting on his own 17-year tenure as Westmont's president, Beebe concludes, "In challenging times, I've been reminded daily of Peter Drucker's wisdom: A true leader focuses not on what they want to do, but on what needs to be done. In challenging times, this question has resonated deeply with me, inspiring me to offer my utmost contributions and effort each day."
For More Info: https://www.westmont.edu/
Related Articles