World's First Digital Incubator and World's Largest Open Innovation Network
In recent years, we have seen exponential growth in the Edtech industry. With the pandemic speeding up the process, more students are opting for online courses and moving towards a hybrid form of learning. Thanks to technology and innovation, we are stepping into the future today, playing a significant role in education categories serving primary education, higher education, and corporate training. The global education technology market is constantly experiencing a digital revolution with the emergence of artificial intelligence and digitalization. Key growth drivers are growth in gamification, adoption of smart tools, enhancement in connectivity Infrastructure, smartphone penetration, and 5G networks.
World Innovation Network or WI Network is already a market leader in providing cloud-based open innovation and startup suite to Higher Education Institutions. We are the pioneers of the world's first digital incubator on smartphones and developers of the world's largest open innovation network on the cloud platform. Our open innovation network on cloud connects higher education institutions with most innovative companies, research institutions, corporate accelerators, corporate venture companies, technologies, technology providers, research institutions, government, innovation parks, co-innovation centres, technology transfer offices, commercialization centres, design labs, investors, markets, academic institutions, start-ups and innovators for faster, impactful and WIN-WIN growth. Closed innovation is yesterday's idea and a passé. World's most innovative universities are shifting to open innovation for speed, skills, scale and impact.
WI Network's global award-winning solutions enable higher education institutions to build large-scale innovation/entrepreneurship capacity in the fastest, simplest and cost-efficient manner to comply with NISP, NEP, and ARIIA. This is a major breakthrough for HEIs struggling to develop innovation/entrepreneurship enabling infrastructure, large-scale innovation capacity, culture and through traditional ways.
A humble Beginning
"Our journey has been most exciting. We are the innovation consultants to Fortune 500 companies like Samsung, Dell, Amdocs, JCB, CLAAS, and top Indian companies like TATA Motors, Ultratech, Hindalco, Aditya Birla Fashion & Retail, ITC, Birla Acrylic, and many more organizations," shares Mr. Pravin Rajpal, the Founder & Director of World Innovation Network Pvt. Ltd. "We developed India's first Innovation framework and assessment tools for CII and promoted the culture of open innovation in Indian companies," he adds.
"At that time, we realized that Indian companies and Indian academic institutions were operating in silos – completely disconnected from each other. Whereas the companies and educational institutions in the world's most innovative countries like the USA, Germany, Japan, Switzerland, Finland, and South Korea were connected and practicing co-innovation. In 2016 the company decided to form World Innovation Network Private Limited to develop Edtech solutions and connect the Indian academia with the Global corporate sector for a WIN-WIN growth. Our industry linked innovation and start-up suite has met with an overwhelming response and is trusted by India's leading universities today." Says Pravin.
Going International
Most recently, the performance of WI Network has been excellent, especially after partnering with Global Innovation Institute of USA (GInI) to market solutions in the USA and 40 other countries where they have their presence. For the first time, India is exporting innovation and startup tools to the most innovative countries globally, and WI Networks is growing at a breakneck pace in the process. Through our industry linked innovation and start-up suite, academia is achieving skills, scale and speed.  "start-ups must develop collaborative models with larger companies. No start-up or a company can have all the competencies needed today to succeed. It is about providing larger companies with the missing piece and synergizing for WIN-WIN growth," Mr. Pravin says.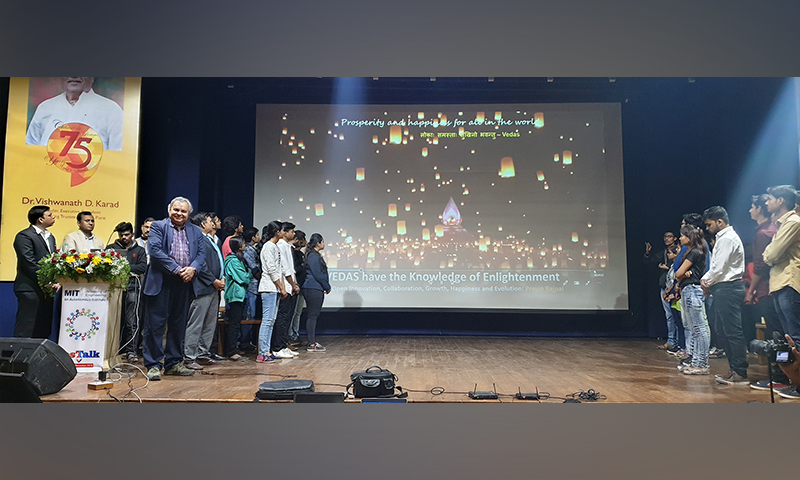 Our Cutting-edge Tools and Open Innovation Platform
The WI Network provides the most comprehensive tools for Innovations and Startups. This 3D Idea Generators, Guided Mind Maps and World Innovation Network (WIN) cloud platform
i. The Idea generation tools are essentially a set of twelve 3D Idea Generators based on gamification methodology. These 3D Idea generators are made on Rubik's cube to develop cognitive flexibility, creativity, and cross-pollination of ideas. The students play and generate breakthrough and novel ideas for innovations and startups.
ii. The Startup development tools are a set of 100 guided mind maps that provide step-by-step guidance to convert evolutionary ideas into revolutionary startups. Guided mind maps help the students in every step of their startup journey from the start. It helps them build and grow through a structured method that allows even an ordinary student to transform incremental ideas into monumental business models. The guided mind maps already have the central idea, main ideas, and sub-ideas, which students can easily expand in their innovation journey. A wide array of guided mind maps helps students in problem resolution, design innovations, developing POC, MVP, smart products, technology applications, competitive analysis, business models, go-to-market strategies, and fund-raising strategies. These guided mind maps provide breakthrough ideas and enable the founders to build better products, reach more customers, and easily raise funds from the wide industry spectrum.
iii. World Innovation Network (WIN) is an online Industry-academia cloud platform that connects the innovation/startup needs of thousands of companies globally with academic institutions for co-innovation. WIN is the world's largest open innovation platform and marketplace, connecting innovation seekers with innovation providers for WIN-WIN growth. The WIN platform has over 250 channels and 5400 linkages to technologies, technology providers, Open innovation challenges, MNC Accelerators, Corporate Venture Companies, and Open Innovation Platforms of Indian companies.
WIN platform connects the academic institutions with thousands of right companies online for co-innovation, research, grants, funding, job opportunities, and scale-up. The world's growing number of organizations are adopting open innovation and aggressively scouting for innovations/startups in academia. Global Corporate Accelerators and Corporate Venture Companies can end the major challenge of funding for the academia, totally dependent on traditional VCs. WIN platform opens a whole new world of collaboration opportunities for academic institutions to boost their startups.
iv. "Our corporate innovation assessment framework and tools are used by many companies for innovation-driven growth. The framework will help the academic institutes in undertaking corporate consultancy projects, EDP & MDP. Our startup assessment tools enable the startups to assess the power of their business idea and make desired improvements for success," Mr. Pravin shares.
v. WI Network also provides a set of 50 Premium pro presentations for training, developing successful startups, pitch decks, marketing strategies, and innovation projects. The company's industry-linked tools help create breakthrough innovations and startups with the least intervention from faculty.
"We stand far ahead of the crowd and competition because of world's largest open innovation network developed by us. While other platforms may only help in building startups, we provide support from building startups to scaling up startups at a fast speed. 95% of startups fail at the scale-up stage," says Mr. Pravin. WI Network ends the major challenges of the HEIs, which include industry mentorship, prototyping support, many early-stage funding options from corporate accelerators, and many expansion stage funding options from corporate venturing companies.
Ensuring Success and Big Impact with Collaboration  
WI Network's cutting-edge tools and World Innovation Network (WIN) cloud platform motivates students to take up Innovation and startup projects and provides lucrative rewards to students for resolving corporate challenges. WIN cloud platform offers breakthrough ideas to the entrepreneurs and opens a whole new world of global opportunities for their startup success. It enables the entrepreneurs in creating a much better product-market-fit by understanding top companies' innovation and startup needs in diverse sectors. WIN cloud platform also helps startups to develop POCs/Prototypes/MVPs at great speed with mentoring and technical support from thousands of corporate accelerators. WIN platform helps start-ups in early-stage, seed-stage, and expansion stage funding from thousands of corporate accelerators, co-innovation centres, research institutions and corporate venturing companies for faster scale-up. Additionally, WIN platform also helps in globalizing startups with the help of many Corporate Venture Companies (CVCs) on the network.
By striking up corporate partnerships on WIN platform, universities have more resources to undertake research, and they're able to diversify their research areas in unprecedented manner. The universities can easily partner with many emerging technologies and technology providers from all parts of the world for faster commercialization.  As government funds tighten in post pandemic times, universities must mobilize billions of dollars set aside by thousands of MNCs on WIN platform.
The biggest advantage of WIN platform comes when many students start getting good jobs in most innovative companies. Companies—who don't have the time themselves to incubate ideas—are looking for students who have fresh ideas and the pulse on emerging markets. The industry mentoring helps in student training, skills development, and also for job placement.
Customers and Testimonials
Some of WI Network's customers include the most innovative institutions like Birla Institute of Technology, Lovely Professional University, VIT, MIT-WPU, TERI, RNTU AIC, Sharda University, Mody University, Sage University, GNOIT, SCMC, ASM, Thapar Business School, Kirloskar Institute of Advanced Management Studies, TATA Motors Academy, Aditya Birla Science and Technology Centre, and many more leading institutions for achieving tangible outcomes.
"We created 20 patents within three months of installing the Innovation and Startup suite. Guided mind maps really helped our startup school," says Manish Saini, Head of Start-ups, Lovely Professional University.
"We filed 170 Patents within 3 years of using our institution's WIN platform and other tools. WIN tools have made innovation very easy for all our students," says Dr. Sanjay Lakade, Head R & R&D, PCCOE says.
"Our students were able to create 50 successful startups using the WIN platform and smart tools within a year. The platform provided them futuristic ideas," shares Dr. Sanjay Chordiya, Founder & Chairman, Suryadatta Education Foundation.
"There is a marked increase in breakthrough ideas for innovation and entrepreneurship after using the WIN Edtech platform," Dr. Milind Pande, Pro-Vice-Chancellor, MIT WPU, shares.
Opportunities for Academia and the Road Ahead
WI Network has partnered with the Global Innovation Institute of USA (GInI) for marketing the company's solutions in the USA and Global Markets. NNPC, the largest petroleum company in Nigeria, has already subscribed to its platform. "We are in the final stages of discussions with DST South Africa, who wants to provide our industry-linked Edtech to 45 higher education institutions in their country," shares Mr. Pravin. A company in Qatar has also expressed interest in collaborating with WI Network to provide solutions to the academic institutions in Saudi Arabia and the Middle East. "We have great interest coming up from many institutions in Australia and Europe. By the end of 2022, we will have a good presence in the global markets," Mr. Pravin adds.
Educational institutions are undergoing a big change because of the National Innovation and Startup Policy (NISP), New Education Policy (NEP), and ARIIA. These mandatory policies require academia to develop innovation/entrepreneurship enabling infrastructure. Creating a productive innovation/startup ecosystem in the HEIs through traditional methods is a big challenge and entails marathon efforts, cost, and time. HEIs must resolve these significant challenges with the help of digital technologies, which can only give tangible outcomes at speed and scale. WI Network not only ends all the present challenges of HEIs, but offers them world-class tools to boost their income from IPs, patents, royalty, licensing and technology transfer.
"Millions of students in India have ideas but no incubation facilities. For 38.5 million students who enter higher education institutions in India every year, there are only 520 incubators in the academic institutions. There is a huge gap. HEIs must empower their students and faculty with digital incubators and world's largest open innovation network developed by WI Network to transform into the most innovative world-class institutions," Mr. Pravin concludes.
About the Pravin Rajpal
Pravin Rajpal is the founder and director of World InnovatioNext Network Pvt. Ltd. He is ranked number 1 thought leader by Thinkers 360 of USA in open innovation and Edtech. He has set up 25 InnovatioNext centres in leading academic institutions. He is the award-winning author, innovation coach to Fortune 500 companies and international speaker.  [email protected]
Related Articles