Covid-19 has forced universities across India, and the world indeed, to suspend physical classrooms and shift to online classes. In India, while this transition has been smooth for most private universities, the public ones are still adapting. There have also been debates on the nature of classes, and the future of examination and evaluation — whether they could be conducted online or not. While faculty grapples with new ways of managing this sudden transition to online education, students are left clinging to their mobile phones and computer screens.
The pandemic outbreak has opened the doors to the virtual world and made educational institutions opt for online classes. VIT-AP School of Law (VSL) took this opportunity and made the best use of resources to train their students. They roped in world-renowned personalities and brought them to close contact with the student community through lectures, discussions, and interactions. The students got to interact with a world-class legal professional such as judges of International Court of Justice, Members of International Law Commission, Professors of Foreign universities and Legal experts from reputed legal firms and organizations, points out Dr. S.V. Kota Reddy, Vice-Chancellor, VIT-AP University.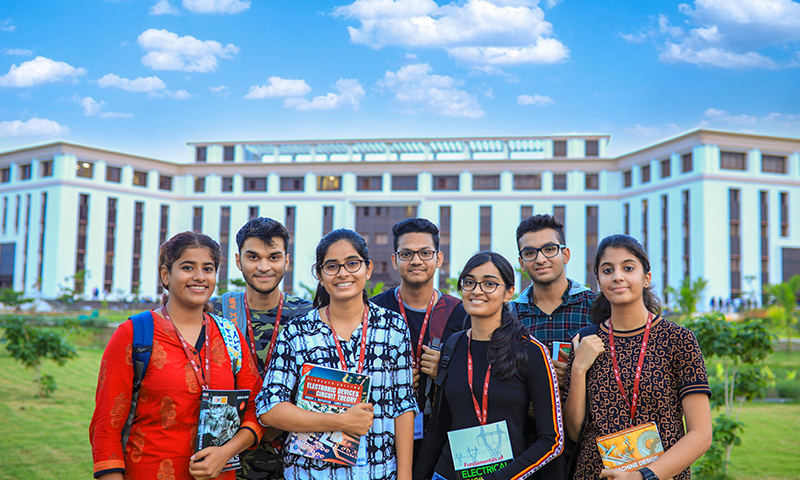 A Practical Approach to Legal Education
VIT-AP School of Law (VSL) established as part of VIT-AP University, near Vijayawada, VSL is established to impart quality legal education with a robust curriculum that prepares students for future legal challenges. The main objective is to promote global legal professionals with a passion for the ideals of social justice. VSL has got impressive infrastructure with a wide range of facilities. Law Students can have an opportunity to work with and learn from engineering faculty while studying law particularly issues relating to Law and Technology, Cyber Security Law, Blockchain Technology, Machine learning, Artificial Intelligence, and Data protection. "With our moot court, legal aid clinics, human rights clinic, digital and data clinics, environmental clinics and intellectual property rights clinics, our students get an opportunity to work with experienced faculty and advocates in solving real-time legal problems and providing solutions as well," adds Dr. Benarji Chakka, Dean, VIT-AP School of Law.
VSL offers BA, LL.B (Hons) and BBA, LL.B (Hons) five years integrated degree programs, and a Ph.D. full-time research Program. The unique aspect of the Law programs is the curriculum, it is a fully flexible system and students are getting to opt for courses that they are interested to study. They also offer a specialization honors program which includes, international law, commercial and corporate law, intellectual property law, criminal law, constitutional law, technology law, and the law relating to public services and social justice. "Along with it, students are made to choose independent guided research during their studies to enhance the skills for legal research and the legal profession," says Dean, VSL.
VSL offers two scholarship programs: GV Merit Scholarship, which is awarded to a student who stood as a board topper in the qualifying examination (+2, PUC/Intermediate) across the country. The awardee will get a 100 percent scholarship for all the years of the degree program. Tmt. Rajeswari Ammal Merit Scholarship, this scholarship is awarded to a topper in a qualifying examination (+2/PUC/Intermediate) at a district level. The awardee will get a 50 percent fee concession for all the years of studies. If a topper is a girl student, she will get the additional benefit of 25 percent, added Dr. CLV Sivakumar, Registrar, VIT-AP University.
Shaping Industry Leaders of Tomorrow
VSL aims to bridge the gap between law schools and the legal industry. To do that, they have entered to Memorandum of Understandings (MoUs) with several top-class legal firms of the country. In the very first year, 5 MoUs have been signed with prestigious law firms and organizations in the Country and several other MoUs and academic collaborations are in progress. VSL has achieved a very good reputation in a very short period and an engineering outgoing batch of students have secured placements in top-class organizations. Keeping the tradition alive, VSL is preparing students to be industry ready by having close association and hands-on work placements with legal firms, think tanks, legal aid clinics, district and state legal services authorities, and conducting boot camps for Alternative Dispute Resolutions (ADRs). "We encourage students to have the sound legal and technical knowledge to excel in their legal career by participating in events which are organized by local, national, and international competitions,", says Dean, Dr. Benarji Chakka.
VSL believes in the overall growth of students and they must have a very brilliant and vibrant student life beyond academics. To promote sustainable students life at the campus, VSL in collaboration with the Students Welfare Department and Student Activity center host various events. The university has more than 75 student clubs and chapters, which include, Model United Nations Club, Cultural Club, Literary Club, Debating Club, Spic Macy Club, and many others. "These cultural centers promote overall development and collegiality among the students' community to make them better citizens and make student life a memorable and enriching one", says Dr. CLV Sivakumar, Registrar, VIT-AP University
A global pandemic has few silver linings, but for higher education, it has been an opportunity to show that universities can adapt rapidly. Continuing to deal with the pandemic and promoting a safe, secure, and covid-free campus, VSL encourages all the students and staff to be vaccinated and follow the protocols laid out by the government diligently while visiting the campus. "We are now promoting the students to visit the campus to have a real campus life without compromising the Covid rules. Students have to start with normal regular life at the campus for that purposes we are taking steps to allow students in a staggered manner," concludes Dr. Reddy.
About Dr. S.V. Kota Reddy, Vice-Chancellor
Dr. S. V. Kota Reddy is a veteran academician & administrator with more than 30 years of teaching, research & administrative experience. He joined VIT – AP family on 16th November 2020. Previously he worked as Academic President at Manipal Academy of Higher Education (MAHE) Dubai Campus. Under his able leadership, MAHE Dubai secured a 5 Star Rating in the Knowledge and Human Development Authority (KHDA) rating framework with heighest points among the participating Universities in Dubai, U.A.E.
About Dr. CLV Siva Kumar, Registrar
Dr. CLV Sivakumar, with a perfect blend of passion and dedication, has been with the VIT group of institutions for several years. He has served in many administrative positions in VIT University including Convenor-University Students' Disciplinary Enquiry Committee, Chief Warden of University Men's Hostels, Dy. Director of University Hostels and University Special Officer. He holds a Bachelor's Degree in Commerce; a Bachelor's Degree in Law; a Master's in Personnel Management and a Master's in Law. Constitutional Law and Administrative Law are his areas of specialization at the Master's level. He received Ph.D. in the area of Election Laws and Election Crimes. He has been teaching for the past 26 years. He has published several Research papers in journals of National and International repute in the areas of Law and Management. He has participated and presented research papers in 40 national and international Seminars and Conferences. Law and Public Policy are his areas of interest.
About Dr. Prof. Benarji Chakka, Dean , VIT-AP School of Law
Dr. Benarji Chakka is scholar of international law, specialised in International Aviation Law, International Space Law and International Humanitarian Law. He has rich experience in working with international organisations, universities abroad and reputed National Law University in India. He worked with the International Committee of the Red Cross (based in Geneva) as Regional Legal Adviser for South Asia and advised governments, military, paramilitary forces, state and non-state actors and academic decision makers. As A Legal Advisor to ICRC he has extensively visited South Asian countries and advised universities in implementation of International humanitarian Law in Higher Education curriculum. With this vast work experience in international organisation he has moved to academics and started his career a s Lecturer at National University of Ireland, Galway. Where he has taught several subjects of law and developed new ideas in legal pedagogy and introduced them to the students. Further he moved to National Law University and Judicial Academy, Assam as academics and as administrator. During his tenure he developed new courses and introduced them to the students at undergraduate and postgraduate level. He further worked as a Dean of reputed private law schools in India and joined VIT-AP University as a founding Dean to start a Global Law School. He Was a British Chevening Scholar at School of Oriental And African Studies, University of London. He attended prestigious courses at Humanitarian Policy and Conflict Research offered by the Harvard University and specialisation course in International Criminal Law, Human Rights and Humanitarian Law at the Syracuse International Institute for Criminal Justice and Human Rights, Siracusa, Italy. 
Related Articles