Presently, the aged population is at its highest point in the entire human history. As per WHO's latest reports, the proportion of the world's population over 60 years will nearly double from 12% to 22% between 2015 and 2050. On top of this, 80% of older people will be living in low- and middle-income countries by 2050. Unfortunately, most people are unaware of the concept of population aging and how it will affect their society, policies, programs, and economy. Therefore, education in gerontology is of great importance, especially for students who are driven by a purpose to make a positive impact in the world.
Founded in 1975, USC Leonard Davis School of Gerontology is the oldest and largest school of gerontology in the world. Its mission is to promote healthy aging for diverse individuals, communities, and societies through leadership and innovation in research, education, and practice.
What Makes Education at USC Leonard Davis School of Gerontology Unique?
Positive Learning Environment: USC equips its students with the knowledge, skills, and competencies to face the increasing challenges and take up opportunities brought about by the aging population through a supportive and technologically advanced learning environment.
Wide Range of Degree Programs: USC Leonard Davis provides a wide range of degree programs, such as an undergraduate gerontology degree, an accelerated five-year undergraduate/graduate degree program, a doctoral degree, and a minor in aging. Students aiming for major degrees in gerontology can also opt for distance learning.
Diverse Student Population: Students from different nationalities and cultural backgrounds pursue education from USC Leonard Davis School of Gerontology majorly through its online format. This platform proved highly beneficial to students during the pandemic when travel was suspended from all parts of the world. Hence, USC's number of online students has grown upward from 1998 to date.
Expert Team of Staff: The school is supported by some of the world's leading scientists and thought leaders in gerontology. This is evidenced by the number of articles published in various peer-reviewed, high-impact factor journals each year, the honors and awards bestowed upon them, and the impact their mentorship has on the many students who carry on the tradition of academic excellence starting from the school itself.
Scholarship Programs: The school is supported by an endowment that provides merit-based scholarships to students with excellent academic track records. These scholarships are one of the additional benefits that help attract the best students in the world.
Extensive Career Opportunities in Research: At USC, scientists and educators conduct ground-breaking multidisciplinary research in medical and social sciences related to aging. The school has also collaborated with numerous universities of repute, including the USC Longevity Institute and the Center for Global Aging. Hence, students have an opportunity to apply for paid fellowship programs and, on acceptance, get to work with high-caliber scientists on their pioneering research projects. USC also offers internship programs in collaboration with industries like health, medicine, business, finance, direct services, program development, public policy, and counseling. Additionally, post-graduate students are supported through USC's career placement cell.
Major Highlights for Online Learners: USC provides courses in real-time and asynchronous formats. The sessions are recorded so that students have ample time to review lectures and other course materials relevant to a global community of scholars.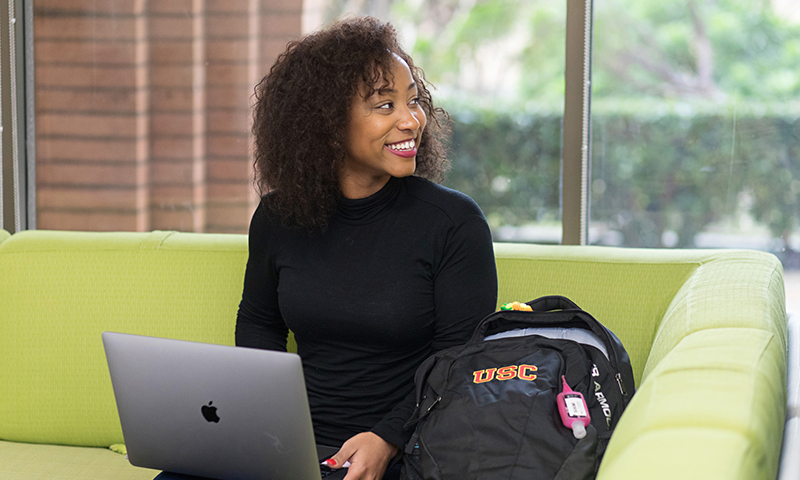 Employing the Best Practises for Content Creation and Delivery
At USC Leonard Davis School of Gerontology, the content is derived from the latest understanding of aging. It is supported by a robust research enterprise within the same building that houses the school. Moreover, the fruitful research outcomes are infused into the school's curriculum, providing students with an exceptional learning experience.
"Our world-class faculty is supported by experienced and knowledgeable staff who draw in the elements of design, graphic representation, multimedia production, and any other means of communicating ideas and knowledge via the internet," asserts Steven Stumph, Admission Counsellor, USC Leonard Davis School of Gerontology.
Beating the Pandemic Odds
In the wake of the COVID-19 pandemic, the USC Leonard Davis School of Gerontology brought all of its courses and research online. The institute's faculty, staff, and students were already familiar with the technologies, so the transition from offline to digital mode was achieved effortlessly.
"We came together as a community several times a week through scholarly activities and social events that ensured no one was left alone or isolated," mentions Steven.
Need to Invest in Students' Individual Growth Besides Technology
For any educational institution, its students are the most important stakeholders. Hence, a strong emphasis should be given to creating relationships with individual students, investing in their personal and professional growth, and working towards a shared vision. "At USC Leonard Davis School of Gerontology, these traditional values are central to our mission and are transmitted through whatever technology we employ," says Steven.
Steven further suggests that having the latest available technologies with staff to support learning management systems and cloud-based video communication apps such as Teams and Zoom is essential. It can, however, never replace the traditional values.
A Rich Historical Backdrop
The USC Leonard Davis School was established through a gift from Leonard Davis, a pioneer in developing insurance for older Americans. Together with benefits crusader Ethel Percy Andrus, Davis created the organization now known as American Association for Retired Persons (AARP). After Andrus's death, he led the efforts to create a lasting memorial research center at the USC campus called the Ethel Percy Andrus Gerontology Center.
Back then, nations were not directly battling the issues of rapidly aging populations. The first retirement communities were just arriving on the scene, and opportunities to research aging and retirement issues emerged. USC identified them and became the leading innovator in gerontology education. Thousands of students have graduated from USC Leonard Davis School of Gerontology. They are pursuing careers that will improve the lives of older people both in the United States and around the globe.
Looking Forward to New Courses & Exciting Research Outcomes
Currently, the team of researchers and scientists at USC Leonard Davis School of Gerontology are working on diverse areas in aging. Therefore, new and exciting research findings are definitely on the cards in the coming years, which would prove valuable for the betterment of society as a whole.
Furthermore, Steven shares, "We will also be launching a very specialized master's degree in Applied Technology and Aging, which we hope will produce leaders in the technology industry, which has been woefully unaware of the needs and desires of the world's aging populations."
For More Info: https://gero.usc.edu/
Related Articles