Dr. Hans Andrews is Distinguished Fellow in Community College Leadership and former President of Olney Central College in Illinois. He was also a Dean of Instruction and Vice President of Community and Student Services at two other community colleges in Illinois and Michigan and was an adjunct faculty member at Illinois State University. Hans is credited for starting the first dual-credit program between a community college and secondary school in the United States.  He also served as the national community college spokesperson on teacher evaluation and recognition for outstanding teachers.  His seven books and many of his 130 journal publications have highlighted recognition, evaluation, and dual-credit.  Hans has been a contributor of articles to the Higher Education Digest on numerous occasions.  His professional career started out as a secondary school teacher of business and as a school counselor.  His Doctorate in Counseling Psychology is from the University of Missouri-Columbia.  His Masters Degree and Baccalaureate degrees are from Michigan State University and Central Michigan University respectively.
Double our advertising!*
*The response of W.K. Kellogg during the height of the 1930s depression when confronted with his cereal business shrinking!  His business prospered through his increase in advertising across the country while many other cereal companies failed.
Community colleges across the United States have experienced an enrollment drop of over 827,000 students since the start of the pandemic!  The number that dropped between 2021 and 2022 was 351,000.  The National Student Clearinghouse (NSC) announced community college enrollments across the country in the fall of 2021 were down 5.6 per cent following the fall of 2020 decline of 9 per cent.
The South Carolina technical and community colleges felt this same blow to their enrollments.  Between 2014 and 2019 enrollments were reported as dropping 19.2 per cent, the second largest drop in the southern states only to West Virginia's 19.3 per cent.
California invested $120 million hoping to stem their 116 community colleges' large enrollment decline in 2020.  Only 17 of the colleges had some enrollment growth since the fall of 2020.    It will take time and new approaches to attract more recent secondary school graduates as well as new adult students.
Enhancing ways to attract high school graduates
Community college admissions counsellors have reached out over the years to provide for student visits to their schools, on-campus college days or evenings.  One way that is seldom experienced is having K-12 faculty, counsellors, and administrators visit the campus.  Illinois Valley Community College, some years ago, invited teachers, counsellors, school administrators and school board members to consider using 'in-service' days on their college campus.  Those who initially participated in this program provided the following responses following a four-hour program on campus:
"I have never been in a community college before!"
"Very impressive – I had no idea a community college had so much to offer."
Rating of the campus visit as an 'in-service activity:
Excellent . . . . . . . . . . . . 53

Above Average. . . . . . .  77

Average . . . . . . . . . . . . . 44
Would you recommend this as an 'in-service' program to others?
Yes . . . . . . . . . . . . . . . .. 155

No . . . . . . . . . . . . . . . . . . 22
Who will benefit from your visit today?
Students in my school. . . .77

Our school faculty . . . . .   47
Reviewing current college information used to attract students
Almost every publication of community and technical colleges today is on the computer.  Secondary school students have grown up with computers and websites.  Adults who have never before enrolled in community or technical college courses or programs find it very difficult to go to a computer to understand how to read a class schedule or a college catalogue.  
Years ago, college catalogues were published and distributed to students and community people. Course schedules were paper and distributed through area newspapers.  Registration was often accomplished by being able to enrol in both on-campus and off-campus sites.  
Kellogg Community College (KCC) published over 80,000 'user-friendly' college catalogues in one year as an experiment.  They were published by and distributed to homes through area newspapers.  This new approach attracted hundreds of new adult students almost immediately.  It also provided information for growth in future students.  
This catalogue was highlighted as the cover story of the Community and Junior College Journal shortly after its publication.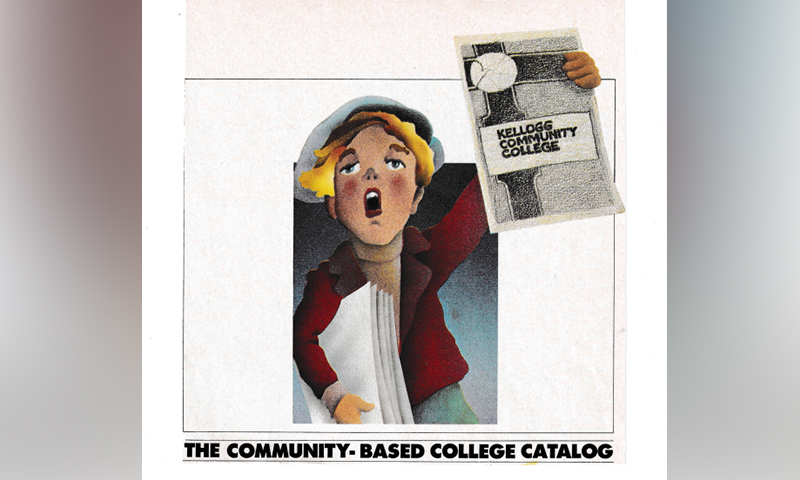 Colleges across the country soon started promoting their evening and weekend offerings through newspaper schedules or direct mailings to homes.  These types of promotions have been replaced by online computer website options.  
Now is a time to return to paper documents with wide circulation
Transitioning back to paper advertisements on course offerings in evenings, weekends, and off main-campus sites, could once again do much to attract first-time college students, workers, and home-bound potential adult students.  Adult enrollees also provide role models to children who see their parent(s) attending college and improving their own job and financial opportunities.
Adult scholarships and tuition waivers impact
There are few studies completed on adult students and the impact of starting college classes with some tuition assistance.  One such study at Kellogg Community College, on a small number of such students, documented the increased pride they were feeling in themselves as they gained new skills and job skills.  They had received tuition assistance in taking their first community college courses.  The following are the responses received:
Would you have enrolled in the community college without financial assistance?
Yes: 12 (23%) No: 43 (77%)
 Has the experience of going back to school changed your family's attitude toward you?
Yes: 45 (80%) No: 11 (20%)
Today adult students without financial assistance can gain the same opportunities through 'tuition waivers' which can provide another way to help attract a more diversified student body.   Olney Central College (OCC) in Illinois expanded its student enrollments by 41.6 per cent over a four-year period.  They greatly increased their tuition waivers to low-income and first-time adult students (Andrews, 2022).  
Enrolling in credit hours allows most colleges to still collect credit hour grants from the state education offices in most states.  In addition, the tax base funds collected remain the same.  This is also so with many of the college' fixed costs.  In the area of teacher salaries, as a major institutional cost, remains the same whether there are 15 or 25 or more students in each of their classes.  
Olney Central College (OCC) saw its music program grow from around 25 up to 94 students over a two-year period when the tuition waivers were expanded.  The college found that friends of these tuition waiver students also decided to attend the college..  Not as many students increased in vocational and technical education programs as in the music program.  The music director did excellent outreach to the secondary school colleagues while others did much less.
 Going forward
It is time to look at both new and previously successful ways to attract and educate others to the way community colleges can assist many new potential students.  These courses and programs can do much to solve the shortages that now exist for businesses and education institutions.     
Today, increases in advertising will again help along with reaching out in both new and older ways.  The K-12 schools and the large adult populations in every community and technical college district should benefit.  As Richard Whitmore, former president of Kellogg Community College often told his staff,  We are only limited by our imagination!
Resources
Andrews, H.A. (2022, August 22).  Expanding tuition waivers can increase community college enrollments.  Commentary Community College Daily.  Retrieved from https://www.bing.com/search?q=Expanding+tuition+waivers+can+increase+community+college+enrollments+Commentary
National Student Clearinghouse (2022).   Retrieved from Undergraduate Enrollment Falls 662,000 Students in spring 2022 and 1.4 Million During the Pandemic – National Student Clearinghouse
Whitmore, R.F. and Andrews, H.A. (1975, February).  The community-based college catalog.  Community and Junior College Journal.  Retrieved from Whitmore, R.F. and Andrews, H.A. (1975, February). The community-based college catalog. Community and Junior College Journal – Search (bing.com)
Related Articles