Covid-19 has disrupted the world forever, including the way formal business education is delivered. However, B-Schools that could leverage technology and had visionary leadership to quickly build an eco-system of virtual learning, teaching, evaluation, and community-building were less impacted. "Applications to top MBA programmes tend to rise in challenging times, and we have seen this during the current pandemic, as working professionals review their career direction and future employability, and the workplace undergoes a dramatic transformation. Our aim is to help students develop sustainable and fulfilling careers, and this means counselling candidates," comments Randa Bessiso, Director Middle East, the University of Manchester.
You only get one chance to study for an MBA or a specialist Master's, and finding the right fit is vital. The right course content, format, and balance between technical and soft skills are important while choosing the right programme. At the University of Manchester, there is a focus on the Manchester Method – learning by doing – emphasises group work and real-world case studies. Xavier Duran Martinez, Director, MBA Programmes, says, "At Alliance Manchester Business School, we produce creative, resilient and socially-responsibly graduates who will thrive in the technological age. We continuously update our curriculum to ensure it focuses on the business challenges they will face as a leader, now and in the future. Students will learn to navigate uncertainty and confidently take on complex challenges in this once-in-a-lifetime learning journey."
The University of Manchester Middle East Centre was established in 2006 in Dubai Knowledge Park as the regional centre for the University's Alliance Manchester Business School. Now, Dubai is one of the University's five international regional centres in key business cities, spanning Shanghai, Hong Kong, Singapore, and Manchester. Randa Bessiso shares, "The Middle East Centre in Dubai benefited from the city's emergence as the business capital of the region and the creation of the world's first free zone for higher education providers, along with its world-class business and communications infrastructure." 
In 2017, the Middle East Centre became the University's Centre for the Middle East, supporting all the University's faculties. Until now, the centre has supported more than 2800 part-time MBA students, graduated more than 1800, and supports and connects a regional alumni community of 2800 former students of the University. It is the largest and fastest-growing in the University's international network of centres. "We have a global mission focusing on the three pillars of teaching, research, and social responsibility. The Middle East Centre supports all three pillars, and in addition to the extensive teaching program, it has also been active in regional and local research and social responsibility through its support for a range of local community initiatives," states Randa Bessiso. 
Pursuing Educational Excellence
As a regional centre supporting a large number of part-time Master's students based across the Middle East, the team at the Middle East Centre provides local support and counselling for students and arranges facilities in Dubai to host regular MBA workshops and course conferences, which are all led by University faculty or program directors. Although these sessions are designed to be face-to-face experiences, they are currently delivered in a hybrid format, offering students the option of joining physical sessions in Dubai or connecting remotely through online video platforms. The centre itself provides a range of study areas for group work and also a reference library open to all students.
The regional portfolio comprises five part-time Master's programs – the University offers two MBA options (the Manchester Global Part-time MBA and the Kelley-Manchester Global MBA), in addition to specialist MSc degrees in Educational Leadership in Practice and Real Estate. A new program will start in the Middle East in September 2021 – the part-time MSc in Financial Management is a flexible Master's degree designed to help students transform their finance and business careers by developing their financial understanding, expertise, and skills. 
The Manchester Global Part-time MBA is a 2-year, faculty-led blended learning program that offers as much face-to-face contact time as many full-time MBA programs. This human connection is irreplaceable. The Global MBA produces creative, resilient, and socially-responsibly graduates who will thrive in the technological age, and it focuses on the business challenges leaders will face. Students learn to navigate uncertainty and confidently take on complex challenges in this once-in-a-lifetime learning journey.
The course also offers flexible options, including accelerated study pathways for students who meet the criteria. These pathways can accelerate the learning process and help students complete their MBA program in as little as 18 months. The Global Accelerated MBA program is for senior managers, high-level executives, and entrepreneurs with at least eight years of experience. Students travel together to attend face-to-face workshops in Manchester, Dubai, and Shanghai, followed by a choice of electives at any of the University's five global locations. Randa Bessiso adds, "An MBA is a serious commitment of time, but the part-time, blended learning format means that students can continue to work and earn, even while they study in their own time, and enjoy the benefits of their new learning almost immediately in their workplaces. The demand amongst MBA candidates is for shorter and more intensive study programs to help students complete their programs faster and help them enjoy a quicker return on their investment."
Integerating Technology in the 'New Normal'
As a world-class research institution, The University of Manchester has a strong commitment to undertaking and supporting research and the opportunity that arose in the Middle East during the pandemic. A Covid-19 Response Report (CRR) by Oxford Business Group (OBG), produced in 2020 in partnership with The University of Manchester (UoM) Middle East Centre in Dubai, mapped out the positive impact of sustained investment by the UAE in health, technology and education has had on the country's efforts to reduce the impact of the coronavirus and move towards recovery.
The report looks at how the UAE's education sector adapted to new ways of operating during the lockdown. It analyses, in particular, the part that technology played in helping to ease the transition to remote learning at the height of the pandemic, facilitated by the country's robust digital infrastructure and strong ICT adoption rating. It covers the steps that the University's Middle East Centre took to increase digital engagement for its large regional community of part-time MBA students when the pandemic arrived – a move it was able to make rapidly, due to an already strong blended learning platform, combining online study and face to face workshops, while also rolling out a series of publicly accessible online webinars.
Continuity and quality of student experience was the focus of the University's Middle East Centre as the team continued to enrol, support, and engage with current and new students and alumni across the region. University life in the region continued whilst operating within the protocols in place to ensure the community stayed safe and well. The University's portfolio of part-time blended learning Master's programs for working professionals is ideally suited to flexible study, and whilst the face-to-face teaching and networking component of the programs is very valuable, most of the teaching, content, and interaction that students need can be virtualised. The centre team is highly skilled with the technologies that they have all adopted, and the student experience remains rich and interactive, with the choice of online and face-to-face or hybrid access to content and events.
One of the principal advantages of blended learning is its flexibility in terms of when, where, and how students connect to the learning experience – especially the online study components. However, the face-to-face workshop experience is core to blended learning and is where students gain significant benefits from exposure to their peers, teaching faculty, and the opportunity to build professional networks. The University's virtual workshops are faculty-led, delivered to regional time zones, and designed to provide a highly interactive experience. "We are using all the flexibility of the blended learning format and our online experience to ensure continued access to learning for our students. The Middle East team continues to deliver student support services and an active online program of masterclasses and careers webinars for students and alumni, and information sessions and 1-2-1 counselling for candidates," remarks Bessiso.
Securing Students' Bright Future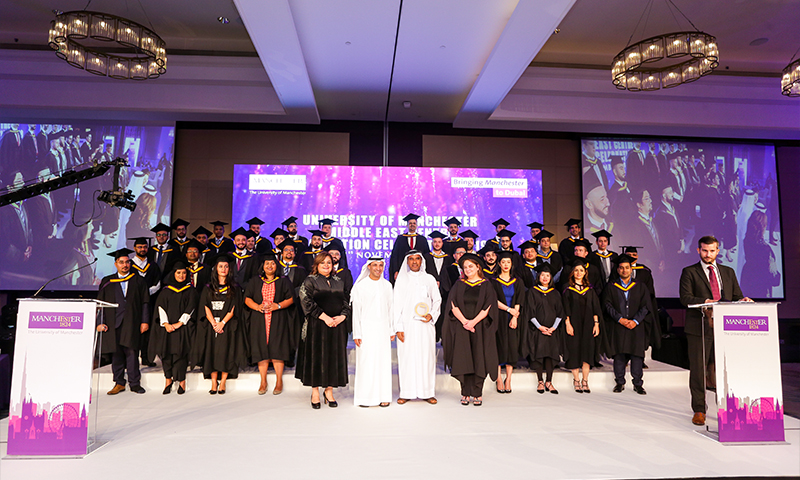 The students at the University of Manchester Middle East Centre have shared their personal and professional journeys through their study programs. The Global Part-time MBA is a very challenging academic program and a life-changing experience – it's also a human experience, and the close personal and professional friendships with peers, faculty, and support team members are deep and lasting for all students. For busy working professionals with demanding careers, families, and other commitments, creating face to face – or online – networking and group study opportunities is a vital central component of the overall student experience.
Students joining programs through the University's Middle East Centre are generally already pursuing successful careers. Students joining the Global Part-time MBA are looking to accelerate their existing careers, switch careers, or become more entrepreneurial. The latest Global Part-time MBA cohort (January 2021) comprises 90 students of diverse nationalities and residents in countries across the region. Many of them already hold a post-graduate qualification, and the majority are self-funded. They hold various positions, with around 40 per cent already in executive management roles in companies across all the region's major industries, with technology, banking, construction, healthcare, consulting, and aviation prominent among them. All the students are experienced working professionals, with around 60 per cent bringing 10 years or more experience to the program. Women professionals comprise 21 per cent of the new cohort. 
The MBA students have access to career support from day one of the program, right up to a year after they graduate. The students can book a session with a careers counsellor with consultations in person or online. When possible, there are also networking events at the centre where students can meet the careers team, other students from their course. The team hosts regular virtual webinars, covering a variety of topics, from how to write a CV to offer negotiation. These webinars allow students to access them at any time during their MBA. The University's large alumni network is also helpful for making introductions for students in various countries or industries. The University's comprehensive Careers Service helps to create access to the regional pool of talent for corporate partners of the University in the Middle East.
The University of Manchester Middle East Centre has made a significant impact on individuals, organisations, and communities over the last 15 years and is committed to sustaining this level of excellence. The emergence of educational technology (EduTech) will help create access to lifelong learning opportunities in response to the rapid obsolescence of existing skills, while flexible part-time, blended learning opportunities will help sustain employability. Alongside the digital learning experience, there is a clear need to ensure we maintain human connections. Soft skills such as leadership, creativity and innovation, and adaptability will remain essential elements of existing programs and new ones. "We will see a surge in creative partnerships between educational institutions, as organisations try to build on our new collective experience and quickly add capabilities, resources, and reach. Our dynamic portfolio of blended learning, part-time Master's programs for working professionals in the region will continue to grow and develop," concludes Randa Bessiso.
About Randa Bessiso, Director Middle East, the University of Manchester 
Randa Bessiso has spent much of her career working on market entry strategies, company startups and channel development programmes, and building profitable regional businesses and brands. Randa was instrumental in planning and establishing the Middle East Centre, which opened in Dubai in 2006. She is responsible for the overall management, operations, strategic planning and business development of The University of Manchester in the Middle East. Initially, Randa led the successful launch of the Alliance Manchester Business School Middle East Centre. This success was recognised by the wider University, which led to the re-naming of the centre and broadening of its role representing the academic interests of the entire University in the region.
Randa has overseen the development of the Middle East team and the launch of a range of educational products, services and initiatives, including a careers service, the Manchester Innovation Award for Emiratis, a range of CSR and research projects, and a portfolio of new part-time specialist Master's programmes from the wider University. Among the regional recognitions is the 'Best MBA Program' award for the Global Part-time MBA at the inaugural Forbes Middle East Higher Education Awards 2019. On a personal basis, Randa has been recognised annually among the 100 Most Powerful Arab Businesswomen and the Middle East 100 Most Influential Women by Forbes Middle East, from 2014 to 2018. She was also named among the 30 most influential women in the Arab World by Arabian Business in 2019, and the annual Arab Power List 2021.
Randa is a regular media commentator and speaker at executive forums in the UAE and region on her special area of interest – women in business.
Related Articles