With the world facing the COVID19 Pandemic Outbreak that has spread over 150+ countries and forcing schools, colleges, and universities to shut down, the education sector is one of the most significant sectors which bore the brunt of this situation. Adapting to this situation quickly and moving to online teaching mode, Shobhaben Pratapbhai Patel School of Pharmacy & Technology Management (SPPSPTM), SVKM's NMIMS made the most of it, courtesy to their available IT setup at the University. Maintaining academic continuity and avoiding disruption in students' education, the University has taken several measures to keep the teaching-learning process going smoothly. "IT infrastructure has been strengthened immediately by procuring the applications required for online teaching. Faculty, students, and staff were trained to use the IT setup. One of the first and foremost important measures is that the teaching has commenced remotely via digital platforms. Our faculty during summer vacation have undergone intense training in teaching and learning online through several training programs. Faculty and students were provided free access to courses offered by platforms such as Coursera", says Dr Bala Prabhakar, Dean, SPPSPTM.
SPPSPTM also conducted examinations for all their students online, and processed and declared the results as well, which helped the final year students in avoiding the gap in their studies and get placed in the industry. The University also made the admission process for the UG program online, with the entrance exam conducted online through Remote Proctored Assessment and online personal interviews for PG and PhD students. A blend of theory and practicals, Pharma Education, came to a standstill as students could not come to the campus and have their practical sessions in the laboratories. SPPSPTM came up with a unique idea of 'instructions and demonstrations'  where the faculty would demonstrate the experiment and provide necessary instructions to carry out an experiment that they recorded in the laboratory. "This will help students to learn prerequisites and techniques required to complete that experiment. As and when school reopens, students will be performing these experiments in the labs based on these sessions", points out Dr Bala.
With excellent lab facilities, good teaching and learning practices based majorly on a student feedback system, SPPSPTM is a model pharmacy school conducting various graduate, postgraduate, and research programs in Pharmaceutical Sciences. The highly-experienced faculty members encourage their students to do research in their field of interest, along with focusing on the needs of the Pharma Industry and Hospitals. Producing self-motivated, self-reliant, and socially sensitive young pharmacists that cater to the needs of the industry, academia, and research, Dr Bala says, "We are developing an excellent pharmacy school that focuses on research in current trends in Pharmaceutical Sciences and Technology Management, educating to impact the global healthcare system and thus develop a cadre of employable pharmacy professionals".
Bridging Academia and Industry Together
At SPPSPTM, industry collaborations help the faculty members to understand the research inclination of the pharmaceutical sector and undertake consultancy work with the companies. Faculty expertise is also utilized to solve problems in industry research. "Our faculty members are encouraged to interact with the industry. Many of them are working on research projects funded by industry. We are collaborating with industries for formulation development, analytical method development and validation, efficacy and toxicity study of drugs and formulations", states Dr Bala.
Arranging guest lectures by eminent personalities from the industry, scientists, and international faculty, students of SPPSPTM get an exposure to the current happenings in the industry. Offering value-added and interdisciplinary courses in their area of interest, the University also provides an opportunity for students to develop leadership skills, that help them in their future. "Industry training is an integral part of programs. Students get excellent exposure to various processes in the industry by attending the same. All students have access to highly sophisticated instruments that are frequently used in industrial setups. This exposure helps students in their career", adds Dr Bala.
SPPSPTM focuses on, and ensures, the holistic development of the students. The school offers a plethora of opportunities to build and shape the student's pharmacy knowledge, thinking and planning ability, leadership skills, professional identity, societal responsibility, environment consciousness and sustainability, ethics, communication skills, usage of modern tools, and lifelong learning, thus empowering them to be complete professionals in the pharmaceutical sector and contribute to society in a meaningful way.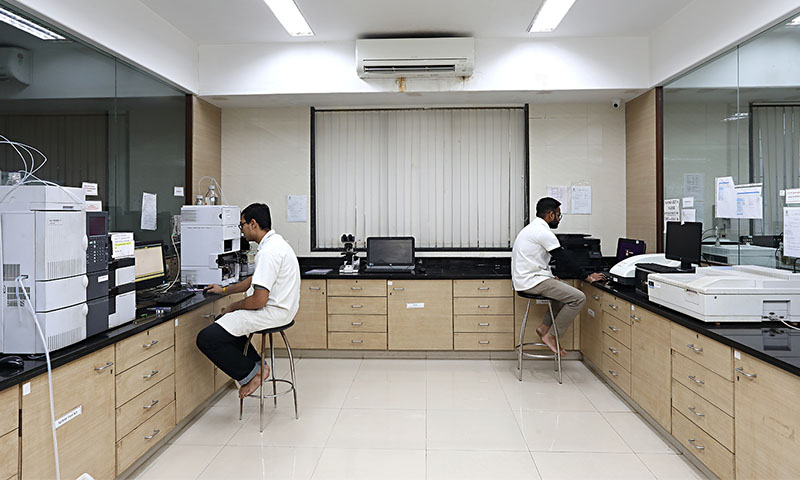 Predominantly based on presentations and interactions with a strong focus on the practical concepts of pharmacy and management, the programs at SPPSPTM enable the students to make decisions based on their strong technical and managerial skills. "We also use flipped classroom, interactive learning, and collaborative learning assurance of better learning. Hands-on training is provided for recent software, equipment, and analytical instruments through workshops. Similarly, regular industry visits are also undertaken to provide a better understanding of industry operations. Guest lectures from industry experts on pertinent topics are often organized by the school for better growth of the students.", says Dr Bala.
SPPSPTM identifies its faculty based on their exposure to practice their specialization along with their expertise in handling instruments, equipment, and other technology involved in all these disciplines. Moreover, they are also sent to national and international conferences to gain exposure to emerging technology along with modernization of equipment and instruments, which further strengthens the delivery of education to students. "Our faculty have been recognized at the national level by various government organizations like DST and ICMR who have provided travel grants for participation in international conferences", adds Dr Bala.
In addition to regular teaching and participating in faculty development programs for updating the knowledge and teaching skills, they are also involved in writing grants to the government, consultancy and publication- and patent-related activities, which add to their teaching skills. Along the same lines, SPPSPTM faculty are also working in collaboration with the industry on a myriad of research projects. "The collaborative organizations include Fruend Corporation, Japan; SciTech Centre, VAV Life Sciences Pvt. Ltd, THINQ Pharma Ltd., Global Herbs Pharmaceuticals, Cerilia Nutritech Pvt Ltd, and SPARC, Mumbai; Nugenics Research Pvt. Ltd., and Sparge Chem Pvt. Ltd., Pune; Chem Routes, Canada and many more such reputed organizations. We have also been working with the Drugs for Neglected Diseases initiative (DNDi), Geneva, Switzerland since 2017 for collaborative projects", points out Dr Bala.
One of the projects that SPPSPTM is carrying out with DNDi is the Open Source Synthesis for the development of new drugs for the Leishmaniasis. This project allows the involvement of undergraduate, master, or PhD students in real life ongoing drug discovery, which would contribute to the skill enhancement of the participating students.  The current Open Synthesis Network consists of several international universities from the US, UK, Europe, and Australia, thereby giving students exposure to a truly international project.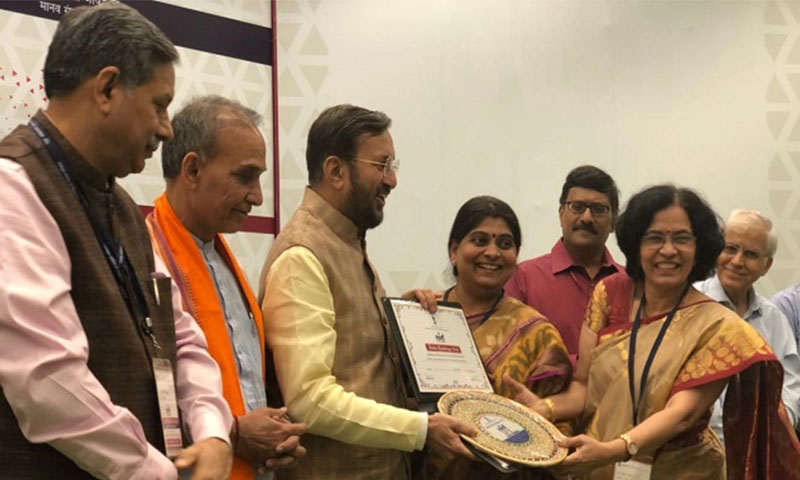 Helping Students Step into the Industry
Witnessing a successful placement season in the past, the integrated programs of Pharmacy with Management degrees at the school continued to gain more and more popularity in the Pharmaceutical and Healthcare industry. The M. Pharm + MBA (Pharma Tech & Healthcare Management) batch was recruited by some of the best companies in the Healthcare Industry in a variety of profiles. Top Pharma heavyweights such as AstraZeneca, Cipla, Cognizant, GlaxoSmithKline, Novartis, Neilsen, Markets & Markets, Optum, Indiabulls Pharma, Lupin, and many other Indian and MNCs participated in the placement season. They offered coveted profiles in Sales, Marketing, Business Development, Project Management, Operations, Consulting & Business Analytics. Summer Internships are an integral aspect of the pedagogy at SPPSPTM, offering students an opportunity to collaborate with the corporate world and put their skills and acquired learnings to practice.
Developing their technical skills as well as interpersonal skills, the course structure at SPPSPTM focuses on the overall development of each student. Erica Sequeira, 4th B.Pharm+M.Pharm student at SPPSPTM reminisces, "With the values, education, and interpersonal skills that the college has provided me, I am prepared for what life throws at me. I have truly endeavoured this experience of learning in this institution. Learning was made easy with the best teachers who are always ready to guide us throughout the course. It has changed me as a person by instilling in my leadership qualities, passion for life. The industrial training period has helped me use the knowledge I learned into understanding the practical conditions of the industry. The guidance of my teachers in these four years will always be remembered".
Ranked 13th in the country amongst all Pharmacy Schools as per National Institutional Ranking Framework (NIRF) 2020, India, by the Ministry of Human Resource Development, SPPSPTM plans to emerge as a Centre of Excellence and the go-to University for quality education in Asia, and in the world by 2030, SPPSPTM plans to develop new programs based on emerging trends and societal needs like incorporating artificial intelligence in healthcare. The school also has set its eyes on developing centres of excellence in the areas of nanotechnology and drug discovery. Also intending to throw open its gates for more international collaborations in areas of research, faculty exchange, and student mobility, Dr Bala concludes, "We are working towards international collaborations for research activities, faculty and student exchange. We will also be applying for international accreditations for our programs, making research a top priority for our school".
About Dr Bala Prabhakar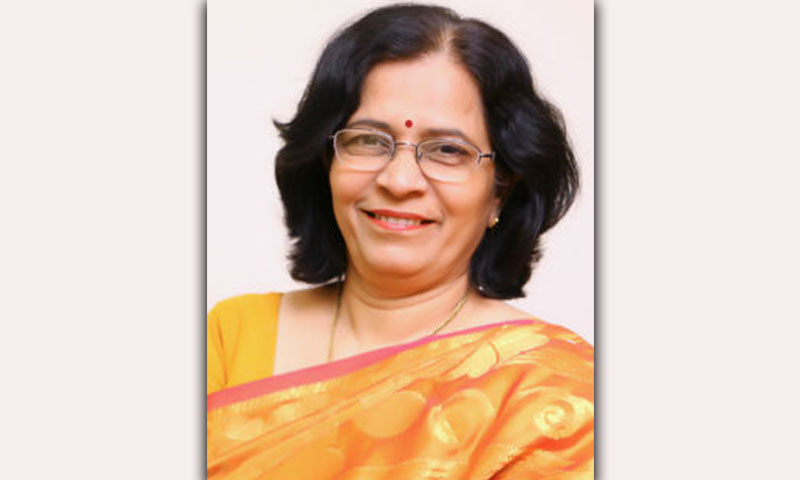 Dr Bala Prabhakar, the Dean of SVKM's NMIMS, Shobhaben Pratapbhai Patel School of Pharmacy & Technology Management, Mumbai has been in the teaching profession for more than 36 years with 19 years in administration. She is actively involved in the Board of studies, Planning and Monitoring Board, and Board of management of NMIMS. She is also a member of various committees of AICTE, NBA, and PCI at the national level. She is a Life Member of the Indian Pharmaceutical Association, Indian Society for Technical Education, Association of Pharmaceutical Teachers of India, International Congress of Chemistry & Environment, Pharmacists Organization for Women Empowerment and Research (POWER), and a member of Dean's Forum, FIP. She has successfully guided 12 PhD scholars, and 4 candidates are registered under her supervision. She has presented more than 68 research papers at national and international conferences and published 79 research papers and articles in journals of repute, authored 2 pharmacy books, has one Indian patent granted to her credit and eight provisional patents filed. She is a proud recipient of the Best Dean Award by National Education Awards 2018 by ABP News, Prof. Indira Parikh 50 Women in Education Leaders 2017 by World Education Congress, 101 Fabulous Global Healthcare Leaders Award, and the Distinguished Alumni Award for the year 2007 by SNDT Women's University.
Related Articles