As per the latest data available, India's higher education institutions hosted a total of 47,427 international students from 164 countries in the academic year 2018 – 19. One of the prominent Indian institutions that attract students from all over the world is Sharda University. Every year, the university welcomes students from more than 80 countries to its Greater Noida campus. A campus that is perpetually in motion, Sharda University has emerged as a community that values cultural diversity, and respect for religion, age, gender, and socio-economic status. With state-of-the-art facilities and cutting-edge infrastructure, Sharda University is truly a global institution now. No doubt, the university has managed to make 180+ Foreign University Tie-ups under Semester Exchange/Free Tuition Fee Programmes to provide global exposure and limitless opportunities to its students. All the programs offered by the university undergo constant review by accrediting bodies and are enhanced by the valuable insights from industrial partnerships and memberships with local and global organizations.
"Sharda University is determined to build the school as a hub of teaching, research, and innovation in the field of art, design and media studies. Thus, making it a truly world-class center for producing industry-ready professionals at par with the best universities of the world," opines Dr. Ritu S. Sood, Dean of SMFE. Dr. Sood, is an award-winning media professional with over three decades of experience in Journalism, Film Making, Radio and Television production. She adds, "We believe in creating a stimulating, flexible and application-based learning environment for students as well as faculty." The university makes efforts to provide the necessary platform to impart skills and knowledge related to journalism and mass communication and creates brilliant professionals by imparting a blend of theory and more practical lessons through state-of-the-art infrastructure.
Sharda University's School of Media, Film and Entertainment (SMFE) is an effort to build a department that goes beyond regional and cultural barriers with an educational model that is sustainable, replicable and scalable, and empowers students with a future that is driven by knowledge, practice, entrepreneurial skills, socially responsible principles and moral values. It was initiated with a pledge to provide intensive and integrated education in the field of communication, that is at par with best global communication schools and that nurtures individual aspirations to lead, innovate and collaborate to effectively apply conceptual understandings vis-a-vis practical and complex communication phenomena and technologies. "At Sharda University, the students of mass communication get vivid exposure while pursuing their respective studies. The courses and the curriculum are designed keeping in mind the industrial relevance; hence all the teachers and instructors try to teach the students what is relatable in the contemporary media scenario," shares, Dr. Amit Chawla, HOD & Associate Professor, Sharda University's School of Media, Film and Entertainment (SMFE).
Offering Industry-Oriented Media Education
At present, the SMFE's Department of Mass Communication offers various programs to its students including BA(J&MC), BA(F&TVP), MA(J&MC), MA (Ad&PR) and MA (D&MC). The department of Mass Communication focuses more on imparting practical knowledge to students beyond traditional classroom teaching, time-to-time the department organizes skill-based training workshops for students where experts from industry help in enhancing the skills of students. Dr. Sood says, "To maintain the academic status and industry standards, we invite working professionals and renowned academicians every year to scrutinize the syllabus. This is an effort so that the syllabus of the department is updated every year as per the requirement of the industry." Apart from the regular up-gradation of the syllabus, the department organizes industrial visits for the students and to bridge the gap between academia and industry. The department is also focused on organizing events for faculty and staff as well including faculty development programs and workshops.
"We have set up an Industry Advisory Board with an objective to establish strong industry connects, conduct workshops and lecture series to achieve a creative input from the students in collaboration with industry and provide suggestions for process improvement as well as curriculum development. The department is focused on e-governance and keeps a tab on different portals with a focus on mentorship to connect with the creative industry and utilize their services, like guest Lectures, internship opportunities, placements and many more," explains Dr. Chawla. The university has created industry-oriented multimedia labs with an objective to develop student's ability with innovative products in a cost-effective manner, where the students learn futuristic ideas of innovations so as to make them ready for the industry.
"Industry collaboration is foremost important, as a student gets the environment of the work culture in the industry and it also increases the chances of getting placed. The Department of Mass Communication tries to organize as many events as possible with the industry and ensure the involvement of the maximum number of students," adds Dr. Sood. For instance, SMFE's Department of Mass Communication entered into a collaboration with the Jagran Film Festival in 2019 as its knowledge partner to introduce the students to a promising film career. The department also has an active collaboration with Deutsche Welle (DW), Germany's public international broadcasters. With Deutsche Welle (DW), the department organized a 5-days training workshop on social media and mobile journalism for its faculty, staff, and students.
SMFE's Department of Mass Communication maintains healthy and cordial relationships with a large number of media organizations, academics institutions & other industry professionals. "Our modern practical-centric the curriculum allows our graduates to get a flavor of the real working atmosphere of the media industry. Faculty members themselves are involved in the placement process," claims Dr. Chawla. Balaji film, CNN-IBN, News 18, NDTV, Rediff Fusion, India TV, Rajshiri Production, Mudra group, Percept, PTC, and India News Big Synergy are some of the companies which have provided on job training and placements to the students of the university. SCADMS's Department of Mass Communication has witnessed more than 90 percent placement after BAJ&MC and MAJMC.
Fine-Tuning the Media Aspirants
The entire education system at Sharda University is based on the idea of the relationship between the Master and the disciple where the latter learns and understands the core knowledge from his master and grasps the essence of the master. "We at Sharda University's Mass Communication department believe in the core principles of the relationship between the master and the disciple by creating an atmosphere where the disciple follows, understands the foundational knowledge of his master and then he becomes the master and goes beyond, adding his life's insights and teaching his own students even more than his old master know," says Dr. Sood. The Department despite adopting the technological models of education has retained the core cultural values of the relationship between the Teacher and the Students. Dr. Sood adds, "We have hired an inclusive collection of faculty members who are academically as well as technically sound to impart the best quality media education. At Sharda University's Mass Communication Department, we don't compromise on quality."
The students of Sharda University not only develop a decent theoretical framework, but also get to learn numerous nuances of the media industry, which is of paramount significance for any journalist. The students learn other peripheral skills such as Personality Development, Public Relations, Visual Communication and other skill sets, which are required for any journalist to sustain in this ever-dynamic media world. Dr. Sood pinpoints, "A student at School of Media, Film and Entertainment (SMFE) at Sharda University gains a lot of practical hands-on experience while working on different and latent gadgets, machines, and all available technical equipment, which are of the 'state-of-the-art' standard. Therefore, when our student goes to the industry, he/she already knows about the new innovations and best practices, which are adopted by this vibrant industry."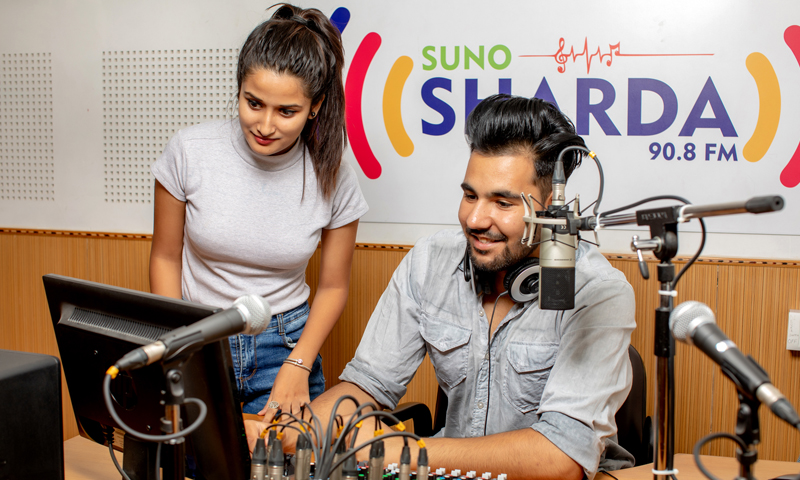 Students enrolled in Sharda University for an UG or a PG program, become effective and efficient communicators, which will help them when they start working in media houses their work is being appreciated by their employers. In the past, students of Sharda have entered higher education after completing their undergraduate degrees, while others have been successfully placed at various reputed news organizations throughout the world. "Each and every topic of modules of the course is structured in such a fashion so that our students can become the leaders of the times to come. Our students are not only becoming job seekers, but they are becoming job creators. We at Sharda, believe in turning our students into shepherds who can dictate the agenda of news and dominate this industry in the coming years," shares Dr. Chawla.
For the brilliant innovators and startup visionaries, Sharda University has come up with a new initiative named Sharda Launchpad. Under this initiative, Sharda University offers a platform to weave together scribbled ideas and notions into a single, comprehensive vision to build an empowered society through actions. Dr. Sood says, "At SMFE, we keep encouraging our students to go ahead with their innovative ideas and get a chance for their own startup through Sharda Launchpad. We also encourage them to participate in film festivals and in various other competitions to showcase their talents and productions." SMFE has various students-based productions (in-house publications, Community Radio, TV) within the department where students get hands-on experience and confidence to complete the production within the given deadline.
Today, SMFE envisions to become a leader in nurturing brilliant and capable media and creative professionals who are knowledgeable and equipped with new-age skills to excel in the highly competitive media industry. In the future, the university will be launching one of the Best Film Schools in India that will cover the entire gamut of film production, writing as well as acting. "The school will be structured to provide a holistic development to the students and shapes the next generation of media scholar and practitioners and to provide thoughtful leadership on existing and emerging forms of media," concludes Dr. Sood.
Prof. (Dr.) Ritu S.Sood, Dean of SMFE
Prof. (Dr.) Ritu S. Sood, Dean, School of Media, Film & Entertainment is an award-winning media professional with over three decades of experience in Journalism, Film Making, Radio and Television production.
Prof. Sood is an alumna of AJK Mass Communication Research Centre, Jamia Millia Islamia. She commenced her professional career with NHK- Radio and Television Network of Japan.
She has worked and filmed at the grass-root level in the several states of India with national NGOs and international organisations committed to the eradication of Child Servitude and Gender Insensitivity with special attention to the protection of children and marginalised segments of society.
She researched the efficacy and the efficiency of the human rights campaign of Nobel Laureate Kailash Satyarthi's 'Global March against Child Labour' through the continents of Asia, America, Africa and Europe. The march eventually culminated at the ILO headquarters in Geneva.She has also done consultancy for DFID ( (Dept. for International Development) Govt. of U.K.
Her film 'Desh ki Shaan hai Beti' was released to the nation by then President of India, Dr APJ Kalam.
Prof. Sood has also produced and directed TV serials, documentaries, for both National and International networks. She has won many laurels for contribution in not only film making but as an Author also. She has authored more than nine books. She has been honoured with the prestigious Durgaprasad Shikhar Hindi Samman by Author's Guild of India, excellence award in for Women in Leadership for the special category- Academics by Dr. Pankaj Mittal Addl Secy UGC, among others.
Dr. Amit Chawla, HOD & Associate Professor, Sharda University's School of Media, Film and Entertainment (SMFE)
Dr. Amit Chawla is a Doctorate in Mass Communication from Jamia Millia Islamia, a Scholar at Indian Institute of Management (IIM-Kashipur) and a Qualified Trainer from ITC-Netherlands. With an experience of over 15 years, he has taught thousands of students of top institutions including those from National Institute of Fashion Technology, Jamia Millia Islamia, Amity University, Mewar University, Indian Institute of Photography, JICM, FDDI, NIT, IITTM etc. Aside, he also has close affiliation with media & corporate sector. Some of the organizations that he has been previously associated with include Canon India, Staff Selection Commission, Prasar Bharati, Press Information Bureau, Doordarshan, Sahara India and NTPC. He is also the founder of India's first on-site photography and film making workshops titled-PHOTOSHALA. Presently, he is heading the Department of Mass Communication and the community radio station – 'Suno Sharda 90.8 FM' at Sharda University.
Related Articles