Located in Greater Noida, Delhi NCR, Sharda University has established itself as a high-quality education provider with prime focus on holistic learning and imbibing competitive abilities in students. The university is approved by UGC and prides itself in being the only multi-discipline campus in the NCR, spread over 63 acres and equipped with world-class facilities. Sharda University's School of Media, Film and Entertainment (SMFE) is an effort to build a department that goes beyond regional and cultural barriers with an educational model that is sustainable, replicable and scalable. "We empower students with a future that is driven by knowledge, practice, entrepreneurial skills, socially responsible principles and moral values. SMFE was initiated with a pledge to provide an intensive and integrated education in the field of communication, that is at par with best international communication schools. The department nurtures individual aspirations to lead, innovate and collaborate to effectively apply conceptual understandings vis-a-vis practical and complex communication phenomenon and technologies," explains Dr Sibaram Khara, Vice-Chancellor, Sharda University.
SMFE's programmes are designed to enable students to develop skills to think about artistic and cultural interventions critically. The department develops capacities to design, assess, enact, document and facilitate creative projects that contribute to the industry and to understand the fundamental concepts and the technological and creative processes underlying different theories of creative arts and media. "As a step towards creating qualified media professionals, we regularly update our syllabus and conduct industrial visits for the students to bridge the gap between academia and industry is the. The school is also focused on organising events for faculty and staffs as well including faculty development programmes and workshops," shares Dr Sibaram Khara. In the learning process, SMFE puts every student through a judicious blend of concepts and practices associated with high tech infrastructure facilities in a dynamic environment. The school teaches students through a transformative development experience, intellectual growth, with in-depth practical knowledge with sound judgment. "We pursue innovative pedagogy including classroom teaching, guest lecture, assignments, presentation, group discussions and many more," adds Dr Sibaram Khara.
Fine Tuning Students for the Industry
At SMFE, students can experience an environment of the work culture similar to the industry, which will increase the chances of getting an excellent placement. Giving foremost importance to industry collaboration, SMFE tries to organise as many events as possible with the industry and ensure the involvement of the maximum number of students. "We organise faculty development programs by the prominent personalities in the industry regularly to hone the media skills in aspiring journalists," says Dr Ritu S. Sood, Dean-School of Media, Film and Entertainment, Sharda University. SMFE organises various faculty development programs with notable media professionals as well as renowned academicians and encourages each and every faculty to participate in such career development programs. Apart from organising development programs themselves, the school also encourages and provides equal opportunity to each and every faculty member to attend conferences seminars nationally as well as internationally. In fact, SMFE has an inclusive collection of faculty members who are academically as well as technically sound to impart the best quality media education.
On the other side, to introduce students to a promising film career, SMFE has entered into a collaboration with Sputnik News Agency. It is a modern news agency located in Moscow whose products include newsfeeds, websites, social networks, mobile apps, radio broadcasts and multimedia press centres. The school also has an active collaboration with Deutsche Welle (DW), Germany's public international broadcasters, Media and Entertainment Skill Council (MESC), Jagaran Group and Inshorts. Besides, SMFE has an exclusive tie-up with Media and Entertainment Skill Council (MESC) – a sector skill council under the Govt. of India which apart from jointly certifying the students also pledges support in students' placements and on-job training. These active associations have helped the school to find excellent placement opportunities for its students.
Balaji Telefilms, CNN-IBN7, News 18, NDTV, RediffFusion, India TV, Rajshree Productions, Mudra Group, Percept PR, India News, Reliance Big Synergy, InShorts, GoNews, Satan's Paradise, Aaj Tak (India Today Group), Doordarshan, Jagran Prakashan Group, Amar Ujala, Ministry of Information and Broadcasting, The Quint and others have been some of our top recruiters of SMFE over the past few years. "We have an average placement between 80 to 90% every year. The key reason of this high percentage is the trust of the industry that the students have been able to gain over the years due to the hands-on experience that SMFE students get while working on live projects with Suno Sharda 90.8 FM (Community radio station of Sharda University managed by SMFE students), Sharda TV – online video channel run by SMFE students on YouTube Platform, inhouse English and Hindi news publications – Sharda News and Sharda Samachaar," explains Dr Amit Chawla, Head of Department – Department of Mass Communication, SMFE, Sharda University.
Creating Jobs-Providers  
Nurturing the young minds to become job-givers instead of job-seekers is one of the missions of Sharda University. The university has taken numerous steps in this direction. "Firstly, all programs have a compulsory course relating to 'Entrepreneurship Skills' that each student has to clear to earn his/her degree. Apart from this, each school of Sharda University has dedicated infrastructure and resources to promote innovation and incubation at the institution and University level," explains Dr Sibaram Khara.
Addressing the increase in the potential of startups, Sharda University's Business Incubation Centre (BIC) was established in 2013 under the sponsorship by the Ministry of Micro, Small and Medium Enterprises (MSME), Govt. of India, New Delhi. Dr Ritu S. Sood says, "The objective of the incubation centre is simple – to inspire and work with aspiring entrepreneurs to shape up business ideas into commercial startup companies." Under the guidance of diligent and experienced faculty, candidates learn the dynamic process of business development and how to survive in their early stage. Besides, the institutions also provide infrastructural support, i.e. office space, meeting room to the candidates. "At every step, the individuals are mentored and nurtured for their acquiescent business ideas," pinpoints Dr Ritu S. Sood.
Sharda University also has Sharda Launchpad Federation, which is a centre for entrepreneurship development with a commitment to contribute to the enhancement of the entrepreneurial skills among our students and alumni and to "Help people help themselves" through innovation and entrepreneurship. It provides a platform for new, small and medium – scale enterprise through skills acquisition activities necessary for the development and management of the enterprise and by being a mediator between our students and industry experts. "To understand the enterprise better Sharda LaunchPad emphasises on research that will contribute to entrepreneurial development in India through our short-term programmes, interviews, speaker sessions, competitions, industry interface, mentoring and so on," shares Dr Amit Chawla.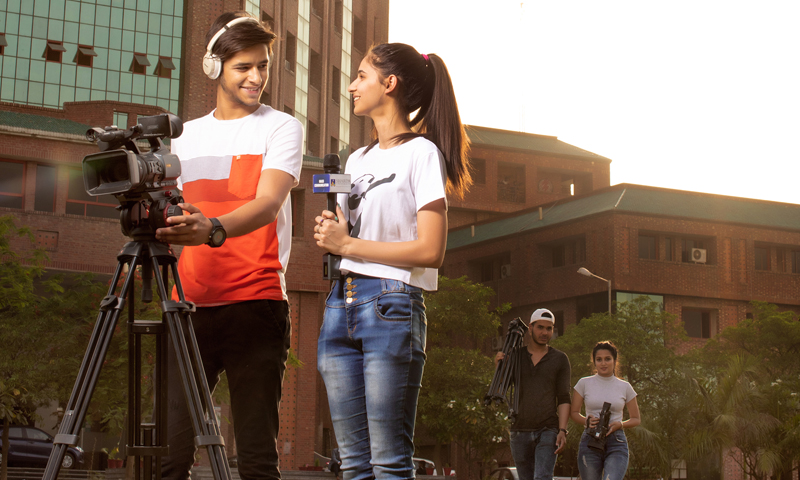 Staying Updated
At SMEE, the state-of-the-art multimedia lab, AV production studio, Community Radio Station and Editing lab ensures the technical competency of each and every student of the department. Apart from imparting technical skills, the school also invites veteran journalists and media professionals every week to interact with students. "The interactions help and guide the students to prepare themselves as a professional package for the rapidly changing media industry. We also focus more on imparting practical knowledge to students beyond traditional classroom teaching, time-to-time the department organises skill-based training workshops for students where experts from industry help in enhancing the skills of students," explains Dr Ritu S. Sood.
SMEE works together with successful creative professionals and experts to develop the student skills and equip them, so they contribute to the thriving cultural and creative industries. The curriculum of the institute includes multiple research projects that are highly conceptual and allow the students with the opportunity to participate in creative, research-based learning according to the real-world design parameters. "We keep ourselves up-to-date with the latest technology and innovations and offers programmes with immense space to nurture the creativity of the students so that they can earn a place of their choice in this competitive world," says Dr Amit Chawla.
Unlike many other higher education institutions across the country, SMFE treated COVID-19 as an opportunity for reimagining education. With the help of digital technology, the school has moulded the conventional teaching-learning process into a digital e-learning platform. Dr Amit Chawla explains, "We provided sufficient training to use digital technology to faculty members." However, a lack of personal interaction is a significant drawback of online teaching. SMFE tackled it through continuous mentoring of each student. "The positive side of the entire COVID-19 crisis is that students, as well as faculty, have become more technology-friendly. This time has provided an opportunity to the faculty members to experiment with new tools to make learning more effective," pinpoints Dr Ritu S. Sood.
Even before the pandemic hit the world, the infrastructure to deliver e-education with the effective use of e-learning platforms like I Cloud, LMS and many more was ready at Sharda University. Dr Ritu S. Sood adds, "The learning before covid-19 lockdown and learning after the lockdown is definitely very different. The better understanding of digital platforms and the habit of both students and faculty members to indulge in flipped classrooms will surely provide a better quality of education in the future."
The Plans Ahead
Today, SMFE is committed to fulfil and feed the growing demand of the industry for trained and highly skilled media professionals. For the purpose, the school has introduced a variety of new programs this year. These include MA (Journalism and Mass Communication) – Integrated 4-year UG+PG program, MA (Digital Media and Multimedia Communication), BA (Acting and Modelling), PGD (Still Photography) and PGD (Event Management).
To fuel this further, SMFE is in the stage of finalising a student exchange program with countries like Russia and Uzbekistan so that the students get international exposure to the art of media productions. Aside, to cater to the future demand of the film and entertainment industry, the top management of Sharda University has approved a very considerable budget for construction of a new international 'Media and Film Centre' which will be the first of its kind media, entertainment and film centre in the entire country. "This centre which shall be at the heart of the university and spread over 1,00,000 Lac Square Feet area is expected to be ready by 2021. It shall be equipped with top equipment and studios that shall not only be used for academic purpose but will be a place where students and outsiders can produce films for Silver Screen, Television and OTT platforms. The recent announcement by UP Government about the construction of new Film City in Greater Noida region has only served as a catalyst in speeding up the work of constructing the centre mentioned above," concludes Dr Sibaram Khara.
Related Articles