Located in the rising city of Sonipat, Haryana, Rishihood University has turned the higher education landscape in North India, being the first mission-driven university to reinvent Indian higher education. With its innovative courses in design, politics, visual arts, performing arts, leadership, education, business, and much more, the university gives students the opportunity to explore new ideas and skills to be lifelong learners and promotes entrepreneurship to help the nation grow, thus preparing them for innovation through creativity. School of Creativity has a new age tech-driven curriculum that believes in a seamless amalgamation of low tech with high tech.
The School of Creativity at Rishihood University is a unique concept for higher education, especially in India. In India, there are schools that offer design education, but at Rishihood, the School of Creativity offers Fine Arts/Applied Arts and Performing Arts. "When we as educationists believe in holistic and multidisciplinary development of our students, the School of Creativity actually executes and offers programs that help students identify themselves to become better human beings and lifelong learners. We offer an innovative approach to design education. We are the only school of creativity in India within a comprehensive university," shares Prof. Manika Walia, Professor and Founding Dean of the School of Creativity, Rishihood University.
The vision for the School of Creativity is deeply rooted in the core value centred approach and the importance of mindset. "When we design and create with values at the centre, we all have different outcomes. It becomes important for the agency of an individual network and also from the perspective of getting the right values to create a world that we all benefit from," Prof. Manika.
At the School of Creativity, the vision is simple and straightforward. Prof. Manika explains, "Education should be student-driven and more student-centred. Students should be clear about what they're learning and why they're learning. They should be empowered to ask what they want to do to bring a change?"
The School of Creativity aims to make students learn and acquire skills for the future. Students are equipped with core skills that allow them to find new ways of thinking and problem-solving. Creativity is a word that has become very popular in the past few decades and is recognised as the most essential future skill set required in every aspect of life. In the changing landscape, Rishihood understands that the soft skills which will matter the most are creative problem solving, creativity, communication, critical thinking and collaboration. Organisations have realised that if they have to be relevant, it is time to reinvent and adapt to the changing times. They are looking for employees who can solve the problems which were not there before, ask questions and give creative solutions, look at the situation analyse the situation. The future skills required in the world, which will be automated, will help students go way forward. The School of Creativity believes that all students should have an opportunity to incur and develop these creative skills.
The third important thing that Rishihood emphasises is network and employability and strives towards making graduates involved in the contemporary conversation into rooms where important decisions are made and stand out among the rest of their peers.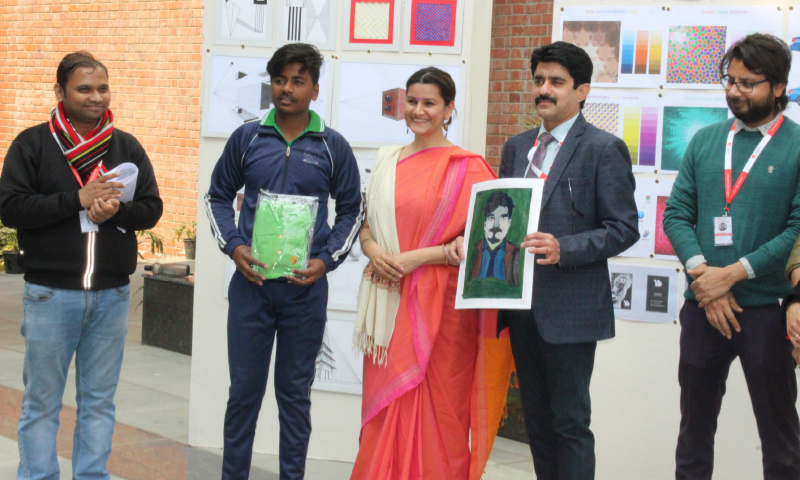 Rishihood University realised that the new future includes an Artificial Intelligence empowered society, which is already taking shape. "As always, a hierarchy is emerging in a three-tier format – creators or masters, robots and a potential subculture of those in the service of robots and masters," says Ms Manika. The Pinnacle of the Triangle will be the Creatives and visionaries who value their innate and developed curiosity for all new things possible. They will be the Masters of a Robot. "Workforce, who will feed them new knowledge, new creations, adding to the big data that Robots need to progress. AI will ensure that knowledge comes thick and fast, that it is deep and powerful, well researched and that it serves the purpose of the people," adds Prof. Manika. The potential Sub Culture of those in the service of the Robots and the Masters has the potential power for good, the power to develop positive opportunities and share them with those having different needs.
The School of Creativity, practising a new concept of education delivery, is the hub of innovation, is interdisciplinary and brings every element of a creative ecosystem into one place. Standing strongly on this vision – imparting a high level of skills and knowledge to its students and thus turning them into successful individuals.
Standing out
Learning philosophy and methods supported by sustainable infrastructure form the basis of pedagogy, curriculum, faculty recruitment and delivery material at the School of Creativity, Rishihood University. The objective is simple yet sincere: to prepare learners to create a deep social impact and achieve 'rishihood'. "Our teaching-learning process strives to connect the dots between the vital components of life and the outside world," shares Prof. Manika. School of Creativity leads social empowerment of women through skill-oriented courses, helping women to generate livelihood, financial independence, and technical literacy in an initiative (design clinic) started by Prof Manika Walia.
The School of Creativity offers a true state of the art teaching and learning environment. The building of the university is based on a sustainable design model. It is all about thinking ahead—designing with the future in mind. The expansion of knowledge and expertise is at the heart of all we do, driving innovation and creativity to greater levels. The School of Creativity has industry specification machinery, purpose-built teaching areas and engineering workshops, in addition to design studios, computer and prototyping studios and areas for display and interaction. Recently, the department developed the Virtual Reality Lab, where students develop simulators. Unlike any other school, Rishihood believes in making students exposed to their roots. Research plays a vital role and realised it, hence have a massive resource centre to support the research and innovation. The design clinic is another area where students are exposed to empathising and creating an impact on society. "Collaborative working is at the heart of our building's design, creating an inspiring atmosphere for everyone who works there. Our big, bright, and airy studio spaces are ideal for a wide range of individual and group projects," says Prof. Manika.
There is a gap between what is being taught in design schools and the needs of today's market. Design courses tend to focus on technical disciplines, ignoring fundamental aspects of the social dynamics that need to be (re)inserted into the academic curriculum. Industry requirements have to be taken into consideration, and regular up-gradation of teaching methodologies and curriculum is required. Introducing a project-based multidisciplinary approach to learning is one such solution. At the School of Creativity, programs are developed, delivered and innovated with industry partners, as well as across topic areas, to provide strategic possibilities for multidisciplinary teaching and project creation, enhancing and ensuring student mobility, autonomous learning, and interdisciplinary engagement.
With a strong culture of creativity, experimentation, and discussion, the school interacts with design on numerous levels, from the highly intellectual to the intensely practical. Faculties and Mentors with a reputation for world-class research, teaching, and practice support the programs, both international and national faculty on a regular basis from eminent D-schools. At Rishihood University, mentors master established art and design fields and advance emerging ones in an education that reflects students' passions, challenges them academically, and prepares them to create a more just, more beautiful, and better-designed world. To foster education, research, and transfer of knowledge for a sustainable future, the School of Creativity has international academic collaborations with the university for the Creative Arts, UK, Kyungdong University, South Korea and Kaospilot, Denmark. These associations will allow students, teachers, and researchers to collaborate in teaching and research to solve some of the most challenging problems of contemporary times.
At the School of Creativity, students and faculty are on a mission to design for an unimagined future. "We firmly believe that design enables collective action to make the greatest impact in times of crisis. School of Creativity believes in an 'ecosystem' approach to learning rather than isolated training and research. Therefore, we actively engage and nurture an ecosystem for our academic areas and the larger growth of the nation and society," Prof. Manika shares. The innate nature of humans is to be creative. In the era of technology, machines will become the workforce. One domain that will always need human visioning and execution is creativity. The department helps students to realise their creative nature and utilise it for a professional and societal impact. School of Creativity graduate and postgraduate programs immerse students in focused training, interdisciplinary inquiry, and practice-based collaborative learning.
Role of teachers and technology
"The role of teachers becomes important as in addition to making their lessons more focussed and purposeful as class time is limited, they must also act as 'mentors'. Teachers have to regularly engage and motivate students to help them navigate the unique challenges brought upon them in the situation of the pandemic," Prof. Manika shares. By providing institutional support and developing desired strategies that can help faculties the behaviour change towards the use of mechanisms provided, the School of Creativity improves employee engagement on point. Parents and guardians have a role in ensuring that the student completes all assigned work. Technology has been a significant enabler, as streaming and webinar tools have all helped customise learning to suit different learning styles, leading to better learning outcomes.
The School of Creativity has adapted to the situations introduced by the COVID-19 pandemic with effortlessness and flexibility. "We have managed challenging issues, yet we have likewise tracked down better approaches for getting things done, and that is the change I need to see installed as we recuperate. We launched ourselves amidst the pandemic and proudly call ourselves a creatively daring school," shares Prof. Manika. Digital technology was leveraged to provide care and education in new or enhanced ways. Online knowledge hubs, video conference-based interactive sessions, virtual simulations, and technology-enhanced coaching were potential solutions to address identified issues. The entire objective of this process was for the benefit of students, thereby making it student-centric. I would rather not see us returning to the normal, worn out – we know better now, and we will improve, therefore, as an instructive biological system, but as the general public.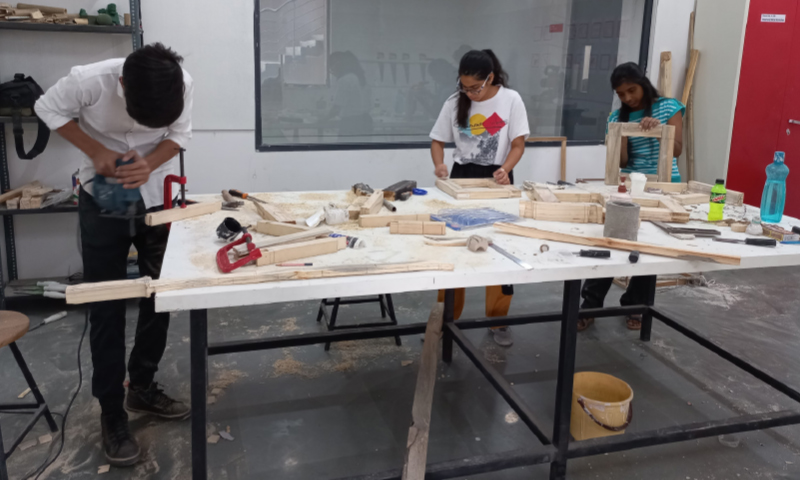 When we look to the future
On a global scale, Rishihood understands that collaboration is key. With COVID-19, the need for it was intensified, and as an institute of design education, the school of creativity has taken up the challenge. Creative education is all about creatively solving and addressing a problem.
Shifting design education to a virtual mode is a challenge, unlike other traditional programs, but with technology and the development of simulators, the university very effectively and efficiently shifted all programmes to a hybrid model.
For hybrid learning to be truly productive, the curriculum and evaluation parameters have to be specially designed. At Rishihood, the hybrid model is significant in Design education, with a combination of lectures, studio practice and workshop practice. Design is, in large parts, learned by hand. Students need to learn to draw, sketch, paint, cut, sew, drape, embroider, do machining and carpentry, 3D scanning and printing, make models and prototypes, do construction and much more."We divided the design curriculum in a manner that students can be taught both in traditional workshops and studios as well as virtually in the form of live classes. Teachers can also share e-resources such as recorded lectures, podcasts, PPT slides, articles, books, and assignments, either before or after classes so that students have access to digital study material anytime and anywhere," shares Prof. Manika.
Simulations help students understand the nuances of a concept. Students find it more deeply engaging than other activities, as they experience the activity first-hand rather than hearing about it or seeing it. It is modelling a dynamic system in which the learner is involved. Through the Continuous Comprehensive Evaluation model (CCE) to record students' performance, the institute uses this unique system to evaluate every assignment and activity. "We could re-imagine architecture, design, art, fashion, and communication pedagogies for today and the future while allowing maximum flexibility to students facing Covid-19 challenges, such as travel restrictions," Prof. Manika says.
The School of Creativity is the first school to integrate creative education under the regulatory body of UGC in India. This integration helps to synergise all expressions of creativity and can be explored to its utmost core. "Today, we live in an exceptionally complex world that has encountered an explosion in information and knowledge, but not in growth and development towards thinking and understanding; a world wherein individuals have lost trust in their mentors and confidence in their establishments; a world has created astounding advances, yet has secluded people, leaving them with a sensation of existence without reason and additionally even the worth of human undertaking," says Prof. Manika.
Rishihood University is uniquely positioned to address inquiries and train learners to live in such a world, to search for improved answers for ordinary real-life issues. The university focuses on the revelation and transmission of information in a setting of social and humanistic legacy as a Nation. "We comprehend that to succeed, learners need admittance to the important help administrations, expertise advancement open doors that will assist them with doing their absolute best. Above all else, we as a cohesive team at Rishihood University work very closely and directly with learners, assisting them with their investigations through educating and learning, mentorship, individual help, personal support and oversight," Prof. Manika shares.
For More Info: https://rishihood.edu.in/creativity/
Prof. Manika Walia, Professor and Founding Dean, School of Creativity, Rishihood University
Manika walia is Professor and Founding Dean; School of Creativity, Rishihood University, Delhi NCR – mentoring young minds towards constructive, sustainable and meaningful design solutions in different domains. As an Academic Administrator and Professor of Design, she believes that the understanding of subject matter is important but it is also necessary that students can explore beyond the first layer of information, observe, critically analyse, work in teams, develop analytical skills and above all become good successful human beings.
She has worked extensively on a number of independent design projects towards sustainability, universal design and ergonomics, design intervention for various craft clusters and have contributed to various government and corporate agencies. She was honoured by Micol Fontana Couture, Florence, Italy. Her work towards Design Thinking was highly recognised in Vietnam. She is also a distinguished member Confederation of Indian Industry (CII), working closely with the stakeholders for strategizing and implementing all the Design initiatives in the country.
Related Articles