Qatar University's College of Business and Economics (CBE) is a beacon of academic excellence, offering a diverse range of programs to undergraduates and graduates. These programs cater to various business disciplines. In the Management program, as Prof. Rana Sobh, Dean of CBE, notes, "We empower students to navigate the global landscape confidently." Marketing equips students with skills for the digital age, while Accounting instills financial proficiency and ethics.
Finance focuses on strategic financial decision-making, and Economics develops analytical thinking for influencing economic decisions. The Management and Information Systems program bridges business and technology, preparing graduates for IT consulting and data analysis. At the graduate level, CBE offers seven programs. The MBA nurtures holistic leaders, the MAC shapes accounting professionals, and the M.Sc. programs deepen expertise. The Business Analytics program equips students with data-driven decision-making skills.
The Executive Master in Leadership is tailored for seasoned professionals, and the Ph.D. in Business Administration advances business knowledge. "Leadership is a journey, and our program equips professionals to navigate it successfully," emphasizes Prof. Rana Sobh. In an era of rapid transformation, Qatar University's CBE remains dedicated to educational innovation, guided by Prof. Rana Sobh.
Elevating Excellence with Accolades and Accreditations
CBE stands tall with a symphony of accolades, affirming its commitment to excellence. At its pinnacle, CBE proudly holds the gold standard AACSB accreditation, solidifying its status as a global leader in business education, known for academic rigor, innovative teaching, and impactful research.
CBE's specialized departments have garnered esteemed accreditations from top institutions. Accounting programs boast AACSB accreditation, along with certifications from CPA, CIMA, IMA, and ACCA. Marketing holds DMI and CIM accreditations, while management proudly carries the CMI accreditation. The finance domain is fortified by accreditation from the CFA Institute. Each accreditation reflects CBE's dedication to excellence in specific disciplines, offering top-tier and industry-relevant education. As a member of the Principles for Responsible Management Education (PRME) initiative, endorsed by the United Nations, CBE embodies ethical and sustainable leadership, shaping conscientious leaders of tomorrow.
CBE's global rankings are equally impressive, with the Accounting & Finance program ranked #151-200 in the QS World University Rankings by Subject 2023. The MBA program consistently ranks in the top 100 worldwide and claims the 2nd position in the MENA region, according to QS rankings. CEO World Magazine recognizes CBE as one of the world's top 122 business colleges in 2023, a testament to the institution's commitment to elevating business education. Prof. Rana Sobh states, "Our journey is one of perpetual elevation, guided by our pursuit of excellence and our unyielding dedication to shaping leaders of exceptional caliber." Each accolade, accreditation, and recognition is a milestone on CBE's path towards educational eminence.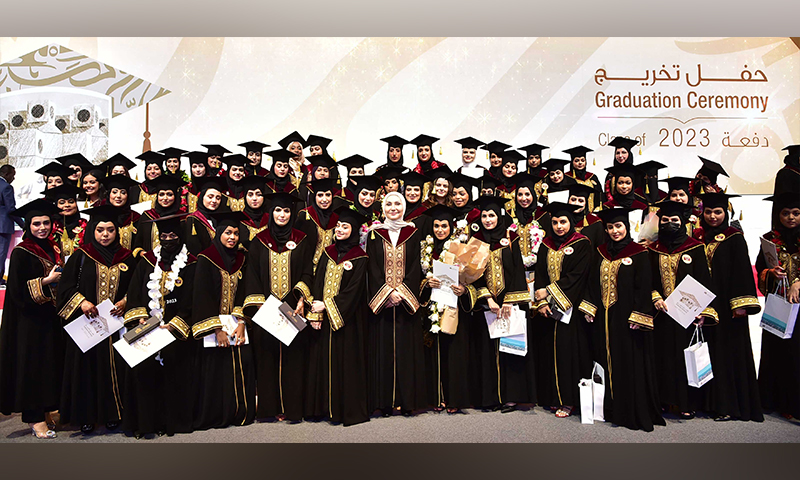 Empowering Future Leaders with a Holistic Approach
At CBE, a profound commitment to nurturing well-rounded graduates resonates. This commitment extends beyond the classroom, fostering skill development and growth in diverse ways. CBE's ethos revolves around equipping students for success in both academia and the ever-evolving world of business. Central to their strategy is meaningful interaction with prominent figures from the local business community. Events, workshops, and initiatives connect academic learning with real-world insights, including sessions with business leaders and guest speaker events. Prof. Rana Sobh emphasizes, "Engagement with industry professionals shapes our students' understanding of real-world challenges."
CBE's industry ties are further strengthened through collaborations with local organizations, providing students with the latest trends and networking opportunities. Comprehensive competitions, such as case study challenges, sharpen problem-solving and managerial skills. Partnerships with local and international institutions offer specialized training opportunities. The "Enhance Your Capabilities" initiative ensures students are well-equipped for their chosen fields. Holistic learning is promoted through student exchange programs and internships, exposing students to diverse experiences.
Innovative teaching methods, including digital technologies and simulations like ECONLAND and Playeconomics, enrich educational experiences. CBE integrates 3D design, the Metaverse, and context-specific case studies to prepare students for the digitized world. CBE empowers students to thrive globally by fostering skills, knowledge, and experiences. Through dynamic engagements, innovative pedagogies, and a dedication to holistic development, CBE shapes future leaders ready to drive transformative change.
Guiding Minds, Shaping Futures
CBE boasts a remarkable faculty of over 170 members with a blend of academic excellence and practical industry experience. This diverse assembly of educators enriches students' learning experiences beyond the classroom. Faculty members bring theoretical foundations and real-world insights to CBE's academic landscape, drawing from their private sector and consulting roles. Their expertise extends to pioneering research, curating industry-aligned course materials, and fostering an engaging learning environment.
These faculty members maintain close ties with the corporate world, staying updated on global market dynamics and building connections with industry leaders. Their exceptional caliber is evident, with 11 faculty members ranking among the top 2% of scientists worldwide and two in the top 1% of Highly Cited Researchers. Notable awards and accolades underscore their impact. CBE's commitment to innovative pedagogical methods is recognized, including finalist status in The Higher Education MENA Awards and an exemplary professor's success in the national "Innovators in Education" competition.
CBE faculty goes beyond instruction; they inspire, lead, and drive transformation. They equip students with the mindset and skills to excel in the ever-evolving business world, embodying CBE's commitment to nurturing future business leaders. Prof. Rana Sobh pinpoints, "Our faculty is the cornerstone of our commitment to nurturing the business leaders of tomorrow, infusing every student with the passion and skills needed to excel."
Pioneering the Path of Knowledge
At CBE, the pursuit of knowledge is unwavering, evidenced by robust research and visionary projects. In the academic year 2022-2023, CBE published 160 papers, with 155 in Scopus-indexed journals and 102 papers boasting an impact factor exceeding 1, highlighting faculty dedication to enriching academia. These research efforts have earned national and international accolades, including the Abdul Hameed Shoman Award for Arab Researchers, the Qatar University Research Award, and the Best Paper award from the Society for Marketing Advances (SMA) 2022. With over 750,000 USD in internal and external grants, CBE pioneers innovative studies and solutions in business and economics, amplifying its commitment to uncharted territories.
Collaborations with government agencies, the Qatar Financial Center, the Qatar Stock Exchange, and leading banks ensure that research remains practical and relevant. International collaborations with institutions like Canada's Waterloo University and affiliations with renowned case study publishers expand CBE's global impact. The Case Study HUB, a space for transformative initiatives, has produced impactful case studies addressing human rights issues and the FIFA World Cup. Prof. Rana Sobh notes, "Our research endeavors illuminate minds and futures, forging a path towards a brighter tomorrow through knowledge and discovery."
Forging Pathways of Excellence
CBE thrives on a robust network of local and global partnerships that nurture innovation, learning, and professional growth. Within Qatar, CBE collaborates with key ministries and entities, including the Ministry of Commerce and Industry, the Ministry of Labor, and the Ministry of Environment. Strong ties within the financial sector involve prominent banks like Qatar National Bank (QNB), Qatar International Islamic Bank (QIIB), and more. Associations with entities like the Qatar Fund for Development, Qatar Stock Exchange, and Qatar Financial Center amplify its contribution to Qatar's economic landscape.
CBE's partnerships span diverse industries, from telecommunications to energy and infrastructure, with entities like Ooredoo, Vodafone, Kahramaa, and QAFCO. Allies such as Teach for Qatar, Baladna, and various holding groups enrich its educational pursuits. Globally, CBE collaborates with institutions like the Arab Planning Institute, Microsoft, and accredited European business schools, enhancing student experiences and research capacities.
International exchange programs expose students to diverse cultures and business practices, aligning with CBE's commitment to global perspectives. These partnerships yield dividends through student opportunities, knowledge dissemination, research, and program relevance. Prof. Rana Sobh emphasizes, "Our partnerships attest to our commitment to transformative change across borders, sectors, and generations." With each collaboration, CBE strengthens its reputation as an excellent hub poised to shape the future of business education and practice.
Preparing Trailblazers
CBE resonates with forward-thinking initiatives that prepare students for the dynamic world of business and economics. The "Graduate + Project," nurtured by the Center for Entrepreneurship and Organizational Excellence, fosters an entrepreneurial mindset, turning ideas into thriving businesses and empowering job creators. Collaborating with Coursera, CBE tailors training courses to equip students with specialized leadership skills, preparing them for complex business landscapes. Sustainability is embedded in CBE's DNA, reflected in curated programs, enriched curricula, impactful research, and the Certified Training Partner (CTP) status from the Global Reporting Initiative (GRI), emphasizing responsible reporting.
Partnerships with the International Labour Organization (ILO), the Ministry of Labor, and the Qatar Fund for Development (QFFD) expand CBE's reach and advocate ethical business practices. Internally, sustainability permeates CBE's operations, with certifications from the Gulf Organization for Research and Development (GORD) and initiatives like the Student Sustainability Competition. Prof. Rana Sobh emphasizes, "Our initiatives nurture a generation poised to lead, innovate, and thrive in the ever-changing landscape." As CBE forges ahead, it remains a fortress of preparation, producing trailblazers shaping the future of business and economics.
Measuring the Efficacy
CBE measures its efficacy through the success stories of its graduates, who now hold influential roles as ministers, ambassadors, entrepreneurs, and leaders in various sectors. Their achievements echo CBE's commitment to nurturing excellence. The college's impact is evident in the surge of applications and its esteemed status, reflecting the community's recognition of its exceptional education. Prof. Rana Sobh notes that the rigorous selection process mirrors the community's pursuit of CBE's elevated benchmarks.
CBE's graduates seamlessly transition into employment, showcasing the real-world applicability of its curriculum and alignment with industry needs, highlighting the institution's dedication to preparing students for success. Since 2010, CBE has held AACSB accreditation, signifying its commitment to international standards and continuous improvement. Specialized accreditations, such as the AACSB-accredited Accounting Department, demonstrate dedication to focused domains of expertise and the effectiveness of its educational efforts. Prof. Rana Sobh emphasizes, "The metrics of success are woven into lives transformed and benchmarks surpassed." As CBE's journey continues, each achievement propels a community of luminaries shaping the trajectory of business and economics with unwavering determination.

Radiance of Achievement
CBE shines with the accomplishments of its alumni, a testament to the transformative education and career development support offered by the institution. Distinguished alumni have risen to prestigious roles as ministers, ambassadors, CEOs, and entrepreneurs. Figures like His Excellency Sheikh Mohammed bin Abdul Rahman Al Thani, the current Prime Minister and Minister of Foreign Affairs, and other prominent alumni illuminate CBE's global influence.
Beyond their individual achievements, alumni play a pivotal role in supporting CBE's progress. Scholarships, grants, mentorship, job placements, and internships create a vibrant network of collaboration and guidance for current students and graduates. Prof. Rana Sobh emphasizes, "Alumni are our legacy and strength." They actively participate in shaping the college's future, sharing insights through seminars, workshops, and financial support, ensuring the succeeding generation benefits from their wisdom and experiences.
Annual alumni reunions and the establishment of an alumni association strengthen this profound connection, perpetuating communication and collaboration. Prof. Rana Sobh encapsulates this synergy, stating, "Alumni achievements illuminate our path forward." As CBE's journey continues, each alumni success story adds to the legacy of empowerment, resilience, and transformation woven into the fabric of the business world.
Preparing for the Post-Pandemic Era
In preparation for the post-pandemic era, Qatar University's College of Business and Economics (CBE) is embarking on strategic initiatives that emphasize empowerment, innovation, and resilience. Central to these plans is a focus on equipping graduates with versatile skills. CBE is actively nurturing data-driven problem-solving abilities while instilling ethical considerations in technology adoption. This fusion of technical proficiency and transferable skills aims to transform graduates into catalysts of innovation, capable of reshaping established practices or launching new ventures for the betterment of society.
Recognizing the ever-changing landscape, CBE integrates lifelong learning into its core, ensuring that graduates remain adaptable and relevant in their careers. CBE is set to introduce new programs tailored to meet industry-specific needs, fostering professionals who can lead and influence their respective fields. A significant upcoming initiative is the Fin-Tech and Trading Lab (FT&TL), demonstrating CBE's commitment to experiential learning. This lab will serve as an incubator where students gain hands-on experience in financial technology and trading. Equipped with data analytics, machine learning, and blockchain technology tools, the lab will prepare students for the evolving financial landscape.
Prof. Rana Sobh emphasizes, "Our immediate plans are seeds for transformative futures, where graduates possess the knowledge, skills, and ethics to make a profound impact." As CBE navigates the post-pandemic landscape, each initiative represents the institution's dedication to nurturing adaptable, innovative, and principled leaders ready to face the uncertainties ahead.
For More Info: https://www.qu.edu.qa/business/
Related Articles