Contributing to the Future of Business Education
In the nineties of the last century, when Latvia regained its independence there was an urgent need for professional specialists to drive forward rapidly expanding financial sector into the modern era. It aimed at changing former work culture to embrace a dynamic, global mindset which was extremely imperative at that time. Thus, the BA School of Business and Finance (BASBF) was founded in 1992. Initially known as the Banking College under the Bank of Latvia, it was accredited as a Higher Educational Institution in 1997.
Leading a newly founded institution Dr. Baiba Brigmane, the first rector of BASBF, had a deep understanding of Latvia's growing need for specialists who could adapt to the evolving trends.  At the core of her philosophy was the belief that the quality of financial education thrived in close collaboration among a business school, the financial industry, various organizations and state institutions. Her valuable contribution to the development of the Latvian state was recognized by the state award: The Order of the Three Stars, namely the Officer of the Order on April 4 in 2023.
Since its foundation BASBF has undergone a remarkable transformation over the past three decades. Today, it stands as a respected business school well-recognized in Latvia and internationally. Dr. Līga Peiseniece, the rector of BASBF, comments, "Currently we offer 12 study programs, including seven offered in English, educating over 800 students in bachelor, master, and doctoral cycles." BASBF focuses on two key domains—finance and business administration. In addition, in response to the evolving demands of industries and society, BASBF offers two interdisciplinary study programs:  a Master in cybersecurity management and a Bachelor in financial management information systems.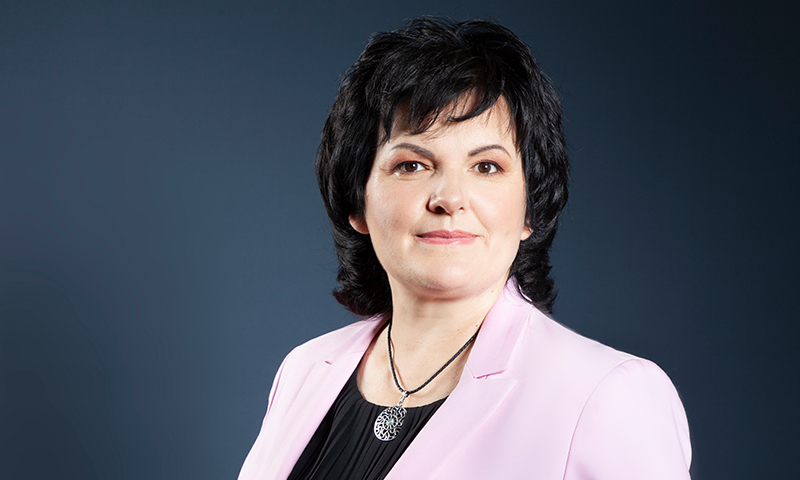 The impact of BASBF is significant in the professional landscape of Latvia, where more than 12,000 of its graduates now work in diverse national and international financial institutions and companies. In many cases the alumni have established their own successful businesses, evidence to the school's commitment to promoting entrepreneurial spirit.
Throughout its thirty years the performance of BASBF has resulted in numerous awards, both nationally and internationally.  Notably, since 2007 BASBF has been selected among the Best Business Schools by the EDUNIVERSAL Ranking Agency, thus demonstrating a sustained commitment to excellence and global relevance. In 2021 and in 2022, BASBF received the prestigious "Three Palmes of Excellence" award from the EDUNIVERSAL. This recognition signifies the school's outstanding status as a business school with a strong international influence. BASBF's dedication to promoting financial literacy in Latvia was acknowledged in 2021 during the 19th Annual Conference of the Baltic Management Development Association (BMDA). BASBF received a BMDA award for its significant contribution to financial education in Latvia.
Since 2012 when OECD announced globally financial literacy project, BASBF took an active social position in the development and implementation of "Financial Literacy Strategy for Latvia 2014-2020". A great impact on secondary school curriculum regarding the financial education had a research project "Financial Education – Leveraging the Efficiency in Schools" which BASBF implemented.  BASBF has been a driving force in shaping the nation's financial literacy landscape and organizing educational events at schools.
Dr. Līga Peiseniece notes, "We are delighted to have been consistently recognized among the TOP 5 recommended universities in Latvia for 13 years, as ranked by 2700 employers on the career portal Prakse.lv. This recognition reveals the relevance of our study programs to the needs of enterprises and emphasizes the competencies of our graduates." Every year more than 92% of graduates start a successful career because they are in high demand in the labour market.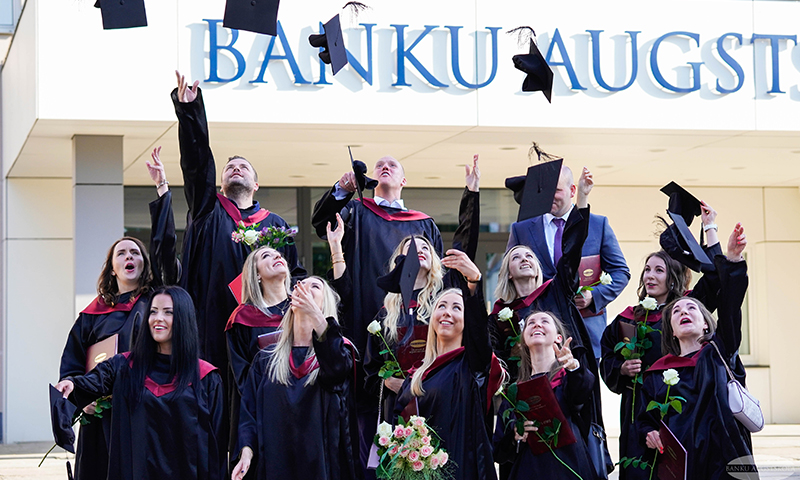 Addressing the Demands of the Business World
In a rapidly developing the business world, BASBF stands as a dynamic institution committed to meeting the ever-changing demands of industry. "In 2023 the students of BASBF conducted a study that revealed the needs of 25 Latvian companies within the insurance and finance sectors," Dr. Līga Peiseniece remarks. "The study showed that 48% of these companies face a significant shortage of specialists."
BASBF offers exclusively professional study programs, which means that each student undergoes two internships during their course of study. In general, the students start the first employment during their studies, some of them with the companies where they completed their internships.
The commitment to bridging the gap between academia and industry is further illustrated by BASBF's Career Days. Annually, multiple businesses meet at the institution for a two-day event, offering students a firsthand glimpse into the realities of their respective job opportunities. Dr. Līga Peiseniece adds, "This initiative allows students to interact with industry leaders, gain insights into current market conditions, and explore potential career opportunities."
Recognizing the need for flexibility in education, BASBF offers students the option to shift from full-time day studies to evening studies. This flexibility enables students to strike a balance between their professional commitments and educational pursuits, a vital aspect of contemporary learning.
One notable program that reflects BASBF's adaptability to market trends is the Master's study program in "Cybersecurity Management." In a world where cybersecurity is paramount, this interdisciplinary program equips graduates with the critical thinking and communication skills necessary to excel in this field. Dr. Līga Peiseniece notes that the understanding of the rising importance of cybersecurity in various sectors impacts on the study program design which is unique in Latvia, addressing this growing demand.
For those aiming to attain the gateway of academic career and management expertise, BASBF offers a doctoral program in "Business Management." This program is tailored for professionals with experience in business and organizational management, with the goal of producing highly qualified researchers and specialists in the field. It is a joint doctoral study program, Business Management" with RISEBA University of Applied Sciences (Latvia).
The Stockholm School of Economics in Riga (SSE Riga), and Kaiserslautern University of Applied Sciences (Germany) are strategic partners for a joint doctoral program.
BASBF's dedication to promote the development of successful professionals extends beyond the classroom. Through local and international projects, the institution challenges its students, offering them opportunities for growth and innovation. Dr. Līga Peiseniece highlights the "Bizness24h" educational entrepreneurship promotion contest, which has been organized by BASBF students for 15 years. Bizness24hours is the largest annual business simulation Game in Latvia aimed at attracting secondary school pupils and students in which participants can gain new knowledge needed for business, as well as can engage in real simulations.  This initiative exemplifies the institution's commitment to fostering entrepreneurial spirit and real-world skills at an early learning stage.
BASBF remains deeply connected to industry needs through regular interactions with experts and professionals in the finance and business.  The engagement with professionals keeps BASBF to be updated for the needs of evolving job market and the skills required to thrive in the business environment. The proactive approach was applied in the creation of the professional Bachelor's study program "Business Process Management," which was developed in response to employer requests and placed a strong emphasis on digital competencies, leadership, and project management skills.
In collaboration with EY (formerly Ernst & Young), BASBF embarked on a new initiative during the spring semester of Aca 2022/2023 academic year The institution introduced the first work-based training pilot project in Latvia. This project allowed students to gain practical experience within the professional environment of EY Latvia, spanning audit, tax, compliance, and sustainability activities over three months. The success of this project rests on BASBF's commitment to innovative education and bridging the gap between theory and practice.
As the Ministry of Education and Science plans to integrate work-based training into study programs in the coming years, BASBF's pioneering initiative with EY Latvia serves as a valuable model for similar future study programs. This immersive experience allowed students to spend one full workday each week for three months working alongside EY professionals, gaining valuable insights into real-world challenges and gain knowledge essential for their future careers.
Fostering a Global Perspective
At BASBF, the commitment to shaping the leaders of tomorrow extends far beyond the borders of Latvia. Dr. Līga Peiseniece emphasizes, "Our primary mission is to support future leaders in finance and business who embrace responsibility for sustainable practices, inspire younger generations, and actively engage in social initiatives."
To achieve this vision, BASBF has built partnerships with more than one hundred universities across 34 countries, fostering a rich tapestry of international collaborations. Dr. Līga Peiseniece emphasizes the significance of these partnerships, stating, "We believe in the power of global exposure to broaden horizons and prepare our students for the challenges of a rapidly changing world." Through the Erasmus+ program, all BASBF students have the opportunity to gain international study experiences, further enriching their academic journey.
In a world where financial experts and consultants are in constant demand, BASBF recognizes the vital role it plays in nurturing these specialists, both locally and globally. Dr. Līga Peiseniece notes, "The need for financial expertise extends beyond borders, and our graduates are well-prepared to excel in diverse institutions and companies, be it in Latvia or anywhere around the world."
One of BASBF's notable international collaborations is with SBS Swiss Business School. Dr. Līga Peiseniece explains, that double diploma study programs with SBS are in great demand, they enhance leadership roles within international finance and business field and prepare highly qualified professionals in investment, finance, banking, and corporate finance. Students have the opportunity to obtain 2 degrees from two prestigious business schools by receiving a world-class education with a distinct Swiss flavour.
Encouraging Faculty and Students in Research and Entrepreneurial Pursuits
At BASBF, the pursuit of knowledge extends beyond the classroom, with both faculty and students actively engaged in research endeavours and entrepreneurial pursuits. BASBF's academic community is a hub of research activity, with a strong focus on key areas such as sustainability, financial literacy, financial technologies, and cybersecurity. BASBF research community plays a great role in fostering opinion leaders and active contributors to the world of scientific publications.
In a rapidly advancing world, BASBF stays  at the forefront of technological developments. Before the commencement of every academic year the staff undergoes training. Before the 2023/2024 academic year the stuff had the opportunity to get experience on the practical applications of Artificial Intelligence (AI).  The training helps in encouraging students to explore how AI impacts education.
In 2019 BASBF successfully applied for EU Erasmus+ program funding to implement a large scale interdisciplinary transnational Knowledge Alliance project No.612542-EPP-1-2019-1-LV-EPPKA2-KA "Knowledge Alliance of Business Idea Assessment: Digital Approach" (KABADA). Project web page:  https://kabada.eu/. KABADA project envisages the creation of a software with AI functionality- a digital tool to assess business ideas and offer guidance how to proceed with a business plan design. Thus, it will assist young entrepreneurs and students to put into practice their innovative business idea. The project was completed successfully in 2023.Dr. Līga Peiseniece comments that BASBF is committed to providing  innovative and practical learning experiences and international projects assist a lot.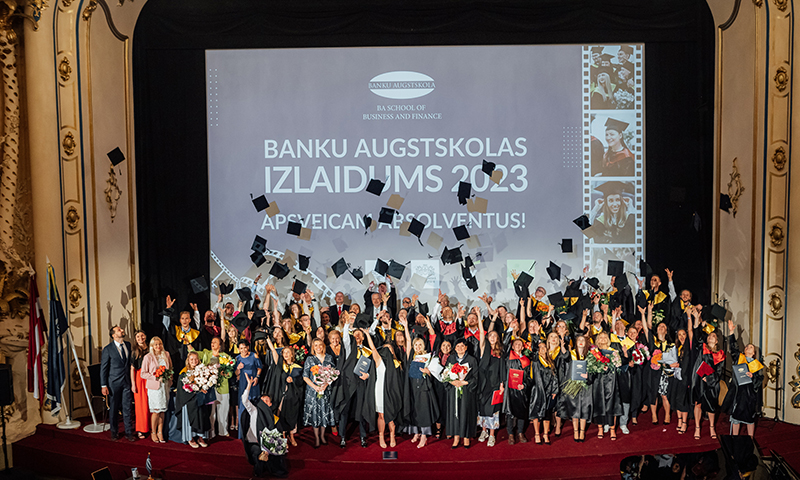 BASBF also champions entrepreneurship through the BA School of Business and Finance – OpenLab (BA OpenLab), a collaborative space where students and innovators converge to brainstorm, discuss, engage in seminars, and participate in creative workshops. Thus students have the freedom to develop their innovative ideas, form teams, and take the first steps toward implementation. This environment fosters partnerships and provides access to potential funding opportunities.
Dr. Līga Peiseniece emphasizes the value of hackathons, an integral part of the student experience at BASBF. These events broaden students' perspectives on various topics and offer valuable experience in collaborating with peers from universities across Europe. These experiences enhance innovative thinking and facilitate cross-cultural collaboration.
Since 2019, BASBF has been actively involved in the international hackathon HACKTHEWASTE, organized in conjunction with six universities from different countries. This event brings together over 90 students from six nations, all working toward a common challenge: finding solutions to reduce waste during debate festivals like LAMPA in Latvia and Kings-day in the Netherlands.
Shaping the Future of Business Education in Latvia
BASBF's commitment to innovation is is of paramount importance for shaping the future of business education in Latvia. "BASBF strength lies in the ability to discern the needs of both students and employers, find tailored solutions, and swiftly implement them," emphasizes Dr. Līga Peiseniece. Indeed, BASBF operates as a laboratory of business education, where novel ideas are generated and ultimately evolve into established practices. This approach thrives on collaboration with a diverse range of partners, including students, faculty, alumni, universities in Latvia and abroad, companies, and non-governmental organizations, all playing pivotal roles in bringing these innovations to life.
One illustrative example of this forward-thinking approach occurred in January 2023 during the student hackathon "Future Higher Education of Finance and Entrepreneurship in 2040." The event was conducted in partnership with EY Latvia, an international professional service company. This collaboration, which began with a cooperation agreement which aims to foster the development of higher education and the business environment. During the hackathon, student teams embarked on a day-long journey into the future, envisioning what higher education in finance and entrepreneurship would resemble in the year 2040. The topics explored included "Future Higher Education of Finance and Entrepreneurship in 2040," "What Finance and Business Higher Education Looks Like in 2040," "How Students Learn Finance and Business in 2040," and "The Nature of Universities where Finance and Business are Taught in 2040."
Dr. Līga Peiseniece, the rector of BASBF
To tackle these forward-looking challenges, student teams had to immerse themselves in a future scenario guided by hackathon mentors. The culmination of this creative process resulted in five distinct visions for the future of financial and business education:
Lifelong Learning: BASBF envisages lifelong learning programs that serve to the evolving professional needs of alumni.
Practical Skills: Students would gain practical skills early in their course of study, enhancing their readiness for the workforce.
Flexible Study Arrangements: Students would have the autonomy to tailor their education to their specific needs.
Employer and Expert Involvement: The study process would involve active collaboration with employers and industry experts.
Data-Driven Education: Automation and analysis of study achievements' data would inform personalized learning pathways.
International Collaboration: BASBF undertakes close collaboration with international universities, offering students the opportunity to study at different institutions during their academic journey.
The student's contribution was taken into account setting up BASBF strategy for 2024-2025 As BASBF continues to evolve and shape the future of business education, it remains firmly rooted in its commitment to providing innovative and forward-looking learning experiences for students.
Looking ahead BASBF welcomes students from diverse backgrounds and from various parts of the world. BASBF is eager to cooperate with Business Schools with similar mindset to share experience among academia and researchers looking for creativity and innovations in business.
For More Info: https://www.ba.lv/en/
Related Articles