There is no worst time than the pandemic to take the leadership of a reputed university. However, Prof. (Dr) P.P. Mathur, who took over the reins as Vice-Chancellor at Birla Global University during the peak of COVID-19 restrictions, successfully stood the test of time. Reminiscing those initial days of upheaval, Dr Mathur mentions, "My role as the Vice-Chancellor has been very tough as I took over the charge during the pandemic period. The challenges to providing quality education and good placements to the students were real. I used my academic experience to motivate teachers and students to become very competitive in academics." 
Before joining Birla Global University, Dr Mathur was the Head of the Department of Biochemistry & Molecular Biology and Dean of the School of Life Sciences at Pondicherry University (PU). Between 2012 and 2017, he had served as the Vice-Chancellor of KIIT University, Bhubaneswar. Under the leadership of Dr Mathur, who has 46 and 40 years of research and teaching experience, the faculty members and students of BGU managed teaching and learning meticulously. "The students could get excellent placements, and we updated curricula of all the schools with the industry inputs. This will go a long way to help the students acquire relevant skills and be ready for industrial jobs and become entrepreneurs," shares Dr Mathur. 
However, it was not an easy task for Dr Mathur and the team. They had their fair share of challenges to tackle. He recalls, "COVID-19 has pushed the students and teachers for online classes that have posed many challenges for education delivery. The online classes were constrained with infrastructure challenges of electricity and internet penetration in the homes of some of the students." Right after the COVID lockdown, the faculty and students innovated their ways to conduct teaching through online mode. "We did not allow the students to suffer as the classes were held online as per the schedule. We even conducted many webinars and online lectures during that time," Dr Mathur adds.
A life-long Learner 
Dr Mathur is an alumnus of Banaras Hindu University (BHU), one of the top institutions in India. He feels quite fortunate to have had the opportunity to explore himself and become a self-learner, a value that was inculcated in him by this institution. "BHU offered me many opportunities to explore myself and do self-learning. I was also doing freelance journalism and contributing articles to various reputed periodicals. The library was a great resource for learning," remembers Dr Mathur.
As a student, Dr Mathur possessed quality consciousness. He was always mindful of his thoughts and surroundings. Experiences from his freshman days gave him insights into the complexities of the education system and set him on the course to improve the quality of learning. Dr Mathur's academic and professional journey has been primarily influenced by teachers, seniors, and administrators at every step of the way. "I have been fortunate to work with and learn from very able academicians and administrators in the country," shares Dr Mathur. He further continues, "I do not wish to name all of them, but I give credit to my revered Professors. Prof. M.S. Kanungo, Prof. J.P. Thapliyal, Prof. C.J. Dominic, Professor S. Chattopadhyay of BHU and Prof. A. Gnanam, Prof. V.T. Patil, Prof. J.A.K. Tareen, Prof. A.K. Bhatnagar, past Vice-Chancellors of Pondicherry University. In fact, they believed in me and encouraged me for achieving excellence. My mentor, Dr C. Wayne Bardin and Dr C. Yan Cheng, taught me to be meticulous in every respect and be productive always. Needless to mention the huge inspiration I received from my learned father Professor O P Mathur who was Professor & Head of English Department at Banaras Hindu University. We cannot bask in the glory of the past."
In his journey as an academician, Dr Mathur has guided several PhD, MPhil and MSc dissertations. He has published over 185 scientific papers/ reviews in various high impact journals and books and participated in more than 100 national and international scientific conferences. He has conducted more than forty scientific Conferences/ Seminars/ Workshops. His publications have an h index of 37 (Scopus) and 45 (Google Scholar) and an i10-index of 106. He is on the Editorial Boards of many national and international journals, including Frontiers in Endocrinology and is a Reviewer for more than 125 journals. 
Today, Dr Mathur is the recipient of many prestigious awards like the Asutosh Mookerjee Memorial Award (ISCA), Young Scientists' Award (ISCA), Lifetime Achievement Award (ISSRF), Rockefeller Foundation Special Postdoctoral Fellowship Award, Rockefeller Foundation Biotechnology Career Award, INSA-German Academy (DFG) Exchange Programme, Dr. P.N. Shah Memorial US Vitamin (India) Oration Award, ICMR International Fellowship Award, Subhash Mukherjee Memorial Infar India Oration Award, Dr. K.K. Iya Memorial Oration (NDRI), Vidyasagar Award (Indian Institute of Oriental Heritage, Kolkata) and Re:think India Visionary Eduleader of India Award.
A Leader in Every Aspect 
Mistakes and failures are part of the success game. Dr Mathur believes that learning from others' mistakes is a great idea, as he has tried to learn from different experiences he encountered in the real world. In fact, diving into the uncharted waters has never scared him. This was one of the reasons why Prof Mathur returned from the Rockefeller University. New York, USA and joined a very young University like Pondicherry University and learned from his experiences at KIIT University. For him, learning is a lifelong process. He says that there is nothing like black and white in anybody's professional life. "I have the courage and determination to make the decision and then prove it right by sheer hard work and dedication to the cause," pinpointed Dr Mathur.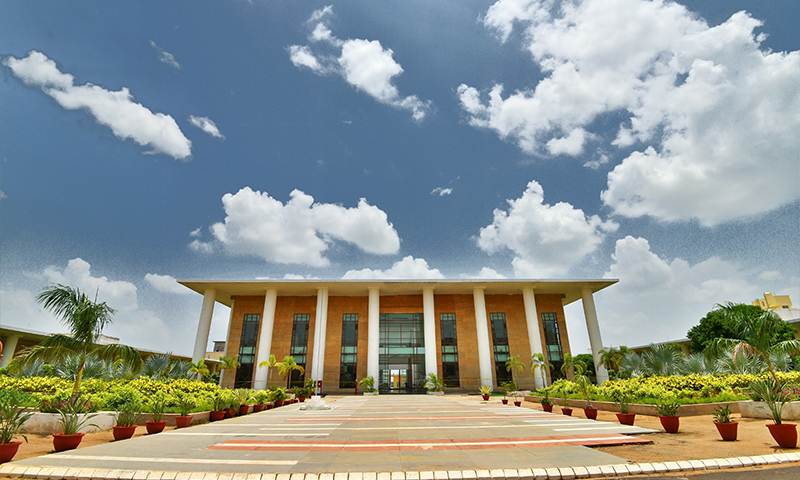 Dr Mathur is different from a quintessential academic administrator. He considers himself one of the team members and tries to work along with the faculty and students to develop the university. He says, "I always try to motivate faculty and students so that they can perform at least optimally." A lifelong learner, Dr Mathur ensures that he is updated with the latest trends in education by reading new policies and new experiments done across the country and the world. Now, he is keen on the developments of the National Education Policy 2020. "Of course, NEP 2020 is an excellent resource to understand many nuances of the primary, secondary and tertiary education system. The current education system needs to be reformed innovatively, and I feel that the NEP 2020 has given enough insight in that direction," states Dr Mathur. 
Related Articles