The name 'Praxis', Greek for the practice of an art, science, or technical occupation, reflects the philosophy of Praxis Business School – to create an educational institution that combines the art and science of theoretical learning with the virtues of practical training.
Praxis Business School was established in 2007 and has campuses in Kolkata and Bangalore. According to TOI's 2021 Business School survey, Praxis Business School is ranked 2nd in Kolkata and 4th in Eastern India. The Praxis Data Science program is ranked number one in India (Analytics India Magazine 2021 survey). These achievements are a result of Praxis' relentless focus on creating resources who will lead India's transformation in the digital world.
Developing an ecosystem that nurtures future digital leaders
Praxis believes that the digital future will be characterized by rapid advancement in technology and increasing dependence on insights from data. Leaders would need to be tech and data savvy, capable of learning on the fly to keep pace with change, able to work with and lead diverse teams, and drive ethical and sustainable business practices in their organization.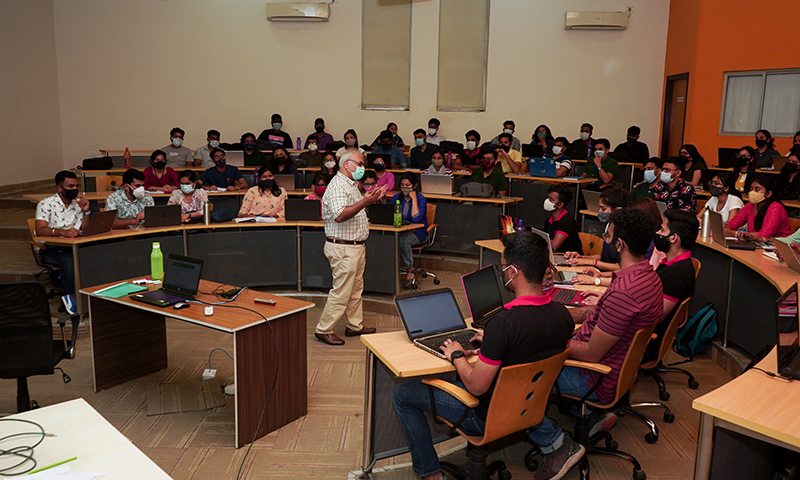 The institution has created a learning ecosystem that gives students the freedom to think, question, discuss, debate, absorb, experiment – learn by doing and learn without fear. There is an equal emphasis on learning hard and soft skills with the objective of making the Praxis student a better learner, a critical thinker and an effective communicator.
The pedagogy at Praxis, including curriculum design, delivery and assessment, is driven by this objective. The programs are co-designed with business leaders to meet the current industry requirements and fine-tuned at regular intervals. Every subject has a strong digital orientation. Course delivery, executed by the renowned Praxis faculty team, comprises a mix of lectures, case discussions, projects, labs; the emphasis is on understanding concepts as well as their applicability in real-world situations.
The institution also follows a continual assessment process for all its courses using a combination of exams, quizzes, projects, assignments, and class participation. Students are assessed for their ability to think rather than learn by rote.
Programs@Praxis & Merit-based Scholarships
The programs offered by Praxis Business School include 2-year full-time Post Graduate Diploma in Management approved by the All India Council for Technical Education (AICTE), Government of India, 9-month full-time Post Graduate Program in Data Science with AI & ML, 9-month online weekend-only Post Graduate Program in Data Engineering.
Praxis Business School has been a pioneer in teaching Business Analytics and Data Science in India and started its Business Analytics program 11 years ago. Praxis Post Graduate Program in Data Science (PGPDS) with AI & ML is ranked No. 1 among all Post Graduate Program in Data Science across the country in Analytics India Magazine's all-India Data Science ranking (2021). This program equips students with the tools, techniques and technologies to build attractive careers in the exciting world of Data Science.
The Praxis PGDM program is designed to develop managers and leaders in this dynamic, digital-first world. Staying true to its Digital leadership position, Praxis Business School has crafted its PGDM for 21st Century business professionals offering future-ready Super Specializations: Business Analytics, Digital Business Management, Consumer Insights and Market Intelligence, Commercial Banking and Project Financing, Financial Risk Management, Digital HR Management.
Students are selected on the basis of their academic and professional backgrounds, their extra-curricular interests and achievements, their scores on the relevant admission tests, their writing skills and their performance in a personal interview.
Praxis Business School offers merit-cum-means based scholarships to incentivize and enable students to become future leaders. It is worth mentioning that the Praxis Women in Tech (WiT) Scholarships is an initiative to encourage and support women's participation in Tech and Data careers. This is in line with the institution's belief that gender diversity in the workforce, especially in Tech, brings immense value to the organization, economy, and society.
A Student's Life at Praxis Business School
The eco-friendly architecture and locale of Praxis's Kolkata campus with low carbon footprint academic buildings, open hangout spaces, lush green surroundings, and water fountains give students the freedom to think and reflect in mother nature's arms. The whole campus is WiFi-enabled and lecture-theatres and classrooms are equipped with the latest audio-visual aids. The campus also has a well-stocked library, multi-gym, two day-time canteens, and facilities for table tennis, badminton and a volleyball court. The hostel block is equipped with comfortable and well-furnished single-occupancy rooms, a recreation room equipped with pool table, TT table and TV, and a night canteen on the terrace.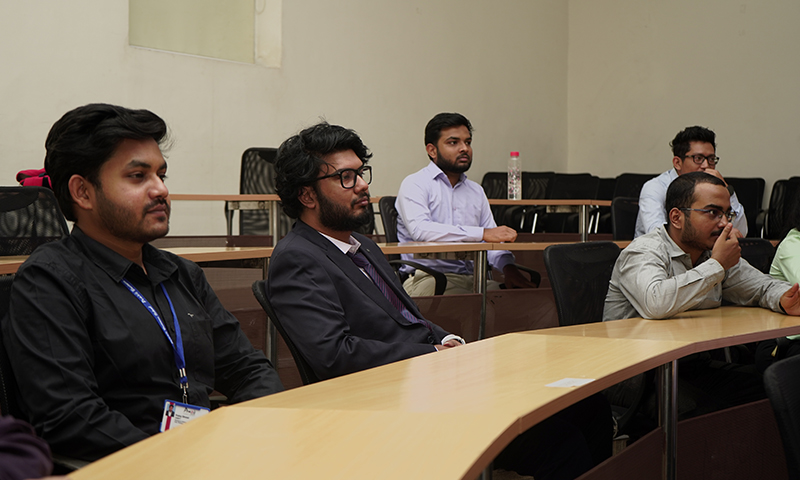 The Praxis campus is abuzz with student activity. On the one hand it has clubs for each functional area like Finance, Marketing, HR, IT and Analytics, and on the other it offers clubs dedicated to quizzing, debating, sports, and other extracurricular activities. Praxis students organize intra-college and inter-college fests such as Spardha, Khoj, and Rang Manch. Through these activities, students understand the importance of teamwork and decision-making and create fun-filled memories for life.
Praxis has an active social wing that emphasizes socially responsible events like plantation drives, blood donation camps, and digital literacy campaigns. This is the students' way of giving back to the society and demonstrating their commitment to the environment.
Recently Praxis Business School hosted Padma Shri recipient & celebrated global Environmentalist activist Shri. Jadav 'Molai' Payeng at their campus in Kolkata. During his TEDx Talk, Shri Payeng urged students to become "environmental leaders of tomorrow" that would help them fulfil their career dreams.
Creating Quality Placement Opportunities
Praxis has a formal campus recruitment program and is committed to creating quality career opportunities for its students. The pedagogy ensures that the students are equipped with the knowledge and skills required for today's digital world.
As part of their preparation for campus placements students are encouraged to understand their skill-sets and map those to the opportunities available. This results in a high conversion during the placement process, as well as a high 'repeat purchase' as a large percentage of companies come back to recruit year-on-year. Accenture, PwC, Ernst & Young, KPMG, Nihilent, Genpact, L&T Financial Services, TCS, Colgate-Palmolive, Citibank, ICICI Bank, HSBC, Kantar, Nielsen, Marico, Tata Metaliks, Tata Capital, and Pepsico etc. are some of its recent recruiters. The highest CTC for the Praxis PGDM 2020-22 batch was 14 LPA and the average CTC was 7.8 LPA.
Praxis facilitates a campus summer internship process and ensures that all first-year PGDM students earn internships with reputed organizations and get the opportunity to work on meaningful projects. During the summer internship program for the batch of 2021-23, the highest-paid internship offered to students was INR. 75,000 and the average was INR 30,000.
The January-September 2021 batch of Praxis Business School's PG Program in Data Science (PGPDS) with AI & ML batch achieved 100% campus placement. The highest CTC was 20 LPA and the average CTC was 10.3 LPA.
Sharing his thoughts on the same, Prof. Charanpreet Singh, Co-Founder & Director, Praxis Business School, said, "It gives us a lot of satisfaction to see our students valued so highly by the top corporates of India. After all, it is about putting every student on the path to successful and enriching careers in tomorrow's Digital Economy. This is what drives us at Praxis every day. We appreciate our recruiters' faith in our programs, and we wish all our students' fantastic careers ahead."
Commenting on Praxis Business School's long-term vision, Prof. Charanpreet mentioned, "Our vision is to become a trusted and influential management education institution that is equipped to make a compelling difference to the business world and the community."
About Prof. Charanpreet Singh, Director and Co-Founder, Praxis Business School Foundation
Prof. Charanpreet worked in the corporate world for 20 years, in industries like Cryogenics, Steel, International Trade, Consulting and IT in organizations such as British Oxygen, Tata Steel, PwC and Compaq-HP before deciding to pursue his first passion, education. He is a founding member of Praxis Business School. A winner of the Chevening Scholarship for Young Managers awarded by the British Government, Prof. Charanpreet has a keen interest in the areas of Branding, IT, Analytics and Business Communication. He taught at the University of Iowa and has been a visiting faculty at IIM Lucknow, IIM Raipur, IIM Shillong and IIM Udaipur.
Related Articles