Universities and colleges are expected to impart marketable skills that prepare students for the dynamic world of work. To date, students continue to graduate, and employers continue to hire new talent, and this has been the norm for centuries now. One of the most affected sectors due to the pandemic, the trials and tribulations experienced in the past year in the education sector has made institutes stronger and resilient for future challenges. At NITTE School of Management, the impact of COVID was minimal as several proactive student empowerment practices were adapted.  Managing the COVID-19 impact in their unique way, the institute has been engaging their students from day one, in various online classroom interventions like lecture delivery, case study analysis, and other processes. The school had also conducted a National Level Conference where the students and faculty members participated in a big way and connected these experiences when they actually came to the campus.
Accelerating the career growth of students, the PGDM program at NITTE School of Management is designed to suit the needs of the industry and develop corporate leaders who can excel in solving complex business problems and contribute to organizational growth along with self-development. The course is developed to deliver knowledge and skills as per the industry trends and is achieved by availing training and teaching support from corporates, sending their students to various industries for internship and project-related work. Forming the pivotal force of NITTE School of Management, the faculty members at the institute are drawn from corporates with world-class exposure and teaching prowess, capable of bringing corporate nuances into classrooms. Having a rich teaching and research background, the entire team of faculty members enjoys a robust Doctoral background who are committed to enhancing the value of students in real-world exposure. "Through our Dual Mentoring, each student has 2 mentors by their side24/7, i.e., one from our institute and the other from the business world, to mold the students as the best fit for employers", states Prof. Venugopal.
Anchored by the need to build strong and committed management professionals and ethical business leaders, NITTE School of Management was set up in 2009 with a vision to reach out to students with a missionary zeal and create an impact on society through their ethical practices. The institute aims to serve the last person in every segment with a sense of service, selflessness, and sagacity. Enjoying a close rapport with the industry captains and business houses, NITTE School of Management has MOUs with leading industry associations like FKCCI, ASSOCHAM, Peenya Industries Associations, and MSME department, leveraging and availing industry expertise, faculty support, internships, and placements. "Right now we are having the services of industry experts at least 3 days a week. We have created separate cubicles for the trainers and experts to spend 3 days a week and interact with the students keeping their placement requirements and personality development needs. We are also planning to organize a national-level HR conference where top management of companies will participate and guide", adds Prof. Dr. M Venugopal, Director, NITTE School of Management.
A Stepping Stone to the Industry
The Training & Placement Cell of NITTE School Of Management is the chief facilitator for the students to obtain placements best suited to them and primarily liaises between Industry and the Institute. Providing world-class training to students, the Cell has emerged as a favored destination for many national and international organizations who come back year after year to recruit talented and well-groomed students of the institute. The Training & Placement Cell is dedicated to motivate and prepare the student community for the best placements by training students from the first year onwards focusing on motivational skills, communication skills, interpersonal relationships, leadership qualities, group discussions, and interview techniques. "Our cell also provides the required infra-structural facilities to conduct group discussions, tests, and interviews besides catering to other logistics. The database of the students is managed by the cell, which helps place the students in positions that best suit them", adds Prof. Venugopal.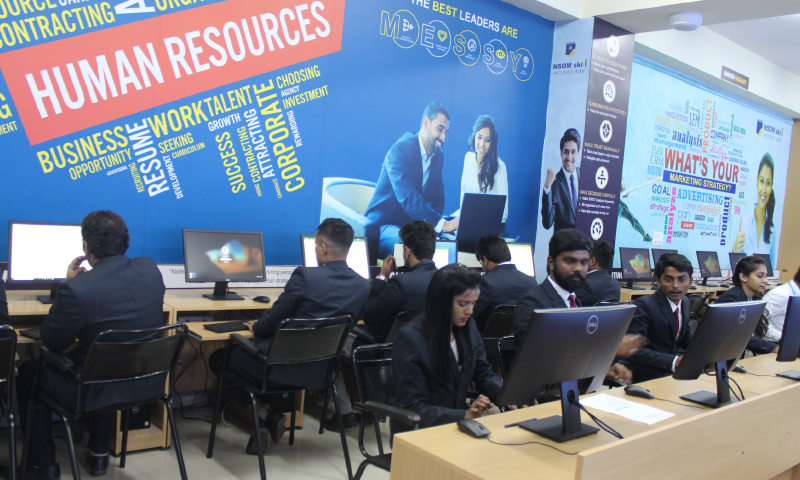 Engaging students in various live projects in the marketing domain and other interventions, NITTE School of Management has installed specialization-wise labs with the latest software packages to expose students in finance, banking, marketing, operation, agri-business to real-time cases and industry-related issues. NITTE School of Management's success rate in terms of campus placements in various corporates, industries, and business houses has been around 95-97%. The last batch has been placed in leading companies like Byju's, Ken42, Masadir, and Jobswift. "We have well-planned and structured modules on aptitude, technical skills development, and communication and personality development programs to prepare our students for a highly competitive future. The institute provides world-class infrastructural facilities to conduct all required pre-placement and placement activities", says Prof. Venugopal.
Multi-faceted and interactive, the students at NITTE School of Management participate in various fests, conferences, and contributing to house-magazine, 'NSOM Times'. "We have set up a dedicated skill academy which will nurture the latent talent of our students. We are also offering several certification courses in addition to regular PGDM program which students can make use of for personal and professional enrichment", says Prof. Venugopal. Planning to increase their intake from 60 to 120, NITTE School of Management aspires to offer 100+certification and full-time PGDM courses in agri-business, management consulting, facility management, and sports, at various campuses across the nation. Enabling an integrated, supportive, creative, collaborative, and agile learning environment to challenge and ignite young minds, NITTE School of Management is nurturing its students into being responsible citizens, business leaders, managers & entrepreneurs of tomorrow.
About Prof. Dr M Venugopal
An excellent corporate leader with immense teaching exposure, Dr. M Venugopal is a specialist in Business Law, HR, IR, Strategic Management, and Entrepreneurship Development. He has held prestigious positions such as being the Senior Director, HR at Maxvel Intellectual Property Services Pvt. Ltd and many other well-known companies and industries. As the current Director of NSOM, he guides the destiny and the direction of the institute giving back to society by providing able management professionals, ready to take a leap into the corporate, entrepreneurship world, in turn benefiting the country.
Related Articles