A fusion of Art, Science, and Engineering on a platform of social and cultural interactions, Architecture provides a space to play with and design it to emotions and ambitions. It is a multifaceted profession and, therefore, requires architects to have the ability to tap into their creative vessel and come out with brilliant creations as and when their client asks them to. Since creativity thrives when the person is at one with himself, architects must have a holistic development, if not from childhood, at least when they are learning the basics of architecture. And who better than MBS School of Planning and Architecture to assure this holistic development?
Established in 2009 by the ACME Educational Society to impart Architectural Education to meet the ever-changing needs and challenges of the future needs of architecture, MBS School of Planning and Architecture's (MBSSPA) very motto lies in its name: Mind, Body, and Soul. Set in Dwaraka, MBSSPA as a center for education and research aims to create an institution of innovation and learning, with the mission of envisioning the future habitat of our society and developing sensitive, ethical and competent architects to build it.
Growing at an Incredible Pace
Since its inception, MBSSPA has made eventful progress, with a batch of 40 students, affiliated to IGNOU in 2009, to advancing batches of 120 students being admitted each year and affiliated to Guru Gobind Singh Indraprastha University thereafter since 2011. In all, the college has a strength of 600 students and over 50 faculty members with specialization from different regions and branches in Architecture.
MBSSPA currently offers B. Arch (5-Year Degree Program), which imparts skills and awareness in professional aspects of Architectural design and its varied fields. Much of the theoretical knowledge is gained in application and research mode being integrated into practical /studio and seminar activity-based courses. MBSSP's curriculum is designed as per the GGSIPU syllabus. The program is also designed to meet the guidelines of the Council of Architecture for B.Arch., which regulates architectural education.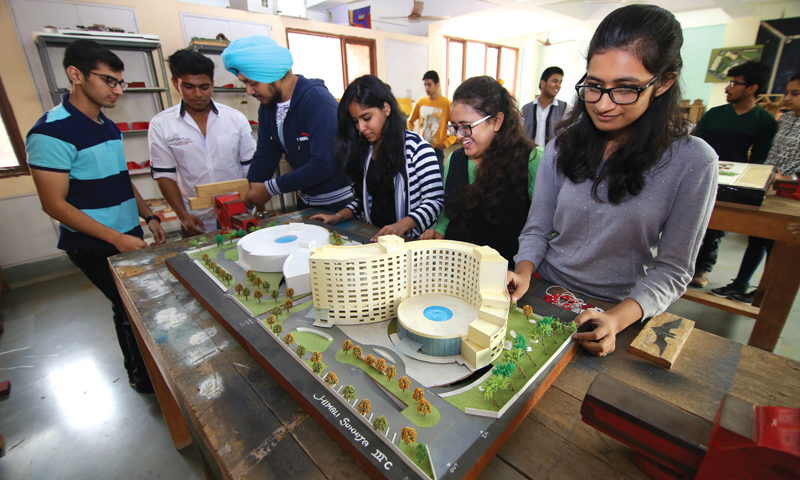 MBSSPA does not believe only in the theoretical training of students but also explores various innovative and practical methods to impart quality architectural education. Within the classroom, MBSSPA graduates are encouraged to pursue their imagination. Each student is provided with a dedicated work and storage space and faculty members are always around to help students give shape and mold their ideas into the given dimensions of various subjects in the curriculum. The studio work is designed in such a way that it helps the students to explore various categories of projects, right from their inception level to their final stage.
MBSSPA's studios are strategically equipped with drafting boards, mounted projectors, and display boards to put up students' work. These studios also provide a stimulating learning environment for the students, where
they can explore and experiment with their design concepts. To help students in the execution of their innovation and
ideas, MBSSPA facilitates them with various workshops and Skill Development Programmes. It is also noteworthy that apart from Computer Lab and Library, MBSSPA has well-equipped Climatology Lab, Survey Lab, Building Material lab, Model Workshop and Construction yard for students to experiment.
Teaching Beyond Classroom and Books
Speaking of pedagogy, MBSSPA has made Guest lectures, Seminars, Workshops, Conferences and such interfaces apart of the almanac so that students, as well as the teaching fraternity, get an overview of the industry and the world outside concurrently with the academic education which is intrinsically introspective. MBSSPA also makes it a focus to make students well conversant with the latest technological advancements in the field of architecture as well as presentations through acquainting them with the latest software. To this extent, certain seminars that go beyond the realm of architecture are also included and so are a host of student-centric, extracurricular activities on sports and culture.
As with its peers, MBSSPA also organizes study tours, taking students to places of historical importance and modern advancement. The school understands that learning from Indian cities is vital as it provides a plethora of information on history, culture, economics, built mass, unbuilt spaces, technology and infrastructure facilities, and people and their needs.
While taking care to maintain an outstanding pedagogy and campus facilities, MBSSPA also places equal importance on its faculty team. Organizing Faculty Development Programme on varied themes related to Architecture every year, MBSSPA warrants that the faculty team is provided with an opportunity to exchange knowledge and ideas with stalwarts from the industry. The faculty team is spared no effort to keep themselves abreast of the latest developments in the field and exploring innovative techniques in pedagogy by writing research papers and presenting them by attending various seminars, workshops, and conferences at the national/international level.
Recruiters, Testament to Program Efficacy
Weighing in the steps that the School has taken to ensure the holistic development of its students, it is no wonder that corporate kingpins like Hiren Patel and Associates, Ahmedabad; CCBA (Christopher Charles Benninger Architects Designs) Pvt. Ltd. Balewadi, Pune; StapatiBanglore, Calicut; and Design Forum International (DFI), New Delhi flock around MBSSPA to recruit the crème le crème.
Going forward, MBSSPA intends to expand its academic activities for next-gen architects by providing planned/desired spaces where they can learn and enhance their knowledge in an environment parallel with global standards. The School also plans on adding more courses that delve deep into architectural design and other related fields. With more built space available under the prevailing byelaws, it is only prudent to say that MBSSPA will be a beacon of progress and prosperity in the academic world of the future
Related Articles