In today's age of uncertain job evolution, education, in conjunction with high intelligence scores, plays a pivotal role in attaining rewarding careers. Applying the knowledge and skills gained is a better indicator of taking one's career to newer heights. "Education can be considered worthwhile only if the students can prepare themselves for the perpetual struggles of life and moulds them effectively to get them attuned to the fast-changing business scenarios while handling their social, moral, and democratic duties efficiently," says Dr. Urvashi Makkar, Director & Professor, Institute of Management Studies, Ghaziabad.
Dr. Urvashi, along with IMS Ghaziabad, one of the trusted Business Schools in India with 32 years of academic legacy, has directed their focus on creating an ecosystem for providing value-based education to students belonging to all sections of society and making higher education an effective instrument for the nation's socio-economic transformation. "We strongly believe that education, being a social institution serving the needs of society, should be not only comprehensive, sustainable, and outstanding, but must continuously evolve to meet the challenges of the fast-changing and unpredictable globalised world," proclaims Dr. Urvashi. Keeping this in mind, she holds and steers the reins of IMS Ghaziabad and helps create and nurture future business leaders capable of adapting to change and staying agile.
Incepted in 1990, IMS Ghaziabad offers a PGDM program approved by AICTE. It is amongst the very few B-Schools in the country that can boast of twenty years of uninterrupted accreditation by the National Board of Accreditation (NBA) and equivalence to MBA by the Association of Indian Universities (AIU) since 2005. The Institute is also accredited globally by ASIC, U.K, and is a member of AACSB Business Education Alliance, USA.
Soaring to New Heights
Interestingly, the institute is the first Higher Educational Institute in Delhi and NCR to be awarded the elite ISO 21001:2018 Certification for its conformity to the requirements of the Management Systems for Educational Organisations (EOMS) standard and its PGDM Two-Year Full-Time Program. Dr. Urvashi adds, "My endeavours have always been to take the illustrious name of IMS Ghaziabad to newer heights by focusing not only on achieving the highest standards of academic excellence but also a highly effective corporate interface backed with multi-dimensional development opportunities."
Its commitment to creating opportunities, challenging minds, and encouraging innovation give IMS Ghaziabad an edge over other institutions in this domain. The industry-oriented curriculum delivered by a diverse pool of exceptionally competent and dedicated faculty allows the Institute to adopt innovative methods to stimulate interest and attention amongst the students. IMS Ghaziabad is well-equipped to meet and exceed the needs of its students.
Boasting of scholarships for meritorious students worth Rs. 2.7 crores; 360° holistic developmental approach; state-of-the-art infrastructure; highly equipped Digital Library; Value-Added Certification Courses from MSME, Microsoft, and other reputed organizations; Global Alliances and multiple other achievements to its credit, the Institute has attained a unique distinction & a reputed place amongst the best professional educational institutions in India. "The consistent and stellar placement record of IMS and the vast pool of the well-placed alumni base is a testimony to the extraordinary exposure and experience that students get at the Institute," informs Dr. Urvashi.
She also tells us of the institute's strong collaborations with renowned National and Global Corporate & Academic organisations and how these partnerships are leveraged to attain a remarkable Industry Interface for its budding managers through regular Live Projects, Industrial Visits, Seminars, Conferences, Workshops, Expert Talk Series and many more. "All these unique initiatives have made IMS Ghaziabad the choicest destination for enterprising students on the lookout for professional Institutes delivering the real-world educational experience one needs to succeed in today's competitive global marketplace. The Institute not only provides quality education but also develops values and skills in the young minds to become competent leaders of tomorrow," reveals Dr. Urvashi.
Harnessing the Power of Innovative Pedagogical Tools
Creativity and imagination play a key role in shaping today's children into better, well-equipped individuals in their personal and professional lives. Dr. Urvashi tells us how their curriculum is embedded with myriad innovative pedagogical tools that prove life-changing.  Novel initiatives such as programs for Pre-Placement Preparedness, Competency Mapping, Personal and Professional Skills Program (PPSP), Placement Readiness & Enhancement Program (PREP), and Student Peer Learning Initiatives, have been started to enhance the self-belief, confidence, ability & skills of the students to make them corporate ready and ace the selection process. The highly skill-oriented Value-Added Certification Programmes (VA-CPs) and Value-Added Short-Term Training Programs (VA- STTPs) delivered under the umbrella of Skill Enhancement & Corporate Readiness (SECR) impart a distinctiveness to the institute's unique pedagogy.
The certifications are provided by expert agencies, viz. Microsoft, Global Human Resource Development Centre (GHRDC), Micro, Small and Medium Enterprise (MSME), and Center for Monitoring Indian Economy (CMIE), among many others. Initiatives like Centre for Innovation & Entrepreneurship (CIE), Language Lab, Versant Training for cracking the Big 4, Public Speaking Modules, Mentoring Program, Mock Interview Series, programs for Students Outreach and Grievance Redressal, Life Skills Training, Psychological Counseling further provide support to Dr. Urvashi and the institute's endeavour to develop the students for the corporate settings and sharpen their professional and personal skills. "A three-pronged strategy with an all-encompassing comprehensive approach towards achieving Academic Excellence, Corporate Readiness and Global Interface is interwoven throughout the PGDM Program," elucidates Dr. Urvashi.
She explains that while most colleges equip students with theoretical knowledge, IMS Ghaziabad strives to prepare students to meet the challenges the outside world has to offer through practical knowledge and a global mindset. To this end, the institute provides Career Counselling, need-based education and organisational support to its budding managers. She ensures that Industry Linkage through Seminars, Conferences, Symposiums, Guest Lectures, Live Projects, Certification and Training Programs, Networking Events, Industry Visits, and so on are essential aspects of the teaching-learning pedagogy. These steps enhance the student's career prospects and help them get their dream job. A unique initiative, 'Special Talk Series' comprising deliberations in five different aspects, namely, Global Talk Series, Expert Talk Series, Corporate Talk Series, Alumni Talk Series, and Entrepreneurial Talk Series, has also been kick-started. "One of our major thrust areas is enhancing the Global Interface. Very recently, we organised our 30 hours flagship Global Talk Series on Strategic Management for our PGDM students, led by the Managing Director of Morgan Franklin from Washington, USA," adds Dr. Urvashi.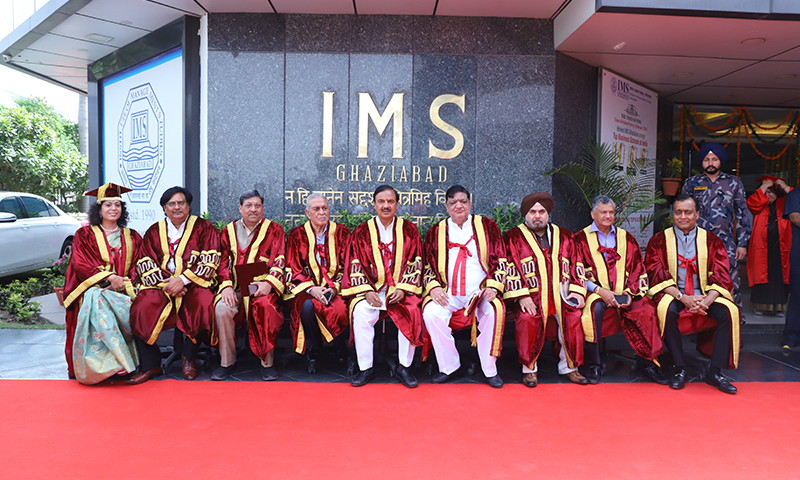 Assuring Well-equipped Personnel
Another key aspect that Dr. Urvashi reiterates that makes for academic excellence is a highly-qualified faculty panel. This approach demands that faculty be provided opportunities for professional development. The Institute encourages its faculty members to keep themselves updated by participating in various FDP/STTPs and workshops/Conferences outside the Institute and by organising an in-house FDP/Training Program to fulfil faculty members' development needs. The Institute encourages faculty members and provides financial support to attend such programs via a comprehensive Faculty Development Policy.
Making You Future-ready!
Dr. Urvashi directs her focus not just on educating her students but also on ensuring that the faculty and infrastructure are aligned with the institute's goals while always being geared up for the future. Having conducted extensive research, she believes we are witnessing a whole new VUCA world, and today's business landscape is no exception. The pandemic has put the business operations, IT systems, and digital capability of most organisations to a stress test. The ongoing digital revolution has further compounded the dynamic business environment. "One of the most pertinent issues in this scenario is how a student can compete realistically for new jobs in emerging technologies when they are devoid of the required skills? It is the prime responsibility of educators to address the myriad challenges and opportunities brought forth by the digital era and accordingly equips the budding professionals with the skill sets imperative for their upcoming careers," opines Dr. Urvashi.
At IMS Ghaziabad, an all-pervasive focus of the legacy of 32 years has always been on teaching, training, research, and consulting to equip young minds with the skills of the 21st-century workplace. In line with the need to develop efficient and trained professionals for Industry 4.0, the focus is on developing content skills, cognitive abilities, complex problem-solving abilities, social skills, and environment-conscious thinking in the students. Her advice to today's youth is, "Youngsters must also understand that learning agility is the burning need of the hour. This is critical in current VUCA times, wherein what is applicable and relevant today will quickly become redundant in a flash of time. When the young professionals are empowered with this agility, they will start preparing for the future challenges in a more focused way."
All in all, the utmost responsibility of an educational Institute is to continuously transform its teaching-learning practices and stimulate innovation to raise the academic performance index. The past batches of PGDM students have performed exceedingly well. They have often crossed unmarked terrain in their journey to achieve personal and professional excellence for themselves through determination, perseverance, and tenacity, making it easy for future batches to follow in their footsteps.
Recently, the institute launched the Centre for Innovation & Entrepreneurship (CIE) to harness the entrepreneurial streak of its talented students. An incubation centre to help budding entrepreneurs work on their startups and build them into scalable, profitable, and sustainable business is currently in the pipeline. Dr. Urvashi says, "We have recently launched 'Peer-to-Peer Mentoring' sessions in collaboration with a reputed Institute of Delhi University wherein students of IMS Ghaziabad conducted coaching sessions for their fellow learners. The cumulative wisdom thus generated boosted creativity and learning for students of both the participating Institutes." Having made quite the progress in the last three decades, Dr. Urvashi envisions continuing to make a positive impact in this sector in collaboration with IMS Ghaziabad.
For More Info: https://www.ims-ghaziabad.ac.in/
Related Articles