Like any other teaching public hospital, Kasturba Hospital at Sevagram, located near Nagpur in Maharashtra State, is perpetually in motion. On a typical Monday, the hospital receives over 1700 patients in its outpatient care unit, its pharmacies deal with 1800 prescriptions, 140 patients seek admission to the hospital wards, 14 patients undergo major surgeries, 12 babies are delivered, and 20 units of blood are transfused. In addition, 270 patients undergo radiography, 65 ultrasound examinations, 14 computed tomography, and seven patients have a magnetic resonance imaging scan. The laboratories report 750 biochemical tests, 510 complete blood counts, 100 serologic tests, 20 cytology samples and 15 biopsy specimens. A team of a little over 100 consultants, 120 residents, 60 interns, and 250 nurses – all staying on campus – works 24×7 to provide affordable and appropriate care to the population it serves.
Kasturba Hospital is a part of Mahatma Gandhi Institute of Medical Science (MGIMS), an institution consistently being ranked among the top medical schools in the country. Indeed, the name of the institute itself speaks of its historical roots. These roots go back to the time of Indian Independence Movement, and to a place originally called Shegaon, now known as Sevagram.
A Glorious Chapter of History
When the first batch of 60 students was enrolled in the year 1969, MGIMS came up as independent India's first attempt to give a new direction to rural health. Today it boasts of having groomed more than 2300 doctors. After more than five decades of its birth, MGIMS has come a long way. From a mere 15-bedded hospital to its 972 beds and a hospital with state-of-the-art facilities, MGIMS has created its own small history. The roots of the institute go back the time when Mahatma Gandhi left Sabarmati ashram and set up his ashram in Sevagram, a small village in Wardha town in Maharashtra. Gandhi directed the independence movement of the country from here. This has immortalized Sevagram in the history of the Nation.
In 1938, Dr. Sushila Nayar, then a young medical graduate, came to Sevagram to meet her brother Pyarelal who was Gandhi's secretary and later became a link to Dr. Nayar's association with the Mahatma. During her stay in Sevagram, she was highly influenced by Gandhi's ideology. She also had her first encounter with community medicine in this village. "When cholera broke out in Sevagram, Gandhi nudged Dr. Nayar to tackle it. With no other medical practitioners to help her, she fought the disease almost singlehandedly. It was an experience that would continue into several such experiences which were to chisel her into a hero of public health," recounts Dr. BS Garg, Secretary, Kasturba Health Society. Dr. Nayar continued to stay for a year at Sevagram as Gandhi's personal physician. This was a time when she learned and imbibed the lessons of austerity and abstinence from Gandhi's teachings.
In 1944, she started a small dispensary in the premises of the ashram at Sevagram. Her next step was going to be a leap for the village. The small clinic formed outside the ashram, in a guesthouse donated by G.D Birla, was to become a seed of a hospital in Sevagram. And duly in 1945, Kasturba Hospital was born. With its 15 beds, it began its service as maternity and children hospital. The hospital continued to grow under the care of the ashram from 1948 to 1954. Thereafter it was taken over by the Gandhi Smarak Nidhi (Mahatma Gandhi National Memorial Trust). On September 11, 1964, an independent registered society to manage the hospital was formed. This was Kasturba Health Society.
After Mahatma Gandhi's assassination, Dr. Nayar had joined Johns Hopkins University, USA. Returning in 1950, she set up a tuberculosis sanitarium in Faridabad. Dr. Nayar also headed the Gandhi Memorial Leprosy Foundation. In 1952, when the first election took place in our country, she entered politics. From 1952 to 1955, she served as Health Minister of Delhi State. Subsequently, she became Speaker of the Delhi Vidhan Sabha. She was Union Health Minister again from 1962 to 1967. Dr. Garg remembers, "During her tenure as Health Minister, Dr. Nayar realized the difficulty of finding qualified doctors for posting in rural areas. Even though Primary Health Centres had been set up more villagers, there hardly were any doctors in these centres." At this point of time Lal Bahadur Shastri while addressing Central Council of Health, suggested her to start medical colleges in rural areas. This would give budding doctors an insight into the health problems in rural areas and they would be less hesitant to serve in the villages.
In line with Lal Bahadur Shastri's foresight, in 1969, and as a part of Gandhi Centenary Program, Mahatma Gandhi Institute of Medical Sciences was proposed to be set up on the soil of Sevagram. After the approval of the Planning Commission and with the blessings of the President and the Prime Minister of the country the institute was formed. It was decided that the Government of India, the Maharashtra Government and the Kasturba Health society would share the expenditure on it in the proportion of 50:25:25. The rest is history.
In 2018-2019, a little over a million patients attended the outpatient department of the institute. More than 52,000 patients were admitted, and 5300 women were delivered during this period. Close to 115000 patients were examined in the diagnostic camps in the communities. The department of Community Medicine monitors the activities of women's self-help groups; Kisan Vikas Manch; Adolescent girls' groups (Kishori Panchayat) and also participates in National health programs.  MGIMS also runs a 50-bed hospital in a tribal area 250 north west of Sevagram- this region has the highest rates of nutrition and maternal morbidity and mortality in Maharashtra.
Led by Dhirubhai Mehta, President of Kasturba Health Society, MGIMS has grown into an institute nursing the rural community with nominal fees.   Since 1991, the institute had asked all its graduates to work in rural areas and 80 non-governmental organizations have joined hand with MGIMS to fulfill this dream. "The Report of the Task Force on Medical Education of the National Rural Health Mission spells out the need to draw upon MGIMS Sevagram's initiatives and experience in curriculum innovation and rural placement of its graduates. It suggests launching a participatory exercise with MGIMS and other like-minded institutions, so that national guidelines can be formulated. Several such visionary and innovative education strategies which started from the Institute have now been adopted by the government," pinpoints Dr. Garg.
Today, MGIMS offers MCI recognized degrees and diplomas in 20 postgraduate disciplines and PhDs in nine departments. It boasts of a well-equipped library which is a recognized resource library for HELLIS network in Western India. Two of its present faculty members, Dr. BC Harinath (1992), and Dr. (Mrs) P Narang (2002) are recipients of the National BC Roy Award.
Challenging the Odds
Medical research in India is often critiqued for being poor in quality, and largely irrelevant. Priority areas are often neglected. An analysis of the research output from 2005-2014 from 579 Indian medical institutions and hospitals showed that the distribution of published research was highly skewed: only 25 (4.3 percent) institutions produced more than 100 papers annually, and their contribution comprised 40 percent of the country's total research output. A little over half the medical colleges did not have a single publication during this period. Here too, MGIMS remains an exception.
"Beginning 1971 and until October 2019, MGIMS faculty and residents have published a total of 4038 research papers, 1370 (32 percent) of which are PubMed listed. The focus firmly remains on themes relevant to the local community such as tuberculosis, filariasis, coronary heart disease, cancers, diagnostic tests, immunology, medical education, and community-based issues. These papers have found their way into prestigious journals with high impact factors. Several papers have been cited more than 200 times and have been accorded high ranks on citation indices," shares, Dr. Nitin Gangane, Dean of MGIMS.
MGIMS exemplifies that even in a resource-limited setting, a teaching hospital can produce high-quality research. Being in a village has never been a hurdle in acquiring either funds or facilities. MGIMS has consistently received funding from the Indian Council of Medical Research, Department of Science and Technology, Department of Biotechnology, University Grants Commission, WHO, UNICEF, PATH, Fogarty AIDS Research and Training Program, Canadian Institute of Health Research, Population Health Research Institute, Canada, National Institutes of Health (NIH), National Heart Lung Blood Institute (NHLBI) and several such organizations. With the support from extramural funding agencies, some of the para-clinical departments have developed good research laboratories with sophisticated instruments and infrastructure, including a CPCSEA registered animal house, to conduct studies on applied immunology, cellular and molecular biology.
Dr. Gangane adds, "International editors often lament that medical research in our country not only lacks quality, but we are even headed in the wrong direction. The research is often "me too", and largely irrelevant – it is not done in areas in which it is 'needed' in India (according to distribution, determinants and outcomes of diseases) like infectious diseases and mother and child health." MGIMS is an exception. Right from its inception, MGIMS has accorded the highest importance to medical research. Several disorders – tuberculosis, filariasis, and leprosy, for example – are prevalent in this area as are snake bites, strokes and heart attacks. MGIMS faculty have focused on these areas and have shown that they can ask the right questions and use appropriate study designs to find out answers to the problems they encounter every day.
"Worldwide, in medical schools, the phrase 'Publish or Perish' keeps on reminding young doctors and scientists that the ladder of academic success is best climbed by stepping on the rungs of publications. Despite its cynicism, the phrase makes an important point- if science is to grow, research and publications are important. Researchers at MGIMS- young and old- are conscious of this adage and strive hard to generate high-quality research, year after year," opines Dr. Gangane. At MGIMS, efforts have been made to build research aptitude of undergraduate students through provision of a capacity building workshops followed by participation in community-based groups projects under problem solving for better health initiative. Students apply for the research studentship offered by the Indian Council of Medical Research short term studentship and the state medical university. The institute has a committee for the promotion of UG research as well.
Making Compassionate Medical Practitioners
"At MGIMS, we are conscious that medical education needs to maintain the right balance in the eternal triangle of 'quality, relevance and equity'. Our faculty and health professionals strive to ensure that their students adhere to professional norms which include altruism, compassion, empathy, accountability, honesty and integrity," says Dr. SP Kalantri, Director Professor of Medicine at MGIMS and Medical Superintendent of Kasturba Hospital. Over the last five decades, the MGIMS faculty has been striving hard to imbibe the philosophy which makes it pursue excellence in academics, healthcare and research, more than mundane needs and money; and to maintain excellence in quality.
"All through their graduation and post-graduation, students are constantly exposed to the healthcare problems that the poor and villagers have to face. A stint in Gandhiji's ashram; a fortnight in a village and another one in one of the peripheral healthcare centres sensitizes them to the healthcare problems of the rural communities," pinpoints Dr. Kalantri. Each student is assigned five families of a village and they act as friends, philosophers and guides to these families. They learn the determinants of health and disease; how inequality and poverty shape the medical illnesses and the difficulties the students face to obtain affordable health care.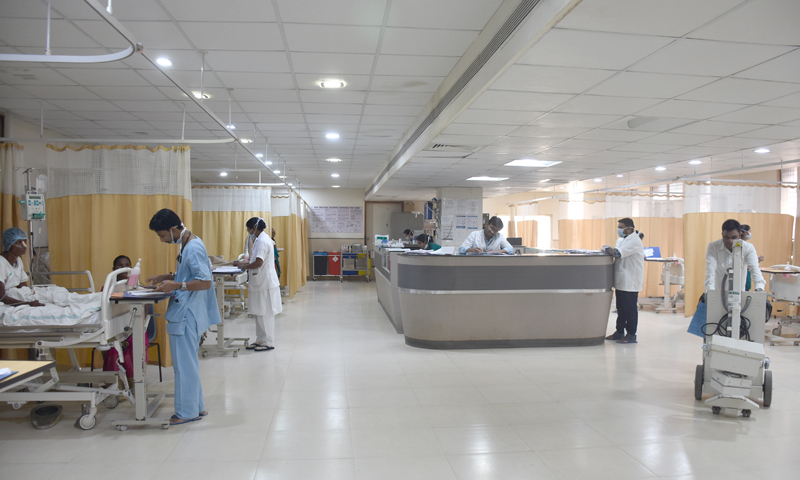 In 2004, MGIMS decided that the drug and device industry could no longer sponsor or support any conference, seminar or workshop in Sevagram. The organizers do not accept advertisements or money from drug companies for publishing the proceedings, souvenirs and flyers. MGIMS underwrites a substantial proportion of conference expenses. MGIMS has also banned medical representatives from marketing their products to the interns, residents and faculty. By insisting on high-quality low-cost branded generic drugs, MGIMS has significantly cut down the cost of healthcare. The medical students thus learn the impact of the drug industry on the current medical practice and learn ethical ways to practice medicine that is affordable and appropriate.
"We an advanced hospital information system that uses a network of 450 computers and helps healthcare professionals use digital information for patient care. This strong emphasis on and exposure to digital technology helps young students and doctors use the electronic system for efficient patient care," explains Dr. Kalantri. MGIMS students are also taught how to do health research, by a series of lectures, workshops and face-to-face mentorship programs. They apply for the short-term studentship offered by ICMR and wet their feet in the medical research. By getting a feel of medical research early on, these students learn how to critically appraise research papers and use them for the benefits of the individual patients and the community.
The Road Ahead
In the 50 years of its existence, MGIMS has enrolled over 3600 students, and of them 3100 doctors have graduated from the hallowed premises of MGIMS. Several MGIMS alumni have won accolades for excellence in professional and community leadership and service; many are known for their exemplary contributions to the academics and research or to humankind and have received national and international recognition.
Today, MGIMS is building a 30-bed palliative care centre that focuses on improving the quality of life of patients and caregivers and restore the dignity of death of patients fighting with end of life issues and struggling with pains and maladies that chronic diseases breed. By engaging local communities with the hospital, the institute shall ensure that care reaches people 'where they are and when they need it' and that healthcare for all has to be healthcare with all. MGIMS is also teaming with Pallium India to integrate the hospital-initiated home-based program and hope to improve patient functional status, patient and caregiver health-related quality-of-life, satisfaction with care, decrease hospital readmissions and total health care costs in the rural communities around Sevagram. MGIMS has many more ambitious plans like providing advanced cancer care to rural patients, establishing outpatient Department complex that offers all outpatient services to patients under a common roof, launching MGIMS Health and Demographic Surveillance System, starting District early Intervention Center and Skills training at National Emergency Life support (NELS).
Dr. BS Garg, Secretary, Kasturba Health Society
Dr. BS Garg MD & Ph D is secretary, Kasturba Health Society. He is also Director, Dr. Sushila Nayar School of Public Health and Director- Professor of Community Medicine, MGIMS. He is also In-charge of WHO Collaborative Centre for Research & Training in Community Based Maternal, Newborn & Child Health. He has been awarded more than 60 research projects and has served as consultant to WHO (SEARO), DFID, CRS, USAID and various International and National Agencies on issues of public health concern. He has more than 130 publications to his credit.
Dr. Nitin Gangane, Dean
Dr. Nitin Gangane is an alumnus of MGIMS. He passed his MBBS and MD (Pathology) from this institute and later completed DNB in Pathology and also Postgraduate diploma in hospital and health management. He is also PhD in Medical Sciences with orientation to epidemiology and public health from University of Umea, Sweden. He has been awarded Yamagiwa-Yoshida Memorial International Cancer Study Grant by UICC to work at International agency for research on cancer (WHO), Lyon, France and NIDCR/NIH, Bethesda, USA.
Dr. SP Kalantri, Director Professor of Medicine at MGIMS and Medical Superintendent of Kasturba Hospital
Dr. SP Kalantri, MD, MPH is director professor of Medicine at MGIMS and Medical Superintendent of Kasturba Hospital. He obtained MD from Government Medical College in 1981 and joined MGIMS immediately. In 2004, he won Fogarty AIDS International research scholarship, and obtained MPH (Epidemiology) from the School of Public Health, University of California, Berkeley. At MGIMS, Dr Kalantri heads an internal medicine unit, teaches medical students and residents, conducts clinical research and manages the hospital.
Related Articles