Located in Gandhinagar, Gujarat, Karnavati University (KU) has a unique teaching-learning mechanism. The university calls it, inTECHgrated approach. Here, emerging technologies and creative thinking collide with an entrepreneurial spirit, research acumen, and a global mindset to build a collaborative environment where students can freely communicate ideas and learn from their surroundings. "As a Global University, the onus is on us to prepare the students for future challenges and provide them with the platform to showcase their skills and talent. The industry has seen unprecedented changes and growth in recent years as the competition among companies to offer better products and services is getting fierce. Given the scale, technological innovations, and intense competition, the need for skilled, well-groomed, and proactive professionals is increasing exponentially," opines Dr. A K S Suryavanshi, Vice-Chancellor, Karnavati University. 
It is indeed true that today's graduates need to be ready for the new-normal with changing market scenario that is paving the way for newer job roles. KU prepares you for the upcoming paradigm shift in various industries by imparting knowledge and skills that are in trend. Dr. Suryavanshi adds, "As a modern-day top-tier University, we diversify our approaches and concentrate our efforts on the holistic growth of the students that benefit them immensely and help them achieve their goals." With visionary ideas, thought leadership, innovative approaches, and inTECHgrated learning, KU is transforming the face of the education system in India. "These changes are mandatory to make the students industry reedy rather than just imparting bookish knowledge," pinpoints Dr. Suryavanshi. 
Knowledge Seekers' Paradise 
Spread over 33 acres of land in Uvarsad near Gandhinagar, KU is empowered to award degrees as specified under Section 22 of UGC Act to the students studying in its main campus in regular mode with the approval of Statutory Bodies/Councils, wherever it is required. KU is also granted membership of Association of Indian Universities, New Delhi, with effect from April 2019. Established under Karnavati Medical & Educational Trust, Karnavati University is envisioned to undergo a transition from versatility to super specialty. "Our mission is to contribute to the society through academic excellence and diverse knowledge in a broad range of disciplines, from design and arts to health and environment, business and humanities," shares Dr. Suryavanshi. 
At present, the trust runs six colleges, including Unitedworld Institute of Design, Unitedworld School of Business, Unitedworld School of Liberal Arts & Mass Communication, Unitedworld School of Law, Unitedworld School of Computational Intelligence, and Karnavati School of Dentistry. Dr. Suryavanshi explains, "The university's prime motive is not only to develop designers, lawyers, managers, researchers, media professionals, and dentists but professionals with human values who make noteworthy contributions to the society. We support our students to succeed at every level to become well-rounded individuals and skilled professionals."
Through the progressive initiative 'Unitedworld-wide,' KU has signed several MoU with some of the most renowned universities and institutes of international repute for student and faculty exchange programs and joint project/research opportunities. Some of the notable global universities that fall under the aegis of this initiative are- the University of Northampton, De Montfort University (Leicester), Nottingham Trent University, University of Derby, University for the Creative Arts (UCA), Coventry University, and many more.
KU is, in fact, one of the few Indian universities to have a vast catalog of collaborations and synergistic relations with a plethora of global organizations. "From providing interactive digital platforms and free computing education resources to helping us produce enterprise-ready talent, these collaborations help us in a plethora of ways," states Dr. Suryavanshi. Blackboard, Adobe, Oracle Academy, Red Hat Academy, and UI Path are some of the organizations among them. In addition to that, KU has collaborations with a plethora of renowned institutions from across the world. One of the constituent colleges of KU, Unitedworld Institute of Design (UID), is a member of World Design Organization (WDO), Cumulus Association, and International Foundation of Fashion Technology Institutes (IFFTI). 
Preparing Achievers 
KU's efficient Career Service Departments (CSD) is driven by the dynamics of the industry. CSD always proactively helps every aspiring student find their true calling, enabling them to succeed in whatever career pathway they choose. Dr. Suryavanshi says, "Students here are groomed and trained to be good communicators who can crack any interview and land their dream jobs. Apart from the regular classes, we focus on giving them maximum industry exposure." The university organizes study trips for the students to provide the students with maximum practical exposure and an opportunity to learn while having fun. These study trips include an extensive tour of certain industries, firms, and factories and recreational activities that encourage the students to bring out their best. Dr. Suryavanshi adds, "To make the learning process even more exciting, we take students for industrial visits that instill confidence in them and allow them to experience how organizations operate daily."
On the other side, KU has a separate wing called Karnavati Innovation and Incubation Foundation (KIIF), a business incubator that works on an amalgamation of design, technology, and business principles. Located within the campus of KU, it has been formed to help start-up companies and entrepreneurs in their journey towards becoming successful businesses. Through KIIF's hallmark business assistance services, the university would render much-needed support to companies sprouting their way into the business world. The incubated companies will have access to corporate-like workspaces, domain expert mentors, and cutting-edge labs to take their idea to emerge out into a successful and profitable business venture. 
Dr. Suryavanshi states, "Our mission is to create an inclusive environment for potential entrepreneurs and graduating students to translate knowledge and innovation into the creation of successful enterprises to contribute to nation's growth." With an excellent academic support system, KU has emerged as one of the most sought-after private universities in the country. KU provides an affable environment conducive to learning and cutting-edge facilities such as state-of-the-art laboratories, workshops, and libraries. 
Offering and Unforgettable Campus Life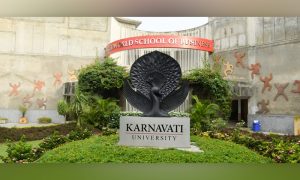 The university campus has 4 food points, basketball & tennis courts, an amphitheater, 3 auditoriums, a well-stocked central library, a salon, an ATM & a well-equipped gym, a massive playground, and a departmental & stationery store. It also has multiple workshops and labs, including Ceramics and Clay Workshop, Metal Workshop, Wood Workshop, 3D Printing Workshop, Laser Cutting Workshop, Dyeing and Printing Workshop, Knitting & Weaving lab, Embroidery and Stitching Lab, Pattern Making Studio, Jewellery Workshop, Leather Lab, Paint Lab, Augmented & Virtual Reality (AR/VR) Lab, Photography Lab, Felder Centre of Excellence (COE), Wacom Lab, VFX 3D Studio, Robotics Lab and a Moot Court. 
Today, with a diverse student body from across the nation, KU is a potpourri of different cultures. The university also offers 100 percent scholarship to the top 20 meritorious students with a desirable 12th percentage in CBSE or ICSE boards. Talking about the student life at the campus, Dr. Suryavanshi says, "A superlative experience waits for students at KU, where their mornings start with a scrumptious breakfast at the mess; afternoons are spent in immersive classrooms and workshops whereas the evenings are sprawled under a moon-lit sky, jamming with their friends at the Anti-clock." KU offers something for everyone. Here, students will find knowledge, wisdom, insights, immersive projects, fun, frolic, celebrations, friends, mentors, inspiration, and the path to their aspirations! 
Holistic development and a humungous green campus are significant factors that differentiate KU from other universities in the region. The university has built an extensive sports infrastructure, from a football ground, cricket ground, basketball court, badminton court, gym, and a lot more. Every day at KU unfailingly ends with power-packed matches. The recreational infrastructure at the campus ensures an active lifestyle and a health-focused environment. "At KU, we take pride in the diversity of our students. We believe that unity lives in diversity. To foster this diverse culture, we celebrate every festival joyously with the entire KU community," concludes Dr. Suryavanshi.
Dr. A K S Suryavanshi, Vice-Chancellor
Dr. A K S Suryavanshi is a senior academic, with 27 years of experience, across corporate and academic organizations. He is former Vice-Chancellor of SGT University, Gurugram, and had held several senior leadership roles in premier organizations such as Chandigarh University, SGT University, and Amity University, where he also held the role of Head -Executive Education. In his splendid academic career, he has been a Professor of Marketing and strategy, including Visiting Professor in international universities. Professor Holds a full-time Ph. D. degree in business management, Postgraduate in Business management, and Graduate in economics areas. Dr. Suryavanshi has been a member of the prestigious Project Review Committee of CDC, DSIR, Ministry of Science & Technology, and International Life Science Institute. He has served on several boards of industry and academic Institutions.
Related Articles