10th June 2019- Team Orion Racing India, to participate in the Formula Student competition at Hockenheimring, the global student formula racing competition in Germany. The students of K J Somaiya College of Engineering unveiled their First Electric Vehicle – 'Artemis' at Somaiya Vidyavihar campus on Monday, 10th June 2019. The team of 60 students, including 3 girls is from the first year to the fourth year of engineering.
The team has been working over the last 15 months in research, development, designing, manufacturing and validation of their First Electric Vehicle- 'Artemis' – a formula student racecar that goes from 0-100 in 4 seconds, and weighs 230 kg. The competition to be held from 5th to 11th August 2019 will have 120 teams from across the world showcasing their design, engineering and project management skills.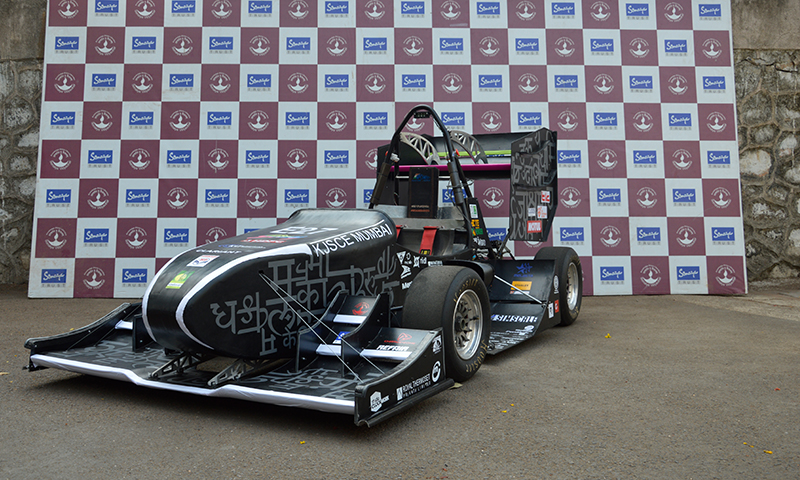 The team decided to compete with an electric vehicle for the first time after an unbeaten run of 12 combustion vehicles in past 12 years to choose an eco-friendly option. Since it is an electric car, it runs without any consumption of fossil fuels. There is no loss of energy in idle state. It has no emissions and the noise created by the motor is much less than compared to a petrol engine. A custom charger that operates on 250V AC and 25 Ampere rated outlet has been specially made to charge the batteries of this car. The power needed to charge is 3.3kW. The motor has a power output of 80kW. It takes 3 hours to charge. Once charged, the car runs for 60kms.
Kartik Gandhi, one of the team members, Orion Racing India said, " As engineering students, working on this project is about real world experience in not only engineering knowledge and skills, but also on other skills such as presentation, innovation, and project management.  This team has won awards globally for many years. I am proud to be the member of this team.  Working on an electric formula racecar, is a way to demonstrate that we can have sustainable solutions for all aspects of life. It is us the young engineers, who have to innovate to use engineering to make the world a fun and better place. With students from first year to final year on the team, the combining of different perspectives make for a great experience.  The support and guidance from the faculty and management makes a great difference.
Dr.ShubhaPandit, Principal K.J. Somaiya College of Engineering, said "We are happy about the past success stories of the team Orion Racing India (ORI). We encourage our students to participate in various competitions, as they learn more about practical aspects of engineering, as well as of implementing innovations. Teamwork, organizational skills, marketing and working under stress and deadlines are essential aspects which they learn when they participate and compete."
Related Articles