It is a universally acknowledged fact that for B-Schools to shape young energetic managers the industry should play its part by co-functioning with knowledge creators to facilitate the creation of a bi-directional channel for knowledge transfer. Organizations and entrepreneurs should provide opportunities for research to contribute inputs for curricula development and collaborate with academia to share live project experience with students. All these activities can be seen in full swing at
JK Business School.
Established in 2006, JK Business School (JKBS) has set its vision on providing high-quality management education.
Currently offering Post Graduate Diploma in Business Management (a two-year, credit-based, full time, rigorous and content-rich, autonomous management program) and Bachelor of Business Administration, JKBS missions to develop technology adept and socially and environmentally responsive change managers for business, globally. While the Post Graduate Diploma course is AICTE approved, the BBA course is Affiliated to Gurugram University. JKBS ensures that the industry plays an important role while designing the curriculum. This is why the JKBS curriculum reflects the adoption of the latest practices and technology advancements, with a student-focused learning pedagogy.
"We constantly strive to prepare our PGDM students to develop multi-discipline business skills as per requirements of the current business environment through a regular infusion of latest ideas and skills that can help them to become successful manger in their life. By using modern methods of teaching, we help them to learn to adapt and successfully face every challenge in their business career. PGDM program being delivered at JKBS is more of the training rather than conventional teaching methodology. Industry experts design the curriculum keeping in the mind the challenges today's businesses are facing. It helps us foresee the industrial/business requirement in the future, and train our students are per requirement. We introduce our students to real-time issues/challenges that the businesses are facing. The core pedagogy adapted is that of hands-on experience by way of case studies, applications involving real industry data, live projects and extensive corporate connect by way of veterans from the industry handling the academic delivery," says Dr. Sanjiv Marwah, Director JK Business School.

Being a part of a large business house has enabled JKBS students to enjoy a unique advantage of learning about all business tools and techniques from professors with vast theoretical and practical knowledge, which is regularly polished and upgraded through constant interaction with the practitioners of business in various field. Moreover, holding various faculty development programs, workshops, constructive feedback mechanisms, research activities, and, networking with industry comentors of students, JKBS ensures that the faculty is updated with the latest and modern teaching pedagogies, industry trends. Therefore, the highly experienced faculty finds no qualms when it comes to expertly guiding the students. Add to this an excellent infrastructure including residential accommodation, a Jio Wi-Fi campus, a 9 am to 9 pm learning environment, a library that opens till late evening on all seven days, and a 24/7 access to a digital library, you have a winner in JK Business School!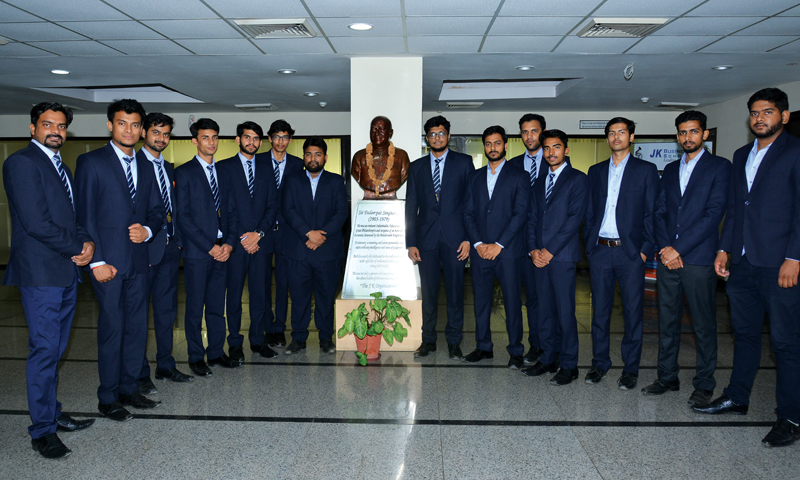 JKBS is diligent when it comes to shaping students into true global managers. Hence, JKBS graduates step out of the campus after being thoroughly groomed through various personality enhancement programs, high profile management conferences and student-led activities of contemporary importance in the corporate world. However, a crisp white shirt and a briefcase do not mean you are the changemaker that the corporate world is looking for. It also asks for compassion and social responsibility. JKBS does wonders when it comes to giving back to society. For instance, via its CSR division, the School has taken up several noteworthy initiatives like JKBS Outreach Program in the  Damdama Village, where the students organized a complete health check-up camp. Another such initiative is he regular evening classes for the
underprivileged children. No wonder industry giants like HDFC Bank, TLC Group, Oyo Room, Byju's, Learning Route, NIIT Technology, SS Globe Op, and Safe Express insist on having JK Business School as their go-to when it comes to recruiting proficient and capable managers.
Charting future plans, JK Business School intends to collaborate further with the Industry and launch several skill-based courses. Along the same lines, the School is also planning to introduce more courses in Fintech, Financial engineering, and Sustainable Management. Similarly, updating its current Digital Marketing and Business Analytics curriculum by working closely with the industry and government bodies is also in pipeline. One major project that the School is working on is partnering with Ivy league business schools to launch management programs.JK Business School has already proved that it has a no-nonsense approach when it comes to delivering results. One can easily forecast that the School is on its way to greater heights.
The X-Factor
There is only so much that a textbook can teach students, especially when a barrage of information is being added to the business community by the minute. So how does JK Business School enable students to stay afloat of the information deluge and cherry-pick threads of vital information? Here is how: JKBSuses Moodle, a learning platform designed to provide educators, administrators, and learners with a single robust, secure, and integrated system to create personalized learning environments. It provides the most flexible toolset to support both blended learning and 100% online courses. JK Business School has been one of the pioneer institutes in India to adopt blended learning in the classrooms and allows students to get up to 20% credits through MOOC courses.
Likewise, IIMBx Foundation-MOOC & IIMBInnovation and Entrepreneurship also come into play, thanks to the MoU that JKBS has signed with IIMB. The tie-up enables students to avail of a one-year online certificate program as part of the "IIMBX School Partnership Program. Moreover, to understand how the cogwheels turn in a real business setting JKBS entrusts its students with various Live project opportunities with companies like Safe Express, RepublicMotors, United Colors of Benetton, Aditya Birla group, etc.
Alongside live projects, understanding the importance of Internship opportunities in the lives of the students, the School offers the RTTSummer Internship program. The students are given a venue to practice various management principles in the corporate world and learn the skills required/demanded by corporate so that they have a better chance of fulfilling their career dreams.
But merely sending students for internships will not promise concrete returns. Therefore, the school tracks the progress of each student in real-time. The RTT Summer Internship Initiative is to take the Summer Internship experience toa next level using Google Drive, where weekly assessments are carried out, timely guidance, via Google Sheets, is provided, and personal visits are undertaken by faculty mentors. This initiative is a collaborative effort of Industry and institute to impart a great learning curve and help students cultivate practical and efficient skill-sets demanded in the industry.
It is also important to mention the various technological innovations that the School has utilized to expedite knowledge transfer. For instance, the School employs a VirtualSimulation program to enable young aspiring management students to practice their management skills. Working on artificial intelligence, the students can use the simulation model up to 5 times a year. It allows for SinglePlayer Mode, where one student can play individual simulation against AI Bots 3 times a year, and Workshop Model, where the faculty runs the simulation program along with the curriculum. The students are then ranked using a Balance Score Card.JKBS is also the only management School in Gurugram to team up with AIMA for its online business simulation program, Bizlab.
Related Articles