The faculty members of IIMT University (IIMTU) believe that education is not the filling of a bucket, but the lighting of a fire. "We follow modern and innovative teaching techniques that are student-centred. The curriculum is carefully and strategically designed to enhance the knowledge and skill development of a student. The syllabus is industry-oriented and caters to the dynamic requirements of the professional world", remarks Dr T. S. Easwari, ProVC – Academics, IIMTU.
In an ongoing process, the students at IIMTU are evaluated regularly based on attendance, class participation, assignment submission, research, and project works, along with their semester examinations. "This helps us monitor the effectiveness of the teaching-learning process closely and rectify the gaps before they become too big. All in all, education at IIMT is inspiring hope, igniting imagination and instilling the love for the learning", says Dr Easwari.
Committed to providing a world-class education based on their core values, The IIMTU has been established under Uttar Pradesh Act Number 32 of 2016. The University has a rich legacy in the field of education and exemplary recognition in corporate, academia, and the public at large. Being in the best private universities in North India, IIMTU offers programs at the diploma, undergraduate, postgraduate and doctoral level in Engineering, Applied Sciences, Management, Hotel & Tourism, Pharmacy, Law and Health, and Allied Sciences. Also, the University inculcates an environment of Innovation and Research. Envisioning to be a world-class university that imparts knowledge and values, providing students with an excellent learning experience, Dr Easwari adds, "We stand for academic, professional and ethical empowerment of the youth by using the state-of-the-art technology, time-tested and innovative concepts, excellent infrastructure and internationally acclaimed facilitators".
Carving out a Niche in the Industry
Working in the field of education for the last 26 years, IIMTU continually strives to provide industry required education by offering courses that help them become industry-ready like Computer science and Engineering with specialization in Artificial Intelligence and Machine learning, Cyber Security, Internet of Things, Bachelor in Computer Application with specialization. Also, the institution encourages students to pursue courses on NPTEL/SWAYAM, which offers several open online courses where students get the opportunity to learn the latest trending courses in their respective fields. "We have various tie-ups with a reputed educational organization that have helped gain a deeper insight into research and development. We also organize many workshops and webinars to help the students update themselves according to the industry requirement", adds Dr Easwari.
A lot of innovation and creativity is required to become a good entrepreneur. One must learn to initiate the idea with proper planning and be able to develop something new. An entrepreneur is the one who is open to ideas from others, and we always promote our students to work and think differently. A star feature at IIMTU, the Entrepreneurship Development Cell has been launched to strengthen the entrepreneurship education & research ecosystem. "Our students, Mr Akshay Raj and Mr Vaibhav Sharma, members of IIC of our institute, have participated and successfully the EDP Program Organized by MHRD's Innovation Cell at AICTE, HQ, New Delhi. Also, we have registered the first Start-up unit "Star Technologies under IIMT Media from UP", adds Dr Easwari.
Having major collaborations with the industry, IIMTU has MOUs/ Academic Collaboration with institutions like Cyber Jaya University, University of Kashmir, Bikaner Technical University, and many more. "We also have an MOU with IIT Kanpur for Augmentation Course in each semester (BCA, B.Sc(CS) and MCA) along with being a training partner in the field of journalism and mass communication, a venture of Amar Ujala Newspaper for field training, which has helped in our development in Academics, Research and Innovation.", states Dr Easwari.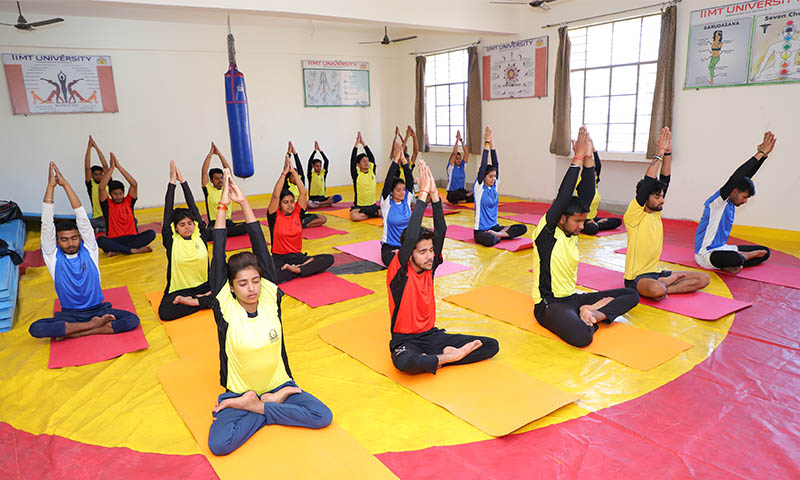 Imparting Education during Tough Times
With the complete education sector being affected by the COVID19 Outbreak, higher education has been mainly affected in terms of teaching and evaluation. An immediate and effective response to the crisis was to go digital. Developing robust online platforms has become necessary to offer continuity in learning. Nationally there was a call for a de facto switch to virtual teaching, learning, and evaluation, pushing a huge number of teachers into an unfamiliar mode. "The COVID-induced virtual mode will bring about several transformations in the concept of higher education institutions, their clientele, and practices", opines Dr Easwari.
Keeping the pandemic situation on a great priority, IIMTU stepped into the digital environment. Teachers adopted various online tools like Google Classroom, Google Meet for effective teaching and learning. "Good teaching methods and practices are being done for a better understanding of the concept. Appropriate E- content is available to the students so that they can take leverage of it in the future too if required", says Dr Easwari.
IIMTU is leading towards creating an innovation promoting ecosystem in the campus to encourage, inspire, and nurture young students by supporting them to work with new ideas and transform them into prototypes while they are informative years. At the University, every student finds a stimulating environment conducive to learning and experimentation. Regular interaction with researchers, teachers, and industry experts give the students a creative edge. Classroom lectures feature creative discussions and out of the box thinking. Through such lectures, students are inspired and gain motivation to cover the subjects in depth.
The University has also established the Institute Innovation Council (IIC) in collaboration with MHRD, Govt. of India, to systematically foster the culture of Innovation amongst all Students of IIMTU. "Business Incubator, IPR Cell, IIC – IIMTU Cell & EDP Cell, all together are creating an innovation/startup ecosystem by organizing expert talks, webinars, training sessions, workshops, screening & sending outstanding ideas to Govt. of India agencies for funding, establishing collaboration with National and international organization like PUM Netherlands, Wadhwani Foundations, recently with IIT-Ropar Technical Business Incubator for technical guidance & support", adds Dr Easwari.
Changemakers of the Modern World
All IIMTians are unique in themselves, proving to the best asset to the organization and the real ambassador basking in the glory of success. The industry-academia interface has given wide exposure to reach the pinnacle. Students at IIMT have shown remarkable performance in academics and co-curricular as well. Dr Easwari points out, "Our students got their projects appreciated and approved. Securing a Gold medal in Pharmacy added a feather in our cap. Our Alumni are placed in reputed MNCs and have even grabbed Govt jobs. They have also displayed their mettle having their startups and are proud CEOs. Clearing GRE and pursuing further studies abroad has also buzzed IIMT at global portals".
The students of IIMTU have also shown their technical flair and worked for the advancement in the field of R&D, while some have carved their niche in the Film Industry as well. Getting successful in life and having a career in his dreams is sure to boast about those proud moments in a student's life. Overall, IIMTU has proudly given good human beings to society.
IIMTU is committed to thoughtful strategies and innovations to foster change and harp opportunities for advancements and success. Strategic planning is intrinsic in defining the path to the future. Year after year, session after session, IIMTU incorporates new goals to achieve even greater success. Enhancing their students' overall personality, and expanding their research and development as their main motto, the University is all set to come up with more projects to help job seekers into entrepreneurs through their Institute Innovation Cell.
Planning to be acknowledged at a global level, IIMTU is consistently trying to nurture a 21st-century learning environment with advanced educational tools and practices by bringing change in the outlook and persona of IIMTians. Working on receiving grants and providing scholarships to the necessitous students which may provide more opportunities to be engaged in extensive research and creative work, IIMTU is also on the verge of collaborations and receiving MoUs with international universities, IITs, etc. "Developing International relations with the Embassies of different nations across the world will help our students thrive in an increasingly diverse and complex context. As we meet these goals, our University will continue to be a leader in preparing its students for success", concludes Dr Easwari.
Dr T. S. Easwari, ProVC – Academics
Educating and implementing the teaching-learning process in the University & mentoring students towards goal setting and improving personality development skills, Dr Easwari joined IIMT University in 2008. She has specialized in Industrial Pharmacy and has completed her PhD on Nanoparticles. Posted as an Inspector for B.Pharm and D.Pharm Institutes in India on behalf of the Pharmacy Council of India, Dr Easwari received the Thirumathi Vasumathi Ammal Bharathi Endowment Award for standing first throughout the B. Pharmacy course in the college. With an academic experience of 21 years, Dr Easwari is a registered pharmacist and has attended various workshops and seminars and presented her papers as well.
Related Articles