The pandemic has disrupted the study-abroad plans of several students across the globe. To address the various challenges faced by the students and their families due to COVID-19 situation for pursuing overseas education, IDP Education has been hosting the biggest virtual education fair to pave a seamless journey for the aspirants who aim to study abroad. "When the pandemic hit the world, we immediately branched out our physical education fairs to a virtual mode. These specialised virtual education fairs are meant to connect students with top universities and institutions across the globe so they can interact directly and understand their career paths better," says Piyush Kumar, Regional Director (South Asia), IDP Education. In an interaction with Higher Education Digest, Piyush Kumar talks about the significance of IDP Study Abroad Virtual Fair, study programs and scholarships for various countries, and how is IDP supporting Indian students to reach their goals during the uncertain situation caused by the pandemic.
How has been the impact of COVID-19 on Global Education so far? How will it affect the upcoming academic years?
The impact has definitely been unprecedented, but combatable. Institutions across the world acted swiftly to provide students with new models of education like blended learning. These models are well-thought and ensure that the students experience the same high-quality education online while they wait for air travel restrictions to get lifted. Most governments have assured that all students who enrol for online learning shall enjoy the same post-study work rights as they would in normal circumstances.
However, a bunch of students have decided to defer their admission to the next intake, hoping to study exclusively on-campus. While this is a subjective choice, these students will have to wait longer to graduate as planned initially, whereas students who have opted for online semesters will be able to earn their degrees without having wasted any time.
Do you think the gaining popularity of online learning will affect the demand for traditional educational institutions across the globe? What would be the status of international student migration post-COVID? 
The introduction of online learning is a great positive step in the field of international education. The accessibility and flexibility of the same have given confidence to many students who were still doubtful of pursuing their higher studies abroad. It was a much-needed step towards the onset of this new era of digital maturity. I believe that both online mode of education and traditional approaches can and will co-exist in the coming future, providing with new opportunities to students who want to enhance their career prospects.
What is the significance of the IDP Study Abroad Virtual Fair during the worldwide pandemic situation? Tell us about the benefits of the virtual fair.
IDP has been in the international student placement industry for more than 50 years, and we understand what a student goes through during various stages of decision making really well. When the pandemic hit the world, we immediately branched out our physical education fairs to a virtual mode. These specialised virtual education fairs are meant to connect students with top universities and institutions across the globe so they can interact directly and understand their career paths better. They can discuss their individual profiles, the scope of their programs, explore scholarships and even apply on-the-spot if they are eligible on a dedicated video call with the institution representatives. In the ongoing series of virtual fairs, we have over 170 world-class institutions participating to guide students aspiring to study abroad in Australia, Canada, New Zealand, Ireland, the UK and the US. Attending these virtual fairs is absolutely free for the students, who also get a pre-counselling session from our trained international education experts.
What is the role and responsibility of IDP in fulfilling the aspiration of students for studying abroad during a pandemic?
IDP is committed to help students realise their dreams of studying abroad. Even in the COVID- 19 times, IDP was the first one in the industry to launch its virtual offices across India to guide students along their path. Our international education experts have been accessible throughout and counselling students to choose their best fit besides keeping them posted about the latest developments. Besides this, we have regular virtual events to connect students with over 170 top institutions across the globe from Australia, Canada, New Zealand, Ireland, the UK and the US. In fact, IDP experts have also been regularly conducting Facebook and Instagram live sessions to keep connected with our students and update them with any latest developments in international education.
Tell us about the study programs and scholarships for various countries available right now. 
Canada
Canada is one of the most popular study destinations in the world, offering high-quality education at an affordable fee structure with credentials that are recognised globally with an opportunity to gain valuable Canadian work experience.
Some of the most popular programs in Canada which are also being offered in a blended format (online start) right now include Marketing Management, MBA, Global business management, Artificial Intelligence, Information Security Management, Electronics and Embedded Systems Development, Health Care Programs, Machine Learning, Urban Planning and development, Renewable energies, Project Management, Supply Chain Management and Logistics, Early childhood education, and Hospitality management.
The scholarship and financial assistance offered to students right now in Canada is as follows:
Ancillary charges which normally include insurance and other non-tuition components are being waived off – CAD 500 to CAD 1500
Merit-based scholarship basis academic excellence and extracurricular activities – CAD 1000 to CAD 15000
Language skills scholarship – Based on IELTS score – CAD 500 –CAD 1500
Additional reduction in tuition fee at certain institutions – 10-15% of first semester's tuition
Australia
Australia offers a wide range of programs and specialisations across varied disciplines at the bachelors, masters and research levels. There are a good number of vocational and technical training courses available as well. During this current period, Australia has been very swift in transferring its teaching and curriculum to deliver it online to all students, including those international who are offshore. Lectures, webinars, tutorials, assignments, tests are on virtual platforms to cause minimum disruption to the studies and enable students to continue online classes smoothly.
A large number of scholarships are offered by Australian universities for international students. There are merit-based scholarships, bursaries, faculty-specific scholarships. At the moment, some universities are offering a rebate on fees and COVID discount for students studying the semester online. They are offering other flexibilities as well to support international students during this period to ensure that they and their study plans are least impacted due to the ongoing situation.
The UK
There are some institutions in the UK like Queen's University Belfast, University of Exeter, University of Hertfordshire, University of Dundee, and the University of Sunderland, that are still accepting applications and offering scholarship and bursaries.
Some of the top courses available for Autumn 2020 in UK universities include Finance and Management, Business Management, Marketing and Management, Global Media Economics, International Business Finance and Economics, LLM General Law, Media, Culture and Society, Data Science, Advanced Computer Science, Cyber Security, Medicine and Public Health, Health and Psychology, Sports Management, and Architecture.
The US
On average, a university in the US offers more than 300 majors for both undergraduate and graduate program. Some of the most sought- after programs offered or pioneered in the US are Business Analytics, data science, artificial intelligence, embedded systems, machine learning, psycholinguistics, human-computer interactions, etc.
US institutions have an abundant amount of scholarships and financial aid opportunities for international students. Most of the scholarships/ tuition waivers which are specific to the university are given basis the merit as well as holistic attributes of the student. On average, a student in the US will be able to get around 5000 – 18000 USD in scholarship annually, which could be renewable if the student meets the desired requirements.
Assistantships are most common in US universities awarded to credible students. Some of them are Graduate Assistantship, Research Assistantship, Resident Assistantship, Teaching Assistantship, etc. The assistantships are quite adequate for the international student, it might be more than the tuition and could cover the other expenses as well. The key to receiving admit from US universities with funding is to make sure that student distinguishes themselves from the competition by researching opportunities and enhancing their application.
About Piyush Kumar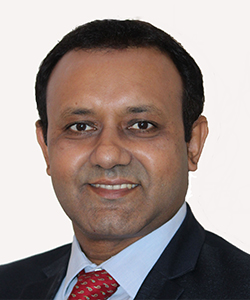 Piyush Kumar joined IDP Education in 2015 as the Country Director for India and was further appointed as the Regional Director for South Asia in 2017. He heads IDP's operations in the region and oversees the execution of business strategy and manages the operating and service performance across Student placement as well as IELTS.
He is also a member of IDP's Global Leadership Team and has played a key role in driving exceptional business growth and opportunities for the region. He led the market entry strategy for Nepal as well. Under his leadership, IDP has significantly expanded its footprints and opened 23 new offices across the region in the last 3 years.
Piyush has a rich and diverse operational expertise of over 20 years in sales, operations and marketing, both in India and international markets. Before joining IDP, he was working in financial services and consumer goods sector. He also has extensive experience in building and leading strategic partnerships with large financial, retail and industrial institutions.
Related Articles