Rohit Ramasubramanian leads the New Ventures team at the Rajasthan Royals. As part of the role, Rohit oversees new revenue & monetization opportunities for the Royals, including new business lines, products and investments. Some of the notable ventures include the Royals School of Business, a sports and sports-allied education platform for budding sports professionals; and the Rajasthan Royals Academy, an asset-light global cricket academy franchise business. Rohit graduated from the Indian Institute of Technology, Madras with a Bachelor of Technology. In a conversation with the Higher Education Digest, Rohit Ramasubramanian talks about the vision and mission of Royals School of Business, its collaboration with INSEAD, how to become a sports manager and much more.
Tell us more about the establishment of the Royals School of Business and its vision and mission.
Royals School of Business (RSB) by Rajasthan Royals is a sports & sports-allied professional education platform, which has been established with the vision to develop it into one of India's leading education platforms through exclusive partnerships with top global universities like INSEAD and Deakin University. Being one of the leading sports franchises in the country with a growing presence across the globe, the idea behind establishing this platform was to make use of the first-hand insights and experiences which can transform the students and professionals into well-polished leaders of tomorrow who can then ply their trade in several domains. We have received a massive response from candidates from across geographies, and that is evident from the amount of scholars who have signed up for the six different programs we offer, with the current number exceeding 1000. What we've also tried is to provide are a diverse range of topics like leadership, sports marketing, sports media & broadcasting, sports operations, social media marketing etc. We have integrated various case studies and masterclasses from our senior management, players and coaches into these programmes, which helps the candidates to deep dive into the Royals' way of functioning players and coaches.
What was the motive behind collaborating with INSEAD for a joint online education programme on Leadership? What are the objectives of this program?
Having already started courses related to sports, operations, digital and broadcasting, we felt it was an opportune time to take a major stride in the education and learning space and enhance our platform by introducing a specially curated course on other topics which can be of importance to a wider audience. INSEAD, being the World's No. 1 business school, was the perfect match for us, and we knew there was no one better than them who could curate a course specifically on Leadership and Performance given their expertise. On the other hand, we wanted to use this opportunity to utilise the leadership skills that are present within our cricketing team, with our Director of Cricket Kumar Sangakkara and captain Sanju Samson helping executives adapt to the challenges faced by organizations in this fast-paced digital era through insightful teachings.
Who is the target audience of this program? Who can enrol and what are the benefits for them?
As I said, the course is designed for young leaders who are embarking on their leadership journey. In essence, this course is for professionals across industries who are progressing from being in an individual contributor role to leading a team of individual performers and emerging leaders who are having to adapt to the demands of managing people and/or forming collaborations in a fast-changing digital environment. The programme also includes 1:1 sessions with INSEAD coaches and also covers the spectrum of leadership and performance drawing parallels from cricket and sports to give the best knowledge and understanding to the candidates.
Do you think India has an adequate number of institutes that can create quality manpower to support the growth of sports in our country?
India has seen a sports revolution over the past decade or so with the sports industry growing rapidly. The emergence of IPL in 2008 played a key role in this revolution, which inspired the creation and popularization of several other leagues in different sports. The commercial growth of these leagues opens up a diverse range of opportunities for individuals who are passionate about sports and have an interest in fields like finance, marketing, media, operations, facility management, etc. According to a FICCI report, India would need nearly 4 million sports management professionals by 2022. Currently, India falls short in training and educating quality professionals to empower the growth of the sports industry. Sports Management, as a field, has slowly but gradually come into the picture and not many know about it or consider it a viable career opportunity because these courses aren't present at the top institutions and universities around the country. However, that is where we want RSB to step in, and through our courses and partnerships with top global universities, we aim to expose students to the sports industry, and show them how they can also make an impressive career through sports.
What are the major changes that you have noticed in the way sports professionals are taught to engage with the world? What are the global trends in sports education?
Since the concept of Sports Management is relatively new in India, each education provider continuously tries to innovate to deliver the best possible outcome for students to learn. With the demand increasing, several ed-tech companies have also started to invest in sports courses. One of the key shifts in teaching has been the utilisation of practical experiences rather than just sticking to the conservative process of just following theory. Institutes now realize the importance of having practical experiences to succeed in this field and push students to get the relevant work experiences through internships or volunteering work, which in turn is creating better and smart professionals rather than just hard-working ones.
What are the career opportunities available for students who completed Programmes from Royals School of Business?
Upon completion of the courses, the students will have gained relevant skills and knowledge which will be helpful in pursuing a career in the field of their course topic. We also have an internship programme wherein deserving students can win the opportunity to intern with the Rajasthan Royals in the respective department. We are pleased to inform that we've already onboarded a few talents as well through these programmes.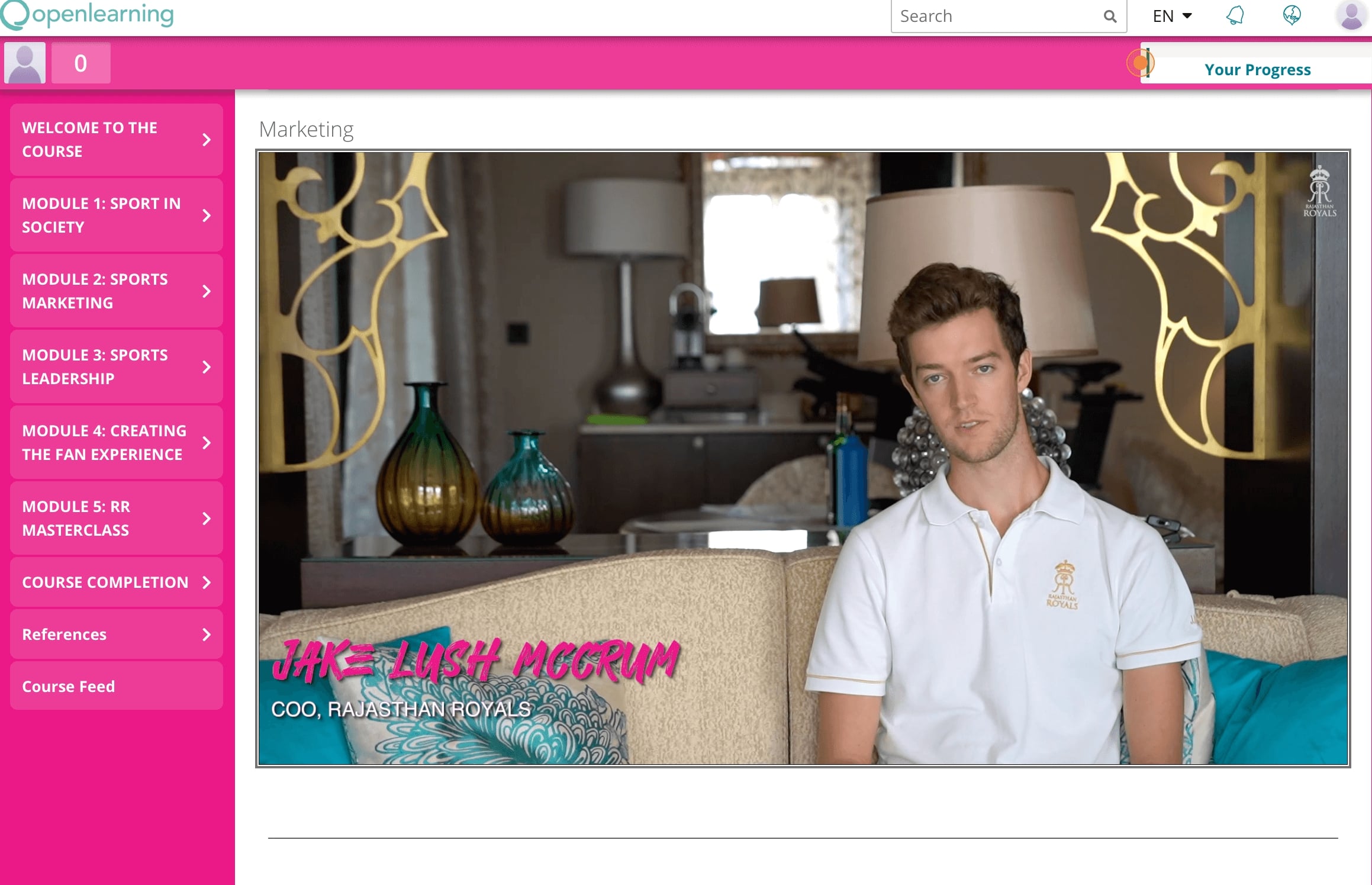 What advice would you give to a student thinking about becoming a sports manager?
There are few things that will help anyone who wants to become a sports manager or enter the sports industry. First, you should focus on constant learning as much as you can i.e keep gaining the relevant knowledge and skills in the field of your choice. Second is to explore opportunities in this field by acquiring some work experience, doesn't matter how small or big the role is, it's important to be involved and understand how the industry functions. Third and most important is to develop your networking skills, connect and stay in touch with relevant people from the industry.
Tell us about your plans for the Royals School of Business.
We intend to create a one-stop platform for sports and business education, being a catalyst to anyone who wants to kickstart their career in the sports industry. With six online courses active currently, and teaching over 1000 students, we plan to launch more courses in the coming months so that a diverse range of topics are covered and give buddying professionals the chance to expand their knowledge base. Over time, we would look to complete the learning journey of our students and not just make them job-ready, but help them find their dream job.
Related Articles