While the schools, colleges and universities around the world remain closed, digital courses and online collaborations platforms are the only possible options for students to continue their studies. "In the upcoming years, universities will continue to adapt to be able to offer in-person instruction and further enhance virtual learning in ways that will keep students and communities safe in the ongoing pandemic while meeting our educational and research mission," says Marc Johnson, Senior Executive Director for Global Affairs and Enterprise Initiatives, Darden School of Business, University of Virginia. In an email interaction with the Higher Education Digest, Marc Johnson talks about the impact of COVID-19 on the International Higher Education and how is Darden School of Business, the University of Virginia dealing with the pandemic COVID – 19, and many more. Excerpts.
How has been the impact of COVID-19 on the International Higher Education so far? How will it affect the upcoming academic years?
The spread of the novel coronavirus, known as COVID-19, has had a far-reaching impact on all sectors including, higher education. The unique ecosystem and experience that Universities provide have been impacted significantly by the rapid spread of COVID-19. Most universities are residential learning communities, and the limitations on in-person interactions, including the classrooms and student life have changed the mode of delivering on our educational missions. Top global universities draw students from around the world, and our international students have been deeply impacted as they face potential travel restrictions and uncertainty. However, despite the short-term and long-term disruptions caused by the COVID-19 crisis, Higher Education will adapt and innovate to come out of this crisis stronger and with new models. The crisis has also demonstrated both the importance of high-impact, in-person learning, and new modes of delivering education that will persist even post-crisis.
For the foreseeable future, higher education will have to continue to adopt new modes of teaching and research and innovate. We know that even as we take steps to reopen safely, we will have to continue to adapt and things will not return to their pre-crisis normal until there is a vaccine or other significant breakthrough. However, in the upcoming years universities will continue to adapt to be able to offer in-person instruction and further enhance virtual learning in ways that will keep students and communities safe in the ongoing pandemic while meeting our educational and research mission.
This will mean new schedules, new forms of delivery, and new approaches to what we do. For example, following the lead of the University of Virginia, Darden has announced plans to start classes on time in August, and in-person classes will conclude by the U.S. Thanksgiving holiday in November. For the incoming new students in the Class of 2022, we have also offered a January start date—this may be appealing to students who are not able to arrive in the U.S. in time for the August start given ongoing travel uncertainty. Class delivery may take a hybrid approach in some cases, with both in-person and virtual elements. The key will be to remain flexible and keep community health and safety at the forefront of planning. We learned a great deal from the rapid changes made these past few months and will continue to innovate in how we deliver in this new context. This is just one example of how higher education will continue to adapt.
How is Darden School of Business, the University of Virginia dealing with the pandemic COVID – 19? What are the steps you have taken for the current Indian students and the new students set to join the institute this year?
The University of Virginia and Darden School of Business have earned praise for compassionately dealing with the coronavirus pandemic, with the top priority being the safety of the community members and flexibility gave the differential effects of the pandemic on members of our community. The School rapidly adapted and implemented changes aligned with the University to prevent the spread of the disease, and to protect the safety, health and well-being of the community while maintaining an excellent learning experience for current students.
In March, Darden announced sweeping changes in the MBA admission policies. We were one of the first business schools to roll out such measures, which included an extension of application deadlines, alternate start dates and acceptance of multiple standardized tests or alternate demonstrations of ability, and if a student cannot take these tests. We are building on these innovations into our next application cycle to ensure that Darden remains accessible even as potential students face many challenges in the current context.
Starting in March, for current students, all classes became virtual and moved online, with students using the Zoom platform to engage in live classes with their peers and teachers. We have prioritized open and honest communication with all our constituents throughout the pandemic, keeping everyone informed to the best of our ability.
For the new students joining Darden from India this coming fall, and all our international students, we are providing significant virtual opportunities to build community and to prepare to start at Darden. This includes a reimagined international student orientation program that will begin in July through the start of School in August, providing resources for our students to prepare. We are also committed to students being able to start with their classmates even if they face uncertainty about the reopening of U.S. consulates for visa processing. Students can request to delay their start until our new January option, and still complete the degree on time with their classmates, or join classes in a live, virtual setting until they are able to join us in Charlottesville.
There has been an increase in the adoption of Edu-Tech by Higher Education Institution across the country. How do you see this trend? What are efforts from Darden School of Business in this regard?
The coronavirus pandemic has resulted in strategic pivots, disruptions and adoption of new technologies, platforms, and formats. Darden has been able to step forward and meet this challenge by enhancing its digital offerings, temporarily moving classes to a virtual format, and using technology to ensure a high-quality experience for students.  Fortunately, at Darden, we have been teaching live, virtual classes for several years in our executive format degrees and developed significant online offerings in lifelong learning.
The Darden mode of teaching is driven by discussion and engagement in the classroom, and we have transitioned this to a virtual setting where students and faculty can talk live and engage with the materials. While this is not the same as the in-person setting, this has also opened new opportunities. To give just one example, Finance Professor Michael Schill was able to replicate his popular trading simulation game in the virtual realm, with students spread out from Asia to Charlottesville engaging in a high-speed trading experience in the virtual classroom.
Working under the assumption that technology will play some sort of role in the 2020-21 academic year, we are piloting several new technologies that will help replicate the purposefully intense Darden classroom using different modes. We are continually upgrading both the technology in our facilities to enable potential hybrid teaching with students both in-person and online and in platforms.  The faculty are spending this period redeveloping courses, learning new tools, and preparing to teach in new settings. Importantly, Darden teaches primarily using the case method, and the format translates well to the virtual environment.
What is your opinion about the Indian education system and talent available here?
India has some of the earliest recorded centres of higher learning in the world where students came from across to acquire knowledge in a diverse set of subjects. Learning and pursuit of knowledge have always been a big part of the culture in India and is respected and revered. India has one of the largest educations systems in the world with a highly mobile student population.
Indian students make up a significant proportion of International Students in universities across the world and have long been a critical component of the Darden community. Generally speaking, Indian students want to take part in a high-quality academic experience and use education as a springboard for employment in India or abroad. I know that India is also witnessing rapid growth in its economy, which is creating a demand for future business leaders, and I hope Darden can continue to play a role in fulfilling that need.
With ever more business seeking to expand their operations across the borders, there is a rising demand for business graduates with a global mindset. At present, what are the most significant opportunities and challenges in the international business education sector?
The world of business is changing rapidly, with disruptions and innovations across the world. New innovations, models, platforms, and ecosystems are emerging regularly. The pace of change is ferocious, and business graduates who cannot adapt will struggle. Models that work in one location may not work in another, but of course, some scale globally, and learning from one geography can be applied to other areas. In this landscape, it is important for students to have a global mindset, respect, and appreciation of doing business across the world, and an ability to keep learning new things. Therefore, we are committed at Darden to helping our students develop a global mindset and be prepared to lead in a global context. Historically, we have done this both through creating a diverse, global community in our classroom, where our students can learn from each other and in providing opportunities for our students to study with Darden faculty in other parts of the world in our Darden Worldwide Courses.
In the environment of the pandemic, there are challenges to international business education in restrictions on travel and the ability to spend time in different places. We think that this only increases the value of engagement with a diverse set of classmates in a program, to learn alongside each other. We are also committed to enhancing a global mindset even in a world where travel may temporarily be limited – through virtual opportunities, engagement with business challenges around the world through consulting projects from off-site, and other ways to learn and engage in a global context.
The pandemic also presents significant opportunities and reminds us that understanding global business dynamics is more critical than ever. Learning how to work virtually with colleagues, partners, suppliers and customers across borders and cultures is a crucial skill. The ability to engage in our global context will only become more, not less, important.
Many Indian students go abroad each year for higher education in various educational institutes all over the world. Can you share us necessary know-how on a student's life abroad, especially in the U.S.? What are the pros and cons?
I think the pros often outweigh the cons when a student decides to move to U.S. for higher education, although of course it is an individual decision and by no means a prerequisite for a great education or career. The major benefit of coming to study in the U.S. is the exposure to a different context, both the U.S. itself as a major global business centre, but also the diverse international perspectives from classmates.
Exposure to new environments is key, and the opportunity to learn in an amazing academic environment, with leading faculty with different pedagogical styles, and live and work with students from all over the world allows for an incredible growth opportunity. Indian students bring their own academic preparation and cultural knowledge to this environment.
Indian students at Darden typically adapt very well and thrive in these new environments. We see our Indian students not only do well in their course of study but go on to excellent jobs in line with their own purpose and goals for higher education.
For those who are uncomfortable in radically different environments, the culture shock that one often feels abroad could certainly be considered a con. But again, pro or con would differ entirely based on the individual.
What are the biggest concerns you hear from Indian students while opting for the U.S. as their study destination? At the University of Virginia, how do you help them overcome that?
I think Indian students would be the best fit to answer this, but certainly, the different culture can be a concern, and there is no doubt the cost of higher education in the United States can be high. At Darden, we try to help overcome the costs with scholarships and financial aid, but we recognize the MBA is typically not an inexpensive proposition.
The classroom can also be quite different. Indian students sometimes say they are used to a more lecture style of learning, and the Darden classroom is a dynamic environment, where students work every day to develop a leadership voice. Indian students typically excel in the environment, but as a former Darden student myself, I can tell you that it takes some getting used to. The combination of a top undergraduate education at an Indian institution with the Darden classroom that pushes students to find their leadership voice and engage as decision-makers is a powerful one. Therefore, we see our Indian students find such success coming out of the MBA program as they pursue their next steps.
There is a broad support network of students and staff at Darden who help students with international backgrounds succeed and achieve their potential. We provide resources starting from before they arrive, through the MBA experience to help adjust to that culture shock and a new setting.  We have a dedicated assistant dean who works focused solely on supporting our international students. As anyone who has studied abroad knows, it is a learning curve for a new place and new culture, and we are with our students every step of the way in that journey.  Darden also has multiple professors who are originally from India, ranging from some of our newest faculty members to groundbreaking professors in leadership roles.
The Darden student culture also seeks to engage our diverse student population and reflect the backgrounds of our many students. Among Darden's many clubs and organizations are the Darden South Asia Society, which organizes seminars, speaker series, panels, recruiting events, admissions activities, and cultural and sporting events distinctive to this region. The club has many students from India and South Asia, but it provides cultural opportunities for the whole School, organizing Holi and Diwali celebrations and career panels with alumni, for instance.
Tell us about the scholarships offered by the University of Virginia to attract international students, especially students from India.
Darden is committed to fostering a globally-minded community that reflects the global business world. To elevate the diversity of perspectives at the School, Darden has created scholarships specifically for international students.
Most of Darden's merit-based scholarships do not require an additional application. If admitted, students will be evaluated for available scholarships, which are competitively awarded based on a variety of metrics and considerations. Some scholarships require a supplemental application.
Also, the Darden Worldwide Scholarship program covers the course fee for a Darden Worldwide course for all Darden full-time MBA students.
What is your advice to the India students who wish to study in the U.S.?
I would advise them to reflect on their goals and have clarity around what they want to achieve. Studying in the U.S. can lead to many different pathways, depending on what a student hopes to do following School. And every institution will provide different opportunities alongside a great education. Students should think about the environment they want to be in.  Do they want to be in a big city or a small town? Are they comfortable in big classrooms or would prefer more intimate and smaller classrooms?
They need to reflect on their expected interests, expected learning outcomes and the way they like to learn. This is critical as it will help them look at the best fit and allow them to learn in the best possible way.
I would also advise them to focus on the eligibility criteria of the schools they are interested in so that they can plan accordingly.
Then, with those reflections in mind, reach out to target schools. Most will be eager to tell you more and are likely to put you in touch with students or alumni with similar backgrounds. Ask tough questions and get to know the School as much as possible. We know Darden is not right for every student, for instance, and we encourage applicants to know exactly what experience they are signing up for before they make the final decision.
About Marc Johnson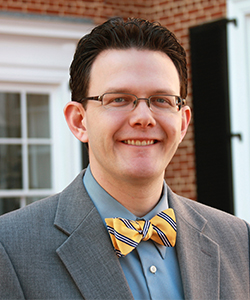 Marc Johnson serves as senior executive director for global affairs and enterprise initiatives. Johnson is responsible for guiding and advocating for Darden's global strategy, initiatives and engagement, working alongside leaders across Darden to extend the School's impact and reach around the world. He leads CGI in partnering with faculty to create a suite of global learning opportunities for Darden MBA students, delivering courses in 20-plus countries a year, and to advance global thought leadership and engagement with practice. He also works closely with stakeholders across UVA to further the University's impact globally.
Prior to Darden, Johnson served as assistant director at the Sorensen Institute for Political Leadership, overseeing political leadership training programs for high school students through working adults.
He serves on the advisory council of the Reves Center for International Studies at William & Mary and the advisory board for experiential learning of the Global Business School Network.
Johnson teaches international business in UVA's undergraduate interdisciplinary studies program and courses in leadership for the Sorensen Institute. He has also taught courses in entrepreneurship and nonprofit management. He is the co-author of several entrepreneurship case studies through Darden Business Publishing.
Johnson holds an MBA from the Darden School, and a master's in education from the UVA Curry School. He graduated Phi Beta Kappa from the College of William & Mary with a bachelor's degree in government.
Related Articles