Holy Angel University (HAU) is a non-profit Catholic Higher Education institution in Central Luzon committed to providing accessible education that transforms students into persons of conscience, competence, and compassion, all for the glory of God. The University offers academic programs from primary education and undergraduate to postgraduate levels.
"At HAU, our vision is to become an intentional university of choice for innovative and accessible international education founded on Catholic values in the service of our communities and society," shares Leopoldo N. Valdes, President of HAU.
Aeronautical Engineering Program
The University's Bachelor of Science in Aeronautical Engineering (BSAE) program has remained its most popular program since it started in 2011. It is one of several programs that prepare students for aviation and the airline industry careers. This school year, about 1,500 students are in the BSAE program.
The BSAE program received Level 1 accreditation from the Philippine Association of Colleges and Universities Commission on Accreditation (PACUCOA) in August 2019. From 2015 to 2017, all BSAE graduates passed the professional regulatory examinations for Aeronautical Engineers.
Campus – Functional and Aesthetic
The BSAE program at HAU has appropriate laboratory facilities on one of the country's most beautiful campuses. These Aero labs have five different set-ups: 1) AE Workshop Laboratory for Aircraft Materials, Construction and Repair, Aircraft Production, Maintenance, Planning and Control, and Powerplant Engineering Courses; 2) AE Wind Tunnel Laboratory Flow Simulation, such as Fluid Dynamics and Aerodynamics, and for testing Aircraft Structure Designs; 3) Chemistry Laboratory for Engineering Chemistry; 4) Physics Laboratory for Fundamental Physics; and 5) Computer Laboratories for Computer Aided Design and simulations.
Diverse Student Population
Over 17,000 students from around the Philippines call HAU their university, making it the largest private institution in Central Luzon. There are over 100 international students from Korea, Nigeria, the USA, China, the UK, Denmark, Ghana, and Nepal, including dual citizens.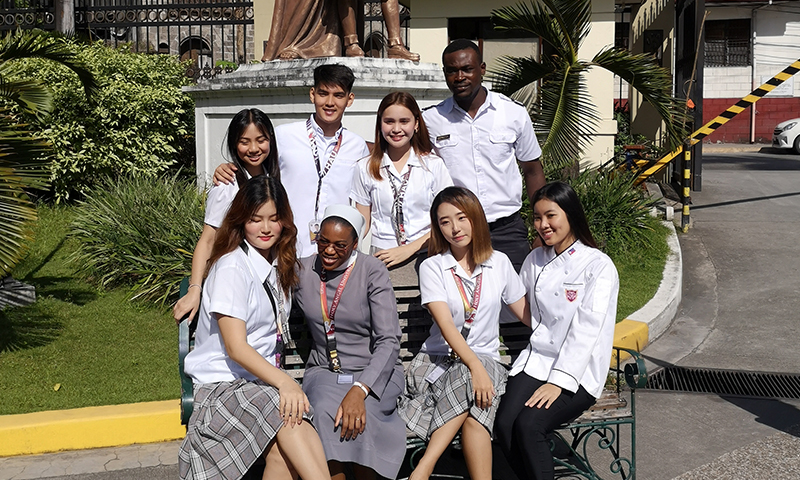 Industry-trained Faculty
HAU's BSAE program has very qualified, highly technical faculty members with engineering and functional specializations. They provide quality instruction through innovative teaching-learning techniques and use one of the country's most prepared learning management modalities.
Synchronous student and instructor sessions focus on socialization, looking for engineering solutions to real-life problems, and working on limited available data. Moreover, the faculty members encourage all engineering students to contribute to society by applying innovation, critical thinking, and analytical and problem-solving skills to the country's priority issues.
Students appreciate faculty and staff for their warmth, compassion, and competencies. As a result, the program's alums greatly respect the faculty and alma mater years into their successful careers in engineering and related fields.
Mutually Beneficial Collaborations
HAU has built long-term relationships with global institutions and individuals to incorporate international curriculum development, intercultural recognition, teaching and learning alliance, and research collaboration.
HAU has partnered with aeronautical and aviation companies in and around Clark International Airport's special economic zone. These collaborations include testing, internships, pilot education, and aircraft maintenance pathways. HAU also receives government research grants for projects such as solid rocket fuel, renewable energy, and Unmanned Aerial Vehicles (UAVs). Moreover, the University has collaborated with partners in Europe and USA to offer related postgraduate certificates or degrees. Despite the pandemic, the University worked with international institutions through Collaborative Online International Learning (COIL).
Looking ahead, HAU has planned more partnerships to exchange students, faculty and staff, collaborate on applied research projects and publications, and participate in and co-sponsor programs, projects, workshops, seminars, academic meetings, study tours, and cultural exchange, and internships.
Organized to Engage and Innovate
There are over 50 student organizations that run numerous events annually to engage students. Most events are competitions like quizzes, creative projects, and team works. For example, School of Computing students run hackathons and 'capture the flag' programming competitions. Engineering students create prototypes for design challenges, which have resulted in a few patented devices.
Similarly, students and outside collaborators are allowed to pitch engineering and entrepreneurial ideas to HAU's Technology Business Incubator (TBI). HAU has further expanded its Knowledge, Innovation, and Technology Transfer Office (KITTO), which collaborates with partners and Schools (Faculties) to produce innovative and potentially helpful capstone projects.
Social Responsibility, Scholarships & Grants
Societal responsibility is one of HAU's values and advocacies. It shares the responsibility for environmental preservation, socio-economic and lifelong skills for the marginalized, social and educational advocacies, and support for vulnerable students through scholarships. The University also collaborates with networks and linkages that help contribute to societal well-being.
HAU offers about 42% of incoming students some subsidy or scholarship. The University has scholarships for three groups of students: (a) academically exemplary students, (b) talented students, and (c) financially-challenged students. Moreover, it has a long tradition, dating back to its founding in 1933, of providing financial assistance to deserving working students – a 100% tuition grant and allowances to serve four hours daily in any of the University's offices. HAU provides expanded grants to first-year college students through tuition discounts, uniforms, meals, transportation, book allowances, dormitory space, internet, and device subsidy.
Career-Ready Graduates
HAU has an impressive record of getting up to 75% of the students recruited within six months after graduation. Students from previous cohorts have found work in diverse industries such as business process outsourcing, IT solution development, manufacturing, engineering, and logistics services.
Some students of the BSAE program who completed their internship at Singapore International Airlines Engineering and Alpha Aviation Group joined those companies permanently.
Making their Best Moments at HAU
The seven-hectare campus of HAU is a great venue to live, work and learn. HAU is in the heart of the commercial and business district of Angeles City, 80 kilometres (50 miles) north of Metro Manila. Students around the globe have taken advantage of this compact city's quality of life, affordability, and tourism.
The University's Office of the Student Affairs delivers excellent student services and fosters a meaningful and memorable campus life for every Angelite. It provides a series of seminars, workshops, and training that help student leaders prepare for their leadership responsibilities and enhance their communication skills. Student leaders, in turn, provide many opportunities for engaging fellow students in an active study-life environment. Furthermore, multiple student organizations design co-and extra-curricular activities, projects, competitions, student festivals, and other activities that appeal to all students and provide them with opportunities to showcase their talent and skills.
Building the Next Normal
HAU is an institutional leader that continually innovates its operations and instructions. During the pandemic, HAU became the first University to start online learning in Central Luzon and the first to reopen its doors for limited in-person laboratory instruction.
HAU established the Community of Practice for Teaching and Learning (COPTL), composed of members of the academic groups to share innovations in teaching and learning. In 2020, the COPTL helped build the unique college modality: HAU Online Learning. According to the makers of HAU's Learning Management System, HAU was the only higher education institution in the Philippines to take advantage of consistent content delivery to multiple classes by building courses one term in advance. In their third year of blended learning operation, each School (Faculty) developed the campus reopening modality that matched the conditions and culture of their particular students.
Holy Angel University's Aeronautical Engineering Program is a flagship program that provides various pathways into the Aviation industry starting at a price lower than the total cost of attendance at an American community college. The program will continually undergo modifications and new offshoot programs in response to the aviation industry's needs.
For More Info: https://www.hau.edu.ph/
Related Articles