Dr. Nikolina Ljepava is the Department Chair of Management at American University in the Emirates, a Chartered Marketer, marketing professor, and practitioner. She has extensive industry and academic experience in North America, Europe, and the Middle East. She managed more than one hundred marketing research and development projects in various industries. Professional experience includes consulting and management positions in marketing insights and analytics, data-driven decision-making, market entry studies, and digital transformation. She is an author of more than 60 peer-reviewed research publications and holder of various academic and research awards.
In an exclusive interview with Higher Education Digest, Dr. Ljepava shared her insights on the impact of AI on marketing education, the future requirements for business graduates, her career trajectory, pearls of wisdom, and much more. The following excerpts are taken from the interview.
In your opinion, what is the impact of AI on higher education, especially in marketing education?
Artificial Intelligence is profoundly transforming all industries, and higher education is facing unprecedented challenges due to the rise of AI. AI can bring many opportunities and benefits to higher education in teaching, learning, and research. Nevertheless, we are facing many challenges, especially in the last six months with the propulsive development of Generative AI. Personally, I am fascinated by the possibilities offered by GenAI. It can completely revolutionize marketing practices, making many processes faster, more efficient and improved. We can use these technologies to create written and visual content, identify consumer behaviour patterns and generate important insights. Furthermore, it can be applied to create marketing campaigns, personalize customer experiences, and optimize pricing. At the same time, higher education institutions face challenges with GenAI related to verifying the student work and finding ways for ethical applications of these tools without breaching academic integrity and standards. However, in my opinion, we cannot afford to be afraid of AI and banish it from our business schools and curriculums since our students will need to know how to use those tools and apply them properly to optimize their work processes and marketing campaign planning and implementation. To be able to do that, we, marketing educators, need to be educated and learn about those new tools. Then, we need to find a way to update and adapt the curriculum and our teaching methods while keeping in mind ethical considerations and academic integrity. It is a challenge that we should gladly accept to ensure that our graduates are equipped with the skills necessary to succeed in an AI-driven world.
Looking at the rapidly changing business environment, what are the future requirements for business graduates?
There have been many discussions about the future requirements for business graduates, and what is very obvious is that there is a strong shift toward skill development. To succeed in their careers, business graduates must have a solid knowledge base and a combination of technical and soft skills. First, we must shift from traditional higher education concepts focused on memorization to developing critical and analytical skills. Future business graduates are not expected to be walking databases. However, they must know how to distinguish relevant from irrelevant information, reputable sources from less reputable, and analyze and synthesize available information and data to gain meaningful insights and conclusions. In addition, business success in the future will require an entrepreneurial mindset. Future business graduates should be able to identify business opportunities, innovate and make calculated decisions. Technology proficiency is also one of the prerequisites for success in today's technology-driven world. Last but not least, soft skills such as communication, teamwork, critical and analytical thinking, and emotional and social intelligence will be crucial for success in the rapidly changing business landscape.
Dr. Ljepava, can you tell us about your professional background and areas of interest?
I am a non-traditional academic who decided to shift to academia later in my career after having more than 15 years of industry experience, mostly in digital marketing and communications and marketing research and analytics. I have worked and lived in several countries on three continents so far, so I understand different cultures and working environments well. Early in my career, when I started working in digital marketing, an emerging marketing area at that time, I got interested in human-technology interaction and online consumer behaviour. This interest has guided my professional and academic career since then. I had several phases where I focused my interest on different areas – from user experience, cyberpsychology, and cyber-victimization to online communication and research. Most recently, my interests have been focused on VR and AR applications in marketing, AI applications in marketing and business, and technology and AI applications in teaching and learning in higher education. Aside from human-technology interaction and online consumer behaviour, I also focus on marketing and business analytics, research, and marketing decision-making.
Brief us about your roles and responsibilities as the Department Chair – Management at The American University in the Emirates (AUE).
I have been in the Department Chair of Management position at the College of Business Administration for almost four years. This department is the largest academic department at the American University of The Emirates, encompassing five specializations: Management, Marketing, Human Resources, Logistics and Supply Chain Management and Healthcare Management. My roles and responsibilities include strategic and operational planning, faculty and staff management, budget planning and preparation, promotional activities, annual program assessments, assurance of learning and other program-related analysis, curriculum development, and student advising. Aside from that, as an AACSB-accredited business school, I need to fulfill accreditation-related activities as a Department chair.
We place much emphasis on practical work with our students and ensuring that they have adequate industry exposure throughout their studies, so one of the roles of the Department chair is also related to corporate and industry relations and maintaining and establishing relationships with various professional bodies such as the Chartered Institute of Marketing, SHRM or PMI.
You hold a PhD in Marketing Research with a specialization in digital marketing research and analytics. What made you choose this subject, and how relevant is it in today's digital era?
Since I got involved with digital marketing (20+ years ago), the main area of my interest was always online behaviour and interactions happening in the digital world. So, when I decided to go for the Ph.D., I was initially unsure if, as a holder of a Psychology degree, I should choose a more theoretical area of social psychology focusing on cyberpsychology or an applied one in marketing. However, my professional work was always related to marketing, specifically consumer research, so finally, I opted for a Ph.D. in Marketing Research. My Ph.D. was a mix of applied psychology and marketing, looking at the motivation for participating in online research and the quality of data collected online, and at that time, this was an emerging area of research. With a continuous increase in investments in online research, especially after COVID-19, when companies and research institutions are more than ever oriented toward online data collection, I can say that my Ph.D. topic is even more relevant than when I completed it.
Can you please tell us about your role as a mentor at The Chartered Institute of Marketing (CIM)?
I have been involved with the Chartered Institute of Marketing for over five years – as their Fellow member, Chartered Marketer, mentor, and student tutor. As a mentor, I have supervised the junior CIM members and provided them with guidance on how to steer their marketing careers, develop their knowledge and skills, overcome the difficulties they might face and find their place in a saturated and challenging marketing workplace environment.
What has been your most career-defining moment that you are proud of?
Coming from a professional background, I remember many moments with pride. However, my academic career gave me another perspective, and nowadays, I see myself primarily as an educator and mentor. Being able to impact and support my students to develop into good professionals and good people is the most rewarding thing for me. So definitely, the moments that I am most proud of are not related to my achievements but to the achievements of my students under my guidance and mentorship. Over the years, my students have received many research awards, presented at prestigious international conferences, admitted to graduate programs in some of the best universities, and had successful careers after graduating. For me, these are the most career-defining moments, showing me that I made a good choice to transfer to academia and positively impact the young generation.
If you could give yourself one piece of advice at the start of your career, what would it be?
One major thing that took some time for me to learn is that not everything has to (or can) be perfect. There is such a thing as good enough; in many cases, perfectionism keeps us from moving forward. So, that would be advice for the young me.
In your opinion, what qualities constitute a good leader?
A good leader should lead by example, demonstrate honesty, empathy, ethical behaviour, and consistency. They must possess the ability to make sound and timely decisions. A leader needs to have a clear vision for the company's direction, know how to inspire the team, motivate them, and support them in times of crisis and uncertainty. A good leader never forgets that he or she is a part of the team and that we can succeed only if we all work together toward a common goal. A good leader is not feared by their team but rather seen as a role model and approachable person who can embrace the team's feedback and ideas. Assertive and respectful two-way communication is an important quality of a good leader, allowing for constructive discussions and mutual understanding.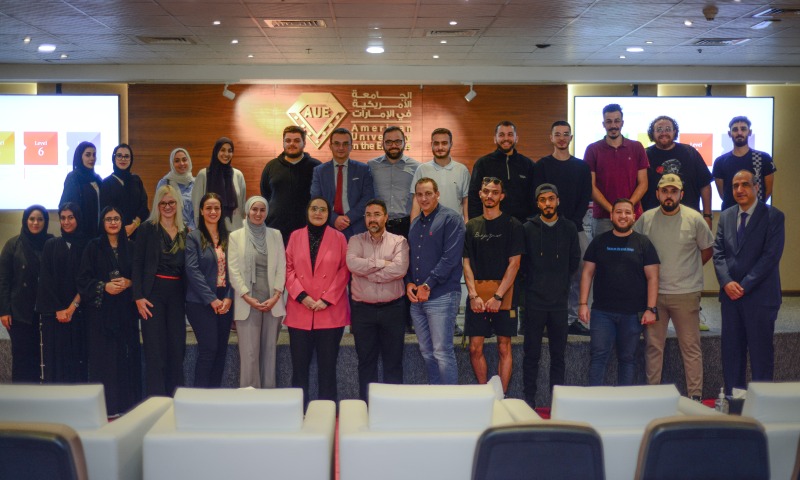 How do you define success? What is your take on the ways to achieve long-term success?
I believe success is an individual category we must define for ourselves. In modern society, we tend to relate success only to career and work, but many other areas of life can give us fulfillment and a sense of accomplishment. Success is not only a high position or high salary, having power or respect of others – success is being able to achieve your goals, whatever they are; success is being able to learn new things, recover from the difficult situation, stand up and continue toward your goals when you fail. Success is being surrounded by people you love and respect and having strong social support from your family and friends. Success is being able to live a life in a way which is aligned with your values and ethics. If there is one piece of advice that I would give to young people is not to allow themselves to be defined by other people's perception of success. Find your passion, find what you love, do your best, and do not be discouraged – keep trying and success, however you define it, will come. Persistence is the key.
What piece of advice would you give to aspiring marketing professionals across the globe?
I believe several skills will be essential for future marketing professionals, from digital literacy and understanding of all digital marketing tools and platforms, marketing analytics and analytical tools that will enable them to gain insights needed to make data-driven decisions to the development of their critical and creative thinking skills. However, my most important advice is to be prepared for continuous, lifelong learning. Everything you know today in marketing can (and probably will) become obsolete in 5-10 years. Therefore, to progress in your marketing career, you must continuously follow new trends, learn new tools and stay on top of all the most recent developments. Marketing is a dynamic discipline; only continuous learning and professional development can help you keep your competitive advantage in the job market. Remember: graduation is not the end of your learning journey – it's only a start!
Related Articles