The case of online education is tricky for architectural training, as most design (studio) courses require some form of residency component -computing a large part of the course requirement, which is now hindering the progress of academic pursuit. Additionally, not all faculties, departments, and staff are equipped to shift to online, and most have never dealt with this. "We are integrating technology in our coursework, sensitizing urgency of working with nature to remain sustainable, acclimatize to blended learning, explore architecture as a wider field to remain viable and relevant", says Dr. Neena Singh Zutshi, Head of Department, GD Goenka University – School of Architecture and Planning (SoAP), Haryana.
Universities and colleges yet to implement changes to campuses in response to the Novel coronavirus could take cues from others who have already taken action. They should analyze the steps already taken by other educators to understand what has worked, what hasn't worked, and how to tackle the challenges they may face. With studio interactions impacted and interactive theory classes disrupted, SoAP faced a lot of difficulties in imparting education to their students during the Pandemic Outbreak. "With limited internet coverage and access to stationary and model-making equipment halted, we had to take a steep learning curve to negotiate online classes," points out Dr. Neena Zutshi.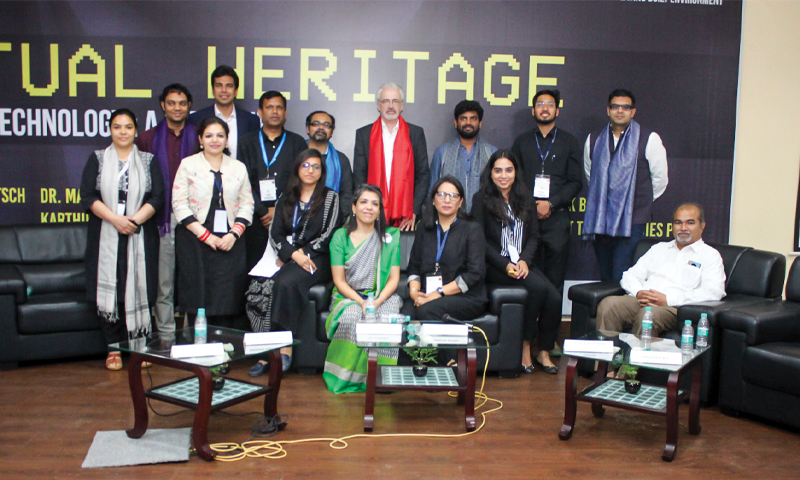 Focusing on academic rigour against all odds, Goenka University adopted software to draw on shared screens, screengrabs, stylus, and interactive PDFs that were employed to discuss drawings. Sketches made on Microsoft Paint to explain conceptual ideas and Link sharing was used to explore case studies. "We inserted mentor-mentee sessions in the timetable weekly. Students left alone in online meetings for informal discussions, peer to peer learning is encouraged where students are asked to critique each other, along with virtual interactions, by inviting all students to come for open juries", adds Dr. Neena Zutshi.
SoAP was set up in 2014 as a part of the G.D.Goenka University. To develop an identity, SoAP set up its motto as "Empathize: Think, Learn, Share" in 2018. Now, it envisions to create an innovative platform to study human habitat through multi-dimensional lenses addressing the four pillars of our pedagogy, namely – Urbanism, Technology, History & Environment. SoAP is providing opportunities to challenge students to develop their abilities in problem-solving, creative thinking, and informed decision-making as a focus of their professional education and thereby to nurture a student-centred environment for personal development and professional excellence.
Bringing Students a step closer to the industry
Collaboration with industry is critical for academia to create scientific knowledge and obtain industrial data. In turn, collaboration with universities is crucial for organizations in joint, scientific-based research projects to develop solutions for production-sourced problems. With that in mind, SoAP has been hosting guest lectures by industry experts and visiting faculty from reputed universities. Along with this, SoAP hosted Chintan 2020, an annual school event that allows meetings with leading experts in the field. Apart from gaining significant knowledge of cutting-edge developments: leading software and hardware vendors showcase their products along with building products which undertake research and development to address new requirements. " our audience comprises of architects, students, and practitioners, technical experts from computing- software and hardware, materials and other related fields as well as academicians are part of the event," states Dr. Neena Zutshi.
Hosting guest lectures from leading professionals and Visiting faculty members from senior academicians who teach at other reputed schools of architecture across India under the aegis of the Vyakhyan Lecture Series, SoAP has been doing its best in bridging the gap between academia and industry. "We have launched the B.Sc. Building Systems as a program to address practice requirements for competent personnel well versed in all aspects of running architectural projects and offices. Also, By locating our design problems in our neighbourhood, we are engaging our students with our context effectively," adds Dr. Neena Zutshi.
The conventional view of regular work is witnessing a significant transformation. Organizations are now looking for people who are efficient in technology that is intuitive, powerful, and aligned with their needs. With approximately 50% of the students getting placed in architecture offices and others opting for higher education, the students at SoAP have been placed in organizations like Central Park, Gurugram, Par Erectors Pvt Ltd, Gurugram, Hafeez Contractor, Mumbai, and S.D. Sharma and Associates, Panchkula, Haryana. "Our students have also pursued Higher Studies in reputed colleges like RMIT, Australia, University of British Columbia, Canada, CEPT, Ahmedabad, SPA Vijayawada, NICMAR, and The Bartlett UCL", adds Dr. Neena Zutshi.
With their first batch graduating in 2019 and securing admission in leading global universities to pursue post-graduation along with securing placements in reputed architecture practices despite difficult employment conditions due to the pandemic, SoAP has negotiated the transition to online learning seamlessly in March 2020 to ensure that there was no loss in student learning outcomes, along with their young faculty imparting best practices in teaching-learning by continuously striving to upgrade their skills. Dr. Neena Zutshi adds, "Our small student body allows us to engage with each student to ensure that both slow learners and high achievers are addressed appropriately". Another feather to their cap, An alumni of SoAP, Arushi Jain from the batch of 2015-2020, has started a venture 'ArtisansLove'.  According to Arushi, being in the field of architecture, she always believed that a part of her brain is still craving for real creativity and passion, which eventually came out in the face of 'ArtisansLove'.
Making Learning Fun
Blended learning with Google Classroom, Gamification of learning, and construction workshops to allow hands-on learning and material and system explorations, SoAP is doing its best to help their students learn as they did in traditional classrooms. Revising the program structure to include courses like Art, Social Spaces, Architecture Design Theory, Building with Nature, Structural Constructs among others, SoAP is encouraging higher-order critical thinking such that their graduates are equipped to lead by experimenting with emerging paradigms as opposed to following existing trends. "This allows the graduate to create new jobs and provide leadership within the profession. Courses like Art, Design Narratives, and Architecture Design Theory cultivate the student's creative imagination to innovate while Building with Nature, Structural Constructs, Architectural Construction trains them in understanding the practical aspects of the physical manifestation of architecture," says Dr. Neena Zutshi.
Ensuring that their current students are engaged productively in academic activities to overcome the difficult pandemic induced environment, SoAP is currently focused on the admission process that allows for a good fit and offer assistance wherever required so suitable candidates join their institute. "We are looking forward to ensuring that the academic integrity is not compromised at all during the pandemic.," concludes Dr. Neena Zutshi.
About Dr Neena Singh Zutshi
Dr. Zutshi has more than 25 years' experience in architectural practice and is an academician in the field of architecture at several institutions in India (Sushant School of Art; Architecture (Gurgaon), School of Planning & Architecture, (New Delhi) and Amity University (Noida) and at Bilkent University (Turkey). Her expertise is in the History and Theory of Architecture in India. She also has experience in Interior Architecture and Institutional Design. Dr. Zutshi started at the School of Architecture & Planning at GD Goenka University in July 2018 as a Professor of Architecture. In December 2019, she was appointed as the Head of the School of Architecture and Planning. Dr. Neena Zutshi earned a PhD from the School of Architecture and Planning (New Delhi). She also has a Post Graduate Certificate in Advanced Architectural Studies from the University College London (United Kingdom) and B.Arch. from the School of Architecture and Planning (New Delhi).
Related Articles