Dr. Vidya Shankar Shetty has a through and through career experience in Academics and Education ranging from K12 to Higher Education. Her career map has had her play diverse roles right from establishment to governance, ranging from setting up new schools in India and abroad, colleges, compliance, and project handling of a greenfield University to an established University. Her current role as the CAO at Navkis, From the House of Ramaiah, has her play a crucial role in handling the Academics and Operations of the various Institutions under the group apart from setting up new initiatives.
A magnitude change and a complete inclination towards online teaching and learning are what was anticipated a decade ago by all experts in the Education sector. So much so teachers who were digital immigrants and those who belonged to the old school of teaching in-person were shaken up by this new revolution and talk in education. Many explored the massive opportunities that were untapped for educators in India as Edupreneurs. A country like India, everybody claimed, needed the education to travel without boundaries to the remote parts and ensure that all youth were educated. Online teaching and learning were considered the best learning space and the challenge was to upgrade the teaching workforce to match these expectations. Everybody waited with bated breath to check on what such a disruption would cause and with its advent watch the magnitude of these changes in the education system. The benefit ultimately would be the student learner.
COVID breezed in and accelerated this space like a hurricane. Education became anytime and anywhere, from the cozy spaces of the drawing-room to the privacy of the bedroom to an empty classroom, teachers took it upon themselves to teach online and had no choice but to engage and adapt to this new opportunity that COVID brought in. A fast-evolving space indeed this has been!
While the world of the learner transformed quickly and learners were ready to face this challenge, teachers have been finding it difficult to construct this new space. Just a decade ago educators were talking and reconstructing the world of education with a focus on outcome-based learning and outcomes were listed and teachers learnt to work backward. Today, the outcomes stay where they are and teachers are struggling with the limitations of the web camera, the mobile device which does not match as a classroom tool, poor network connectivity, bandwidth, and also limited access to the internet and devices. Ask a teacher and the constraints listed are many.
Meandering to my earlier strand of thought, our teacher training programmes never indulged in online teaching tools or methodology. While teachers were busy working on the VAK model within the classroom, collaborative and cooperative learning and also differentiated instruction and integrating ICT tools and content in the classroom and tweaking teaching styles to suit different learning styles of students; attention was seldom diverted towards training teachers to explore different technologies whether at the training time or thereafter. LMS was the focus as an application that could enable them to distribute several tasks efficiently while working with tools and content to make teaching more effective and interesting online was not a priority.
COVID compelled us, educators, to break the barriers of time and distance and empower learning even during the pandemic through online teaching. Satiating the trust and appetite of parents and students alike, teachers face the largest challenge. Where do we begin with the second wave and the expected third, fourth ….countless waves of the virus that may continue to disrupt our lives. Our lesson planners need a re-visit, our teaching tools need a re-visit and micro-planning is a must. The secret is not to cover all the portions but focus on concepts that are essential for the next level of learning of the learner. Teaching from the textbook or simply explaining and relying on the experience of having taught the subject for years is to be aborted. This space needs innovation consistently. Innovation makes you innovate and explore tools and techniques available on the online platforms to make these sessions interesting. For example, use a variety of audio-video resources to explain concepts. This demands long hours of research and exploration skills of the teacher. Content is available in abundance on the net, however, the challenge lies in picking the right content, ensuring that there is a right time to use this content, and trigger in-class discussions. Most of us are worried about the time taken for the response of students or do not have the alertness or adeptness to read the comments placed on the chat. The quicker we understand that online classes are very different from an in-person classroom session, the faster is our comfort in this space. An interactive class with interactive assignments which call for collaborative work and discussion amongst students is a welcome rather than a one-sided lecture. Shared learning spaces where students can discuss and express their views on cases, on topics for discussion, and participate rather than remain a passive recipient is a must.
Digital India is the slogan used by the Government and by this time teachers should not have had to face the challenge of coping with digital infrastructure. Network and bandwidth issues remain unresolved. Thankfully the faster growth and penetration of the smartphone has enabled online education to survive these days. In other words with mobile-centric education, our adoption of online education has been far more pervasive in these times. Smaller cities and towns also had teachers teaching with limited resources using mobile phones.
Moving away from the textbook and ensuring that classroom teaching online does not go on with the textbook in hand, preparing interesting ppts, using slide shares, desiring the lesson plan differently is the need of the hour. Share articles of interest for reading, use conferences to discuss topics, check on opinions, call out to students and ensure their opinions are taken into consideration, and more importantly refer to recent developments, discuss worldly affairs as part of the fillers in a classroom session of one hour. What has stopped us from engaging a guest speaker while in class, what has stopped us from sharing stories in the session, why do we hesitate to call out to a student to pitch in and explain a concept? Did we not form study groups earlier in a class? Why should we not build accountability in students by assigning them, groups? Mentoring and motivating learners have to continue. Engage, connect and transform them has always been our goal. Share notes, call out notes, get them to engage in the online learning experience.
One of the outcomes of all these efforts of the current day teacher teaching online could be that we will indirectly save this profession from becoming extinct. In retrospect, we have been blessed with great teachers who inspired us throughout life, who were responsible somewhere to influence us into getting into this noble profession. Teachers are the ones who flamed that passion in us for a specific subject, they are the ones who work more towards job satisfaction than sheer money. They are the ones who can bring a difference in the life of a child. More than anything, this is one profession that makes you a lifelong learner. These are difficult times and whatever we do, online teaching has been thrust on us and some of us have walked into it unprepared. If we could make that small effort to ensure education continues to be a gift, a teacher can hand over a gift to the young people. If we could facilitate the process of learning and make it accessible to all while working on the creative aspect of learning and engaging. If we could in our own way inspire the next generation to join this profession and become the change-maker, sustaining this profession and influencing the young to become teachers may not be as difficult as it seems to be today.
More About Dr. Vidya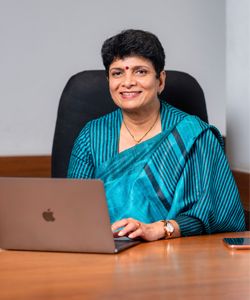 Dr. Vidya Shankar Shetty started her career as a Lecturer at St Agnes College, Mangalore, moved on to Bangalore after marriage, furthering her career with the Presidency Group with who she set up Schools, Colleges, and a University periodically. She was also the Director for Manipal K-12 Education, setting up Schools countrywide and abroad. She was also the Director-Education at PEARSON K-12, India, the largest Education company in the world, wherein she set up 40 Institutions in India and Nepal. Her International exposure in Education was as Chief Academic Officer for Dr. B R Shetty group in Abu Dhabi and Dubai, wherein she set up schools for the Group and in Qatar and Saudi Arabia wherein she was on the Advisory Board for Schools and responsible for compliance and Performance Standards. As the Director of International Relations at REVA University, she was responsible for ensuring that the University had its footprints in more than 20 countries. She continued in the University as the Controller of Examinations bringing about a major change in the domain of assessment and automating the entire examination and evaluation process. Self-motivated with strong planning, organizational, and leadership skills, Dr. Vidya is conscientious, systematic, persuasive and analytical in her approach to Education and believes in skill centered learning in Education
Related Articles