Jabalpur is a city that cannot be missed while exploring the essence of Madhya Pradesh. Cradled on the banks of the holy river Narmada, Jabalpur stands among the prominent cities of Central India. At Barela, about 15 km from the city center of Jabalpur, the Mangalayatan University has started a new campus to further the prerogative of education to the students and scholars of Madhya Pradesh and the neighbouring states in the central regions of India. In fact, Mangalayatan University has emerged as a well-known brand in northern India and is expanding rapidly all over the country with plans to take the brand, global. Like its Aligarh campus, the Jabalpur campus of Mangalayatan University has an extensive range of academic, professional and research programmes in almost all major streams of higher education. Commencing its academic journey from the 2020-21 session, Mangalayatan University has already brought in the best leaders in the Indian higher education system, including Dr Vineeta K Saluja, who will lead the university as its Pro-Vice-Chancellor.
Dr Saluja comes with the experience of leading an autonomous college, having a strength of 6000 girls for the last 25 years. Through this journey, she has accomplished many milestones and overcome unforeseen obstacles at various stages. "As Pro-Vice-Chancellor of Mangalayatan University, Jabalpur, I do consider myself a leader, and I am passionate about my professional pursuits. My passion for achieving the university's vision, and commitment towards its underlying responsibilities, serve as a source of inspiration to my colleagues. Direct communication at all levels, encouraging my team to work fearlessly while assuring them of full support, makes the university work culture accessible. We endeavor to not just create a conducive, well-equipped, superior place for education, but also provide an ecosystem with growth, collaboration and rooted values, at its very core." shares Dr Saluja.
A Born Leader
Dr Saluja's school and college education was in Chandigarh. Graduated from Government Home Science College, Chandigarh, she was an active student and participated in almost all activities, including debate, dance, and sports. In school, Dr Saluja was the head girl. In college, she was the secretary of the student union. As a student, Dr Saluja had shouldered many responsibilities and taken charge of activities beyond just scholarly. . She joined NSS (National Social Service) during her college and participated in many outreach programs.
"I was fortunate to have strong, disciplined teachers, who used to motivate us while instating qualities like honesty, commitment and co-operation. The best thing I learned was Not to GIVE UP. I started believing that nothing is impossible, and if I had a strong will to do anything, I can, and I will. That gave me the strength to overcome the insurmountable obstacles that weaved my path of professional growth," recalls Dr Saluja.
Dr Saluja started her career as a lecturer in the Department of Post Graduate Studies in English at Rani Durgawati Vishwa Vidhyalaya, Jabalpur, on a contractual basis. She then, joined Mata Gujri Mahila Maha Vidhyalaya, Jabalpur as Assistant Professor in the Department of English and was soon promoted as the Principal in 1999-2000. "As a founder Principal of Mata Gujri College, which started with just 30 students in the year 1994 and grew to more than 6000 students in the year 2020, will always be a legacy I am proud of. I converted Undergraduate college to Post Graduate college with 20 departments," states Dr Saluja. During her tenure, the college was accredited with an "A" grade twice and an "A+" during the third cycle of National Assessment and Accreditation Council (NAAC). Dr Saluja adds, "We got Autonomous status in 2012. The college is like a University imparting quality education to girl students. This stint leaves me feeling accomplished, through 26 years of my career in education."
As the Pro-Vice-Chancellor of Mangalayatan University, Dr Saluja has many goals and its accompanying challenges. With the change in student perception toward education, she feels that she must achieve many milestones to make Mangalayatan University an institution of excellence, providing world-class education to students of Jabalpur and around, who migrate to cities like Pune, Delhi and Mumbai in search of quality education. She says, "I want to introduce skill-oriented courses, those that will enable students at the University to compete at the global stage shaping the future through strong, innovative leadership and the provision of clear strategic direction."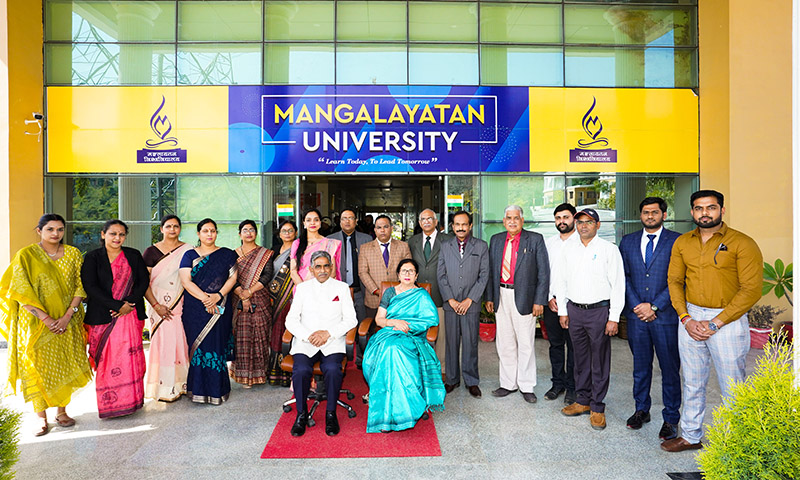 Tackling the Challenges
Teaching English to students from various tribal belts and those from urban areas having English medium backgrounds had been the most formidable challenge during Dr Saluja's career as a teacher. She says, "A nine-to-five job in a town like Jabalpur, with the population being a mix of rural, tribal and urban people, remains full of challenges but, with tremendous opportunities." The ability to stay calm, think logically, act correctly and focus on one thing at a time enables her to handle work pressure. Dr Saluja opines, "Workplace environment has a significant impact on our productivity, contentment and creativity. Healthy and happy employees are more likely to feel motivated and committed."
Positive praise is Dr Saluja's secret tool that inspires her team members to see themselves progressing towards the institution's vision and mission. She shares inspirational stories of the teaching-learning process during staff meetings, which has increased teachers' motivational level towards teaching methodology. "A teacher's journey represents a lifelong commitment to learning, not only about your area of specialism or the defined curriculum but going beyond to, institutional policy, technological innovations, self-discovery and development that make you more effective as a professional— and a human being," emphasizes  Dr Saluja. To keep her updated with the latest education trends, Dr Saluja regularly reads educational blogs, explores professional development options and enrols herself in MOOCs offered by universities worldwide.
Dr Saluja, as an experienced academician, inspires her colleagues to do better in their profession. She understands that one of the biggest challenges for every university is to make its students conscious about their careers. She shares, "Usually when students step out of school, they perceive university life as one of Liberation free from the clutches of their parents and the walls of their schools. This perception is in their minds for at least a year. From the second year onward, their careers start going south." Under Dr Saluja's leadership, Mangalayatan University has employed excellent counsellors in each discipline to make students aware of the opportunities and challenges in their choice of field. They also explore the students' potential so that the student is channeled towards making the right choice. Besides, the Choice-based Credit System of the University offers students a plethora of opportunities to make the right choice of subjects according to their aptitude and interest. "It is important to understand the psychology of students. It takes more than just enrolling them for a course, to be able to make a difference to their lives. We also invite eminent motivators and resource personnel for orienting students, helping them explore their potential," adds Dr Saluja.
On the flip side, when it comes to academic challenges, COVID-19 was undoubtedly one of the biggest. Online education turned up as a solution, but with repercussions. The lockdown had a lot of additional stress on teachers and families. "Some courses were adequately placed for online teaching and research, while some faculties struggled with developing online materials and effective teaching aids to be adopted for practical subjects," recounts Dr Saluja. When institutions remained closed, academics and students alike suffered from poor connectivity, inappropriate equipment, and other access issues"
Dr Saluja explains, "They may not have access to their workspace, or they may need to care for the young or elderly at home. Many professors are parents, so they had to juggle working from home and caring for their family. Perhaps, this sudden and unprepared shift of millions of worldwide teachers and students online is an unprecedented educational and social experiment." During the initial lockdown, Mangalayatan University also had online classes. However, the problems related to internet connectivity and infrastructure lapses, could be overcome, thanks to the  university's massive campus and open spaces, that allowed us to start  offline classes in a graduated manner, keeping a complete check on social distancing, health advisory and prescribed hygiene standards .We went above & beyond to ensure, we could slowly adapt to come back to giving students some normalcy, even though that meant a huge administrative responsibility on us for keeping & maintaining sanitization schedules etc…
Being a Woman Leader in Education
Women in leadership roles develop greater interactivity with students, helping them achieve better engagement with learning, and thus improve results. Therefore, creating more women leaders in education is key to improving education in India and across the world. Dr Saluja opines, "The number of Indian women in leadership roles is steadily increasing, but there is a lot of room to cover. In academia as well, much remains to be accomplished in terms of inclusion and getting the equilibrium in gender parity. Many departments, especially those in Science, Technology, Engineering and Mathematics (STEM) fields, are heavily skewed"
According to Dr Saluja, a person's success is the sum-total of all its enablers, apart from their own talent, values and determination. She elaborates "I always had a penchant for learning, never stopping at a degree, at a diploma, at a course. But what enabled me, apart from my own want & will, was the trust & faith I got from the people I worked with, and the support and encouragement from my social-setting.
At my earlier and longest professional stint, I had the complete faith from the management I worked for & with and here, I would pause to remember 2 very strong personalities who helped me shape the best part of my personality apart from being an academician – a good administrator and a fearless leader.
Dr. S Sodhi – who taught me the ropes of administration and good governance, the importance of regulations and how important it is to understand it, in order to be able to benefit from it and not just having to abide by it. He taught me the power of 'patience' to wait if the system tells you that you're not ready, to wait, not to give up. To wait and empower yourself, ready yourself, to come out stronger, better and fully compliant.
The second person was Sardar S.S. Reel, who instilled the value of being fearless, if you're in the right. There were so many decisions at junctures that I believed were right, but they were against the tide. They were unpopular decisions, tough to take – tougher to deliver. He always told me, if you know you're making the right decision for a majority and have the grit to see it through with your hard work – Take it, Make it, and Live it. There will be pushback but that's how the institute you work for, will come out winning and you will emerge as a Leader, not because you aspired to, but because you had the Courage to.
Remembering these 2 inspirational leaders fondly, and hoping they would be happy seeing me live their teaching."
Dr. Saluja also credits her family who gave her the freedom to make the choices she did and the time and space to achieve her dreams. She says "I got married when I was 20 and had my daughter at 23 and son at 28. I only had a B.HSc degree then. I moved to do my B .Ed, M.A, PhD and MBA through these years, along with a full time job. I have a TESOL (Teaching English to Speakers of Other Languages) from Arizona State University, USA, today, and a bunch of certifications on innovative teaching in a changing world. My husband and mother-in-law have been a constant source of support, and my children have been nothing but encouraging, taking pride in my achievements, that make me want to go on…"
She adds "There's a lot done but so much more to do! I am so grateful to Sarv Sahara Foundation and its chairman Shri Hemant Goyalji to have chosen me, and given me an opportunity to bring all that I have and all that I've learnt, to making this University stronger and more competitive in an evolving educational paradigm"
Today, Dr Saluja believes that Mangalayatan being the first private university in Jabalpur, is set to grow exponentially, with the right vision, right set of values, a liberal outlook, state-of-the-art infrastructure, excellent resources and the Right People.
Related Articles