The mark of a true educator is the ability to shape students to be better human beings. Teaching them valuable lessons that go beyond textbooks. Dr. T. Mythili, Director of Student Affairs, SRM Institute of Science and Technology is one such individual who has strived through her efforts to shape tomorrow's promises. "Young minds are the greatest resource that we have, and it is they who can make or mar the future," she says. Years back, while weighing in on her career option, she realized that the opportunity to shape young minds is the best career one can opt for. Since then, every class that she handled was a learning experience, shaping Mythili into Dr. Mythili, the brilliant educator she has now come to be.
Dr. Mythili joined the SRM group in 1995. Since then she has played a pivotal role in helping the institute set remarkable milestones. SRM Group shared her belief that the purpose of education is to ensure young minds are sensitive, empathetic, and responsible. SRM saw a kindred spirit in Dr. Mythili because they entrusted her with helping the Group set up a Career Development Centre [CDC] about a decade ago. This taught her an important lesson; hear out the students' aspirations and dreams rather than push them into career roles that were the norm then.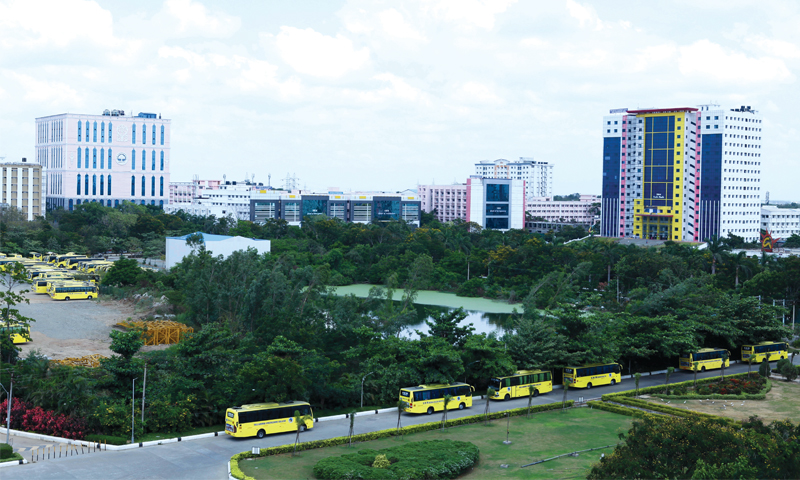 "As part of the CDC requirement, we designed a soft skills course that was purely practical. Our students turned quite emotional, when, for the topic 'Gratitude', they had to call or meet the person that they wanted to thank. It was indeed gratifying to observe that attitudinal change! I feel truly proud to say that this institution has shaped both, me as an individual and my career too. It is the freedom that we are given and the responsibility that comes with it that makes us give our very best. I would rather say the 'trust' that they lay on us, is indeed the key driver to achieving the many accolades that come our way," she comments.
Teaching Mantra and Role Models
Given the bond that Dr. Mythili and SRM share, it is no doubt that she holds Dr. P. Sathyanarayanan, President, SRMIST as her role model in her professional life. A dynamic leader and visionary, who always lends an ear to new ideas, Dr. P. Sathyanarayanan's words 'Think with your head and execute with your heart' has furthered Dr. Mythili's passion for her work. At the same time, her parents' words, "It is more important to be kind than right" is her mantra. She keeps in mind these words while handling children and has experienced pure magic in the lives of her students.
According to Dr. Mythili, the Indian Education system, though the primary objective remains the same, over the years, has seen a sea change. Technological changes, societal changes, peer pressure, and parental expectation have put a lot of onus on the student of today. "In the early days, education was the students' responsibility; what they chose to pursue, their plans for the future, etc were their choice. Today a students' education & future is a shared responsibility of the parent, teachers & student. I would truly want to congratulate those young aspiring minds who are doing their might despite the distractions around them!" she says.
Dr. Mythili says that passion is the keyword for all women aspiring to be leaders in their respective fields. Try to identify your Ikigai – where your passion, profession, vocation, and mission converge. Ikigai is a Japanese word whose meaning translates roughly to a reason for being, encompassing joy, a sense of purpose and meaning and a feeling of well-being. Having found her Ikigai at SRM University, she believes that women have an important role to play in the field of education. Statistics say close to 50% of teachers are women, largely because, no bias meant, women tend to connect better with children and with young students, thanks to their broader take on life.
Shatter the Glass Ceiling!
"Young women are now increasingly grabbing strategic roles in decision making, problem-solving, and research. However, these roles do come with their share of obstacles. The most obvious one being the 'glass ceiling'. It is not hard to break this, but it seems like slow progress to us because we women have the bad habit of listening to others and failing to hear what our true self says. This mental hurdle significantly weighs us down. So as young aspiring leaders, know your strength, give your 100%, and put your best forward. The rest will fall in place," she adds.
Having worked closely with students for over two decades now, she hopes to make her students' dreams come true. When asked if her dream was too idealistic to be true, she laughs and says that today's youngsters can work wonders if they truly believed in their potential. It is towards this that she directs all her efforts at. She says that it takes all types to make the society so she strives to guide the academic ones to reach their best possible heights and to those wanting to follow their passion, provide the best of opportunities to excel in their field of passion. "More than their career what matters is these young minds becoming responsible citizens of the country and world, who can contribute significantly to society. This has been my plan till now and will continue to be so forever!" she concludes.
PENNY FOR THOUGHT
A staunch advocate of education to all, Dr. Mythili firmly iterates that education is every child's right, irrespective of gender. Given our nation's Education Policy of ' Access, Equity, Quality, Affordability, and Accountability ' I think we are making a big difference. The idea has reached the grass root levels that 'Education is the key to life,' but how we as a responsible society are going to make it happen, remains to be seen. I think policymakers, educationists, and child right activist can make a world of difference by ensuring that we are providing better education for girls. For instance, at SRM we have thought of everyone as students and never have dealt with them differently. Both boys and girls are at the forefront when it comes to Academics, Cultural or Technical events. National level Cultural fests like MILAN & Tech Fest AARUUSH gives amazing scope for students, irrespective of gender, to explore their potential & stand testimony to the equal opportunity that they have.
Related Articles