The legal profession has always been considered a noble profession as lawyers are the central pillars of the society who help the commoner to know his rights and claim them legally. The legal world has changed with a change in the legal education system, and now it is completely different from what was it was a decade ago. Today, the career opportunities are vast for trained lawyers. The teaching method has also significantly improved from the past years, making it a promising career option than earlier when it used to be the last resort. "Our education policy (recently, National Education Policy 2020 addressed all major or pending issues) and legal education policy  are well in place. What we need is to identify the challenges and problems in the implementation of the same and address them and ensure stringent actions for violation of the same," says Dr. Saroj Bohra, Director, Amity Law School, Amity University Rajasthan.
Be it law or any other sector, the number of Indian women in leadership roles is steadily increasing, but they are still in the minority for now. Despite strides in women's representation in influential positions, a surprising number of people across the world still don't trust women to lead effectively. These biases are deep-seated and may be difficult to change. "Among women and minorities, 'tokens' are evident within organizations and especially within positions of power, which creates an additional dilemma: excel, and become even more conspicuous and scrutinized; or moderate their achievements, to fit into dominant groups' expectations" points out Dr. Saroj.
'Diversity is about espousal different temperaments, talents and convictions. Embrace women for who they are and the unique perspectives and gifts they offer. When a female leader unleashes her value, she is unstoppable, a force that changes the conversations in the boardroom and within the organization.' adds Dr. Saroj.
Believing that one solution to gender equality is to change not the image of women or men but to change the perspective of leadership roles, Dr. Saroj considers that the media and creators of popular culture have a key role to play here. If coverage and conversations about women's leadership are to have sustained impacts, it needs to be done consistently in a routine, regular and critical manner. She adds, "One woman serving for long terms may not be enough. It still reinforces the stereotype that women in the office are the exception and not the norm".
 Achieving Greatness in All Phases of Life
A strong education professional, convent educated with a distinguished academic career, Dr. Saroj received two gold medals in law during her graduation and secured the second merit in post-graduation in law. She was also awarded National Merit Scholarship for year 2004-05 for academic excellence from Jai Narain Vyas University, Jodhpur. Dr. Saroj Bohra accomplishment and contribution in legal education has been commendable. "As a student, I was quite shy and hardly asked questions to my teachers, but I used to be very attentive in classes. Securing the first merit in law graduation and consequently, the second merit in post-graduation in law boosted my confidence and morale. My perseverance and hard work as a student and later developing a positive attitude and trusting myself helped me a lot to be a leader as I am today," says Dr. Saroj.
Before joining Amity University Rajasthan, Dr. Saroj had been associated with the National Law University Jodhpur, University of Petroleum & Energy Studies, Dehradun; IMS Unison University, Dehradun and Karnawati University, Gandhinagar, Gujarat. She is an astute professional with sixteen years of experience in research, teaching and administration, responsible for developing academic programs, curricula, and regulations in addition to preparing and delivering lectures in classroom discussions.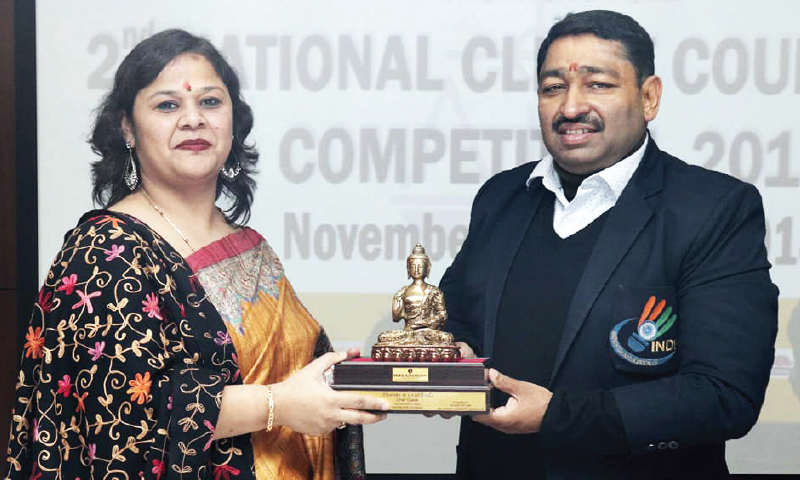 Learning and mounting herself personally and professionally with all the organizations she has been associated with over the years, Dr. Saroj feels the new roles and responsibilities she was assigned with each institution has shaped her professionally and made her more resilient, self – reliant, and confident about her proficiencies, knowledge, and skills with each passing year. She is a democratic leader who is confident in her own decisions, a hard-working and driven individual who isn't afraid to face a challenge. Her passion for her work has helped her become the person who knows how to get things done. Describing her leadership as direct and leading by example, Dr. Saroj enjoys taking the lead on projects and delegating tasks and staying involved and inspiring her team by showing that she is 'all-in' to help them. "It is imperative to have humanitarian touch while being a leader. I am considerate about my teammates' personal matters but at the same time advise them not to mix their personal and professional affairs. I share my personal, professional experiences with young team members and counsel them to keep a balance between personal and professional life. One has  to be consistent and persistent to climb the ladders of success," states Dr. Saroj.
Understanding each team member's potential and assigning them the responsibilities is what Dr. Saroj has been doing over the years.  She believes that 'to implement innovative teaching ideas, it's important first to provide 'training the trainers', which is being done by hosting workshops, seminars, and senior academicians interactions with young faculty members. Faculty members must be encouraged to participate outside the institution's in the national and international faculty development programs, training sessions.  Such events provide platforms for exchanging ideas and learning and apprising about globally practised teaching pedagogies and later incorporate the same in classroom teaching.'
Helping Teachers Ease in through Obstacles
Building a more resilient teacher workforce in times of crisis; Dr. Saroj with her abled leadership has been doing her best to equip her faculty members with digital and pedagogical skills to teach remotely, online, and through blended or hybrid learning, whether in high-, low- or no-tech environments effectively. She further tells that in her instiitution, in past one year a transition from a traditional educational model that is face-to-face to emergency remote teaching was made through virtual learning platforms and learning management system schemes. "We know blended learning can draw on the best of both worlds and create a better learning experience than one hundred per cent face-to-face learning. If, after having done cent per cent online at the end of this, I think we can then think about rebalancing the mix between face-to-face and online," opines Dr. Saroj.
Taking about her institution Dr. Saroj mentions that, 'We are one of the first law schools to introduce legal technology training programs. Amity Law School's online learning medium's working pattern is well automated through the use of Amizone (Amity Intranet Zone), which is a campus management system covering all academic administration related processes from admissions to alumni, operational since its inception. The course plans, assignments, lesson plans, study material, attendance, results and all can be uploaded and downloaded by teachers and students.'
'We intend to identify the factors that can be taken into account regarding the level of student satisfaction in the teaching-learning process in ERT using Teams, and validate the established educational strategy. Statistical analysis was carried out to evaluate the academic environment for these scenario changes while considering knowledge assessment and competencies achievement", adds Dr. Saroj.
Believing that learning is an unending process, especially when you choose education as a career. Be it digital transformation or development in economies; all are factored upon new inventions which entail extensive degrees of research and study. 'From the subject matters to the pedagogical methods, the entire process of education has marked a significant degree of progress compared to the yesteryears.Therefore, the pivotal arena where change is taking place and rightfully so is the education sector', states Dr. Saroj.
"Our classrooms and modes of teaching are evolving and upgrading with every passing year to keep pace with the changing trends in the outside world. With the rapidly changing industrial space, I think that it is imperative to upgrade our courses and their applications according to the raging needs of the time. So in my professional institute, I prefer to involve the people from industry, academia, institution alumini and other stakeholders in different roles which helps to understand the present need of my profession. Conferences, seminars, Edu-camps, research, and projects also play a definite role in keeping me up-to-date," concludes Dr. Saroj.
Related Articles