When a curious child with a spark in her eyes is encouraged by her parents, she gets the wind beneath her wings to fly high and succeed. The journey of Dr. Amit Dev, Vice-Chancellor, Indira Gandhi Delhi Technical University for Women, is nothing but captivating and inspiring for today's generation of women. She says, "My parents were my biggest motivators and source of inspiration."
Dr. Amita's father was a renowned Civil Engineer who contributed immensely in CPWD, while her mother was a highly qualified lady & retired as Principal from Govt.  school. They never discriminated between their daughter and son. They never asked their daughter to settle for smaller jobs; instead encouraged her to aim for higher goals and dream big. When her time came to study in a different city and reside in a hostel, her parents remained firm on their decision to send their daughter to pursue her degree. They refused to bend to the family's resistance. Her parents were the key drivers behind Dr. Amita's Academic Excellence and Professional Achievements. She gives equal credit to her husband & children for all the support & encouragement.
Dr. Amita was curious by nature. Small things like how a fan or a bulb worked, how buildings and dams were built, and the process behind them captivated her attention. She became naturally inclined towards engineering. With support and encouragement from her parents, Dr. Amita pursued electrical engineering from Punjab Engineering College, Chandigarh. For Dr. Amita, those were fantastic days. Kalpana Chawla, the first Indo-American woman to go into space, was her senior. Her class consisted of a handful of girls among a large number of boys. Both genders gave a tough competition when it came to academic excellence or campus selections. Dr. Amita was the only one selected amongst her entire class in one such placement program. 
Overcoming Obstacles through Confidence & Panache
No successful journey is complete without hiccups and hurdles. Add in a career in STEM education 4 decades ago; demanding and nerve-racking. Dr. Amita overcame her share of hurdles through patience, perseverance, and persistence. She knew if she gave her all, then the sky was the limit. After her graduation, Dr. Amita pursued her post-graduation degree from BITS Pilani in Computer Science and Engineering followed by a Ph.D. in Computer Science and Engineering from Delhi College of Engineering (Now DTU).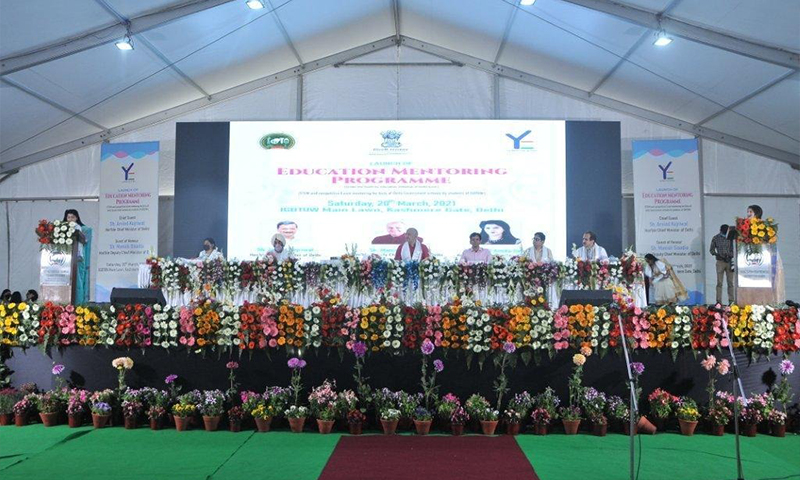 Being a keen observer, Dr. Amita was fascinated by speakers who addressed a crowd of 2000-3000 people and confidently voiced their opinions to make a positive difference in society. Somewhere she knew she had the qualities and traits required to be an administrator, and here she is, the Vice-Chancellor of a leading university. 
Asia's First STEM University
Indira Gandhi Delhi Technical University For Women (IGDTUW) is the first government-established STEM University set up in Asia in 2013 with a mandate to promote women's education, women empowerment, and women enlightenment. The STEM University's vision is to bring knowledge society and knowledge economy through equal participation of women in engineering, technology, applied sciences, architecture, and allied areas.
Over the years, IGDTUW has been conferred with several awards and recognitions. To name the recent ones in the year 2021: IGDTUW was ranked in 101-200 band for SDG 4 and 5, i.e., QUALITY EDUCATION & GENDER EQUALITY under the World Impact Ranking and "UNIVERSITY OF THE YEAR AWARD" in India by The Federation of Indian Chambers of Commerce & Industry (FICCI) for Quality Education.
A Day in the VC's Life 
"Vice-Chancellor is not a position; it is a complete responsibility," quotes Dr. Amita. She considers her students as her own children and faculty members part of her family. She, therefore, strives hard to offer a conducive environment for students and faculty members. As the VC, she looks after the university policies, academics, administration, vision, mission, accreditations, and the list goes on. Hence, her day at the university goes like a blink of an eye.
With the pandemic introducing the new normal of living, Dr. Amita's working hours continue till late at night. If some issues need discussion or immediate attention, Dr. Amita and her management team connect online from home. Over time, she has mastered the art of work/life balance, and hence additional hours spent on work don't bother her. 
Boosting Innovation & Creativity in Students
IGDTUW houses an Innovation & Incubation center called the 'Anveshan Foundation.' Here, right from the first year, students with unique ideas are offered guidance in entrepreneurship and capital funding to turn their vision into reality. They are offered a separate workspace, freedom to innovate & explore the idea, and are designated as the CEO of their companies. Alongside, they also continue their education. This is IGDTUW's 'Work While You Earn' scheme. "Today, I am proud to say that we have around 19 students running their own start-ups under the 'work while you learn' scheme," adds Dr. Amita.
Furthermore, to encourage innovation and creative thinking, numerous research awards are given to students who publish articles in National & International peer-reviewed, high-impact factor journals. Likewise, faculty members are also given cash awards for their contribution in R& D, patents, and publications. 
Technical Expertise came Handy during Pandemic
Educators and academicians found themselves in dire straits soon after the announcement of the first lockdown in India. There was a huge question mark in front of all universities, colleges, and schools on how to continue the teaching and learning process smoothly. Dr. Amita recalls those initial days and shares, "We worked relentlessly as a team, many of our staff came to college even during the pandemic period, and we were able to quickly switch over to the online learning management system." IGDTUW had the technical expertise required to make this necessary transition. As a result, servers were set up, and regular classes, assignments, and teaching processes were conducted via home. Students were offered a conducive learning environment no different than their classrooms. 
For IGDTUW, this feat was accomplished within the first 5 days of the lockdown imposed due to pandemic. In June and July, assessments and evaluations were carried out, and results were declared online. As a matter of pride, QS I-GAUGE recognized IGDTUW for its efforts and conferred it with the 'Academic Excellence Award' for Digital Excellence.
Are Women in Leadership a Minority?
Dr. Amita entirely agrees with the statement that women in leadership positions are still a minority. She further explains, "How many women do you find today? Even though there has been an improvement, the numbers are still skewed." She points out four main areas that more or less hinder the growth and career of women. Firstly, the patriarchal society considers women not par with men, second is the inertia from the home-front, third is the society's outlook that only women are responsible for childcare, and fourth is the lack of confidence to strike a work-life balance in women themselves. All these mindsets need to be changed. Then and then, only the number of women in leadership positions will be increased. 
According to Dr. Amita, today, women are equally competent as men and strike an excellent work-life balance. If only they were given support and a bit of handholding in the initial days, women could do wonders. "I always tell my students to believe in themselves. Tough times don't last, but tough people do. I know that the path in STEM education is challenging, but at the same time, it is extremely rewarding. So, we need to accept the challenges and move ahead. The sky is the limit for you," states Dr. Amita.   
Need for Holistic Approach in the Education System
Dr. Amita feels that a holistic approach is needed in the current education system, where students are given the freedom to choose their own courses, earn credits, and set duration for their course completion. If girls take a break of a year in between the course, they should be allowed to come back and complete their degrees. If students wish to walk out after 3 years, they can earn a diploma, a B-tech degree after 4 years, or if it is a dual program, they can get two degrees & even earn a specialization. Therefore, Multi-Point Entry and Multi-Point Exit options are also very essential. Moreover, India should invest in multi-disciplinary research and provide more post-doctorate fellowships. Lastly, Dr. Amita suggests that an Academic Bank of Credit (ABC) would prove highly beneficial. Students can earn multiple credits. If students leave a city or state, they can encash their earned credits and continue their education without a hitch. 
"At IGDTUW, we have designed a 'Happiness Curriculum' where our students can choose their hobby of interest. Students are given equal credits for pursuing their interests, from dance forms to learning international languages to yoga and karate. This keeps them engaged and content," asserts Dr. Amita.
Future Endeavours
In the future, Dr. Amita plans to work on two main areas. The first is to make headways in R& D as articulated in NEP 2020, and the second is to encourage  women students to opt for post-graduate & Ph.D. programs in STEM education. The university is also involved in Societal Connect; every student of IGDTUW is  mentoring 5 girls from government schools and bringing awareness about STEM education. Therefore, interdisciplinary Research, Social Outreach, and Implementing the Best Practices of NEP are Dr. Amita's future goals for IGDTUW as its Vice-Chancellor.
Related Articles