Many experts in the Industry and education sector believe that India has one of the hostile environments in the world for driving innovation. Indeed, India, Asia's third-largest economy, could only achieve 54th rank in a recent ranking of 56 countries on the basis of how their domestic policies support global innovation. Dr. S. Suyambazhahan, Principal of Dhanalakshmi College of Engineering, says, "We Indians are not lacking behind knowledge, we are lagging behind facilities and economically. Excellent research requires a positive research culture that supports all individuals involved. Lack of sufficient exposure to proper research practices and models at school and UG level are one of the chief reasons."
It is true that research in India is viewed as a worthwhile activity only at PG level. However, the situation has been gradually improving and many institutions including Dhanalakshmi College of Engineering (DCE) are encouraging students to undertake projects and research activities. "Being one of the most reputed Engineering colleges in the country, we have instituted several measures to foster research. Our department like Electronics & Communication Engineering, Physics and Chemistry have been recognized as Anna University Research centers. We have also established a Research, Development & Consultancy Cell to promote research among the faculty and students," shares Dr. Suyambazhahan.
Located in Chennai, DCE has taken several initiatives of significance in furthering research environment in the campus. Recruiting faculty with PhD qualification, motivating non-PhD holders to take up PhD programs, encouraging staffs pursuing PhD with incentives such as on duty allowance, financial support such as paying up to Rs. 5000/- (management is providing money for pursuing research activities) per published paper for Scopus, SCI, and Web of Science indexed journals are few to mention among them. Dr. Suyambazhahan adds, "ISRO sanctioned the Major Research Project for the worth of Rs. 13 Lakhs. The project was completed by ECE Dept and submitted to find the project report. TNSCST sanctioned seven funds for conferences and seminars conducted. We have submitted five research projects for the evaluation worth of Rs. 1.5 Crore to various funding agencies like DST-FIST, SERB and many more. We are waiting for the approval."
Established in 2001, DCE has now grown into a 'distinguished centre for engineering and technological studies', providing a serene environment and congenial atmosphere for learning. The college has initiated the student to do project work from the beginning of college. "Every year, we organize "28th February as Science Day" to bring out the new ideas and talents of young researchers of our campus.  On this occasion our students are given an opportunity to exhibit their innovative projects and participate in debugging challenges. As the students from other colleges are also permitted to participate there is a great scope for healthy competition among the student fraternity," explains Dr. Suyambazhahan.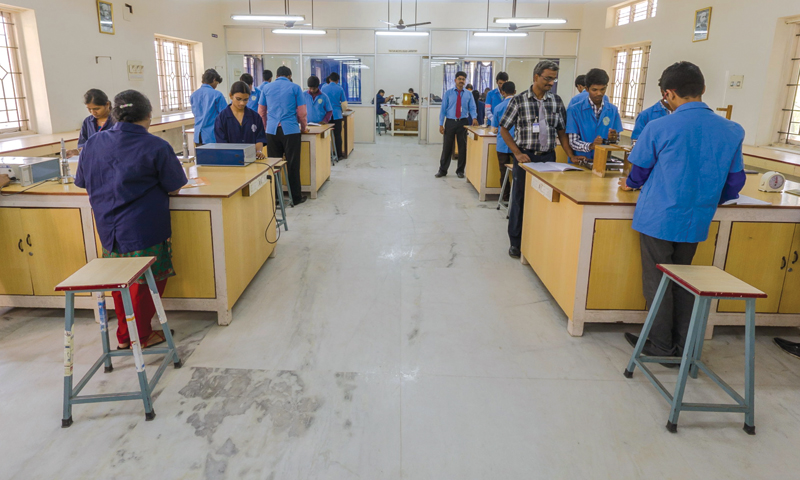 DCE attracts a large number of reputed recruiters every year. The Placement and Training Cell of DEC is working untiringly to provide employment to the students. "We are proud of our excellent placement record. Many students have received higher pay and multiple offers from leading recruiters," says Dr. Suyambazhahan. The Placement and Training Cell continuously works to identify requirements of companies and co-ordinates with the training cell and the career development cell to train the students. The Team maps the right talent to the right industry. "The cell has been working meticulously to achieve 100 percent placements year after year. They placement cell focuses more on giving opportunities in core industries to the students," pinpoints Dr. Suyambazhahan. Till date, the institute has recorded 1075+ job offers from various companies for the year 2016 – 19 with Rs. 10 Lakhs as highest salary package.
"We welcome all industry partners who seek practicable and pragmatic solutions, and who share and celebrate the entrepreneurial spirit that brings new ideas to life. We are interested in developing good relationship with the industry for exchanging knowledge and practical experience," opines Dr. Suyambazhahan. DCE has strong industry- institute collaboration, which helps its academic staff to visit the industry and learn the current skills used by the industry.  Dr. Suyambazhahan adds, "This experience gained by the faculty will be transmitted to the students. Also, the students will be trained by the experts in the industry. The students will be sent for internship to the companies so that they can gain industry exposure." Catering to the higher education needs of over 1800 students, DCE and industry together can make great progress in creating new knowledge, in shaping new leaders and in making important gains against the challenges of our generation.
Dr. V. P. Ramamurthi, the founder of DCE, with his wife.Dr. S. Suyambazhahan, Principal
Dr. S. Suyambazhahan has completed Doctoral degree (Ph.D.) from Indian premier institution, Indian Institute of Technology Madras (IITM). He has 30 years of Teaching, Research and Administration experience out of which he is continuously working as Principal in reputed institution from 10.09.2004 to till date. He is multi-talented person with humanitarian, academic, administrative and research excellence. He has recei
ved the award from Dr. A P J Abdul kalam, former president of India for his service and academic excellence in higher education for the welfare of the society. He is good in pedagogy, communication, candidness, research and delegation.
Related Articles