Rajasthani Sammelan Education Trust has been in the field of education for the past 68 years, supporting and facilitating learning activity for approximately 15000 students from primary to post-graduation. Deviprasad Goenka Management College of Media Studies (DGMC), one of the important institutions under the ambit of the Trust, works towards creating a level playing field, where students can have access to all the resources that can contribute in developing the eco-system of the media and entertainment space.
A report titled "Fueling India's Skill Revolution" published by Accenture says that India may have to forgo as much as $1.97 trillion in gross domestic product (GDP) growth promised by investment in intelligent technologies over the next decade if the country fails to bridge the skill gap. Industry raising its concern about the prevailing skill gap in the country is not a prime-time news anymore. Dr. Mukesh Sharma, Dean of Deviprasad Goenka Management College of Media Studies (DGMC) opines, "Good education in India comes with a price tag. Majority of Indians are rural based. They cannot afford to spend on expensive education. So, when they get educated, they are hardly skilled in any sense. According to a survey conducted by the Nasscom, of all the graduates who pass through universities each year, only 26 percent are suitable to seek employment."
As per the government reports published in the public domains, around 119 million additional skilled work forces will be required by 24 sectors such as construction, retail, transportation logistics, automobile and handloom by 2022. Out of this, nearly one million skilled workers will be needed for the Media and Entertainment industry. "Academia and industry are two important columns of a robust economy. A healthy collaboration between the two will enable innovation, growth in the education system and generate an employment-ready workforce," says Dr. Sharma. While, the corporate companies in the developed countries reach out to academic institutions to innovate their work, Indian industry relies mostly on its own R&D. In order to bridge this gap, DGMC is tying up with media houses to provide them a feeder which is abreast and in tune with the needs of Media & Entertainment sector.
"Program design development based on the industry expectations, customer requirements, technology and value-added essentials is an ongoing activity at DGMC. Our flagship program, PGDM, is designed and developed taking into consideration the changing global scenario, industry essentials as well as regular suggestions from the Board of Studies and Academic Council," explains Dr. Sharma. DGMC's Board of Studies is comprised of experts from industry and academia and meets on regular basis. Suggestions of the Board for Studies are taken to next level, the Academic Council. Dr. Sharma adds, "In the Academic Council the program architecture, evaluation and assessment pattern, addition /modification/deletion of courses are discussed. Since the curriculum is evolving, it is possible that the program architecture may undergo change from time to time."
As an institution that prepares young talents for the new age media, DGMC has been very careful and creative in the process of structuring its curricula. "All work and no play make jack a dull boy. The entire academic calendar of all our courses at DGMC is intersperse with M & E related events, seminars, workshops & industry visits to TV stations, Production houses & Ad agencies. All these visits enrich them with new ideas & learning," shares Dr. Sharma. Though the college is proud to be associated with several media and Entertainment related activities, the students of DGMC have excelled themselves in intercollegiate theatre activities. This year, the DGMC students won more than 25 awards in various categories of theatre art.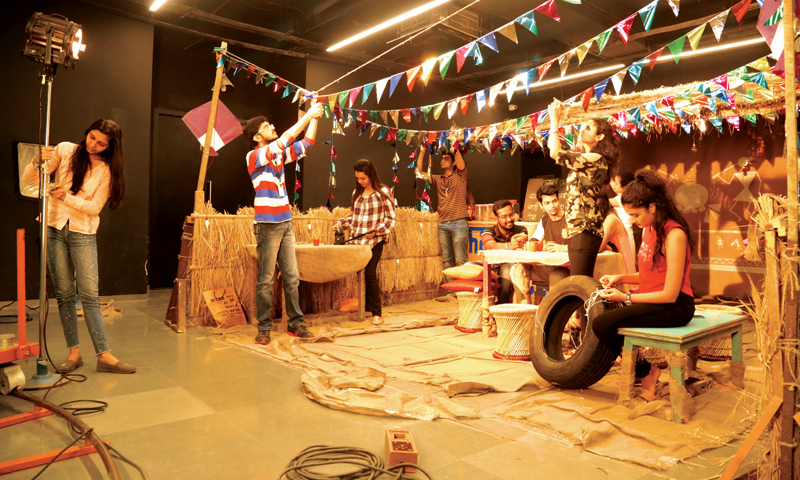 "Unlike most of the media colleges, DGMC has a wonderful studio set with ultra-modern post production facilities. Regular Master classes by the film makers are organized," says Dr. Sharma. DGMC organize an annual media festival called Mumbai Media Champs, which is purely a student driven initiative. Nearly 50 colleges participate in MMC, which gives them a platform to show case their creative talent. Another student driven initiative, Cinevoyage Film festival, is an annual competitive feature, wherein the students make short films on socially relevant issues to display their strength vis-à-vis understanding of CSR, which can bring about a positive change in the society. Their work is judged by the who's who of cinema, media stalwarts and people who have created an impact socially and brought about a constructive change in society
Today, most of the DGCM graduates are film makers with a large chunk aspires to be entrepreneurs. "To achieve this, they need to do freelancing work on different projects at a time. This year most of our PGDM students got paid internship as well some of them were full time recruited by the media industry," states Dr. Sharma. The reputed corporate houses visiting DGMC with offer letters are BBC Studio, Epic Channel, Contiole pictures, Dream Valt Media, Essel Vision production, UBS forums, Victor Tango Entertainment Pvt. Ltd. and Alt Balaji to name a few.
Since the Media & Entertainment industry is all about story telling by using different aids of Film, TV and digital mediums, the students of DGCM have the opportunity to become well verse in Cinematography, Editing, Direction, script writing, Sound design, color correction, shooting ads & programs and other facets of media production. The PGDM students of DGCM get well verse in the art of media buying, media selling, media branding, media measuring, and media planning and so on. "We are a young and growing media academy. To ensure that we do not lose out, our paramount endeavour is to provide excellent all-round support to our students and to consolidate our position. It is easier to climb on the top it's difficult to stay there. Finally, as the Dean (academics) of DGMC, my motto is to work with the students, work for the students and work on the students," concludes Dr. Sharma.
Dr. Mukesh Sharma, Dean of Academics
Armed with a Ph.D. degree in Journalism & Mass Communication, and a master's degree in Broadcast Journalism, Dr. Mukesh Sharma spearheaded the Cinema & Broadcast Industry as administrator, programmer and marketing expert as a Civil Servant for over 30 years. He has produced & directed feature films and numerous TV programmes, live and recorded, and received multiple National Awards.
Dr. Mukesh Sharma also conceptualized, produced & directed successful socially empowering Television events for Doordarshan over a period of 17 years. Currently, Dr. Mukesh Sharma is engaged as the Dean of Deviprasad Goenka Management College of Media Studies, Mumbai and Expert Member at the Mumbai Metro Rail Corporation Limited.
Related Articles