Hercule Poirot and Sherlock Holmes were real-life wizards at reading criminals and understanding their psyche. They could forecast crimes and help the police to intervene at the opportune moment, whether the police actually complied or not is for another day. Anyone reading their stories would be excited and spurred to choose a career in criminology and help the enforcement officials track down felons and wrongdoers. The crime statistics in India, specifically, is appalling, yet no student wants to take up courses that can potentially improve these dismal numbers. For instance, Not a single student has enrolled for a master's in criminology from one of the top universities in India, Bangalore University. The officials had set the intake number to 20 and are disappointed at the zero number of students turning up. Given the poor response, university authorities are in two minds whether or not to continue the program.
It is in this unfortunate state of affairs that stories of young, fearless and zingy individuals like Dhanya Babu become an inspiration.
Hailing from Irinjalakuda, a small town in the Thrissur district of Kerala, India, Dhanya is a brilliant student. Whilst in college, Dhanya beautifully juggled her studies with various responsibilities that were handed over to her like leading several social events, being the prominent voice in student bodies, and heading the National Cadet Corps of her college. If you would assume that these responsibilities would weigh a person down with options, Dhanya's response will prove to you otherwise; "The myriad of opportunities that were offered to me gave me the space to decide, choose, and carve a niche in the direction I always wanted to take. I wanted to become a criminal investigator. I have always been passionate about a career in investigations. Since childhood I've admired officers investigating crime scenes, interrogating criminals, and helping victims. The choices I made in my education eventually helped me fulfil this passion."
IPS or Criminologist?
After earning her Bachelor's in Economics from St. Joseph's College Irinjalakuda, she took a train to Delhi in the hopes to become an IPS officer. "I did not know about the wider scope of Criminology and the only job I knew back then which was related to investigations was the Indian Police Service. So, I spent more than a year in Delhi preparing for civil service exams; that is when I met a friend who told me about the field of Criminology," says Dhanya.
After learning more about the Master's course offered by the University of Madras in Criminology and Criminal Justice, Dhanya soon enrolled herself at the University. It was there, while carrying out her thesis, that she got a first-hand experience of what she was going to get involved in. Dhanya's thesis was on the study of examining the existence of social exclusion of LGBTQ persons in Chennai and to explore the various forms of discrimination and violence based on sexual orientation and gender identity. As a part of this study, she interviewed 52 individuals from the LGBTQ community. "During the interviews, they shared their stories with me. One transgender woman in Chennai said "When I told my dad how I feel being like a woman he beat me and forcibly shaved my long hair. From that day forward my family members stopped talking to me. One day they tried to poison me, but failed. Then they compelled me to commit suicide, but I couldn't do it. I ran away from home out of fear and to save what was left of my self-pride." Hearing this I felt an urgent need to put an end to this crime and started researching on what can be done," says Dhanya.
Although several priorities changed for Dhanya over the years, she has not given up on making the world a better place for the LGBTQ+ community. Her research topic for her doctoral studies is 'gender-based violence towards sexual minorities'.
After graduating from the University of Madras in 2014, she was employed in the same department as a research associate for a project of Transparency International, an international organization that works on combatting corruption across the world. During this period, she also attended a post-graduate diploma course in Victimology and Victim Assistance by the World Society of Victimology from TIVI Mito, Japan. Fuelled by the impulse to delve further into the field of Victimology, she joined International Justice Mission, Bangalore, as a human trafficking investigator in 2015 January.
It was in this role, that she was assigned to document undercover evidence of trafficking, exploitation, and compelling bonded labour cases. Maintaining rapport with the victims and at the same time strategizing plans for intervention and rescue were her primary duties. "During my work, our team was involved in rescuing hundreds of people from slavery and trafficking. Working in this field made me more curious about crimes that transcend borders like human trafficking, drug trafficking, and terrorism. In 2016, as I joined my spouse in the United States, I took that as another opportunity for an endeavour in the continuum of knowledge-seeking," says Dhanya.
New Country, New Possibilities!
Soon after her Master's from Madras University, Dhanya flew to the US with her husband, Peterson Pius. There she enrolled in John Jay College, NY, to complete her 2-year Master's degree in International Crime and Justice. "I am presently pursuing a doctoral degree in Criminal Justice. I am going to try my best to complete the doctoral program in 5 years since my fellowship for the is a program offered for 5 years. A doctoral degree in Criminology is something I wanted to do since I started my studies in Chennai. To enter into a fully funded doctoral program in the United States, you must get acquainted with the education system here, make good connections in academia, get referrals from professors who are renowned in the field and more importantly have a strong research experience. This led me to take up my second Master's degree from John Jay College. International Crime and Justice program appeared to be a very specific and attractive program. Pursuing this degree also helped me fulfil the requirements of the doctoral program," informs Dhanya.
When asked why she chose John Jay College of Criminal Justice, she replies that the college was once called the COPS College. "John Jay is one of the most diverse and inclusive colleges in the country. I was instantly attracted by the varied range of criminal justice programs that the college had to offer. Being located at the heart of Manhattan was an additional advantage," says Dhanya. "As a student who was completely new to the American system of education, the professors and the students were willing to help me adapt to the system. In the second semester of my program, I was able to get an on-campus job as well. John Jay is also open to unpopular opinions. There was this one time that I questioned and criticized the US policy regarding international law in a class with 90% Americans and they were open for a healthy discussion.
The college also conducts Job and Internship Fairs every semester to meet the career development needs of students and alumni. Law enforcement agencies from across the country will be present at these career fairs including the FBI. Many of my classmates have had the opportunity to carry out internships at various departments of the United Nations (UNO) in New York. The employment prospects to criminologists are not limited to jobs in law enforcement agencies and international organizations, but also has a scope in private companies like Facebook and Amazon, as well as compliance officers and investigators."
Perseverance and Planning
Although it looks like she had a cakewalk to her dreams, it is not so. "I was in Seattle when I decided to apply to John Jay College of Criminal Justice. I was on an H4 Visa back then, which is also called the dependent visa. I transferred my visa to an F1 visa that allows foreigners to pursue an education in the United States. H4 visas are infamous for being depressing since it restricts the visa holders, from working or even owning a social security number or a bank account. Moreover, many of the new immigration policies by the present administration in the United States have created concern over the United States' image as a welcoming destination for international students. Even though international students with valid visas do not have to worry about deportations, minor negligence in maintaining their full-time statuses in the program can be a reason enough to take away your F1 visa status. International students like me are watchful about the continuous immigration policy changes these days like never before," she informs.
In addition to the visa processes, she had to write the GRE and the IELTS exams. The most time-consuming documentation that she had to provide for admissions were the university transcripts from her previous colleges in India. Most of the universities in the US require one to have it directly sent from the previous universities to the one you are applying to. "Having my official transcript sent from the University of Calicut cost me a lot of time and money," she says.
Dr. Mangai Natarajan, The Beacon
Given her experience in the criminology field, we asked her about her role model. She credits her family for the various values that she learned, "Virtue of selflessness and strength from my mom, resilience from my dad, passion from my brother and hard work from my husband. My husband has been very supportive of my dreams. In fact, he sponsored my tuition, which amounts to more than $30000. For international students on an F1 visa, it takes a few semesters to find an on-campus job (The visa will not allow you to work outside campus). It was important for me to get financial support to pursue my education. However, If I must name one person in the field of criminology that I look up to and admire, it would be my present thesis advisor Dr. Mangai Natarajan. She is one of the first women from India to pursue criminology. She was able to defy numerous gender and racial stereotypes, migrate to the United States at a very young age, pursue a doctorate in the field, conduct numerous criminological researches with a continuum of excellence, and is now imparting that knowledge to her current students," says Dhanya.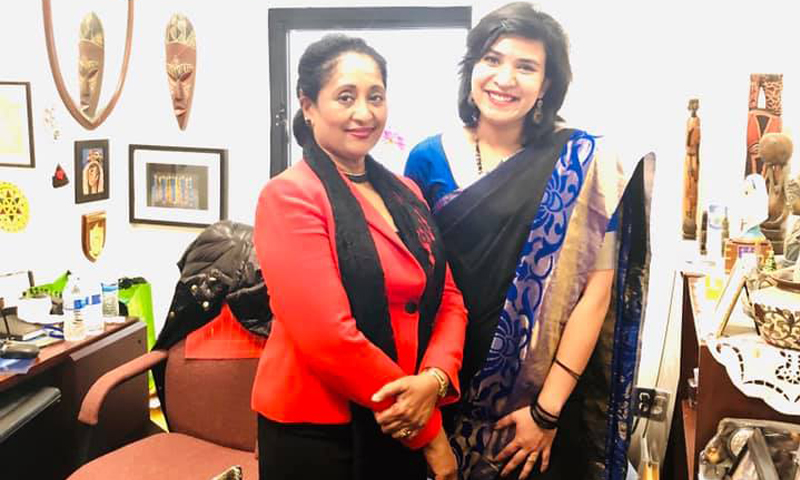 Commenting on the teaching-learning methodologies followed in the US and India, Dhanya comments, "Since I have done Master's from both countries, I can safely say that the learning experience in NY is entirely different from that of India. Academic experience from India has been theoretical, you are brilliant if you can memorize the concepts and duplicate them on to the answer sheets. In NY it is not only enough that you read a lot of books and research papers, but the assessment criteria is based upon how productively you can use what you learned in a real-life situation. In the entire two years of my course work, I have only had two exams, that too open book exams. More emphasis is given in learning through group discussions, presentations, research papers, and creative assignments. For example, during the first semester of my program, I had an assignment where I had to take a picture of a potential crime situation and create crime prevention plans for that situation using the theories that we have studied in the class."
Dhanya advices that students hoping to study in the US must diligently plan ahead and to do their research before applying. Each university and college have different requirements. Some colleges might require GRE. While some require TOFEL as proof of language proficiency some may also ask for IELTS. She also stresses on the time required for colleges in India to send transcripts to the US. While arranging finance for your college tuition, keep in mind the cost of living in the city you are applying to. For example, studying in a college in NY might be more expensive than studying in Florida or Arizona.
Why A Criminologist, Though?
As a parting note Dhanya says that Criminology is a very interesting subject to pursue and as it is intellectually stimulating. "Even though criminology as science is comparatively new in India, it is widely known in the United States and has its various specialized subsets like victimology, forensic science, Cyber Forensics, Forensic Psychology, International Crime and Justice, Human rights, etc. Considering all these subsets will give you the opportunity to go into the specific field of criminology that you are passionate about. Even though the field of criminology has a glamorous façade created by TV series, it is very different from what you see on TV. Real-life criminologists are the people who work with law enforcement officers in investigating crime patterns, studying crime motivations, creating crime prevention policies, and do researches using crime statistics, etc. Most of the crime scene investigations are carried out by forensic scientists which is a different branch of criminal justice science. Having said that, criminology is still a very fast-paced and exciting subject. You have to have a very special personality to pursue this subject; a personality that is compassionate and caring to work for social justice at the same time a personality with the physical, emotional and mental strength to constantly deal with or read about situations of victimization and crime," she concludes.
Related Articles