Situated in Salmiya, Kuwait, the American University of Kuwait (AUK) is a liberal arts institution dedicated to teaching, learning, and scholarship. It is an educational hub serving Kuwaiti nationals and expatriates living in Kuwait with avenues for higher education based on American standards and models.
Since its establishment, AUK has offered business programs in the division of business and economics within the College of Arts and Sciences. Later on, in 2011, the College of Business and Economics (CBE) was formally established as the second college within AUK. In 2019, CBE was accredited by the Association to Advance Collegiate Schools of Business (AACSB), making it among the 5% of business schools worldwide to have earned the AACSB accreditation.
"The College of Business and Economics offers its undergraduate students a rigorous and forward-looking business education couched in the tradition of liberal arts that educates the whole person (socially, emotionally, intellectually, morally, ethically, and physically)," states Dr Ralph Palliam, Dean, College of Business and Economics, AUK.
Mission & Vision of CBE
CBE is led by the mission to provide an American educational experience producing ethical, innovative, articulate, and globally agile graduates.
The vision behind CBE is to be a leading academic unit recognized locally, regionally, and internationally for its institutional distinctiveness and academic excellence through the accomplishments of its graduates.
Unique Campus Facilities
The campus of AUK is a beautifully designed and landscaped courtyard, offering members of its community a pleasant area to relax and study. In addition, the campus houses spacious & modern classrooms, a dedicated building for students' recreational activities, computer, science, and language laboratories, paddle, tennis, and football courts, a state-of-the-art library, gyms, coffee shops, restaurants; as well as nearby parking available for students, staff, faculty, and visitors.
Additionally, AUK has a specially dedicated 'Office of Student Life' cell that hosts various activities and events for students throughout the year, including movie nights, guest lectures, numerous competitions, and certified educational programs such as LEAD. In addition, multiple annual events are also hosted at the campus, including Welcome Back Week, Awards Night, Talent Show, International Week, Ghabga and Graish. Students can also join the existing 12 clubs or establish new ones, from academics and literature to social and cultural. The student-athletes of AUK are also given the opportunity to participate in local and regional competitions such as soccer, basketball, volleyball, tennis, table tennis, futsal, squash, and swimming. Altogether, the students of CBE, AUK get to experience a perfect mix of quality education and build life-long campus memories.
Extensive Range of Courses
The undergraduate students encounter a range of courses in the Bachelor of Business Administration Degree Program at CBE with majors in 6  disciplines, namely Accounting, Economics, Finance, Management, Marketing, and Human Resource Management
To complement their major, students can also elect a minor (specialization) in a discipline outside their chosen major as per CBE's selection criteria. The specializations are offered in Business Administration (for non-business majors), Economics, and Human Resource Management.
Diverse Student Population
Currently, international students represent 24% of the total undergraduate population at AUK, 4.5% of which are from India.
The accounting and finance programs are most popular for students coming from India as they expand international perspective and international rotation opportunities for graduates. Likewise, the opportunity to transfer to member firms worldwide is an opportunity for international students from Kuwait to place their hopes on.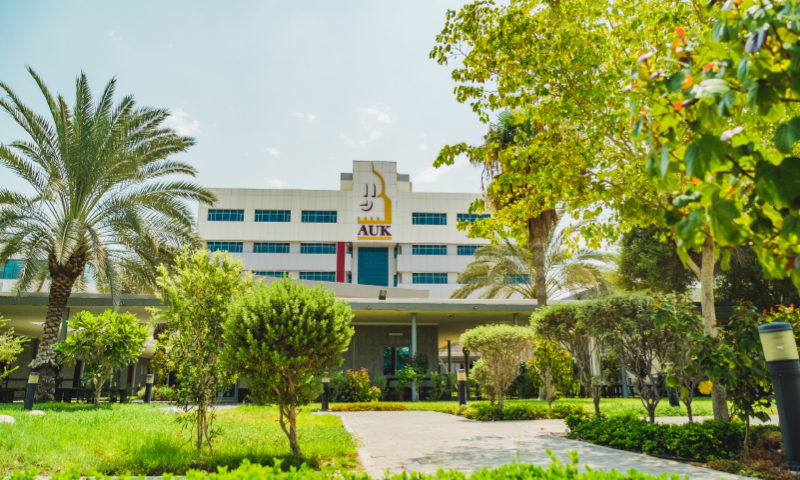 Teachers Taking Professional Learning to the Next Level
"We are extremely proud of our faculty and staff who breathe life and excitement into our courses and pursue scholarly research in a myriad of areas, and at the same time commit to helping students learn how to meet the challenges of our times locally and globally," adds Dr Ralph.
At AUK, the faculty members have moved away from traditional academic models to current quality delivery models of teaching and learning. Moreover, the university has also opened the Center for Teaching Excellence (CTE), which aims to provide AUK faculty with continuous support and resources necessary to apply modern curricula to their classrooms and promote a holistic educational culture that allows faculty to utilize technology while harnessing the best methods of teaching to ensure constructive and active learning environments.
International Programs are the Key to New Opportunities
Shedding light on AUK's overseas educational programs and how they provide students with transformative experiences, Dr Ralph shares, "Our international programs provide guidance and resources that help expand educational opportunities abroad." He further mentions that the university's existing and developing programs help bridge cultures, deepen understanding, and connect the university community to the world beyond its campus.
Presently, AUK students get the opportunity to intern at Dartmouth College for 7 weeks in the summer as part of its AUK to Dartmouth Summer Internship program. The university also offers programs that send qualified students for a semester or year to pursue full-time studies at one of its partner institutions, such as Dartmouth College, George Washington University, or the American University of Cairo. Besides, according to its incoming graduate student internship and exchange policies, AUK welcomes students from other global universities to intern and study for a semester or year.
Promoting Entrepreneurial Spirit in Students
One of CBE's program goals is to promote entrepreneurial behaviour in students, and so it offers career development and guidance services to its students and alumni.
A few of AUK's successful alumni entrepreneurs, Taiba Al-Humaidhi, is the co-founder and head of Product Mix at Floward, a full-fledged e-commerce flowers and gifts solution based in Kuwait. In 2017, she led the rebranding of Floward, formerly known as Q8Flowers, and has since been responsible for designing all floral arrangements and product mix. Salman Hamada, a 2018 CBE alumnus, is known in AUK as the supplier of daily fixes of coffee. He also approached AUK to install his LEET coffee vending machine on its campus.
Tackling the Pandemic Crisis & Planning the Future
During the pandemic, AUK adopted the online mode of education to continue the learning journey of its students effortlessly. This was made possible through the joint efforts of the management and staff of AUK. Moreover, the extracurricular activities were conducted in a virtual setting while sporting activities were suspended. Later, when government policies were relaxed, AUK reopened its door to students with strict safety measures.
When asked about how AUK is preparing to operate in the post-pandemic world, Dean Dr. Ralph replied, "Planning a post-pandemic college is not easy since the future remains uncertain." This is because COVID-19 has changed the entire dynamics of the traditional educational system. To add more fuel to the fire, the fluctuating cases and arrival of pandemic waves make the future uncertain and planning difficult. He, therefore, says that technology needs to be embraced with face-to-face interaction, and accordingly, CBE will respond to the challenges that are sustainable and advance its mission.
 For More Info: https://www.auk.edu.kw/pr/catalog/2019/cbeoverview.html
About  Dr Ralph Palliam, Dean of College of Business and Economics (CBE), American University of Kuwait
Dr Ralph Palliam has a combination of academic and business leadership in South and North Africa. He earned his Doctorate in Business Management at the University of Pretoria and his Masters and Honors Degrees from the University of Port Elizabeth. He received the prestigious Sasol Award for being the best graduate student at the University of Pretoria. Upon receiving a Senate Research Travel Grant, he researched strategic issues in purchasing, materials and logistics management at the Arizona State University's Center for Advanced Purchasing and Logistics Management. As a faculty at the Al Akhawayn University in Ifrane (Morocco), he designed and implemented the Investment and Securities Analysis Program and became co-responsible for the establishment of the trading room. He later joined the American University of Sharjah as a finance faculty. His professional work is rooted in an interdisciplinary context, both in style and substance.
Related Articles