Chandigarh Business School of Administration (CBSA) was established in 2001 as a constituent College of Chandigarh Group of Colleges (CGC) Landran, which has a very clear perspective of becoming an academically responsive institution to the requirements of the corporate world. CBSA offers a plethora of events and activities to aspiring managers to get deep insights by providing industry and academic interfaces.
Dr. Ramandeep Saini, Director – Principal of CBSA, says, "we leave no stone unturned to mentor all our students and teachers to explore their unexplored potentials and enhance their holistic development to meet up the requirements not only of the present but also cater to the needs of future in the society. Our vision is to be recognized as the leading Business School creating committed professionals determined to serve society."
CBSA aims to continuously grow and become a fountainhead among business schools through effective teaching-learning processes and pre-placement training. "We enhance students' business and technical knowledge by providing state-of-the-art facilities. Also, we provide opportunities to the students for global exposure through international tie-ups to develop a diverse and holistic culture among students and faculty," she adds.
Unique facilities available for students across the nation
Dr. Ramandeep says, "The journey of 21 years has been rewarding and humbling. The passing years saw CGC Landran grow from strength to strength. Today CGC Landran is amongst the finest educational groups in India. CBSA, the constituent college, owes its success hugely to its team of hard-working faculty and supportive management." CBSA has a wide range of facilities to accommodate all the requirements of the changing diversity.
CBSA provides comprehensive 360 Degree Training aimed explicitly at overall development to make the students industry-ready and aware of the emerging trends of the corporate world. With the help of TPP (Training and Pre Placement) Department, CBSA students have quickly developed their personalities and can crack interviews.
"We emphasize multifaceted development through various student activities. We have various Management Clubs like Finance Club, Marketing Club, HR Club, Analytics Club, Entrepreneurs Club, and Cultural Club that are managed and operated by the students," says Dr. Ramandeep.
Project-Based Learning is the essence of all the programs at CBSA, which focuses on inculcating various project managing skills by undertaking projects such as Experiential Projects like research projects, market surveys, secondary research, and many more.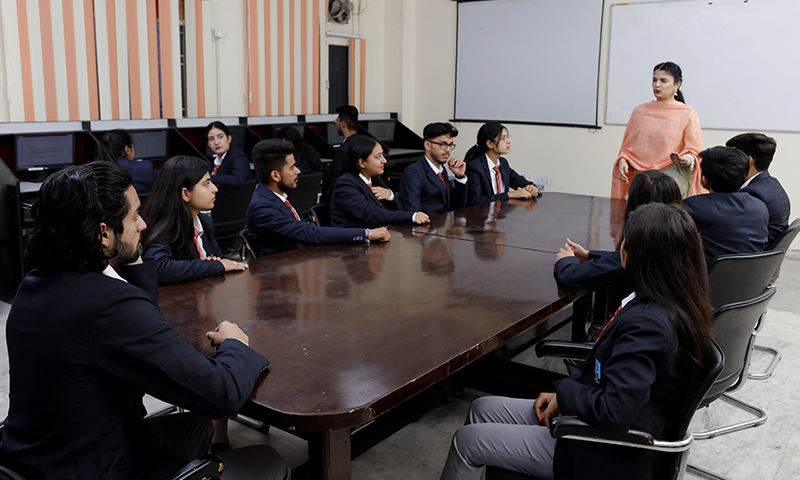 Collaborations with the Industry and International Institutions
Industry interface is a prerequisite for educational institutes. Dr. Ramandeep says, "The students are highly encouraged to undertake industry projects, presentations, case studies, research work, and work as trainees to gain practical experience in the industrial working environment. We undertake special initiatives such as pre-placement training, industry-institute interface, conferences, and seminars to prepare them for a successful professional career. We have MoUs with various companies to facilitate the same. 22 plus National and 37 plus International MOUs have been signed by the institute, which is a USP of our brand value."
CBSA has a specialized "Department of International Affairs," which aims to increase its student fraternity's global exposure. When students are exposed to Intercultural dialogue and understanding, they gain knowledge about global markets. They are prepared to leverage the impact of international exposure and accelerate their potential by creating new opportunities for their future.
Dr. Ramandeep says, "Cross-cultural references and global perspective allow students to have a pragmatic view of the business ethics, practices, and protocols in various countries. Ample of seminars, webinars, student exchange, and faculty exchange programs are arranged for students and faculty time and again with our international partners to bring international exposure to the campus. Virtual schools add stars to the enrichment of our students and faculty."
Key Placements and Scholarships available for students at CBSA
CBSA ensures that the students receive the best placement offers. Consequently, it regularly conducts employability tests to enhance their employability quotient in partnership with leading assessment companies. Dr. Ramandeep says, "The institute is recognized for bridging the industry-academia gap and as a fruitful result, majority of our students have been placed with renowned companies and have been offered great packages of around 13 lakh plus."
Scholarships at CBSA are offered to those students who hold potential but have financial barriers. The institute has several students enrolled in these schemes, which benefit them in pursuing their education.
Key Highlights of the Institute's Faculty Members
Dr. Ramandeep says, "Our faculties are our most valuable asset, and we leave no stone unturned to mentor and upskill our faculties to make them explore their unexplored potentials and be ready to meet any challenges that can be brought to them. NEP 2020 has been the prime focus, and we have organized FDPs in the same context. It gives us great pride to share that majority of our faculties is doctorate and at least 5 plus will be awarded doctorates by next year."
Research being the prime focus, CBSA faculties has published more than 250 research papers, 20 plus case studies, and 7 plus patents have been filed till date. There are 6 start-ups and 70 ideas in the pipeline, which are being mentored by their faculties.
Encouraging Innovation and Creativity in Students
CBSA aims to train students under real-life corporate programs that concur with their academics and experiential mentoring activities. These programs are a careful mix of industry /corporate visits, field research, domestic & international internships, expert lectures, peer mentoring sessions, technical seminars, practical-based workshops, HR Summits, Banking, and Finance Conclave, Ideathons, B – Plans competitions, Hackathons with subject matter experts, etc. These activities make the  students familiar with the dynamic corporate world.
Dr. Ramandeep says, "CBSA has been ranked in the Best Performer Category by the Atal Ranking of Institutions on Innovation Achievements (ARIIA) in 2021 and has fetched a 5-star and 4 –star rating in 2021 and 2022 respectively by Initiative of Institution's Innovation Council (IIC), Ministry of Education, GOI.  CBSA is also a member of the United Nations Academic Impact (UNAI) and Unnat Bharat Abhiyan (UBA)."
CBSA is not only imparting knowledge but also has an industry-centric approach, which helps bridge the gap between campus and corporate.
Promoting Entrepreneurship on the Campus
Dr. Ramandeep says, "We have a dedicated department of Research and Development (R&D). R&D Department brings together startups, industry mentors, and eminent academicians from reputed institutions in India and abroad that thrive on continuous interaction of theory and practice. R&D Department encourages young minds, students, and innovators to undertake entrepreneurship as a career option and set up a successful startup venture."
CBSA has been imparting knowledge related to entrepreneurial skills, IPRs, and boosting creativity through innovation to its students. CBSA organizes various guest lectures for the students and guides them in various entrepreneurial competitions. She says, "Students and the faculty members have filed 7 -plus patents and have around 6 startup ventures which have been started through the incubation center under the R&D Department. Several activities for enhancing the creativity of the students like expert lectures, panel discussions, etc., are organized in collaboration with R&D."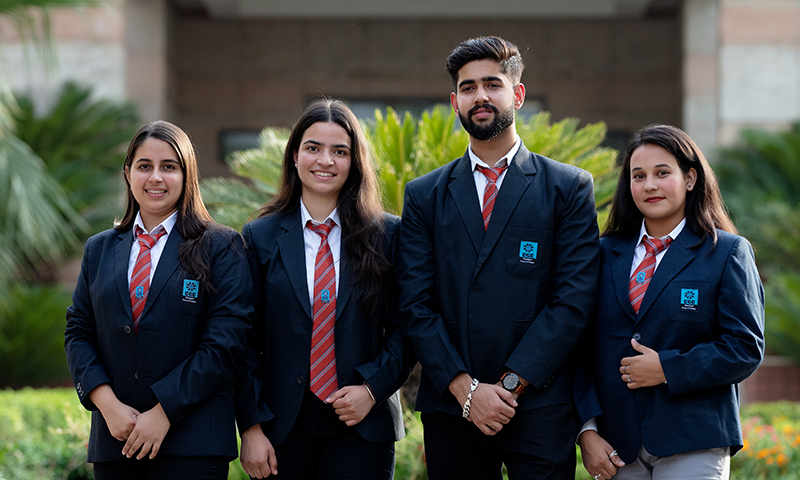 Student's Life at the Campus
Campus life at CBSA is more than the classes taken or the degree earned. It's about making lifelong connections and being part of a community that helps the students to grow into the person they want to be.
Dr. Ramandeep says, "Campus life at CBSA is full of liveliness. It enhances the holistic development and educational experience for all students by complementing academic study with co-curricular opportunities that engage, enrich, and advance student learning and growth."
"One of the most important attractions is the International Model United Nations (MUN) which is a 2-day annual flagship event of CGC wherein students from colleges and schools across India participate and win attractive cash prizes. The campus is a center of attraction for many celebrities and is occasionally visited by them to promote their projects," she adds.
Facilities to maximize the accessibility and effectiveness of education
CBSA has separate accommodation facilities for boys and girls. All the necessary facilities are available for the students, such as a reading room, gym, music room, 24/7 internet connection, indoor games facilities, mess facilities, etc.  The library is well equipped with over 40,000 books on varied subjects. With an expansive space that can accommodate around 300 students at a time, the library subscribes to national and international subject journals and national and regional dailies. CBSA library also maintains a separate "Book Bank" collection exclusively for meritorious students. Besides, the central library has a collection of more than 20,000 titles and subscribes to 200+ journals, magazines & periodicals.
CBSA has a dispensary within the campus that meets the basic medical requirements of students. It is under the supervision of well-qualified and experienced doctors and nurses. The institute has tie-ups with Fortis Hospital, Sohana Hospital, Ivy Hospital, Mohali, and Cosmo Hospital, Mohali, for concessional consultancy, tests, and medical emergencies. Three ambulances are also available for meeting emergency services.
Dr. Ramandeep says, "CBSA has a fleet of buses that picks up and drops off students and faculty from various locations. Buses are available for the following locations- Ropar, Kurali, Kharar, Banur, Rajpura, Mandi Gobindgarh, Khanna, Sirhind, Fatehgarh Sahib, Bassi Pathan, Samrala, Ludhiana, etc."
Preparing to operate in the post-pandemic world
Dr. Ramandeep says, "during the first 2 months of the new normal where we took a drift from traditional to online mode of academics, we witnessed some turbulence, but as everybody geared up to adapt to the system, we could quickly emerge back with full strength and enthusiasm in the entire system of academics. Hereafter when we resumed offline mode, we took no time in actually starting to revamping the campus facilities and academic readiness to ensure social distancing in classes as well. Soon we were able to cope with these transitions and made ourselves a dynamic environment ready for any expected and unforeseen changes in the future as well."
"We are taking steps ahead by preparing ourselves for hybrid teaching and upgrading the students and faculties. Many events, webinars, symposiums, and expert talks are planned to be conducted in hybrid mode so that a large audience can be targeted, and students can benefit from it," Dr. Ramandeep concludes.
For More Info: https://www.cbsmohali.org/
Related Articles