Located in Noida, Asian Law College (ALC) aims to carry forward the intellectual legacy of Asian Education Group, which has carved a niche for itself in the academic circuit since its inception. The institute holistically promotes academic excellence, intellectual discipline, and professional leadership. "We are committed to exploring multi-disciplinary approaches through our unique curriculum. Our aim is to revolutionize legal education through modern pedagogies, thereby adapting to the changing world in which law professionals operate," says Dr Lalitya Vir Srivastava, Director, Asian Law College. Aiming at developing knowledge, skill, and value amongst the students, ALC nourishes the law aspirants with a critical learning pedagogy, which is mentored and supported by highly experienced faculty members and staff.
"At ALC, we are looking at bringing about a paradigm shift in the delivery of legal education in the country. We want to add new dimensions in legal education that would incorporate international standards, and provide an environment which would enhance freedom and innovation in the vigorous pursuit of thoughts and civil society engagement to advance the law of the land," shares Dr Srivastava. Indeed, ALC looks forward to enhancing research inputs in the education modules. It would result in connecting students and faculty to the larger platform involving other national and international agencies and playing a pivotal role in framing socially relevant policies in the legal sector.
"Our vision is to promote excellence in the field of legal education and to fulfil the ever-increasing demand of legal professionals for a growing legal world. We endeavour to produce lawyers who will be efficient in the art of advocacy, both at the trial and at the appellate level," pinpoints Dr Srivastava.  Asian Law College, with its vision "Growth with Education" makes sure that the journey of a young law aspirant transforms him/her to an independent, capable, and responsible legal professional.
Fighting the Crisis
"Mankind has witnessed numerous catastrophes in history, including the calamitous outbreak of diseases. However, the enormity of the hazardous impact of coronavirus and the uncertainty of finding an antivirus/preventive has created havoc among people, administration, and the government worldwide. And, like every other sector, the education sector is suffering at all levels," opines Dr Srivastava. Due to the pandemic, the state governments across the country have temporarily shut down schools and colleges. There is uncertainty when schools and colleges will reopen. No doubt, this has impacted Asian Law School since it is the crucial time for completion of academic session 2019-20, ALC Entrance Examination and Admission, which are usually held during this period.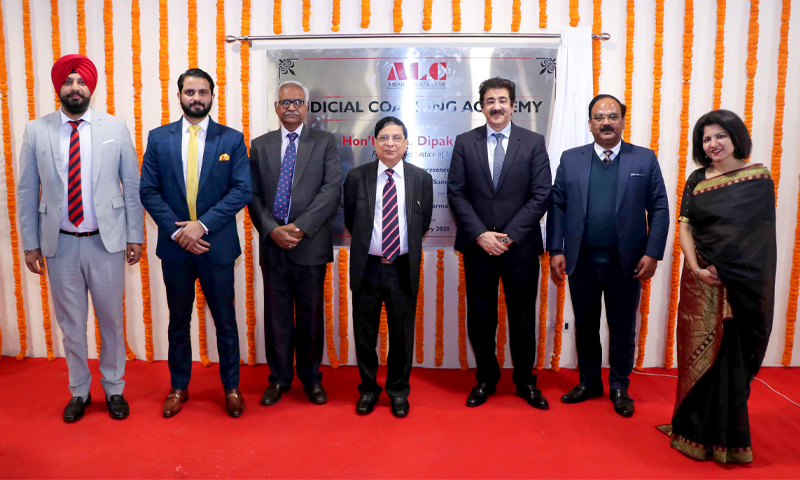 To maintain the social distancing norms, Asian Education Group has accelerated to adopting digital technology by introducing virtual classrooms and various online modes like Skype, Zoom, YouTube and WhatsApp tutorial. These online sessions included recorded lecture as per their subject completion, discussion of their coursework, PowerPoint presentation, notes, and many more with their respective faculty members. "Giving and receiving assignments through email has already been standard practice. AEG has also conducted its internal examination through Online mode along with Viva," shares Dr Srivastava. Maintaining its educational standards, the institute has organized several Webinars for students and faculty members that will be beneficial for them in the long run. Dr Srivastava adds, "These interactions between student's, senior Advocates, Judges and other industry professionals can help both the students and young lawyers to learn the tricks and challenges which they might require to face after the completion of their LL.B degree.
Working with the Industry
For several years, innovation in the education system has impacted the way businesses operate. Millennials entering the job market today are ready to learn new technologies and how to collaborate. The need for innovation in today's business environment and the ambition of policymakers to commercialize academic knowledge intensify this trend. "We at ALC ensure that each student is given right industry exposure & skill development to meet the high-end corporate expectations," says Dr Srivastava.
Aiming at offering efficient and effective law professionals to the nation, ALC ensures to bridge the gap between the theory and practical application of concepts through a learning process which is simulative, participative, and multi-disciplinary. The institute has designed the academic curriculum and pedagogy to enable the young, budding lawyers to be well conversant with legal principles and practice, and to think creatively and critically in a holistic perspective. Dr Srivastava explains, "To ensure that our law graduates acquire the best possible knowledge of the law, skills of advocacy and drafting, we have designed a unique internship program with NGOs, judiciary, law firms and organizations. With the support of all stakeholders in the legal sphere, our students are certain to attain new heights and contribute positively not only to the growth of the legal industry but also the nation as a whole."
Keeping pace with the emerging importance of industrial collaboration, Asian Law College has established cooperation with the prestigious University of Cape Town, South Africa. ALC students of BA. LLB /LLB International Program have the unique opportunity of getting an enriching international exposure with Eight-day Fully Paid educational trip to the beautiful city of Cape Town where they will undergo a practical workshop on International Law and Legal Framework at the University of Cape Town Campus. The Exclusive workshop at UCT-SOL Campus designed especially for ALC students of BALLB /LLB International programs focusses on diversified aspects of International law and its practical applications. The workshop complements the lessons that the students learn during their regular classes of International Law Subject.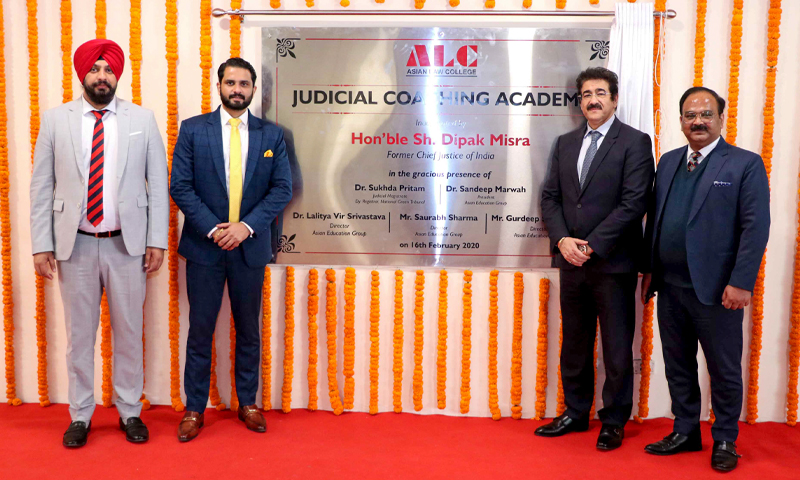 Dr Srivastava shares, "Students of BALLB /LLB International program have an added advantage when they apply for jobs and internships in the legal field and corporate sectors. The international law has developed by leaps and bounds, and with the modern global leap of India in terms of its foreign relation and international trade, the importance of International Law has increased manifolds." The workshop will accustom the students with the practical usage and application of International Law principles, which will broaden their understanding of the subject and further the role of International Law on maintaining International peace and security along with the relationship of International law and Municipal Law will be the cardinal area of the workshop.
Maintaining Excellence in Teaching
Teaching excellence is core to the Asian Education Group's mission. "Our teaching staffs are energetic researchers and excellent communicators. As experienced practitioners and experts in their field, our staff describe on their own knowledge and hands-on familiarity to deliver professionally oriented programmes," pinpoints Dr Srivastava. The faculty members of Asian Law College comprise of a group of professionals having substantial experience in the legal and academic domain.
"The main aim of faculty is the overall holistic development of each student. 'Developing the best by helping the weakest' is the guiding philosophy here, which can be witnessed by the quantum of hard work each faculty member does for every student," says Dr Srivastava. The faculty member of ALC come from a diverse background, including eminent lawyers, researchers, theoreticians, and legal consultants. It provides valuable insight to the students and instils in them a continuous desire to achieve excellence. Dr Srivastava adds, "The faculty combines formal mentoring with the remarkably high standards of teaching for the best of interest of the students. We at Asian Law College, encourage our faculty members in their research developments and augment their professional development by organizing Faculty Development Programmes that will not only help them grow but also mature their teaching skills."
ALC, with its vision "Growth with Education" makes sure that the journey of a young law aspirant transforms him/her to an independent, capable, and responsible legal professional. "Our focus is on justice education. We envision to shape a better future for Mankind by producing efficient and socially responsible aspirants," states Dr Srivastava. By developing excellent and worthy professionals, the institute wants to assist in the overall progress and development of its students. To ensure this, ALC has mapped each course and their learning outcome with the programme education objective and learning outcome. In addition to this, the institute emphasizes experiential learning by applying innovative pedagogy, which means, the focus is also on affective domains in addition to the individual's subjective development.
On the other side, Crafting Prodigy Program developed by the Centre for Skill Development at ALC is a unique skill development program. It focuses on the overall development of the students by their crafters, who assist them in identifying their skills and abilities and also motivates them to work on them, but more importantly focuses on developing independent and responsible individuals.
Offering the Best Possible Placement Opportunities
The principle body assigned with the responsibility of supervising and conducting the campus recruitment in ALC is the Legal Placement Cell. The vision of this cell is to build a string of industry-academia interface for training and placement of students to meet corporate and legal challenges. "Every Thursday, we conduct activities to ensure a development-oriented student growth process. As a part of this, students are trained and moulded to be at the top with the blend of managerial and leadership skills and a wide range of legal professional skills," says Dr Srivastava. Keeping this in view, the placement cell ensures best possible industry exposure by bringing in legal industry experts to interact with the students, arranging industry and court visits with the best learning so as to bring in the best placement opportunities for the students.
"With globalization, various new opportunities have come on the scene, and now students are not much interested in traditional fields of law, such as criminal, contract and so on. Fields like Cyber Law, Intellectual Property Rights are gaining huge recognition," opines Dr Srivastava. Aligning with the need of globalization, the institute has introduced diploma courses on Cyber Law (affiliated from Asian School of Cyberlaw), which will acquaint students with the knowledge of laws protecting the crimes due to digital technology, and also on Intellectual Property Rights (affiliated from Enhelion), which aims at providing awareness to the rights of patents, trademarks and copyrights. Dr Srivastava adds, "Additionally, to shape them better, we have a diploma course in corporate communication, and personality development focused entirely on the soft skill, communication and professional conduct in the legal world. We also equip them with additional language training of their choice between French and German."
The final placement process at ALC begins during the final semester of students. "Our Placement model is a five-stage process involving soft skills development, Career Guidance, the Pre-Placement talk, Executing placement and company joining of students. We at ALC ensure that each student is given right industry exposure and skill development to meet the high-end corporate expectations," explains Dr Srivastava. The Corporate Resource Cell (CRC) at ALC helps to solve the students' recruiting puzzle. Through numerous activities like pre-placement talk, on-campus interviewing and events such as placements weeks, the institute has created a platform to connect with talent and identify the best human resource for the companies looking for their future employees.
"Furthermore, to enhance our students with practical knowledge and also enhance their communication and in-depth knowledge before their actual entry to the Legal world, we have developed a Centre for Skill Development Program, which offers one to one individuated interactive sessions wherein each prodigy (student) shall have a Crafter (faculty advisor), who will be the counsellor as well as the mentor for academic, co-curricular and extra-curricular activities," shares Dr Srivastava. ALC has also given particular emphasis to courtroom exercises to gain excellent rhetoric skills and in-depth knowledge of precedents, and to familiarize students with the environment of courtroom long before their actual entry into the legal world. Dr Srivastava proudly adds, "Our students actively participated in the National Trial Advocacy Moot Competition that was held from 8th to 10th of February 2020 at Maharaj Vinayak Global University, Jaipur and they, importantly, won the "2nd Runners Up" position."
Making of Lawyers with Exceptional Qualities
Study of law is unquestionably one of the most gratifying career options for millennials considering the job challenges and financial benefits. Over the last few decades, India has witnessed a steady rise in demand for law graduates in various professional fields. "Earlier students were offered courses in civil, criminal, corporate, taxation, labour and election law. Today the repertoire has included new specializations including space, cyber, intellectual property, and international laws. The prospect for law students is particularly good as they are now better armed than those 10-15 years ago," opines Dr Srivastava.
Asian Law College educates students in a multi-dimensional cadre. They train them in experiential learning by applying innovative pedagogy, that is, the focus is also on affective domains in addition to the individual's subjective development. "We facilitate the students through various cells such as Moot Court Society, Asian Legal aid Cell, Cultural Cell, Sports Cell and Debating Society which further enhances their skill development," says Dr Srivastava.
Asian Law College students are versified and hence post their graduation, a student has strong proficiency in understanding all kinds of cases which will help them grow as an Advocate. Every student of ALC possesses excellent communication skills, exceptional memory on essential sections of the law, open-mindedness, good leadership qualities, logical reasoning, and analytical power. They think out-of-the-box and, have in-debt knowledge and understanding of statutes, rules, regulations, and notifications.
Related Articles