From the aftermath of a war to a revolution and finally a global pandemic, Dr. Dalia Sherif (Executive Dean, Baccalaureate Programs & Partnerships at Lone Star College) has witnessed unimaginable things come true at various stages of her life and career. However, she has always had a strong will, as fierce as fire; no storm so harsh could make her lose her sparkle. An honoree of 'Woman Who Means Business,' Dalia's professional journey is nothing short of inspiring.
The Early Beginnings
Born and raised in Egypt, Dr. Sherif was encouraged by her father since childhood to dare to dream. "As the seeds of my grand dreams began blossoming, I realized that education was the most powerful tool I could use to reap those dreams," reveals Dr. Sherif.
From then on, education became a key driver of Dalia's life. She became both a professional dreamer and a life-long learner. "I realized that dreaming is just a simple application of stretched goals; aiming higher than you think you could reach, setting extremely ambitious goals, and pushing yourself to new heights," explains Dr. Sherif. With a bit of luck on her side and a lifelong learning attitude, Dr. Sherif found herself ready to take on the world.
When One Door Shuts Down, Another Opens for a Bigger Reason
Beginning her career with U.S. Agency for International Development in Cairo, Egypt, Dr. Sherif enjoyed the flattering environment of diplomacy and international relations. She quickly joined the U.S. Department of Commerce located at the U.S. Embassy in Cairo and received ten meritorious honors and extra mile awards for forging export successes exceeding USD 300 million during her stint. As she reached the pinnacle of her career, the Egyptian revolution broke out and left her without any foreseeable options. However, as one door slammed shut, another door creaked open. That same year, Dr. Sherif won the diversity visa lottery and moved to the USA with her family.
Being in a new and unfamiliar environment, Dr. Sherif viewed her situation as a minor setback for a major comeback. This was also the time when she saw how education continued to play a life-saving role during her tough times. With an MBA degree, international business knowledge, marketing skills, and multilingual proficiency, Dr. Sherif became a unique, sought-after professional candidate. "I found sharing my international business experience with the younger generation of students extremely rewarding, and I fell in love with teaching and passing forward knowledge," fondly shares Dr. Sherif.
Later on, Dalia pursued her Ph.D. degree from Grand Canyon University in industrial and organizational psychology. She was juggling a full-time degree and a family of five at that time. Her five-year-long Ph.D. journey was challenging yet rewarding as it allowed her to transition from one position to the next. By growing the MBA program at the University of Houston downtown from the smallest in Houston to the largest in Texas, Dalia was recognized by the Houston Business Journal as a Woman Who Means Business. "This recognition and completion of my terminal degree emphasized to me that everything happens for a reason," mentions Dr. Sherif. Like before, another fantastic opportunity came her way in the form of Lone Star College (LSC), one of the best employers in the USA. She joined LSC as a full-time faculty to build their new bachelor's program in management. Soon enough, stepped into the Executive Dean's position to grow all four bachelor's programs during the global pandemic times and tripled their enrollment in just one year.
Tackling the Challenges Head On
As the Executive Dean of Baccalaureate Programs & Partnerships at LSC, Dalia's first day started during the stay-at-home order. It meant meeting her team through the camera. "This was ironic in a way because you are trying to build community and bring people closer, all while emphasizing the importance of maintaining a safe distance," asserts Dr. Sherif.
However, this became an excellent opportunity for Dalia and her team to get acquainted with each other. They used various motivational and inspirational tactics for team building, including a weekly encouraging photo contest, staff recognition, participation in the Clifton Strength team building test, and online coffee chats. "During the first days on the job, I focused on preparing myself to accelerate once the situation would allow us and matched the strategy to the situation and negotiated what success meant to each of my team members to achieve goal alignment," eagerly shares Dalia. Finally, to keep track of their progress and maintain momentum, Dr. Sherif and her team celebrated all their small victories together.
Lone Star College: Training Tomorrow's Workforce Today!
Texas-based LSC is an award-winning higher education institution, providing comprehensive educational opportunities and programs to enrich lives. LSC's mission is centered around assisting students in achieving academic success through persistence and retention, promoting understanding of course concepts, reinforcing essential study skills and habits, and encouraging independent learning to help them reach their educational goals.
LSC is a second home to 2,880 international students, having one of the USA's most extensive global student populations. This is due to the fact that the institution's 'ONE LSC' culture and mindset exemplify embracing the diversity that its students, faculty, and staff bring to the campus. As a result, LSC has become a great place to get first-hand exposure to diversity in the real world: within one of the most diverse campuses in the USA.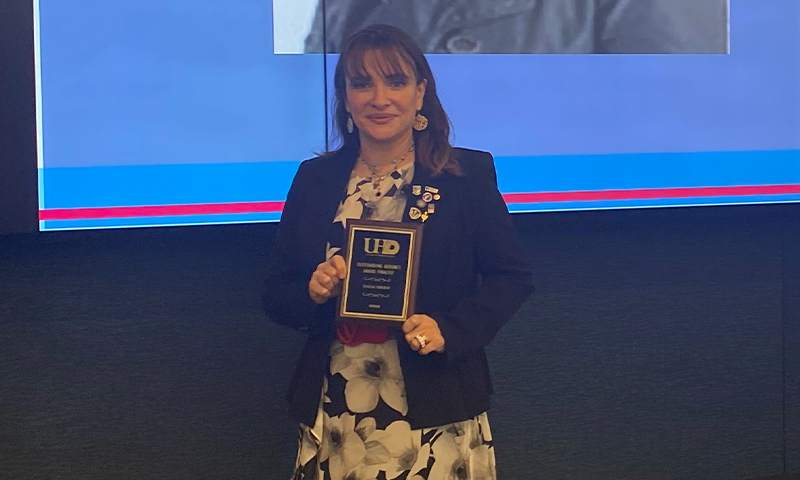 Making Team Members Feel Valued & Appreciated Goes a Long Way
Dr. Sherif reveals that the secret to motivating faculty members is to make them feel valued. This means being available, becoming sensitive to their workloads, and constantly checking in with them if they need help. Likewise, small but timely gestures of gratitude can make them feel appreciated and acknowledged.
Moreover, the professional development of faculty members is also a key area that should be stressed. As leaders, one must ensure to give their faculty a clear direction and a voice, empower and recognize their individual strengths, encourage peer collaboration, and support the execution of their proposed strategies. Through these efforts, their motivation will never fade away. Finally, it is crucial to recognize their overload times and avoid introducing new projects during critical periods, such as paper-grading periods or before final exams.
Dream Big, Work Hard, & Make it Happen
Throughout her journey, Dr. Sherif has encountered numerous hurdles, whether aiming for a graduate degree or juggling multiple responsibilities of living in Egypt, working in the USA, or being a mum to her young children. However, she never compromised over her dreams, dismissed them, or settled for less. She always has and continues to emerge as gold. Ultimately, it takes a strong, courageous, and brave woman like Dalia to conquer dreams irrespective of adversities.
Looking back, Dalia smiles and shares, "Believe in your real value, trust yourself, and know that only you can make the decision for what you believe your worth is."
Celebrating the Milestones
For Dalia, immigrating to the USA and embracing all the nuances and the acculturation process was a huge milestone for her. Likewise, studying and graduating from three great universities on three different continents was not only a milestone but a huge part of her international brand and iconic diversity assimilation.
Dalia's next significant milestone is earning her Ph.D. degree, which was the most difficult, yet fulfilling experience. She says, "I wish I could freeze time back to the moment when I walked across the stage, realized that this was my terminal degree, and processed the fact that I will be a doctor for life." Finally, joining LSC is another significant milestone for Dr. Sherif. "The leadership team, my colleagues, my team members, and the world's best faculty are all incredible people like no other professionals I have seen before," states Dalia.
A Fulfilling Career
"I truly believe I have the best job in the world," shares Dr. Sherif. She finds it rewarding to help students and positively impact their lives, one student at a time. She further implies that having navigated through the toughest of all times, she has learned to grow an unshakable core of calmness, slowly but surely.
Having read the book, Resilient by Being Well Podcast hosts Dr. Rick and Forrest Hanson, Dr. Dalia feels that one must possess grit and determination to withstand adversity, stay calm, and evaluate things rationally; one must choose to respond rather than react. "The two major well-being boosters, mindfulness, and meditation, have helped me preserve through the toughest and most stressful times," reveals Dr. Dalia.
Lifelong Learning is a Must-Have Trait in Today's Educators
A dual degree holder, Dr. Sherif shares that every educator must possess a lifelong learning attitude. It doesn't necessarily have to be earning a new degree or credential; it could be acquiring a new skill or simply reading a new book. Openness and receptiveness to new ideas and information help educators to have an extraordinary vision when they advocate or mentor other learners.
"It is an entertainment of teaching and learning, where we can learn from our students as much as they learn from us," opines Dr. Sherif. To stay relevant with the times and provide practical learning to students, educators must also keep on upskilling and reskilling themselves.
AI & VR are the Gateways to Real Learning Experience
Known for being a step ahead in its approach, LSC has pioneered the integration of Artificial Intelligence (AI) and Virtual Reality (VR) in classrooms, including Oculus VR, which will be used to simulate interviews and handle difficult negotiations and conversations in management and HR classes in its upcoming bachelor's programs.
Dr. Sherif, therefore, recommends other colleges incorporate a replication of environments and simulated presence as a real learning experience that mirrors reality and brings lessons to life. VR can also help in teaching students how to network, bridge cultures, and even conduct virtual study abroad tours. In a nutshell, VR and AI are the gateways to endless possibilities in revolutionizing the traditional classroom experience.
Ongoing Projects
Under Dr. Sherif's leadership, LSC recently launched its fourth bachelor's degree program in Emergency Management. Apart from this, as an active board member, with Katy Rotary, East End Chamber of Commerce (EECC), and Women Professionals in Government (WPG), Dr. Dalia and other members of the executive committee recently awarded tens of need-based and merit-based scholarships to students as a token of support to help them pay for their college degree.
The Road Ahead
LSC started offering a permanent online campus option not long ago and is enrolling students for the fall 2022 semester through its official website. Over 1, 900 students have already enrolled, with 1, 400 seats available for grabs. Moreover, online classes will still be available through the different LSC campuses, and students who take some classes online can also take courses in person or in a hybrid form.
Currently, LSC-Online is offering more than 30 online programs but plans to expand offerings as they become necessary and sustainable. Through LSC-Online, LSC aims to expand its students' reach, including out-of-state and military students.
For More Info: https://www.lonestar.edu/
Related Articles