Sangeeta Hajela, Principal DPS Indirapuram, is a dynamic academician with 34 years of experience as a senior teacher of English, Headmistress, Vice Principal and a Principal.  After completing BA (Honours) in English Literature from Lady Shri Ram College, New Delhi, she post-graduated in English from Delhi University and obtained a Degree in Education from Central Institute of Education, Delhi University.
Each day is a great day to learn something new. The training and learning of students based on this thought, in their developing years, plays a vital role in dictating how they will deal with their adulthood. This sudden change from the traditional classroom to virtual classes has the potential to impact the young minds immensely due to varied factors.
Physical confinement is one of the exterior outlooks to this situation; their growing mind needs experiences and exposure for a productive development which has been limited in the current situation. In such circumstances, it is not only important to make up for those lost experiences and interactions but also understand how their cognitive abilities are helping them drive through this change.
Students and teachers are left with no other option other than relying on digital learning. This change of pattern in studying, getting accustomed to virtual classes and online interactions with teachers, and limited options of spending time outdoors can elicit irritability and anger. The situation can get even more challenging if students do not have the awareness and guidance on how to deal with it. Social and physical distancing leading to emotional stress in children must be addressed.
Anger Management sessions, therefore, have become crucial in helping the child get comfortable with the new normal. Most of the children display two tendencies of behaviours when they don't know how to cope up with the situation – they are in anger or become extremely quiet. As a parent or teacher, we must look for these signs and gently address them without causing stress to the child.
Sessions on helping them cope up with conflicting behaviour will not only help them in recognizing and dealing with the situation but will also give them a better understanding of self. These sessions also act as a bridge between the parents and children. Anger management counsellors and experts also make sure that the child can face further obstacles and stressful situations in life rationally and without getting anxious. Habit cultivation is easier in budding children; these sessions help them build it for their future. Resultantly, individuals who can make peace with their emotions upon introspection can tackle challenging situations far better than others.
More About Sangeeta Hajela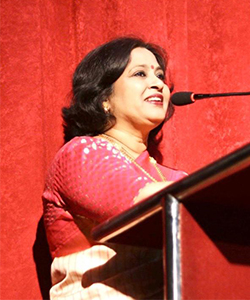 Sangeeta Hajela has an ear for music and penchant for composing poems on specific situations and people, in both Hindi and English. Her ability to connect with people of all age groups, and her willingness to reach out with empathy to one and all indeed make her a leader with qualities of the head and heart. Practical, down-to-earth and solution-centric, Hajela is an approachable friend and a guide to all. An empowered woman of substance, Hajela inspires the school's 6400 students and around 300 teachers to reach new peaks of success.
Related Articles