Divesh Bathija is the founder of Unmath School headquartered in Mumbai. The objective was to re-approach the crucial but much-misunderstood subject of Mathematics. His initiative of creative Mathematics curriculum has been implemented at over 150 schools across India, UAE, Nepal and Sri Lanka over the last 8 years and has trained over 50,000 students and mentored over 5000 teachers.
The lockdown situation has necessitated the closure of educational institutes across the globe. Owing to the same, the Indian government is allowing educational institutes to offer online education for the current academic year. Right from primary students to university students, everyone is opting for virtual education.
Learning is an experience which can be effectively disseminated through online and offline methods. The core definition of learning is an experience, for instance, books can only explain the techniques on how to swim, but the only experience can help you learn swimming. Similarly, just by-passing knowledge, students might be unable to process it without experience. Before this pandemic, everyone had personal choices of virtual learning, but the COVID situation has made the choice a necessity. With students sitting at home, remote learning has become the need of the hour to start with the academic year. The government has realised the importance and relevance of virtual education. Further to this, the draft version of the new education policy by the government of India outlines the important role that online learning could play in reforming India's education system in the near future.
Classroom setting has an advantage of students mutually exchanging ideas during discussions in a room. Considering the recent times, virtual learning is the perfect alternative with immense potential for everyone in the education eco-system for building experiences on virtual platforms and create classrooms without any walls. From our personal experience, we have evolved in the current situation transforming from offline to online for making the learning experience meaningful for students. We innovated our math teaching approach with India's most celebrated sport, i.e. Cricket, and merged it with the most dreaded subject – Math.  The pandemic situation is a crucial time to teach students to adapt to the changing environment while analysing the risks and what better way than Cricket which involved both decision-making and calculations. The pre-recorded sessions on the cricket experience by the international former Cricketer Ajit Agarkar help students to build on their personality and solve their math anxieties.
Most children develop an understanding of addition and subtraction through everyday interactions. Similarly, building a strong math skills foundation in early childhood will help students in career growth in the future. Cricket experiences like applying math equations for improving the performance and pace during a critical over in a live match will help students understand the relevance of mathematics in every life. In an everyday routine, mathematic equations are applying to calculate the risks, outcomes, etc. Therefore, making the foundation strong helps in future growth and success. The online Cricket-Math program is conceptualised to help the students even in the remotest locations.
Virtual learning allows students from locations across the globe to connect, share ideas and explore abundant ways through peer learning. Before the COVID-19 situation, the exchange programmes were popular but post the pandemic, online platforms provide great access to connect on a real-time basis. Game-based virtual learning helps foster new teaching and learning approaches for building a better education eco-system. Through our online program, we have observed that students analyse matches, visit stadiums across the globe and create experiences and visualise their concepts. We have designed our boot camps in an interactive way in which a learner watches a match and visualise the concept using their analytical mind to solve the math problem.
In the past few years, the trend of including digital or video games in educational settings has gained the attention of people working in the education industry. In the year 2019, the government had implemented a new policy, under which all school-going athletes who join national training centres will be provided tuition in mathematics and other two key subjects. Therefore, understanding the importance of sports in our country, we have combined Cricket and math for the well-rounded development of students. It helps in imparting knowledge through a connection, especially conducive to the learning needs of students. From run rates to bowling speed to a degree of spin to batting average and scores, the sport is all about numbers and so associating it with mathematics will make it enjoyable for students to learn and understand the subject better. Sports is the perfect blend of decision-making, handling pressure, managing conflicts, creativity, flexibility, relationship management, time management and project management skills. These are skills required to be future-ready, and hence a course like this is a great way to induct students into a smart curriculum.
For math subjects, the teaching process is not just through lecture-based methods. The concept needs to be visualised with the help of life-experiences, and virtual learning will aid significantly in developing the intellectual growth of students.
More About Divesh Bathija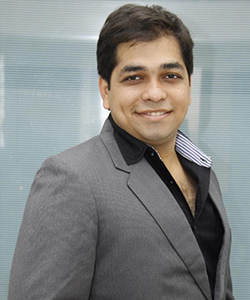 Divesh envisioned to make students view Mathematics and Entrepreneurship from a concept point-of-view rather than a traditional score-fetching point of view. He believes in Outcome-Based Education (OBE) Experience, which helps students grasp the concepts of Mathematics beyond textbooks. Divesh strategised the approach that directly connects students and their teachers, where the tailor-made workshops act as crucial value-adds in the existing system of the school.
Backed by multi-cultural experiences and vision to make Math and Entrepreneurship fun, Divesh serves to be the perfect guidance. His natural aptitude of tutoring backed by awareness of western culture trends makes him an engaging personality for students and teachers.
Before his own venture, Divesh worked with reputed brands like Kotak, Cushman & Wakefield, etc. as a financial expert. He has closely worked with a few reputed colleges as a visiting faculty. Divesh hails from Mumbai with a Graduate degree from HR College; followed by masters from the University of Westminster, London on Full Scholarship.
Related Articles