Established in 1963, RV College of Engineering (RVCE) is on a mission to achieve excellence in technical education, research and consulting through an outcome-based curriculum focusing on continues improvement and innovation by benchmarking with global practices. Today, RVCE focuses on creating transformative opportunities, strengthening collaborative partnerships and maximizing the societal impact through cutting-edge research and innovation.
Chetan D Kabade was getting ready to go for a vacation at the end of his first year of Electronics and Communication, when he heard the news of recruiting new members to the Astra Robotics, a freshly minted students' club of RV College of Engineering. Being a robotic enthusiast from high schools, Chetan could not resist himself and stayed back at the campus to be a part of Astra. After several rounds of interviews, he became a club member, which changed his student life at RVCE forever.
"RVCE has more than 16 student clubs, each of them working like a startup. Astra Robotics, though a new club, is no different. From raising funds to managing teams for different competitions and projects, students oversee everything," says Chetan, who is in his final year and heads the activities of Astra Robotics. Recently, Chetan and his had been Shanghai, China to participate in Delta Cup – a global competition on Advanced Automation Design Contest conducted by Delta Electronics. The team that made a 3D Scanning and Printing Machine emerged as winners competing against 76 teams from 73 colleges and universities in China, Taiwan, Thailand, India and Vietnam.
"Being a part of technical clubs like Astra Robotics gives everyone an opportunity to participate in big events like Delta Cup. I think, that is what makes RVCE different from other colleges. Here, the exposure you get is unparallel," pinpoints Chetan. At present, RVCE has more than 1500 students working in various clubs like RV Solar Car Team, Jatayu (Autonomous Aerial Vehicle), Antariksh (Student Nano Satellite Builder), Krushi (Agriculture Tractor), Garuda (Super Mileage Cars), Vyoma (Unmanned Aerial Vehicle), Ashwa Racing (Formula Style Cars) and many more. Every club has its own workplace and faculty in-charge to guide students.
Dr. K.N. Subramanya, Principal, RV College of Engineering opines, "Astra Robotics is now working on a futuristic mars rover concept vehicle, which will be able to traverse though any sort of terrains. That is the beauty of all the students' clubs, they are assertive and innovative. In fact, innovation should come from the youngsters of our nation. As academicians, our job is to make sure that the students have enough infrastructure and guidance available in the institute." RVCE has created an excellent innovation ecosystem, which brings together education, research, industry, and government with a focus on creating transformative opportunities, strengthening collaborative partnerships and positively impacting the economy and society.
"It is important for institutes to look at the societal problems and try to find solutions through research activities inside the campus. This is the methodology followed by most of the reputed western universities and we have started imbibing that culture here," says Dr. Subramanya. The management of RVCE has always been proactive in building necessary infrastructure for conducting advanced research activities. The institute has four centers-of-excellence including Microelectronic (Large Area and Microelectronic), Internet of Things (IoT), Center of Computational Genomics and Smart Antenna and its Measurements in the campus, which are worth the investment of over Rs. 70 Crores. "In the last three years, we have filed around 42 patents. In this, 60 to 70 percent are student related projects," claims Dr. Dr. Subramanya. The institute also has 10 ongoing projects that are on the verge of commercialization.
"Entrepreneurship is an importance area of focus for us now. We offer more than 20 courses covering most of the areas related to entrepreneurship, besides providing incubation center and other related facilities," shares Dr. Subramanya. Though, the startup fever is slowly picking up among the ongoing students, RVCE's has large number of alumni members who are running their own enterprises all over the world. They regularly help the institute to promote entrepreneurship in the campus. Recently, Kaushik Mudda and Navin Jain who graduated from RVCE Bangalore in 2014, were on the news. Their three-year-old startup, the three-year-old startup has won the CES 'Best of Innovation' prize in the 3D printing category with their Ethereal Halo, a unique five-axis machine, has won the CES 'Best of Innovation' prize in the 3D printing category with their Ethereal Halo, a unique five-axis machine.
"As one of the earliest private engineering colleges in the country, which has been operating for about 66 years, we have more than 30, 000 alumni now. Around 20 percent of them are entrepreneurs," sates Dr. Subramanya. RVCE, which became autonomous in 2007, has achieved the coveted private university status now. The institute believes that the private university status will help them to improve the quality of education they have been imparting to the students across the country.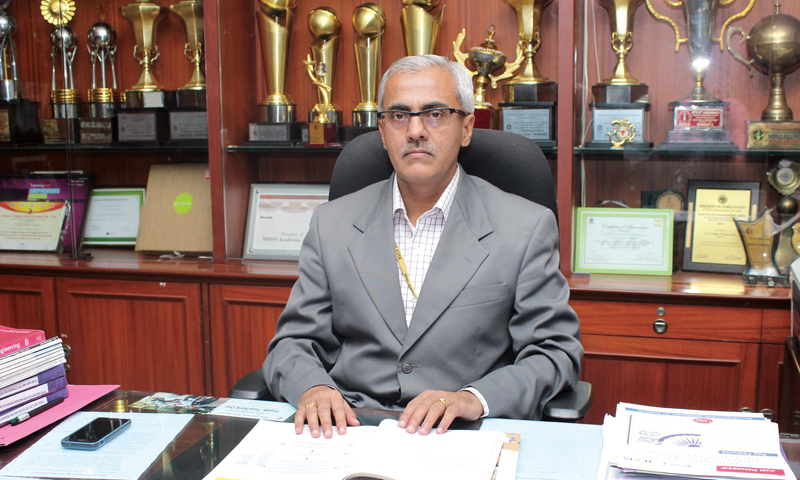 Dr. K.N. Subramanya, Principal
Dr. K.N. Subramanya had early education in Acharya High School and AES National College-Gauribidanur. Then he pursued B.E in Industrial and Production Engineering from Bangalore University, M.Tech in Industrial Management from IITM-Chennai, MBA from Karnataka State Open University-Mysuru, with HR specialization (5th Rank) and Ph.D. from Avinashilingam University-Coimbatore. He did his Proficiency Courses on 'Engineering Consultancy Practice and Non-Destructive Testing' from Indian Institute of Science, NPTEL online Certification course on 'Educational Leadership'. Has total 27 years of experience in Teaching, Training & Consultancy, Research and Administration. Having Strong communication and presentation skills, effective collaboration & team building capabilities with zeal to adapt to latest technological and leadership concepts & utilize the same in a productive and effective manner for the progress of the institution.
Related Articles