Changing the Face of Business Education in Africa
Before the establishment of Lagos Business School (LBS) in 1991, companies in Nigeria had to send their managers abroad for high-quality management training. However, some of the courses taught in the institutions abroad had no relevance to business practice in Nigeria and Africa. The emergence of LBS significantly impacted the Nigerian management education sector, which desperately needed programmes with international standards and local relevance at the time. "Since our inception three decades ago, we have built a legacy of developing concepts and techniques that profoundly impact professional management practice in Africa and how businesses impact society," says Chris Ogbechie, Professor of Strategic Management and the Dean of Lagos Business School.
A graduate business school of Pan-Atlantic University (PAU), the school started its operations under the name Centre for Professional Communications (CPC). In 1992, it became LBS and welcomed the first group of participants to the Chief Executive Programme (CEP), a part-time management programme addressing the needs of CEOs. "The CEP was the first executive programme delivered by LBS. It was a deliberate decision to 'start the house from the roof.' Once CEOs see the need for management education, other levels of management will follow," shares Professor Ogbechie.
With a mission to develop professionals with high ethical and professional standards, LBS has evolved over the years. It continues redefining the practice of management on the continent while developing responsible leaders for Africa and the world. "Our experienced faculty, research, and ideas are effectively changing the face of business locally and globally. The foundation of our values rests on the Christian principles, ideals, and teachings of St. Josemaria Escrivá, the founder of Opus Dei," asserts Professor Ogbechie.
Industry-Oriented International Learning
LBS has the largest number of African cases and deep connections with the business community in Nigeria and Africa. This helps the school to offer unique insights into the African business landscape and how to do business effectively on the continent. Professor Ogbechie explains, "All participants in our MBA and executive programmes benefit from networking sessions with business leaders, company visits, experiential trips, and cultural immersion visits. Our faculty have industry experience and can share robust ideas and experiences with participants." Besides, the resident international participants at LBS will encounter Lagos, Nigeria's economic capital, West Africa's financial hub, and the world's fastest-growing megacity.
At LBS, international students are exposed to its diverse community of academics, participants, students, entrepreneurs, and alumni, working together to change the face of business management in Africa and beyond. "For over three decades, business leaders and participants worldwide have attended programmes, webinars, and seminars to engage and learn. Our students can engage with students from top business schools through our Global Network for Advanced Management (GNAM) membership," shares Professor Ogbechie.
LBS has partnered with some of the best businesses outside Nigeria and has benefitted immensely from partnerships with other business schools worldwide. Professor Ogbechie adds, "We have a growing list of business school partners with whom student and faculty exchanges are regularly organized, as well as collaborations on programmes and research undertaken." IESE Business School, Spain; IPADE Business School, Mexico; IESEG School of Management, France; University of Stellenbosch Business School, South Africa; Graduate School of Business, University of Cape Town, South Africa; Bocconi University, Milan, Italy and Indian Institute of Management, Ahmedabad are, to name a few among the global institutions that have collaborated with LBS for student exchange programmes.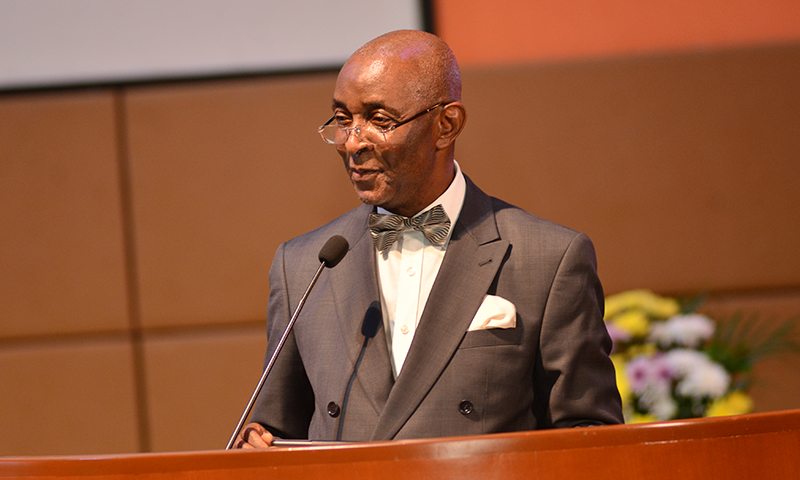 Our Research Centres and our Exemplary Team of Academicians  
Research is the lifeblood of the teaching-learning process at the LBS. The school has built a research community that incorporates academics, students, alumni, corporate and government partners, and other universities and research institutions in Nigeria, Africa, and worldwide. "Our research centers generate collaborative research across disciplines, industries, and specialist areas of national and international importance and relevance," pinpoints Professor Ogbechie. Research centers at LBS and initiatives build a community of experts to advance knowledge, offer student experiences and convene forums with academics and executives to advance business practice.
For instance, Christopher Kolade Centre for Research in Leadership and Ethics (CKCRLE) at LBS was set up to positively influence the Nigerian and African environment through research in leadership and ethics. The sustainable and Inclusive Digital Financial Services (SIDFS) initiative was created to engage in research and advocacy projects to create an inclusive ecosystem for financial services. Lagos Business School Sustainability Centre, the first of its kind in Nigeria, was established to bring together theory and practice on sustainability through academically rigorous and policy-relevant research. Our Virtual Human-Computer Interaction Lab (VHCI) is an immersive reality lab focused on researching the intersection of psychology and technology, how people are affected by the technologies they use at work and leisure, and how to put these technologies to best use.
"Many of our faculty members hold impressive academic credentials and strong industry backgrounds, including advisors to government, regulators, and business. They are editors of influential journals, visiting professors in leading business schools, members and fellows of professional bodies, and well-recognized authors. Their research enjoys peer recognition, is published in top academic journals, fosters corporate and community engagement, and supports teaching and public discourse," explains Professor Ogbechie, who has penned several journal papers on corporate governance and sustainability. He has several publications in financial services marketing, strategic planning, corporate social responsibility, and corporate governance. His first book, "Strategic Marketing of Financial Services in Nigeria" (2011), provides essential information for marketing practitioners, especially in the financial services sector, to improve the effectiveness of their marketing. His second book, "Re-engineering the Nigerian Society through Social Marketing" (2012), is his contribution towards positively changing societal values.
Encouraging Innovation, Creativity, and Entrepreneurship
LBS has launched initiatives, built platforms for students to solve societal problems and make an impact, and partnered with institutions to encourage innovation, creativity, and entrepreneurship. In 2019, the institution launched the Mini-Keynote competition, an innovative activity that allows students on the LBS Full-Time MBA, Executive MBA, and Modular Executive MBA programmes to improve their knowledge of effective public speaking and learn best practices to hone their public speaking skills. In 2022, LBS established the Business Innovation Accelerator (BIA) in collaboration with the Bank of Industry (BOI) to produce a new breed of innovative and problem-solving entrepreneurs who will transform society and revamp the national economy.
"Entrepreneurship is important for us. Around 20-25% of our MBA students start their businesses after graduation," shares Professor Ogbechie. To significantly increase this number, BIA provides high-quality entrepreneurship training and empowerment to young Nigerians across the country's six geopolitical zones. The BOI-LBS Business Innovation Accelerator is intended to boost job creation, significantly improve SME business success and reduce loan default rates due to business failure. The center will also provide an ecosystem to support and enhance the technical, managerial, financial, and leadership skills of entrepreneurs across Nigeria. The programme aims to produce a new breed of innovative and problem-solving entrepreneurs who will transform society and revamp the national economy through job creation and the commercialization of their solutions globally. "In 2019, after graduation, three students from our MBA 16 class co-founded Sycamore, a financial institution offering personal & business loans, investments, and payment solutions," adds Professor Ogbechie.
World-Class Facilities and Experiential Learning Experience
LBS is renowned for the experiential learning experience that the students and participants get because of the school's conducive learning environment, which is comparable to the best business schools in the world. These facilities enjoyed by our students and participants extend beyond LBS to PAU. One of the unique facilities popularly visited by LBS international students is the PAU Yemisi Shyllon Museum of Art" (YSMA). The YSMA collection contains works by Nigerian artists and works of art by artists from other African countries such as Ghana, Senegal, South Africa, Cameroon, and Togo. This was opened to the public in October 2019. "Our students also embark on local and international immersion class trips with leading business schools in Europe, America, Africa, and Asia," shares Professor Ogbechie. The students can also experience the Lagos metropolis's vibrant hustle and bustle.
Addressing the Post-Pandemic Era of Education
Professor Ogbechie and his team at LBS have intensely studied changes in international student mobility due to the COVID-19 pandemic. It has induced a digital transformation in teaching methods worldwide. "We were all forced to return to the drawing board and innovate our way out of the challenges presented. We discovered our customers' pain points and used what we learned to create a hybrid learning option, redesign existing programmes, and introduce new programmes," recounts Professor Ogbechie. The pandemic has accelerated the adoption of online learning, thereby reducing the demand for international student mobility. LBS addressed this challenge by leveraging technology, introducing innovative ways to attract international students, and conducting programmes, webinars, and seminars.
LBS has supported international students, transformed processes, and modernized systems to promote international student mobility in the post-pandemic period. This includes improved learning experiences, better resource access, and greater classroom technology use. LBS classrooms are now equipped with hybrid technology, which enables the institution to attract international students. Besides, the school's deep connection to the Nigerian and African business community and expertise in conducting business on the African continent augments the chances of bringing more international students to the campus.
"Now, operating in the post-pandemic world, the rules have changed. Moving forward in this digital era, we are focused on creating even more programmes, webinars, seminars, and short courses that address today's challenges and are relevant today. Before the pandemic, using digital technology in the classroom was optional, but now, it has become necessary. We leverage technology in every aspect of our operations to give our participants the best learning experience," Professor Ogbechie concludes.
For More Info: https://www.lbs.edu.ng/
Related Articles