"The design industry does not function in a vacuum. Its constantly shaped and re-shaped by its consumers, cross-cultural interactions, the political scenario, the economic condition, and other variables," opines Rupal Dalal, Executive Director, JD Institute of Fashion Technology.  Fashion was one of worst affected industries when the word was hit by the COVID-19 pandemic. It resulted in the closure of manufacturing units, the retail stores, cancellation of events, delays in distribution cycle, and so on. Rupal Dalal adds, "As designer, we are here to solve problems, and many brands and designers re-positioned their companies to reach out to the desired consumer segment. The pandemic has been a chance to introduce more ethical thinking, better business models, a circular approach, and effective inventory management." 
JD Institute of Fashion Technology being one of the most prominent design institutions hosting thousands of students across our 40 campuses, took the responsibility to lead by example. "We took the challenge of making sure remote or online learning was as effective as on-campus learning through various strategies. When I talk about our administration team, I believe collaborative work increased, and productivity within specific departments increased in the initial part of lockdown," shares Rupal Dalal. 
With JD Institute delivering design education, a substantial part of the curriculum demanded practical and experiential learning, and the management team was quite adamant that it would not be compromised. "Within the first week of lockdown, our faculties were briefed about the latest online format and created interactive presentations. They devised learning processes that could be done within a house set up," says Rupal Dalal. However, the institute had students from all over India and each city's digital infrastructure varied, making online lectures a little tricky in the first month. JD Institute found the solution by recording each lecture to ensure any connectivity issue or electricity shuts downs did not result in misinformation. The institute also shifted practical subjects to the next semester, ensuring students' understanding of any module was not affected due to online learning.
On the other side, the pandemic helped the JD Institute team to spend quality time with their family members, which then reflected in their work. "It was interesting to see everyone's homes and the little working desk that everyone had created," adds Rupal Dalal on a lighter note. In respect to academics, JD Institute understood the need for quick design thinking skills introducing projects and assignments that would help students use creative thinking to counteract extreme conditions like earthquakes, floods, contagious disease, etc. "The industry is more mindful of its carbon footprint. The breakdown of the linear fashion economy has to lead to more sustainable strategies that, as an institution, we highly motivate," pinpoints Rupal Dalal. The disruptions of the pandemic have also led to groundbreaking innovations while creating small pockets of momentum. 
The New World of Opportunities 
Rupal Dalal says, "In respect to the job opportunities of fresh graduates, specific job profiles have become obsolete. With minimum human-to-human interaction, digital infrastructure has been strengthened, opening a huge gap. Design students could develop skills in the following areas- fabrication, inventory management, virtual showroom designers, data-driven design, digital analysts, experimental patterns, and garment construction." JD Institute of Fashion Technology offers a specialized curriculum in design fields like fashion, interiors jewellery and communication. The institute imparts skillsets, aiming at the holistic growth of the student. 
"We teach the competitive spirit to be the best in their chosen field and yet grooms them to be rooted. The curriculum has a methodological approach towards honing the best in each candidate," shares Rupal Dalal. By the time the students are ready to move out of JD Institute, they are aesthetically, technically, and technologically skilled to adapt to the industry's requirements. The institute prepare them to take up a job as per their specialization field or choose to be entrepreneurs depending upon their career path selection. 
JD Institute has introduced a hybrid learning model to make the learning process more effective and seamless throughout. The college also invites international speakers to help students understand how design is intercepted in different parts of the world. Rupal Dalal says, "The outcome of any design project might be the same, but the process or approach used to arrive at the product is very crucial through the tasks they do. We need our students to be humans first and then designers." 
The Making of Global Designers
At JD Institute, Rupal Dalal oversees all academic departments, curriculum development, academic development, pedagogical growth, academic system planning, designing and academic quality assurance. She believes that her contribution to education is a means to build the design future of the country. Rupal Dalal opines, "The worlds your oyster, is something that we tell all our students. There isn't an extra module or a workshop at the institution to get them ready, and rather, there's an entire well-curated curriculum that prepares them for the world." 
Indeed, the learning does not curb any aspiring designer to restrict his/her talent to an Indian market but instead prepares them to anticipate how its prototype would be received worldwide. "The job market in every country is very different, but the only thing common is that talent and skill are always appreciated. JD Institute does provide a safe platform for its students to put their learning to the test," shares Rupal Dalal. 
The institute works with the London College of Fashion and Chelsea School of Art on multiple design courses created for jediiians, culminating in actual professional styling shoots and exhibitions. Besides, to help understand the business aspect of design (essential), JD Institute sponsors India Fashion Week London, where its students showcase and interact with buyers worldwide. "We have also partnered with Indian film festivals worldwide, where our students have had the opportunity to showcase and interact with consumers from countries like Norway, Vietnam and Russia," adds Rupal Dalal. 
Being an educator for the past 33 years, JD Institute has collaborated with renowned brands, global communities, professional skill providers, and international fashion weeks to help Jediiians get an extra edge over others. "The amount of knowledge and talent exchange that happens with each of our partners is tremendous and beneficial for aspiring designers. This prepares the students for the professional world nationally and internationally, states Harsh Dalal, Director, JD Institute of Fashion Technology. As the Director, Harsh Dalal spearheads the expansion in India and abroad. Under his vision, the institute has expanded and grown immensely.
Today, JD Institute collaborates with India Fashion Week London, University of the Arts London, Cumulus, WGSN, IIID, JNTE- CSD, Subharti University and Adobe, to name a few. The institute proudly boasts of 100 per cent placement assistance. "The passing out batches are groomed with personality development, resume building, portfolio review, group discussion, interview etiquettes, and mock interview sessions before applying in the industry. Our students are ready to meet the expectations of the industry and very aptly adapt themselves," pinpoints Harsh Dalal. 
The institute provides internship and placement opportunities for students from all fields. The students get placed with reputable fashion designers like Ritu Kumar, Shantanu & Nikhil, Rina Dhaka, Anju Modi, and many more. The JD Institute students are placed with fashion buying houses like Triberg, Newtimes, and multinational retail brands like H&M, Zara, Armani Exchange, Uniqlo, and more in style. The interior design students have been placed with ace designers like Manjeet Bhullar, Lipika Sud, Nikhil Segel, Nilanjan Bhowal to name a few designers, Hulsta, Hackers, Filo Designs, Pepperfry, Essentia Environments, Monica Khanna Designs. Jewellery students got placed with Tribhuvandas Bhimji Zaveri, Art Karat, etc. The opportunities are umpteenth, and the students benefit from them.
In-Tune with the Industry 
As a pioneer of design education, JD institute has contributed to the industry for more than three decades now. Akshra Dalal, Director of JD Institute of Fashion Technology, opines, "The design industry is continuously evolving and requires frequent revisions in the skill sets needed by the students. A strong network, industry professions, and collaborations keep us well informed about the skills necessary, enabling us to be constantly relevant to the industry. A versatile combination of student counsellor, corporate trainer, curriculum developer, and advisor, Akshra Dalal spearheads JD Institute's academic endeavours in India and abroad. She adds, "As per the need of the hour, we have introduced niche courses in fashion, interior, jewellery, business management, and communication that serve the industry's needs. Consequently, our students can get lucrative internships and placements."
JD Institute follows a hands-on approach as a preferred pedagogy for effective learning. The institute has well-equipped laboratories on campus, which allows the students to gain in-depth knowledge and technical expertise in the chosen area. Students can work on campus in the laboratories beyond their scheduled sessions as well. The institute houses laboratories for pattern making, garment manufacturing, draping, textiles, interior design studios, interior resource room, jewellery manufacturing, which all cater to different design streams. A well-equipped library serves as a place where students can devour knowledge through various books, magazines, and relevant study material.  
"A quality education is always dependent upon the curriculum and the people delivering the curriculum effectively, i.e., the faculty. We feel proud to have a strong faculty team on board, seasoned industry professionals with a gamut of industry and academic experience," claims Akshra Dalal. JD Institute's faculty members are well versed with technical knowledge and have years of experience to back them up. The team comprises practising designers, entrepreneurs, architects, and interior designers, which ensures the delivery of knowledge effectively, making the learning process beneficial to the students. "Further to that, we also invite relevant international speakers who help students develop a more holistic understanding of current and anticipated future trends for more inclusive learning," adds Akshra Dalal. 
The Conclusion 
The institute's vision of being recognized at a global level has now translated into reality. Rupal Dalal proudly says, "30 years back, the institution was started with a founding principle of making "quality design education accessible to all." After 40 campuses in India, we still are working on identifying aspiring designers and giving them the right platform to refine their skills." JD Institute ensures that no student should ever be denied quality education due to his/her location or financial restrictions.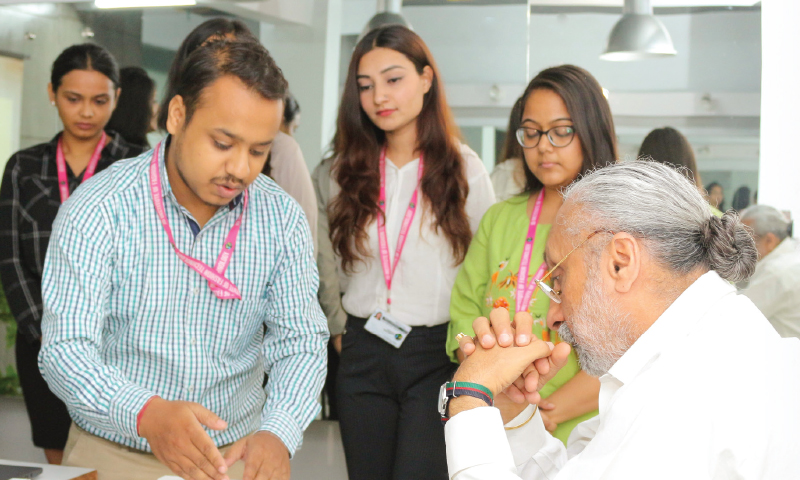 On the other side, JD Institute wants its students to be better citizens and ethical beings. "Youth has the power to change the future, and it's essential to nurture young minds. For that sole reason, we introduced a module called "human-first," where we talk about relevant issues and try to understand how every individual can help curb its effects," shares Rupal Dalal. A designer needs to be empathetic to its surroundings, and there is no better way to do that than initiate a dialogue around it. "We also have a lot of curriculum updates which I cannot disclose on this platform, but these are going to be very important changes for the Designers of Tomorrow. Our international projects are already on standby, and we wish to resume them once we reach our 'better normal' instead of the 'new normal,' concludes Rupal Dalal. 
Message from the Chandraakant Dalal, Founder, JD Institute of Fashion Technology
"For over 30 years, JD Institute of Fashion Technology has led the way in moulding young imaginations for successful, glamorous careers in the world of fashion.  Across the spheres of fashion, interiors, jewelry, fashion photography and make-up artistry, we have groomed and sent out over 100000 graduates into the world. Time and again, students and their parents express doubts about their inadequate talent to take on the tough, exciting world of design. And I tell them the same story. All you need is the ability to draw a straight line and curious, adventurous imagination, one that seeks to find the simplest thought and turn it into something beautiful. That and the willingness to work hard is all it takes to succeed."
About RC Dalal, Founder, JD Institute Fashion Technology
RC Dalal is a man of exuberance and charisma who has touched the lives of innumerable people and transformed their lives. A mentor and guide by profession, his gamut of knowledge and experience, drove JD Institute towards its impeccable success. One of the major milestones was the establishment of JD London in the year 2012. It is now touching heights with its multiple international collaborations such as India Fashion Week London, Moscow International Film Festival and many more. The participation of JD Institute at the Bollywood Film Festival Russia, Indian Film Festival Poland as the Fashion Partner, under RC Dalal's supervision is revolutionary. An inherent visionary, he successfully created an academic and culturally diverse student population who will scale to be global and productive citizens of the world of art and design. The undisputed legacy cemented by him will be carried forward by his prodigies, who will fulfill their dreams through the guiding light shown by RC Dalal's unmatched vision, mission and passion.
Related Articles