Successful business schools make students industry-ready by inculcating the habit of innovative thinking, hands-on knowledge of theoretical concepts, sharpening of communication skills, and delivering quality results. International Management Institute, Kolkata (IMI-K) is one such example of a premier business school in India.
Speaking about the establishment and the mission behind IMI-K, its Director, Mohua Banerjee, reveals, "The founders of IMI have built IMI Kolkata with a clear objective to promote significant opportunities for students to learn, grow, and most importantly, develop and hone multiple skills across various disciplines of management." Since then, the institute has successfully produced socially sensitive, globally aware, and value-driven individuals capable of providing leadership.
Versatile Campus, Placement Drives & Multiple Scholarships
IMI-K houses world-class faculties, efficient management, a robust environment, and cooperative mentors. Guest lectures by none other than corporate leaders are organized at regular intervals who share their journey and experiences with students. Case-study-based modules help students grasp the concepts and push their learning beyond textbooks to real-life situations.
Since its inception, IMI-K has maintained a track record of 100% placements. Prominent recruiters such as Amazon India, HDFC, Tech Mahindra, Deloitte, TCS, Godrej, etc., have recruited IMI-K's students and offered high salary packages.
IMI-K also offers substantial scholarships to exceptional students based on merit and social & religious categories. With the financial burden off their shoulders, students can solely pay attention to academics and enjoy the co-curricular activities conducted at the campus. All these factors contribute to the holistic development of students at IMI-K.
Building Entrepreneurial Spirit in Students
IMI-K understands the necessity of building entrepreneurial spirit in students right from the beginning to consider entrepreneurship as a sustainable career option. Owing to this, IMI-K has drafted its own policy to motivate & support its students and faculty members to engage in entrepreneurial activities in line with the National Innovation and Start-up Policy for Students and Faculty put forth by the MHRD, GoI in 2019. IMI-K also organizes business clinics, expert talks (The Corporate Gyan), live projects, industrial tours, summer internships, and seminars so that students gain confidence and seek insights on how to think outside of the box and come up with innovative ideas just like the real-life entrepreneurs. Some of its faculty members have also undergone innovation ambassador training conducted by MoE's Innovation Cell & AICTE.
Currently, two successful start-up ventures initiated by its students are carving a niche in the industrial landscape. SunEncore started by Nimesh Shukla, provides solar power plant installations for rooftop and ground, mounted, domestic and commercial purposes. Ritesh Kumar Mohanty, Tanushree Roy, and Aman Natesh Limje led start-up Promotus in Automation Technology with expertise in Retail, Electronics, Packaging, FMCG, and F&B segments. It offers a platform for companies to explore and connect with the Indian market, which results in their business expansion.
Innovation Fuelled Learning
Research & innovation being its foundational pillars, IMI-K has designed robust policies which enable students to bring out their creative sides and aim high. Prof. Mahua says, "At IMI Kolkata, we innovate and encourage our students to achieve." Over the years, many of its PGDM students have participated in the business plan and innovation contests and performed well.
Today, some of IMI-K's alumni are successfully running their own start-ups and are thankful to the institute for offering them opportunities that led them to start their own ventures at a young age. Its key opportunities driving innovation and research acumen in students include an E-Cell, Centre for Innovation and Entrepreneurship, National Innovation and Start-up Policy (NISP) under the Ministry of Education, and Institutional Innovation Council (IIC) under the MoE's Innovation Cell.
Conducting Research for Knowledge Creation and Dissemination
"Research is a major priority at IMI-K. Our full-time faculty members have been consistently working on creating new knowledge and aim to contribute new insights to the national and international academic communities and provide innovative content for teaching," shares Prof. Mohua. All the appointed staff members come from a strong academic background. Through IMI-K's initiative, the faculty members are given national & international research exposure through seminars & 5-days conferences. Moreover, they receive funding from the industry through consultancy and research grants.
In 2021, an online research colloquium was launched, while in 2019, two conferences in the Marketing and Finance & Economics area titled 'MARCON' & 'FINECON' were organized, respectively. During these conferences, keynotes speeches were given by renowned professors from international universities. Students, faculty members & participants also got an opportunity to present their research through poster presentations, slide presentations, and talks. Through faculty training, conferences, and guest lectures, IMI-K encourages and supports research to bring about change.
Collaborations Leading to Global Multicultural Exchange
Prof. Mohua reveals that IMI-K's academic collaborations with many business schools and universities abroad reveal a critical dimension of the B-school's international focus. In seven years, IMI-K's graduates have shown evidence of becoming world citizens.
IMI-K has collaborated with various prestigious universities in North America, Europe, and Asia to promote global multicultural student exchange programs. Through its partnerships, Indian students get exposure to the international curriculum and best practices, while foreign students visit IMI-K's campus and learn about its cultural heritage, values, and academic offerings. Not long ago, two of its students got to see Université Gustave Eiffel, France.
What makes these programs extra special is the opportunity for students to form connections with their global counterparts and gain new perspectives on research and curriculum early. This is highly crucial for career development. Likewise, the faculty members at IMI-K also get a chance to educate & communicate with the overseas students and enhance their teaching approaches and skillsets. Many foreign faculties have also taught at IMI-K and participated in the activities conducted by the B-school, thus bringing diversity to its educational system.
Tackling the Pandemic Times
The COVID-19 pandemic disrupted the educational system in India and across the globe. At IMI-K, advanced initiatives were taken a right from the start to continue practical and experiential learning for its students. Classes were conducted online via zoom during the total lockdown period, for which 10 zoom licenses were purchased. Its recordings were shared along with separate problem-solving discussions every 5 sessions per course. Moreover, supervised examinations were conducted online.
After the lockdowns lifted, IMI-K switched to hybrid mode. Students are divided into small batches to facilitate hands-on exercises as per the course requirement; digital whiteboard and zoom /MSteams /Google meet platforms are being leveraged by faculty members for delivering lectures in online format & providing students with seamless learning experience. Additionally, students are given access to the online university library, R&D journals, and several databases. Live projects, webinars, summits, and guest lectures are organized to bring practical orientation to the class, whereas more case-based studies are introduced, such as Harvard Business School cases and Ivey cases, to give experiential learning to students.
Preparing Students for Industry 4.0 Environment
IMI-K has introduced courses on cloud computing, analytics, AI & ML, and IT in keeping up with modern times. Apart from this, the premier B-school institute also organized a business summit to industry 4.0 applications and supply chain 4.0 that gave students an even better idea of what industries expect from fresh graduates in 4.0 environments.
The future looks bright and exciting for IMI-K and its students in the coming years, making it one of the must-watch Business Schools in India.
About Professor Mohua Banerjee, Director, IMI Kolkata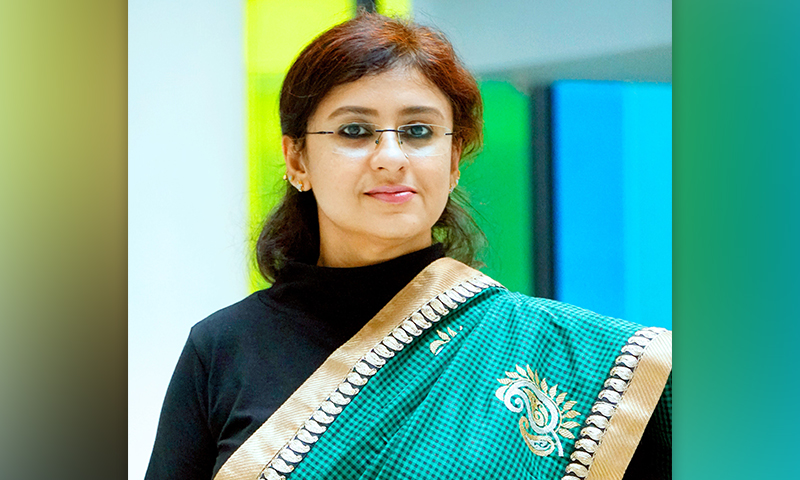 Professor Mohua Banerjee, Director, IMI Kolkata, is a Professor of Marketing with over sixteen years of teaching experience. Having completed her Ph.D. in Commerce from the University of Calcutta, she has taught in India and as a Visiting Professor in foreign universities. She is an Independent Director in manufacturing companies. Professor Banerjee has been involved in Retail Management curriculum development for the National Skill Development Mission, NITTTR, Ministry of HRD, Government of India.
She has qualified in the IICA's (Indian Institute of Corporate Affairs) Proficiency Assessment Test to be an Independent Director and serves on the Board of Directors and Governance Committee of Electrosteel Castings Ltd. She is also serving on the Board of Srikalahasthi Pipes Ltd.
Professor Banerjee has received the "CMI Level 3 Award in First Line Management" from Chartered Management Institute (CMI) UK, and has been conferred the "Certificate in Corporate Governance" by the School of Corporate Governance & Public Policy, IICA. She has been awarded Prof. Indira Parikh – 50 Women in Education Leaders Award from the World Education Congress.
Related Articles