Higher education institutions have a long history of operating in environments that are unstable, disruptive, and unpredictable. A change in the higher education sector is needed now more than ever. In what is likely an upcoming global recession, proper education and training will be indispensable parts of the key to recovery. The actual fight against COVID-19 is being driven by countless university laboratories around the world. The collapse of higher education systems would prove detrimental to public health and many other sectors. At the moment, every institute is being affected by this crisis. While existing government support may help, some won't apply to many institutions. Futuristic trends are already emerging, having been accelerated by the pandemic. 
By the end of this crisis, colleges will be in more critical demand than ever as they push research forward and contribute to the larger community as significant employers. By preparing its students by giving them proper training on the usage of online resources, Gitam School of Pharmacy is using virtual classes to enhance their knowledge along with completion of curricular requirements. Proper online training will be given to students related to prevention and cure at the time of such pandemics and at the same time, not affecting their regular works.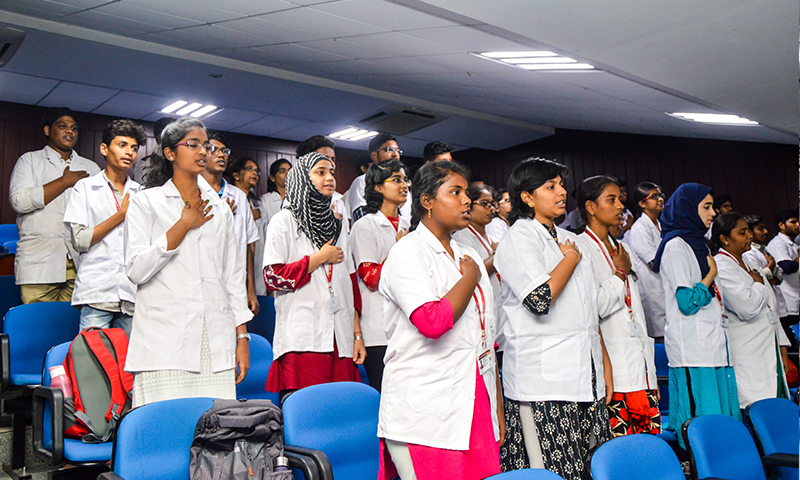 The COVID-19 pandemic has affected educational systems worldwide, leading to the near-total closures of schools, universities, and colleges. Gitam School of Pharmacy, in its pursuit, to ensure the safety of students, faculty members, and other personnel, made a thorough study of the signs and symptoms, conditions favoring the active spread of the disease, and controlling factors. Thereafter, all the stakeholders were properly communicated about these, and following WHO recommendations regarding the need for social distancing along with state government directives, temporarily discontinued the regular classes and office proceedings till further communications regarding the same. 
The lockdown period triggered the need for alternative sources of imparting education and enabling students and faculty members to develop expertise using online tools. Apart from arranging online classes and examinations using platforms like Zoom, Co Cubes, etc., the institute also initiated the concept of enrolling in various courses given by Coursera, an online platform for skill development. Further, the institute has organized three international webinars. 
The faculty members have attended various national and international webinars, faculty development programs, workshops, and short-term training programs. "The experience with online resources will definitely enhance the skills and knowledge of students and faculty members not only in their fields of expertise but also in various other dimensions which will further enhance their competency", remarks M Sri Bharat, President, GITAM Deemed-to-be University.
Educating Global Leaders
Gitam School of Pharmacy was established in July 2017 to impart quality education and training in the domains of pharmaceutical sciences to develop students into competent personnel of the healthcare system. The institute imparts global quality education to future pharmacy professionals by empowering them with knowledge and skills and facilitating their professional, intellectual and moral development to meet the challenges of the competitive world. An innovative center of excellence in learning and research, Gitam School of Pharmacy is achieving the highest standards of intellectual, educational, and research productivity through continuous improvement of the infrastructure and industrial relationship. 
Industrial collaborations are of utmost requirement in Pharmacy institutes to educate and train students in the knowledge and practice of pharmaceutical sciences and to contribute to the improvement of the health of the society, through education and research programs. "Major developments in the health care sector like formulations of new vaccines, development of new drug delivery systems, etc. can be well understood by such collaborations. The institute has initiated communication with all the leading pharmaceutical industries in Hyderabad and other places for active collaborations", G Shiva Kumar, Principal, Gitam School of Pharmacy.
Students get actual exposure to the current happenings and technical know-how in the pharmaceutical industries to develop the required competency to get placed in suitable pharmaceutical industries. With 100% placements, the students at Gitam School of Pharmacy have been placed in reputed companies like Vimta Labs Pvt. Ltd. and MSN Laboratories Pvt. Ltd. "The total strength of the final year students is 14. Out of these, 10 have been selected for industrial jobs. The remaining students are interested in pursuing higher studies and have qualified entrance examinations for the same", claims Shiva Kumar.
Shaping a Bright Career in the Industry 
Students at Gitam School of Pharmacy undergo industrial equivalent internship programs in various pharmaceutical industries where they will be doing project works with them. Various workshops are conducted in which industry personnel trains the students in handling equipment and formulation aspects. "We organize various guest lectures offline and online are in which industry personnel from India and abroad share their expertise about the recent technological advancements in the pharmaceutical industries", adds Shiva Kumar.
Along with this, GITAM Deemed-to-be University has started Venture Discovery Classes which is a unique strategy to develop entrepreneurship skills among the students. Well-experienced and trained faculty members are taking classes for all the semester demonstrating theoretical as well group-based activities that lead to the development of skills and expertise among the students to become successful entrepreneurs.
Students are motivated to work harder and focus on their careers and pursuits by arranging interaction sessions with industry and academic personnel from reputed pharmaceutical industries and institutes in India and abroad as well. To date, the institute has organized thirty guest lectures. "Along with regular theory and practical classes, faculty members are also allocated library hours in which they monitor the students during the library hours", says Shiva Kumar.
The institute continuously encourages students for innovating and develops creativity by giving examples of the recent developments in the field of pharmaceutical sciences. During regular theory and practical classes, industrial applications of the topics taught or experiments performed are clearly explained to the students. Major achievements in the healthcare sector including the development of new drugs and delivery systems are discussed with the students. Further, plans have been made to develop a Pharmacy skill development center to engage students in research areas. Regular guest lectures and workshops are organized in which industry and academia personnel impart training about recent developments in pharmaceuticals. "We are planning to establish an industry-academia cell, Student Research Committee, research collaborations with foreign universities, and Pharmacy Skill Development Centre. With our proper training, we are all set to make competent professionals who will make a positive change in the industry as well as the society", concludes Bharat.
About M Sri Bharat, President, GITAM Deemed-to-be University
Sri Bharat holds an undergraduate degree from Purdue University, West Lafayette in B.S.in Industrial Engineering Class of 2010. He also completed a joint degree MBA / MA Education Class of 2016 at Stanford University, Palo Alto, CA USA. After returning to India from Stanford in 2016 he established a 3.5MW solar power plant and led the company's foray into Solar Power generation. He is also diversifying into Hydro energy and Chemical Waste treatment. He is deeply passionate about utilizing his knowledge and skills to develop renewable energy, sustainable growth, and waste management solutions.
Bharat currently serves as Board Member of TiEAmaravati and Board member and Learning Chair of EO Andhra Pradesh. He is an active member of Hyderabad Angels and Andhra Angels. He is an investor and advisor of a select group of promising startups. His past experiences include commissioning of a 460MW Gas based power plant, quality control and operations in Lia Sophia Inc. Chicago, Investment banking at KARVY Financial services, Hyderabad, Telangana. His most recent stints during his MBA were in the Innovation Delivery team of the Atlanta Mayor's office, USA, and a marketing immersion in Sheraton Hsinchu, Taiwan.
Related Articles