Dr. Satya Vir Singh is the Vice-Rector & Registrar of Sharda University Uzbekistan and is responsible for Non-Academic and Academic operations and overall administration of Sharda University Uzbekistan. He has 22 years of global experience in the areas of Student Handling, Students problem Solving, Parents handling, Accreditation, Affiliations, Tie-ups, Strategic Planning & Budgeting, Policy Formulation, Curriculum Planning & Design, Training, Recruitment, ITES and so on in leading Educational Institutions across Central Asia, Africa, Gulf, and India.
Dr. Singh is an expert in liaising with Regulatory bodies and accreditation agencies besides the creation and implementation of Policies, Procedures and SOP's. He has seen immense success in accreditation, administration, and supervision of academic & non-academic activities of leading educational institutions. He also has strong exposure in building strategic alliances and heading all aspects of channel partner relations from the stage of development of new partners to establishment of partner programs & maintenance of ongoing coalitions to increase revenue & expand market presence of the institution.
Recently, in an exclusive interview with Higher Education Digest, Dr. Singh shared his insights on the changes that have occurred in the higher education sector over the last 5 years, his vision for Sharda University – Uzbekistan, his extensive experience as the Founder/Registrar of University campuses on the foreign land, and much more. The following excerpts are taken from the interview.
You have so many years of experience in the field of education and academics. How do you see the changes which have taken place in the higher education sector over the last 5 years?
I believe that it is an undeniable fact that in the 21st century, success in development can only be achieved by those countries that have chosen to prioritize investment in human capital.
Over the past six years, considerable changes have taken place in the sphere of higher education in Uzbekistan. For instance, the enrollment quotas have been increased, bringing the total coverage to 28% (five years ago this indicator was only 9%). The number of state grants has increased. Besides, for the second year in a row, girls from families in need are being given two thousand places at universities. Furthermore, university entrants now have the opportunity to choose five state universities for enrollment, test exams are now staggered, and the scores are announced promptly. Besides, it is now possible to submit documents to a university online, as well as to take an admission test to Tashkent universities, while staying in the region.
At the same time, the switch to a hybrid form of education (full-time, part-time, evening and distance studying) and the increase in the number of universities operating in the country, including private and branches of foreign universities can be considered an important innovation as well.
President of Uzbekistan, Shavkat Mirziyoyev has proposed to name the 2023 year as "The Year of Caring for People and Quality Education," while pointing out that "improving the quality of education is the only right way to develop the New Uzbekistan."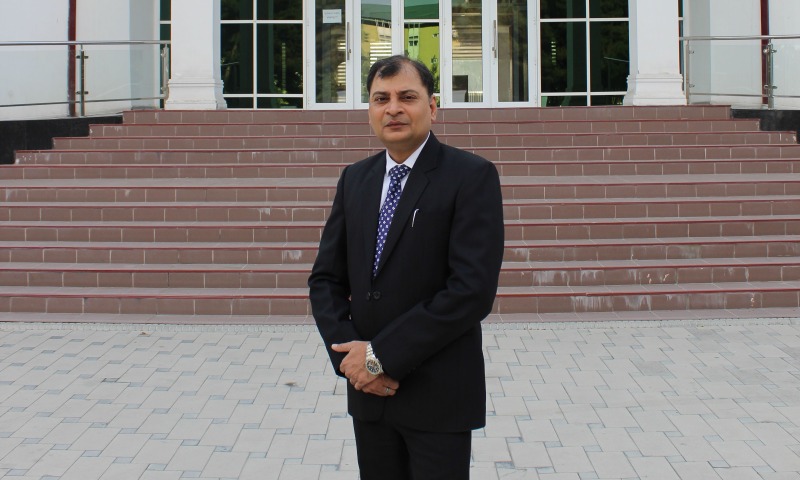 Dr. Singh, can you tell us about your vision for the university, and how you plan to achieve it?
As Uzbekistan is an emerging country in the Central Asia region, Sharda University Uzbekistan opened its campus in Uzbekistan, to not only serve students from Uzbekistan but students coming from the neighboring countries in Central Asia & CIS, Kazakhstan, Kyrgyzstan, Turkmenistan, and Tajikistan. Sharda University Uzbekistan also foresees itself to establish multiple Centres of Excellence to promote research and innovation for the benefit of the entire region.
Sharda University in India has been delivering excellence in healthcare since 2006 through its medical & dental schools and, a 1200+ bedded super-specialty hospital. Sharda University Uzbekistan will leverage this advantage to train doctors and nurses so that they can upscale their skills. In the near future, Sharda University Uzbekistan has plans to run Paramedical Programs and establish a multi-specialty Clinic in Tashkent & Andijan regions.
How do you balance the needs and expectations of students, faculty, staff, and external stakeholders?
Faculty & Staff members at Sharda University are selected because they have expertise in their field. We expect them to contribute to their scholarly discourse and maintain appropriate professional growth and development. As such, we expect all faculty to attend all mandatory professional growth and development opportunities offered. It is expected that faculty members will seek out and accept reasonable opportunities to serve on committees, support extra/co-curricular activities, institutional activities, and community service.
Every day, thousands of students in Uzbekistan rely on faculty to provide them with robust and engaging learning experiences that support them in developing and pursuing their dreams. Faculty is expected to enter the classroom with both strong content knowledge (a body of conceptual and factual knowledge) and pedagogical content knowledge (understanding of how learners acquire knowledge in a given subject) And, their work involves connecting new learning experiences to the previous knowledge and experiences of the learner. Therefore, teachers need to understand who their students are, where they come from, and the ideas and experiences they bring into the classroom.
Please tell us about your experience as the Founder/Registrar of University campuses in a foreign land. What have been the biggest lessons taken by you throughout this journey?
Knowledge remains international. Cross-national research collaboration continues to increase. Most universities recognise that providing an international perspective to students is central in the 21st century. It's not enough to simply find four walls, put up a shiny new university sign and expect international students to find their way to your pop-up learning centre or campus abroad. Investments of time, capital and, most importantly, care and consideration must be made at each step along the way to develop a successful overseas campus.
Sharda University Uzbekistan carries forward the illustrious legacy of Sharda University India which has positioned itself as – The World is Here, Where are You?
Establishing Sharda University Uzbekistan has been full of challenges with language being one of them. But, in just few years of inception, Sharda University Uzbekistan has become a gateway to students from Eurasia.
Sharda University – Uzbekistan aspires to be India's first campus in Eurasia, not only serving students from Uzbekistan but students coming from the neighboring Eurasian countries. Tell us about some of the initiatives taken by the University in this direction.
Sharda's focus is to act as a bridge between India & Uzbekistan to bring world class education to the students in Uzbekistan at a highly affordable cost. We are encouraged by the fact that currently, the higher education institutions of Uzbekistan cooperate with more than 10 Indian universities and research institutions and centres. A number of research institutions of Uzbekistan interact and conduct joint research projects with academic centres in Delhi, Mumbai and Pune.
We are also looking forward to collaboration with the Govt. of Uzbekistan in Software Development & IT solutions. In fact, Sharda University Uzbekistan has already established a Software Development Cell wherein students get an opportunity to work on innovative software development projects.
I believe that the cooperation between Uzbekistan and India has a huge unused potential and high opportunities based on the strong and firm basis – centuries of friendship, trust and mutual understanding between Uzbek and Indian people.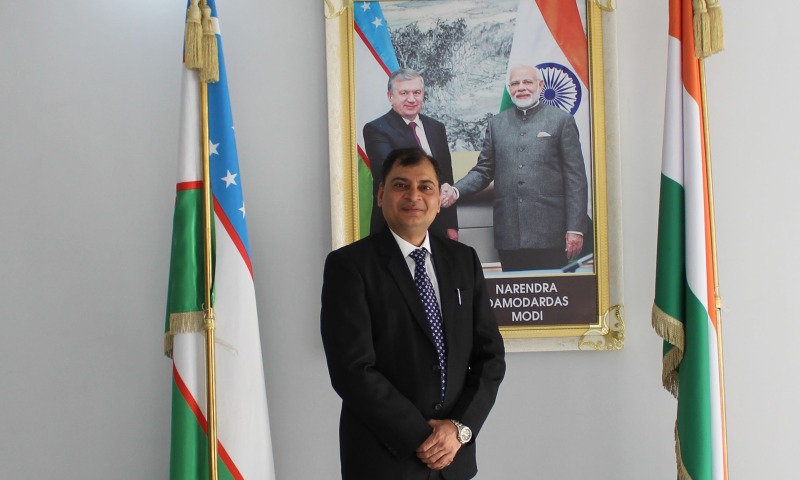 As the Vice Rector / Registrar of Sharda University – Uzbekistan, what are the challenges do you face and how do you overcome them?
As countries and institutions emerge from the pandemic at different rates, existing economic and social challenges have intensified, while new environmental, political and technological issues emerge. Leadership needs to be more adaptive and flexible because you can't just stick with what you're used to. In such a rapidly changing environment, senior management needs to work together. We also need to learn from others.
How does your university approach diversity, equity, and inclusion, both within the student body and among faculty and staff?
Diversity in and out of the classroom will continue to grow, so it's essential we prepare students to adapt to an evolving world and embrace those different from themselves.
Fostering inclusion and awareness around multicultural education and taking a culturally responsive approach to teaching benefits all students. Not only does creating greater multicultural awareness and inclusion help students with different backgrounds and needs succeed, but it encourages acceptance and helps prepare students to thrive in an exponentially diverse world.
What are your suggestions, to integrate quality at all levels of higher education?
The key factors influencing the quality of higher education is the quality of faculty, curriculum standards, technological infrastructure available, research environment, accreditation regime, administrative policies, financing, evaluation, and good governance.
At Sharda University Uzbekistan, we are focused on Creating Program Differentiation; Increasing Student Engagement; Designing Competency Based Curriculum and Improving Data Accuracy.
What are your views on leadership? How should university vice-chancellors and administrators ensure that their faculty members and students transform into world-class leaders?
Sharda University Uzbekistan believes that supporting and encouraging faculty with the right to participate in the determination of University's goals and policies is one of the ways one can empower them. After all, it is the empowered faculty that will lead to empowered students.
Faculty members are given freedom to come up with innovative ideas during staff meetings and on University's websites and social media. Moreover, interactive seminars & training are organized for their development where they are exposed to technological advancements and innovative ways to impart education to the students. Faculty are trained to use cutting edge tools and devices that helps them teach well and enable learning in faster and better way.
How does your university collaborate with other institutions or organizations, both locally and globally, to achieve shared goals or address shared challenges?
An international experience is a must in today's environment and offers students a new perspective to meet real world challenges. Sharda's Study Abroad Programme is the passport to the world.
Sharda University Uzbekistan has tie-ups with top universities including University of Rozario, East Kazakhstan State Technical University, Groupe 3iL University, University of Cordoba, University Finis Terrae and United International University.
What would be your advice to engineering and management students looking to pursue career opportunities across the globe?
Getting a degree in engineering/management opens doors for bright growth opportunities irrespective of trends in the markets. There is always a high demand for good engineer's/management professionals with logical and mathematical skills to work with multinationals, government offices, PSUs, corporates, medium enterprises.
Related Articles