Founded by like-minded entrepreneurs and industrialists from the 19th century, to be precise, in 1843, Coventry University celebrated its 175 years of resonating innovative thought and quality education in the UK a few years back in 2018. Coventry University is a dynamic and outward-looking institution with a tradition of teaching excellence, impactful research, and bold international partnerships. Through Coventry's worldwide network of collaborators in academia and industry, the 50,000+ learners studying its degrees in different countries enjoy access to global opportunities that enhance their employment prospects. The university is recognised internationally for its expertise in health, peacebuilding, and disaster management and the world-leading calibre of its engineering and design graduates – particularly in the automotive field.
The university campus has an environment that promotes learning, research, and creative thought. "Our students benefit from learning in critically acclaimed facilities. This includes health, design, engineering laboratories, performing arts studios, and computing centres. With a half-billion-pound investment in the Coventry city campus, the university is continually evolving," shares Professor John Latham, Vice-Chancellor and CEO of Coventry University. Their extensive and popular library, the Lanchester Library, offers a range of study environments across five floors. With 1,400 individual study spaces and more than 500 computer workstations, students also have access to more than a million learning resources at their fingertips, from eBooks and e-journals to print and multimedia resources.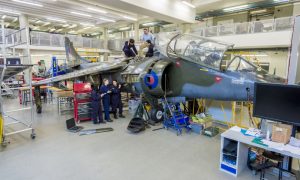 Creativity in education provides an environment and opportunities for learners and enables them to generate new and innovative ideas in their academic activities.  Coventry University provides a brilliant atmosphere in which new ideas can be tested, and students have opportunities to develop their creativity skills. Simulation activities in the Health and Life Sciences building – HLS faculty and Faculty on the Factory ground idea in the EEC faculty showcase innovative environments in which learners could flourish and develop their creativity skills. Every course has space to encourage creativity within the classroom and beyond formal learning environments.

There are many specialist facilities across campus, including a mock courtroom (or Moot Room) located in the Law School that provides students with the chance to practise their legal skills in a realistic environment; a Trading Floor, Business Simulation Suite, and DigiComms Lab all situated in our Business School; the flight simulation systems, a modified, vertical take-off Harrier Jet, a 1/5th scale wind tunnel designed by the Mercedes AMG Petronas Formula One team, and a suite of CNC machining cells located in the Engineering and Computing Building; a high-performance gaming lab, specialist PC labs, and a VR gaming recording studio in our new £25m Beatrice Shilling Building; a range of innovative healthcare simulation facilities, including an ambulance, hospital wards, intensive care unit and operating theatre. "Our Alison Gingell Building for Health and Life Sciences students also includes science laboratories, fitness, sports research areas, a sports therapy clinic; Clay, television and fashion studios, A photographic suite, and many more," says Prof. John.


Coventry University's city centre-based campus is an exciting and diverse place to study, with 13,000 international students from more than 130 countries making up a large proportion of the student population. It provides a thrilling student experience, with an internationally focused atmosphere, both socially and academically. With a vast range of events and societies and a dedicated student support system for local and international students, students can make the most of their university experience. Coventry University Student Union offers a wide range of different societies and other ways to network with fellow students, including Indian and Hindu societies. Coventry is also a very diverse city with a notably higher proportion of black and minor ethnic (BME) population than the national average. After White British, the second-largest ethnic group in Coventry is Asian/Asian British.
Off the Beaten Path
As an ambitious and innovative university, the research at Coventry makes a tangible difference to the way we live. The university is already known for delivering research that contributes to several global challenges. "We have been awarded an overall QS Stars rating of 5, and 4 stars for our Research area. Our research centres focus on a range of real-world issues, including sustainability, disease prevention, and innovative engineering. Our new strategy will build on these successes, strengthen our position as an innovative university, and enable us to apply fresh and original approaches to key research challenges," Prof John shares. 
Diversity in Education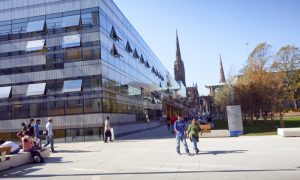 Coventry University has a large selection of courses across various subject areas. Some of the most popular course areas for Indian students include business, engineering, computing, and healthcare. The university offers a wide range of undergraduate and postgraduate courses and foundation, top-up, and pre-sessional English options. It has multiple entry points throughout the year to give you more flexibility. For instance, the Coventry and London university campuses have intakes in January, May, and September. "I feel the best thing about being a student at Coventry University is being an independent individual. Being away from home has taught me to be more independent and focused on my career," shares Nitshita Santosh Shetty, a BSc (Hons) Psychology student. 
About 2900 with Indian Nationality study at Coventry University. Many of them work in leading companies and make a difference in the real world. "I was looking for universities in the UK and the rest of the world, but I chose Coventry University because it offers engineering and design in one course. It also provides great facilities, like the library, which opens 24/7, and the Engineering and Computing building with an F1 simulator. I recently visited the Jaguar Land Rover company in one of the workshops, where I learned about the technology and system of car production," says Sarthak Patel, who studied BEng Automotive Engineering. Akshanu Sachdeva, a PG student studying Electrical Automotive Engineering at the university, says, "I found this course completely industry orientated. The modules are totally up to the standard. And the course coordinator is helpful. You can reach out to the most of the time by appointment."
 Working with Great Minds
"Our expert teaching staff know what it takes to succeed, and many have impressive professional backgrounds in industries. Using innovative methods and engaging activities to improve practical skills, they also include the latest industry trends and knowledge in their teaching. These close links with industry mean we can often have guest speakers and experts and potential internship opportunities (once you have transitioned onto your progression degree)," shares Prof. John. Learning is supported by state-of-the-art facilities. Students can gain relevant experience and hone the practical skills required in a real work environment. The use of facilities is incorporated into teaching and learning, allowing them to apply theories learnt in class to practice. 
Through a Talent team created by the university, Coventry helps empower students to go on to succeed in their chosen careers. This Talent Team aids students from enrolment to graduation and beyond. It provides dedicated career support tailored to your chosen subject to help develop a competitive edge. The Talent Team aims to build students' confidence, enhance their CV, and provide access to the best graduate jobs throughout the course. "Our focus on employability and developing practical skills for the workplace is a major strength of Coventry University. We even offer a range of extended master's courses featuring a work experience option," Prof. John shares. Many of the courses at Coventry University offers professionally recognized accreditations to help students stand out against their peers, such as the Chartered Management Institute (CMI) on a wide range of postgraduate courses they offer. 
The university rewards academic excellence and encourages students to fulfil their potential. That's why the administration at Coventry University is invested in a range of financial awards to help students with their tuition fees. They have 3 categories for students who excel in their courses and field of study. The Elite Scholarships usually cover 100% of the fees and are extremely limited. The Excellence Scholarships are merit-based and contribute to the fee. There is also a development scholarship available for specific courses or nationalities. 
Inculcating Innovation
The creative industries are worth around £87 billion to the UK economy, and higher education institutions play a central role in the sector's success and future prosperity. Coventry University's roots can be traced back to a mid-19th century design school, and 175 years later, the creative spirit that drove that school's successful foundation and collaboration with industry is as vibrant as ever and evident in their teaching and research activities.
"Our world-leading expertise in vehicle innovation and styling has led to the creation of a unique national centre for transport design in Coventry in support of the UK automotive and design sectors; our dance specialists are using cutting-edge motion capture technologies to document and learn more about European dance heritage, and our research into how digital environments can be exploited is opening up new opportunities for cultural institutions to share their content with the world," says Prof. John. 
To spearhead a spirit of entrepreneurship, Coventry University helps students feel confident in the skills they learn even after graduation. The university has set up a business support team that works as a gateway for businesses to access industry experts, academics, and research centres. These teams can quickly assess the needs of your business or a particular project and unlock the most relevant knowledge and expertise. The Enterprise Hub can offer students entrepreneurial support, with advice on skills development or starting a business. It provides support through networking, workshops, and events. "Our Technology Park also encourages and supports the start-up and development of innovation-led, high-growth, knowledge-based businesses. It is A 20-acre site comprising 14 unique dedicated business facilities," Prof John says. Their city-center location puts tenants in the heart of Coventry, providing excellent access to the Midlands' major motorways and two international airports. The Business School delivers a Help a Grow Management course to small to medium-sized businesses in the midlands. It provides 50 hours of in-depth training and one-to-one business mentoring over 12 weeks.
Looking Beyond Academics
University life is about more than just your studies. It gives students a chance to explore their interests within academia and beyond. Coventry University aims to enrich student life by offering support as they try new things. There are over 160 sports clubs and societies that once can join and run. These societies reflect students' interests and include academic groups, cultural and faith groups, and interests such as AirSoft and Pokémon. "We know the difference good teaching can make to students' time at university. A great experience can make students happier, help them to learn more, and possibly give them that edge when it comes to getting a job," says Prof. John. 
About Professor John Latham CBE, Vice-Chancellor
John is Vice-Chancellor and CEO of the Coventry University Group. John is a double graduate of the university and has a background in information technology and telecommunications. He previously worked for a number of private sector organisations, including JHP Group, Jaguar Cars, and BT – including a period as a sponsored Research Fellow based at Martlesham Research Labs, Ipswich. In 2015, John was awarded an Honorary Lifetime Fellowship of the British Computer Society for his services to the IT industry.
John has held high-profile roles at regional, national and European levels promoting innovation, technology, and economic development. He is a non-executive Director of Health Education England (the primary funder of health-related education in England), is a Council member of InnovateUK (part of the UK's National Research Agency (UKRI)), and is a Board member of the Coventry and Warwickshire Local Enterprise Partnership. John is additionally an advisory board member of the UK's National Growth Board which is responsible for the oversight of the UK's European Structural Funds Programme. Previously, he has also spent periods of time working overseas, including roles in France, Spain, Portugal, and Germany and being a long-term advisor to the European Commission.
Related Articles