The first new education policy in 34 years, The New Education Policy (NEP), approved by the Union Cabinet, has introduced many reformations in the Indian education system. Starting with the renaming of The Ministry of Human Resource and Development as Th Ministry of Education, the new policy envisions to offer a new structure to the education system in the country. From school education to higher education, NEP proposes the revision and revamping of all aspects of the education structure, including its regulation and governance, to create a new system that is aligned with the aspirational goals of 21st-century education, while remaining consistent with India's traditions and value systems.
Introduction of a four-year undergraduate degree with multiple entries and exit options, taking M.Phil out of the system, and establishing a standard higher education regulation with fee examination for both private and public institutions are some of the critical features for higher education sector. For schools, the new policy envisions universalisation of early childhood education from age 3-6 by 2030, a new school curriculum with coding and vocational studies from class 6, and child's mother tongue being used as the medium of instructions till grade 5. In a nutshell, NEP aims at building a global best education system rooted in Indian ethos, thereby transforming India into a global knowledge superpower.
Here are some quick reactions on NEP from the prominent education leaders across the country.
Rajendra S Pawar, Chairman & Co-Founder, NIIT Ltd. & Founder, NIIT University
"India's much-awaited 'New Education Policy (NEP)', in spirit a harbinger of directional change and sectoral reforms, is expected to open fresh avenues for India's education sector in the 21st century. Particularly welcoming for the industry are its focus on the use of technology for seamless learning, holistic, multi-disciplinary education from the under-graduation level itself, institutional and academic autonomy as well as an independent National Research Foundation. The intent of spending six per cent of GDP on education will make the defining change."
Dr Niranjan Hiranandani, Provost, HSNC University
"Industry lauds the reformatory step by Honorable PMO by announcing a National Education Policy 2020. This policy was long due, to disrupt the current education system and bring the transformation to learn and turn the future Indian minds. I am delighted to see a diverse policy that aims to meet the future learning needs which will engrain practical skill-based learning to shape the learners being Industry ready. The policy very well addresses most of the critical issues that daunt our current education landscape and brings about a totality in terms of the paradigm shift that we need for educated and skilled people in India. The NEP will offer multiple exit points in studies, which means that one could actually get into employment at different ages, different times, and different levels of education which is a thoughtful strategic structure.
As Indian employment breed faces a dichotomy with compartmentalized skillsets wherein many of them are unemployed due to lack of skill-based education. In the backdrop of this alarming scenario, NEP is a step in the right direction towards a radical shift in the education disciplinary system to bring exponential growth. To combat this issue, in June this year we announced a new cluster university called the HSNC University that constitutes – The HR College, KC College, and BTT College in Mumbai. The university aims to offer a liberal education system that fosters competitiveness, creative thinking, innovation, and other skill sets. I am pleased to see the National Education Policy 2020 be in sync with the vision of our University and look forward to it.
If implemented in true 'letter and spirit' by all stakeholders it will undoubtedly transform the overall educational ecosystem in the country and should be brought into force as early as possible as it is the need of the hour."
Himanshu Gupta, Managing Director, S.Chand & Co.
"The attempt to hone a child from the foundational age of 3 years instead of 6 years brings our new education policy at par with the global developed nations, but it's the focus on education technology that takes it ahead of them by leaps. After 1992, this revision was long overdue, and it's heartening to note that NEP 2020 has taken care of all the demands of contemporary education requirements and practices. Now it's time for the education fraternity to execute it well and bring the needed changes that this policy envisages."
Dr Dishan Kamdar, Vice-Chancellor, FLAME University
"I would like to congratulate the Ministry for announcing the National Education Policy 2020. This is going to be a game-changer for the future of the education system in India. Multidisciplinary colleges in every district by 2030 will encourage liberal arts education to a great extent. India will have the largest percentage of young population in the world by 2030. The renewed focus on arts, humanities, the importance of research, mandating all institutions to offer a  multi-disciplinary form of education will ensure that we will skill our young people for life and prepare them for diverse careers in the future. FLAME University is looking forward to partner in this initiative and collaborates with the government. NETF will be a milestone in the digital learning agenda especially creating an outreach in the remotest areas so that the NEP's aim to achieve the Right to Education for all children in the age group of 3-18 years by 2030 will now be a possibility. Access to education is extremely crucial and the honourable ministry has given it great impetus thereby ensuring delivery of education gets the right upliftment.
Samir Somiaya, President, Somaiya Vidyavihar
"The new education policy announced by the government is truly visionary in nature. For any country to build world-class institutions, there needs to be a very good policy and regulatory framework. This policy articulates exactly that kind of framework, and it will enable us to build now a world-class institution. The policy emphasizes on the holistic system of education. It looks at modern science, modern knowledge systems and traditional wisdom which enables the intersection of the disciplines to be studied. It also allows students to seamlessly study various aspects that make for a well-rounded education to make for great citizens of India and the world. It looks at vocational and professional education and gives both an equal status. This is very important to develop the workforce of a country and also to give equal dignity to people pursuing vocational subjects. It also lays emphasis on the development of Indian languages. Languages preserve our culture, but they also need to be grown and developed. This focus on languages will also make our education system more inclusive because it will enable a lot of our population to come into the mainstream. It articulates the creation of a single regulator too, often we have to go many regulators for various permissions. One regulator will enable the creation of the true university. A university is universal in what it teaches the education and the challenge now lies in its implementation for all of us."
Rustom Kerawalla, Chairman, Ampersand Group
"The New Education Policy 2020 is aimed at bringing transformational changes in the Indian education system with a global perspective. The policy has a multi-disciplinary, value-based approach focusing on holistic education along with life-skills with special emphasis on skill development to improve high employability rate among our students.
The policy lays special emphasis on Early Child Care Education (ECCE) and development by including a play-based multi-faceted curriculum. The universalisation of ECCE will lay the foundation for the development of every child and will be able to honour unique skill-sets at an early age.
The integration of co-curricular subjects at par will help students honour their hobbies and skills and make value addition in the areas of preference. Project-based learning, vocational learning at an early age, and learning of life skills and inclusion of technology will help a child realise ambitions, gain multi-dimensional knowledge and universal skills and lay the foundation for higher education. In addition, a new system of self, peer, and teacher assessment will give parents and children a 360-degree progress report imbibed with new skills learned during the academic year.
Also, the inclusion of professional and choice-based disciplines as part of higher education will give students a whole new dimension towards honouring soft-skills. This approach to universalising education will help the nation attain the SDG4 goals by 2030."
Kavita Sahay Kerawalla, Vice-Chairperson, VIBGYOR Group of Schools
"The NEP 2020 gives much-needed focus to Early Child Care Education (ECCE) with new plans to integrate the best possible national and international practices. Inclusion of play-based and activity-based learning for children between the ages of 3-6 with a focus on music and movement, arts and crafts, and other stimulating activities is a positive step among early childhood educators."
Sahil Agarwal, Co-Founder and CEO, Rishihood University
The new education policy has brought much-awaited reforms for a long-term overhaul of the system.
In higher education: The college affiliation system which prevented curriculum innovations will be phased out. This will allow industry-linked curriculum and faster modifications based on industry's needs, therefore helping the students in placements.
The flexibility of subjects, credit transfer and multiple entry-exit points will ensure that everyone can complete a college education and learn the subjects of their choice. The students will not be restricted to narrow domains.
Teacher training institutes will be strengthened and linked to multidisciplinary universities. This will help India to prepare high-quality teachers.
A common aptitude test for undergraduate admissions will ease off the pressure from students to prepare for multiple exams. The CAT will be designed in a way that most universities can identify the student skill set for admissions from the same test.
The policy does not mention anything on allowing foreign investments or for-profit education. This reform continues to lack in our system.
Dr D K Aggarwal, President, PHD Chamber of Commerce and Industry
"Under the NEP 2020, the current 10+2 structure of school curricula has been replaced with 5+3+3+4, dividing the structure into the foundational stage, preparatory stage, middle stage and secondary stage.  This will bring in children of the age group of 3-6 years into the ambit of formal education and will lead to the creation of a strong foundation base.
The historic decisions to reduce curriculum content, conduct teaching and learning in a more interactive manner, adoption of experiential learning, among others will provide well-diversified exposure to students, enable them to study subjects according to their specific interests and build the power of critical and analytical thinking in them.
Multiple entry and exit points with appropriate certification that allow for awarding of certificate after 1 year, Advanced Diploma after 2 years, Bachelor's Degree after 3 years and Bachelor's with Research after 4 years, along with an Academic Bank of Credit will promote ease of attaining education in the coming times.
Preference to the mother tongue/ regional language as the medium of instruction until at least Grade 5, but preferably till Grade 8 and beyond, will promote multi-lingualism among students and enhance the power of language in the country.
Transformation in the assessment of students comprising of easier Board Exams, 360-degree & multidimensional progress report, among others, will reduce the fear & pressure of exams, promote application-based learning & assessment and test core competencies and overall development of students.
Increased exposure to vocational education, vocational exposure at early ages in middle and secondary school, internship opportunities to learn vocational subjects throughout Grades 6-12, among others will promote practical education and exposure at an early age and make students ready for the real world.
Setting up of National Educational Technology Forum (NETF) will boost digital learning and support the Digital India vision and mission of the Government.
Dr. Sunita Gandhi, Founder, Global Classroom Pvt Ltd (GCPL) and Global Education & Training Institute (GETI)
"National Education Policy 2020 has brought a long-awaited change in the education system of our country. It emphasizes on universal access to school education and standard quality education across all the deemed, central, and other standalone universities. It also makes our pedagogy structure all-inclusive, flexible and fulfils the requirements of the 21st century. NEP 2020 will bring teachers to the forefront of this change as all its components aim at improving results and classroom turnout ratios. One of the interesting elements of the policy is to provide infrastructural and academic support to dropouts (rounding up to 2 crore) by formulating different ways of learning with the help of formal and informal education modes. There is a special provision for socially and financially challenged groups in the new policy. And as we move towards a new normal of online teaching, the cabinet has even dedicated a unit to manage digital infrastructure, digital content and capacity building under their wings to make sure all the e-education needs are fulfilled. I personally feel this policy will make way for far more institutional changes that our education board needs. For now, let's welcome the change and hope it brings out the best in our education system."
Dr Jitin Chadha, Founder and Director, Indian Institute of Art and Design
"The National Education Policy 2020 is progressive in its outlook with an emphasis on multidisciplinary education. The fact that there will be no rigid separation between arts and sciences means that there will be increased flexibility that will enable students to opt for creative combinations of subjects.  In particular, the focus Internationalisation of education is a much-needed initiative in today's increasingly globalised world. Greater collaboration between leading global and Indian institutions would lead to significant knowledge transfer, student & faculty exchange and collaborative research, resulting in students receiving education benchmarked against the best in the world. The new policy has not only opened multiple avenues for the youth of the country but also redefined the educational system and bodes well for the future of learning in India."
Rajiv Shah, CEO & Director, NMIMS Global Access School for Continuing Education
"We applaud the Indian government's vision to increase the Gross Enrolment Ratio (GER) from 25.7% currently to 50% by 2030. The government acknowledges that online and distance education will play a key role in achieving this goal by enhancing the offerings, improving access and providing increased opportunities for lifelong learning. This goal will boost the Indian economy and the per capita income.
We, at NMIMS Global Access, are committed to playing our part in achieving the 50% GER mark and will continue to create programs that are at par with the highest quality in-class programmes and delivered online."
Dr Sanjiv Marwah, Director, JK Business School
"Changing the pedagogical structure from a 10+2 system to a 5+3+3+4 system is well thought of step in the education industry. With the advancement in technology, skilling of a child since schooling is the need of the hour to increase the employability factor of the youth. The NEP 2020 is very much aligned with the global parameters and allows students to build their own degree by choosing a diverse range of subjects which in return will provide ample opportunities to learn and earn together."
Hersh Shah, CEO, India Affiliate of the Institute of Risk Management (UK)
"We welcome the government's decision on the New Education Policy which will surely reform the education sector as a whole. Allowing global institutes to set up campuses in India and empowering students with the freedom to pick and choose what they wish to study is a very progressive decision for the Indian education system. NEP is revamped in a way that will fulfil the gap in the existing challenges in the education sector. The multi-disciplinary learnings will open diverse careers in the future, leading the next decade of students to be highly skilled. We are excited about this change and look forward to its execution."
Santanu Mishra, Co-Founder and Executive Trustee, Smile Foundation
"The introduction of the New National Education Policy 2020 is a very well-timed move by Government keeping in mind the current challenges the sector is facing. Not only does the policy look at addressing the key concern areas like higher education and pedagogy but also refines the structure of reporting through the National Education Commission, which will be headed by the Prime Minister himself."
Neeti Sharma, Senior Vice President, TeamLease Services
"The New Education Policy is a positive move towards augmenting learning in India. It will improve overall accountability in the ecosystem. One of the key aspects that the policy has addressed is the implementation of the choice based credit system – a multi-disciplinary approach which will provide flexibility to students to choose between programs of choice. It will also allow students to accumulate & retain credits which will enable them to continue their learning process from where they had left, in case they discontinue for some reason. CBCS is a huge step towards improving the employability of the students in the future. However, NEP should have also focused on standardising an integrated form of learning (using a multi-classroom approach) which includes on-the-job training, as well. Degree linked apprenticeship is another area which required attention to make our learning ecosystem more holistic. All of this put together will help us scale learning, improve accessibility and enhance employability."
Dr Satyabrata Minaketan, Principal, ODM Public School
"The highlight of the NEP 2020 from the school perspective is the introduction of Vocational courses for children and bagless days in school. This shows we are dawning at the footstep of a new India. Education should ideally be skilling with theory. But we have always been on the theory side. Providing opportunities to students right from school level to skill themselves through vocational courses will finally make schools provide Real Education. I welcome the decision to move from mindless-mugging to learning"
Sridhar Rajagopalan, Co-Founder and Chief Learning Officer, Educational Initiatives
"Most of these points highlighted in the New Education Policy 2020 are very good and match closely with areas that Educational Initiatives has identified as critical and works on. These include foundational literacy and numeracy – ensuring every child can read by grade 2 or 3 and do arithmetic operations by grade 5; gifted education programmes, focus on high-quality assessments and Board Exam Reform to make the Board Exam Questions based on understanding and application rather than recall. Education should in mother tongue or local language at least till class 5 after which should be in English- this approach has a lot of benefits. Pedagogical research has established beyond much doubt that children learn best if they learn in their mother tongue (or local language) in the primary classes. This does not mean that children should not LEARN English, it only means that English should not be the medium of instruction in the primary years. The medium of instruction should be the language that is most prevalent in the child's surroundings."
Prajodh Rajan, Co-Founder & Group CEO, EuroKids International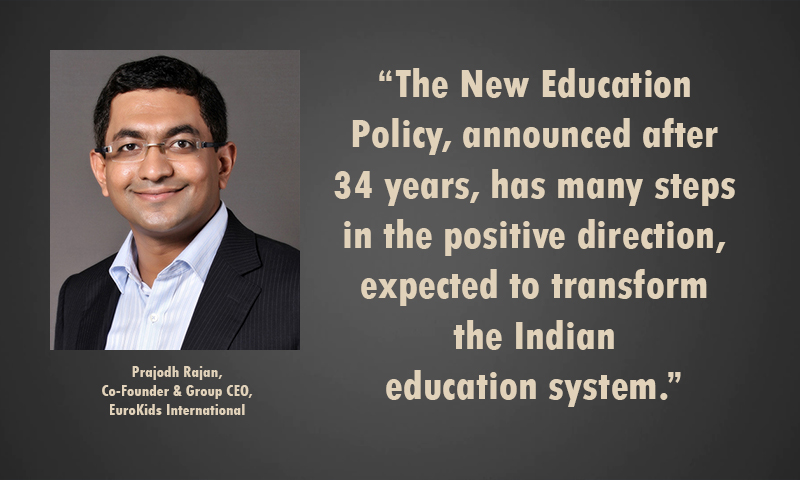 "The New Education Policy, announced after 34 years, has many steps in the positive direction, expected to transform the Indian education system. We laud the inclusion & focus given to early childhood care and education (ECCE) as it brings to light the importance of early learning. Early childhood care and education play a vital role in building a foundation for lifelong learning and well-being for every child. The national mission on Foundational Literacy and Numeracy is the need of the hour. This comprehensive education policy, now aligned to global standards, will help the country build versatile, skilled and forward-looking future citizens."
Sajid Khan, Head of International Development, ACCA
"We applaud the Government for its vision of the New Education policy 2020, which will transform the higher education sector and empower our young generation with the right knowledge, skills, values and competencies, thereby laying a strong foundation for our economic growth and supporting Aatmanirbhar Bharat. ACCA highly commends this policy which has laid down a clear roadmap to transform India into a knowledge superpower having the right global talent the world needs."
Vinod Tiwari, Regional Mentor of Change (ATL) Niti Aayog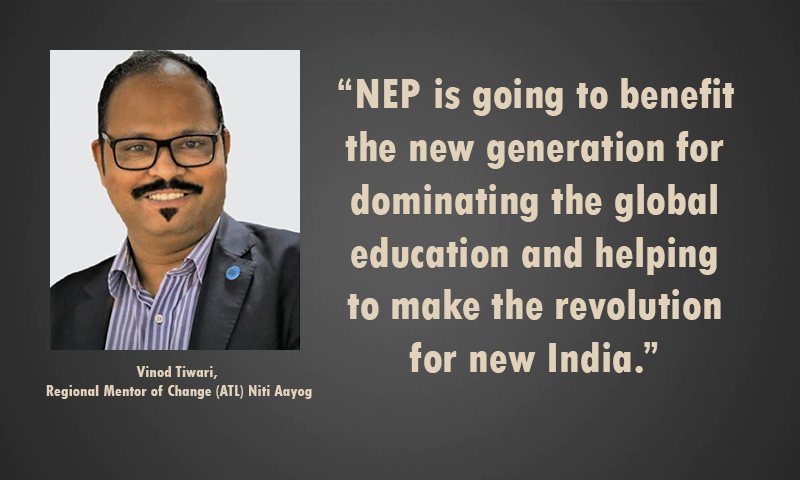 "The NEP 20202 is a big leap to reform the education system. The major game-changer will be a new structured curriculum 5+3+3+4, calling of 100 foreign universities, focus on Socio-Economically Disadvantaged Group, Formulization of local language, Imaginative and flexible curriculum, Option to run ODL and online program, Multi-disciplinary and many more.
Although these policies seem to be exaggerative, it is being established keeping in view the Industrial Revolution 4.0 and new skills set requirement. However, it is going to benefit the new generation for dominating the global education and helping to make the revolution for new India.
We look forward to more guidelines for quick implementation."
Santosh Phad, Founder, ThinkSharp Foundation
"I welcome the New Education Policy 2020. The Ministry has clearly focused the majority of 21st-century challenges in both school and higher education. Specifically, focus on technology through the autonomous body "National Educational Alliance for Technology" (NETF) in education to enhance teaching, learning and assessment. This will help to improve the educational process and outcome for both students and teachers. Especially in rural areas, through various educational software and technology, many improvements are possible to improve outcomes and fill the gap of trained and less number of teachers.
Only by accepting this rapid and disruptive change, we can sustain in such a competitive world and prepare our children for 21st-century skills."
Sriram Subramanian, CEO, Callido Learning
"The NEP articulates a desire to break away from the current role-learning based model. It is good to see an increased focus on the application of a small number of core concepts rather than shallow memorization of a vast syllabus. It is also encouraging to note the importance given to the development of essential 21st Century Skills like critical thinking. Overall, this has the potential to bring India's outdated education system into the 21st Century. Having championed the inclusion of 21st Century Skills in the curriculum for over 5 years now, we are cautiously optimistic. Much will, however, depend on how it is executed. To bring about any improvements to the teaching methodology in classrooms, large investments in teacher training will need to be made. To truly focus on skills, the need of the hour is a way for the boards to track whether these skills are in fact being developed to the desired level or whether schools are paying lip service. This was the missing link that caused the earlier CCE system to fall flat."
Rameswar Mandali, Founder & CEO, SKILL MONKS
The new National Education Policy 2020 will help in driving revolutionary change in the Indian educational system while giving impetus to India's vision to become the "Global Knowledge Superpower". The restructuring of higher education institutions that aims to become multi-disciplinary institutions with the focus to have 3,000 or more students will raise the standards of higher education in India by reassuring opportunities to more students. Furthermore, NEP's intent to increase the Gross Enrolment Ratio, including vocational education from 26.3% to 50% will drive positive change in our economy. A new approach of skill-based learning from an early foundation level of academics will help learners identify skill sets much earlier, thereby empowering students to be future-ready.
Akshay Chaturvedi, Founder & CEO, LeverageEdu
"With the RTE now extended to 18 years of age, I am supremely confident that we will see a much bigger number of our population pursuing higher education. This is, by far, one of the most defining things to have happened in the Indian Education landscape in the last three decades. We should also use this opportunity to set up collaborations with institutes of excellence abroad, bring them here for their best practices, and have the quality be risen multiple notches too – so that we do indeed live up the Hon'ble Prime Minister's vision of a $5 Tn economy together with very strong human development!"
Ashish Chaturvedi, Founder, School Diary
"The New Education Policy (NEP) 2020 brings the much-needed reforms in the Indian Education System, after a long hiatus of over 34 years. And it looks like a wholesome package, to begin with! The two most striking aspects of the NEP 2020, for me, however, are the redesigning of content to accommodate just the core essentials, thus encouraging understanding based learning, and the renewed focus on foundational literacy and numeracy among young children. Both of these, I feel, are vital in bringing about a paradigm shift in the quality of Indian education. Another key feature that the NEP 2020 has addressed, is the elimination of the decisive Board Exams and replacing it with a more structured variant of two examinations – the main and the improvement exam. For years now, the dreaded Board examination has been a source of anxiety and fear among students and parents alike, as the future career prospects of a student depended on it. By replacing this with a more flexible option and introducing modular format of examination (Less content coverage per test), have together made the NEP 2020 a holistic and progressive educational policy that will go a long way in building a robust India".
Shirish Gupta, Founder, Empowering Young Leaders
"It's the beginning of the New Era for Indian Education System. I am happy to see NEP 2020 as it includes much required Experiential Learning and holistic report card focusing on 21st Century Skills. This will promote Leadership skills, problem-solving skills, and more. Good to see that policy also talks about increased flexibility and choice of subjects to study for students along with an emphasis on Tech-based learning. This is a big relief to students. Lastly, including regular health checkups, especially Mental Health for school students is absolutely the need of the hour. Overall, I welcome the new policy, I am excited to see NEP2020 in action. Great efforts and kudos to the Indian Government."
Rajesh Panda, Founder & CEO, Corporate Gurukul
"With NEP 2020, the focus is back on ancient 'gurukul pedagogy' with a multi-disciplinary holistic education, applied learning and formative assessment. It is also a delight to note that students have the choice to curate their own individual learning pathways based on their passion and interest. Rote learning is passé and with vocational training making headway into mainstream curriculum, a mechanical/electrical engineer can finally fix a motorcycle/fan. Universities will no longer just survive on students' tuition fees but research funding from corporates and the government will gain prominence. Focus on research will help our universities move from good to great and rank among the best in the world. The key question now will be – "How will NEP 2020 equip students with tools like design thinking and AI to foster research, applied learning and formative assessment?" How do we deliver consistent learning experiences at scale across the country?"
Shantanu Rooj, Founder & CEO, Schoolguru Eduserve Private Limited
"The adoption of the New Education Policy is a historic event for India, and it completely changes the paradigm of Indian Education. The NEP has focused on creating a solid digital infrastructure which will help to massify education and improve accountability. Further to this, the idea to remove board exams for class 10 shall take off unnecessary stress from school children. The focus is on the learning outcome, along with a sea-change in the examination system. It shall bring a change in the mindset around the rat-race to just get marks. Additionally, allowing more universities to launch online degrees has also been a long-awaited demand, and this will now further improve opportunities in the ecosystem. However, the Government needs to act upon its intentions and execute them – the gap between India's potential and reality is not a god-gift, but a result of the gap between intentions and execution."
"In the current situation, the NEP is largely revolving around traditional learners. However, as lifelong learning becomes a reality, the Government will also need to think about the needs of the employed learner. Some of the key aspects that they will have to consider are – creating modular size courses, allowing stackable credentials, permitting round the year admission, online on-demand assessments, the inclusion of on-job training, capstone projects etc. This will help to create the right ecosystem for learning."
Sumeet Mehta, Co-founder & CEO, LEAD School
The New Education Policy has introduced pathbreaking reforms. Few points that stand out:
Recognising the importance of Early Childhood Education with its 5+3+3+4 formula – some of us working in ECCE for the last 12 years could not be happier!
The move towards flexible entry and exit and breaking down the barriers between Arts, Commerce and Science. This will herald a new era of cross-disciplinary learning.
One that is problematic is the insistence of mother tongue till Class 5. This is against the principle of choice. Parents should choose the medium they want their children to learn in.
Sumit Kumar, Vice President – NETAP, TeamLease Skills University
"The new education policy has been designed keeping in view the target of 50% GER by 2035, which it will achieve earlier than the deadline as the proposed flexibility and modularity in the undergraduate programs, the introduction of the academic bank of credit, and emphasis on the use of technology will improve enrolments. However, the policy is more input-oriented and has not much emphasis upon the outcome which is employability or job readiness. Introduction of online degree linked apprenticeship program would have ensured both the enrolments and the employability.  Globally, higher education is merging with corporate learning which makes education relevant for both the students and employers. Returns on education (RoE) should be measured by job readiness. The policy should have looked at the role of employers in higher education through a tripartite arrangement. The US introduced the Student Apprenticeship Act to connect apprenticeships with higher education with a tripartite arrangement between the student, employer, and the university. We are still emphasizing on numeracy and literacy in the digital world whereas ICT is the new basics in the learning system. We hope the amendment delivers on desired ROE."
Mohammed Zeeshan, Co-founder & CEO, MyCaptain
"With interdisciplinary studies and a more liberal approach with respect to student choices we will be noticing a considerable change in career decisions and career trends. The students will be able to make more informed career decisions, and with vocational studies and internships even get practical hands-on experience with hard-skills.
There has already been a significant mindset shift around careers as JEE aspirants and enrolments in engineering colleges have seen a constant decline.
The concern, however, remains that focus on topics like coding and AI being introduced earlier in the curriculum, points towards how there is still a bias towards STEM fields.
We are also seeing exit options for Bachelors students coming up with a provision of exiting after the 1st, 2nd and 3rd year. We believe it is a brilliant move and will further boost innovation, startups, patents, research work and give students more opportunity, encouragement and freedom to take what was earlier considered a 'bold' career decision. We will see students in large numbers opting for these exit options and pursuing fields they are truly interested in without wasting any time, and having the option to have a certification or diploma at least!
Allowing foreign universities to set up in India will further give a boost to research and development which has been so far a very weak point of our current system and structure.
If implemented well, a new era of artists, Entrepreneurs, innovators, researchers would be seen emerging over the next few years with a significant increase in students moving to liberal arts and multidisciplinary studies.
We also note that some of these options in one form or another were and have existed in the policy before. For eg CBSE allowed students to even choose French, Astronomy and Cooking as subjects, for more than a decade but it was never implemented. We fear these new developments might also face the same result.
Rohan Parikh, Managing Director, The Green Acres Academy
"The new education policy is a well written and forward-looking policy that has taken into account the views of every stakeholder in the field. The focus should now be on a strong push to implement these reforms and have a positive impact on the ground."
Akash Singhal, Co-Founder, Illumnus
"NEP, 2020 has brought some major reforms, with a key focus on skills and not marks, which I believe has been a revolutionary step. The new policy states that Report cards will be a comprehensive report on skills and abilities instead of just marks and declarations. Each student is unique and has different skillsets and calibre, but the marks system judges them all on one single parameter. For instance, a single quiz/test becomes the basis for judging a student's potential which is set at a single bar and must be the same for each student. However, in reality, every student has different knowledge of grasping potential and has different capabilities. Hence, the new reform brings it in open that skills should be given preference over marks. Additionally, the formation of the National Educational Technology Forum (NETF), which will be an autonomous body, will provide a platform for the free exchange of ideas on the use of technology to improve assessment, learning, planning, administration. This will provide ED-tech platforms with an open forum for discussion about the various challenges and innovations in the field of Education Technology."
Abhimanyu Saxena, Co-Founder, InterviewBit & Scaler Academy 
"We welcome the New Education Policy 2020. An overhaul of the formal education system has been long-awaited, and the timing couldn't be better with the nation gearing for an Aatma Nirbhar Bharat. The impetus given to holistic learning & employment-focused skill development under the revised policy is critical to the creation of an inclusive education system. The fact that the government has acknowledged the importance of coding as an essential skill in a digital-first future is reassuring. And the introduction of coding from Class 6 onwards is, therefore, a significant step in the right direction.
If India has to produce future-ready talent that meets evolving industry expectations, then the formal education curriculum as we know today needs to be re-looked at. It is this very need gap that has served as a springboard for several ed-tech players, who have now come into the foray to supplement what the traditional institutions have not been able to fulfil satisfactorily. The revised policy has acknowledged our efforts and has given a push to the digital education sector overall, which is excellent. Overall, this "technology-oriented" new education policy will surely benefit the youth of today and create employment opportunities. We strongly believe it possesses the power to transform millions of lives."
Anish Rakheja, Founder, Krescon
"The new policy is a long-awaited reform in the Education sector. This has all the right intent and the long term vision to finally empower India to compete with the best in the world. This will help develop and adapt the new generation and new required changes in the learning process. It will not only benefit the students to expand their scope but also brings the teachers in the forefront. One of the most promising factors about the policy is its focus in the education and betterment of the disabled kids and allowing the students the flexibility to chart their own learning path. Kudos to the expert committee for such forward-looking proposals. Glorious and exciting days ahead for Indian education.
Ankit Arora, Founding Director, Saarthi Education
"The new policy brings a lot of welcoming news with it. The policy is holistic and covers major areas of Education which had been overlooked by the previous policies and acts. The Right to Education Act, 2009 focused on access to education but heavily missed out on the quality of learning that happens in a classroom scenario. The NEP 2020 has bridged the gap by leaving no stone unturned to ensure delivery of quality education right from the primary education stage.
It's heartening to see the focus on early childhood education and Foundational learning. India has been struggling to provide a quality learning environment to its millions of children in the early childhood age group. The Economist Intelligence Unit's 2012 survey on pre-school environments placed India last in a set of 45 countries. The universalisation of preschool education will ensure that each and every child gets access to early childhood education. Once again, the government will have to be careful that implementation doesn't stop at access but goes to build the quality as well.
Foundational learning is also getting its due credit as has been advocated by educationists over years. We have seen it is imperative to focus on foundational learning which helps in strengthening the basic literacy and numeracy skills of children. A strong foundation leads to low drop out rates and high academic achievement throughout the education journey of a child. The first stage of the new 5+3+3+4 curricula structure focuses on foundational learning (3 years of pre-primary and 2 years of early primary of Grade 1 & 2).
The policy has put an emphasis on teaching life skills, soft skills or the skill set required for the 21st century. The focus on gifted children makes the policy holistic and inclusive. The country will see the light of the day in terms of positive educational reforms and hopefully move towards an inclusive, sustainable, well-rounded model.
The policy's recommendation to let children choose from a variety of subjects or electives instead of defining subjects in classified structures of Arts, Commerce Science etc is by far the most progressive feature of the policy according to us."
Abhishek Patil, Co-Founder, Oliveboard
"We at Oliveboard, welcome the new education policy that focuses on the All round development of students with an emphasis on extracurricular activities, music, arts & sports. The introduction of vocational learning & coding from 6th std onwards would help develop students the skill set required to grow in the modern world."
Kounal Gupta, Founder, Henry Harvin Education
"Absolute data to make a judgement would be out when we complete 1 absolute cycle in at least 12 years. However, by then it would directly impact more than 2.5 crores lives! This is undoubtedly an historic and a much-needed policy change. The first-ever education policy of the 21st century replacing the 34 years old National Policy on Education (NPE), 1986. Thus, it is very important for each and every citizen in a country of 1.3 billion to be aware of this. No doubt, this policy is based on its foundational pillars of Access, Equity, Quality, Affordability, and Accountability. And has incorporated the much-needed changes. It is a matter of effective implementation!"
Som Sharma, Founding Chairman, Edu Brain Academy
"The National Education Policy (NEP) 2020 has the potential to create profound long-term impact, it's a good decision and can bring a major change in Indian Education System. The relook at the grading system was the need of the hour to ensure fair and accurate analysis of students' potential. The revamping of board examination and autonomy to higher educational institutions are welcome measures. The policy reduces bureaucratic hurdles, sets a clear direction for higher education in the country and opens up new doors for students. The government's focus to build large multidisciplinary institutions is a welcome move and will lead to the holistic development of students."
Related Articles